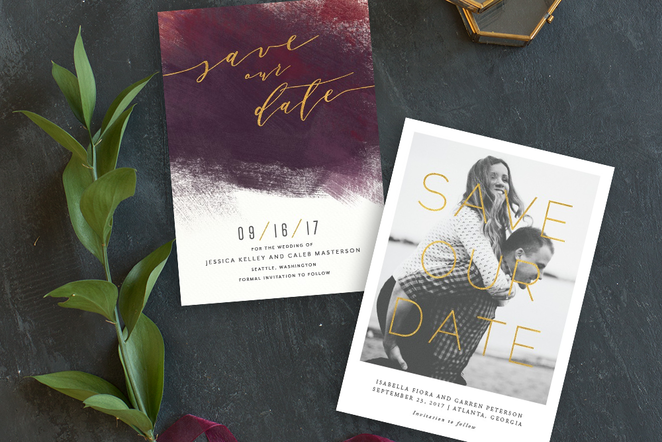 Save-the-Dates
Tell your wedding guests to save-the-date by sending a card, postcard or magnet save-the-dates. Browse through our save-the-date ideas, and read our tips on wording, addressing, and when to send.
More Save the Dates From Our Partners
You might know all the ins and outs of sending wedding invitations, but save-the-date etiquette is sometimes less clear. Save-the-date invitations are sent to your guests six to eight months before your wedding date so that they can mark it on their calendars. It's okay to send your guests a wedding save-the-date by email, but don't forget that this wedding card is really the first introduction your guests will have to your wedding, so a lot of couples are imagining unique ways to incorporate their theme. Creative save-the-date wedding cards are available in a huge variety of styles, from DIY to professionally designed keepsakes. Having a destination wedding? Design your save-the-date invitations as messages in a bottle or to look like vintage tropical postcards. For a rustic country wedding, consider branding your wedding save-the-date on a wooden coaster. You don't need to include as much information on your save-the-date wedding cards as you do on the actual wedding invitation, so be sure to check out our tips for save-the-date wording tips. Not sure who receives a save-the-date? Read up on save-the-date etiquette articles to make sure no one gets left out. One thing to keep in mind about these wedding cards is that they can be a lot more low-key than your formal invitations. If you're still unclear, check out these top save-the-date questions, or ask other brides for advice on our Invites message board.