Home

Apple Market
About this Vendor
Pensacola, FL Caterer
Congratulations on your engagement & welcome to the Apple Market, known as "The Biggest Little Store in Town." We have been locally owned & operated by the Apple family since 1996-as a unique neighborhood grocery store, deli and caterer. Mr. Apple added our Special Events Catering department in 2009 extending our catering services for Weddings. We pride ourselves on customer & event service, food quality, and diverse menu. The catering menu is available on our website but if you do not see what you're looking for, please ask us about it. We specialize in Self-Serve Buffet Style Menus. Service options include: pick up, delivery & drop off, delivery & setup, or staff on site. When emailing, please include the address of your venue. There are limitations for our catering services. Thank you
Details
Cajun, Southern, Southwestern, American, Italian, BBQ, Specialty
Dairy Free, Gluten Free, Nut Free, Vegan, Vegetarian
Buffet, Catering Clean Up, Catering Delivery + Setup, Menu Tastings, Servers, Food + Catering, Service Staff
Contact Info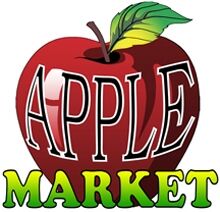 Reviewed on

1/04/2016
Apple Market did a wonderful job of catering our daughter's wedding. The preliminary planning months before the wedding with their catering team was very simple and informative. They knew just how to help us BEST plan the food for the wedding. As the wedding date came... Read More closer, they were very communicative and assuring of handling all the details . The night of the wedding they were well organized. The servers were prompt, efficient , friendly and did everything exactly as was requested in our planning. The food was delicious and the portions were very gracious . I would highly recommend APPLE MARKET CATERING for your wedding . You won't be disappointed.
---
Reviewed on

1/24/2017
Kendra R
Apple market was the most willing to work within our budget, and really gave us a delicious catering meal! We had the mashed sweet potatoes, which people up so much they went back for cups full of the sweet potatoes! I would definitely recommend them for any kind of catering!
---
Reviewed on

10/14/2016
Jennifer M
I had a small beach wedding in Navarre and Apple Market was great! We decided not to cut our numbers since some people cancelled just a week before and I'm glad we didn't. The food was so good that I had guests tell me they were a little embarrassed that they went back for... Read More thirds. We had very little left over and people are still talking about how great the food was (especially the meatballs). You will not regret using them. I was a little nervous planning everything from Tennessee, but they quickly put my mind at ease and everything was perfect.
---
Reviewed on

7/05/2016
Brittany C
Great food at an awesome price! So glad we were able to work with them!!
---
YUM
Reviewed on

5/29/2015
Brittney C
Our wedding planner used them for our food, and everything was absolutely delicious!!
---
Best Caterer!
Reviewed on

10/15/2013
Debbie B
We chose to do heavy appetizers for my wedding! Loved it all! Everything was so fresh and the display was beautiful! Thank you!!!
---
Amazing food & great price
Reviewed on

8/22/2013
Jennefer G
We had Apple Market cater our beach wedding in Perdido Key. Their 2-entree buffet dinner was already priced out with 2 sides, salads & rolls. We had servers and they set up, served and cleaned up without a problem. Even though the food order was per person, we had a TON of... Read More leftovers- which were gobbled up! Easy to work with & great prices for what you get!
---
So delicious!
Reviewed on

9/13/2012
Danielle G
Because of Apple Market's affordable prices, we were able to have a large array of great food at our rehearsal dinner. Everything was set up on time without a hitch, and all of our guests enjoyed the food.
---
Good
Reviewed on

6/17/2012
Kristina P
Food was good. Especially roast beef! Chicken was ok. My bridesmaid is a vegetarian and they had eggplant parm made for her, she let me try that and it was delish!! The servers were awesome!! We had 150 guest and it was buffet style.
---
apple market
Reviewed on

4/10/2012
diedra m
the were awesome and very affordable
---
The only word to describe them is WOW!
Reviewed on

1/04/2012
Cassie C
The service that we were given by Apple Market was ABOVE and beyond! Not only did they present the food beautifully, but they also helped set up extra tables when we realized we had extra people. Every little thing we needed they took care of! Best of all, I am still hearing... Read More how amazing the food was and how it was some of the best my guests ever had a wedding. Overall, Apple market was the best choice for taste and even price. So extremely happy we chose to work with Apple Market and their wonderful employees.
---
Our guests LOVED them!
Reviewed on

11/13/2011
Tracy E
Kristen and her team were great! Although I only picked at a few items, I received a lot of feedback about how great the food was! Their chicken salad sandwiches are to.die.for. We went with a pretty simple spread- meat and cheese trays, finger sandwiches, fruit and vegetables.... Read More I'm anxious to actually sit down and enjoy more of their wonderful food at my friend's wedding in November! The only complaint I have was that when I first began contacting Kristen it took a while to hear back, but this is such a busy company that it's understandable. Closer to the wedding she kept in contact with my mom and I and was quick to respond. She was was very sweet and helpful!
---
Great price/Outstanding food
Reviewed on

10/08/2011
Brandy S
WOW! That's my one word sum up of this company! They honestly gave us the best prices in a 100 mile range and the food blew everyone out of the water. I was a little nervous about then presentation of food,but I shouldn't have been, it was gorgeous! 6 months later I am still... Read More getting compliments about our food at the wedding. Kristen Apple, the event coordinator is super sweet and great to work with! HIGHLY recommend them!!
---
Reviewed on

6/11/2011
Margaret F
---
Amazing!
Reviewed on

3/30/2011
Lindsay M
Apple Market was amazing. They came and set it all up, cleaned up, and made sure everything was perfect. The food is amazing and so is the staff. It was the cheapest catering company I found and the most delicious food I have ever ate.
---
Meet The Coordinator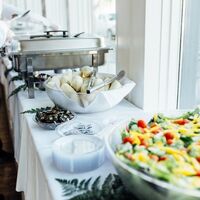 Kristen, Elizabeth & Melissa
Meet the Team: Kristen (Head Coordinator) and Elizabeth & Melissa (Coordinators). Our main goal in assisting you is to make this experience effortless and memorable! For us there is nothing like hearing your customers where elated with the service they received before during & after their event. It's equally satisfying to hear customers were blow away with the delicious food and amount of guest compliments they have received. We are honored to be chosen for such a special day and hope to be a part of yours! Sincerely Catering Office Hours: Monday-Friday from 9:00am-5:00pm CST