Home

Cakes by La'Meeka
Details
Cake Stands, Cake Delivery + Setup, Cake Tastings, Groom's Cakes
Contact Info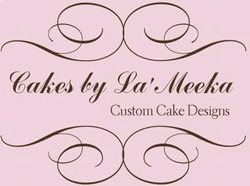 Reviewed on

11/03/2017
LaTisha O
Our cake was absolutely stunning! The flavors were great (we had key lime, butter almond, and red velvet) and our guests were so pleased. We couldn't have asked for a better wedding cake. La'meeka and her staff were also great to work with (especially with surprising my groom... Read More with his cake)! They definitely brought our vision to life.
---
Reviewed on

9/11/2017
Golden A
The whole process was pleasant from beginning to end. My cake came out exactly as it was sketched and was very good! Definitely would recommend
---
Reviewed on

5/04/2017
Ashley W
I knew Ms. La'Meeka was something special when I sat down and she had her color pencils and sketch book and began to sketch my cake as we talked!!! The day of our wedding, I walked into the Georgian Ballroom and was immediately drawn to this cake as it commanded everyone's... Read More attention. It was GORGEOUS! Then I looked to my right and was floored at the groom's cake, which was a replica of a Delta plane. The girl is bad!!!! And not only did the cakes look gorgeous, they tasted just as good. And I mean all 4 flavors!!! All we keep hearing is "Please tell me there's some cake left!" I appreciate Ms. La'Meeka's attention to detail and for listening so intently to turn the few ideas I did give her to work with into something so beautiful. After the tasting, I didnt give a second thought to our cakes because I knew we were in good hands. Cakes by LaMeeka is definitely the BEST choice in town for your cakes. 5 stars hands down!
---
Reviewed on

3/28/2017
Dominique W
My fiancée and I visited La'meeka's shop last month for a cake tasting. Her shop was absolutely gorgeous and we loved how everything was on display so you can pick and choose from each unique design to make it your own. The tasting went very well and we hired La'meeka a week... Read More later to do our wedding cake. She was very pleasant, welcoming & inviting. We are looking forward to a fabulous cake that tastes good & will wow our guests!
---
Reviewed on

4/18/2016
Tiffany T
seems like staff was very unprofessional. I had a consultation and everything went great but when I tried to call back and make a deposit, telephone receptionist basically sounded confused at how to pull up the sketch of my cake from my consultation. Called back and a different... Read More receptionist assured me I would get a call back the same day. No one ever called- had to find another cake boutique. This could have been a disaster if I had been banking on this cake. Bad experience.
---
Reviewed on

11/11/2015
Nneka M
La'Meeka recently provided the wedding cake at our September wedding. I wish that I could give her a completely positive review because she was a pleasure to work with. Her studio is lovely, and she was very accommodating during the tasting. Unfortunately, the quality of the... Read More cake design did not meet my expectations. There were a number of flaws on the cake, as if it were rushed. Moreover, it did not resemble the picture I provided as inspiration, and it looked amateur compared to some of her other work. A positive, however, was that the cake tasted wonderful. Overall, I would not recommend La'meeka to others.
---
Reviewed on

8/27/2015
Kristin Y
My husband and I can't express enough how thankful we are of delivering 2 beautiful cakes on our wedding day. Not only did they look spectacular, but they tasted even better! We will definitely use her for any cake needs in the future.
---
Reviewed on

6/15/2015
Felicia S
Cakes by La'Meeka where do I start. The cakes were not only beautiful but tasted amazing. You are such a sweet person and a joy to work with.
---
Picture perfect
Reviewed on

7/16/2014
Chantilla O
La'Meeka can work wonders with her hands. Not only do her cakes look amazing they taste great. Which is the best part. I was so fed up of seeing cakes that looked good but tasted horrible. She was on point from the very beginning to the end and made sure I was comfortable with... Read More all aspects of her service. You have to try her out!!
---
Wonderful Cakes!
Reviewed on

3/24/2014
Katrice W
I honestly knew Cakes by LaMeeka would be the providers of my husband's and I wedding cakes during our initial visit. My husband actually consumed every piece of sampled cake as well as the fillings provided to us at our sitting. Once I saw that, I knew right then that LaMeeka... Read More was the "ONE". She was very down to earth, we felt like we had known her for years. I love her artistic capabilities as well as her baking skills and personality. I cannot wait to taste the top layer of my wedding again in a year!
---
Vanessa & Leslie's Wedding 10-5-13
Reviewed on

11/06/2013
Vanessa C
Awesome!!!!! Lameeka made both the wedding and groom's cake for our wedding. Our wedding guests didn't stop talking about the appearance and the taste. LaMeeka provided detail professional service and we got exactly what we desired. The cost was well worth the experience and... Read More service we received. My husband and I unfortunately only got to enjoy the cake we sampled while taking our wedding photo shot. That was disturbing but our guests enjoyed the cakes....
---
Atlanta wedding
Reviewed on

10/01/2013
Shemia F
FABULOUS!!! LaMeeka made my Atlanta Theme wedding cake and poker table groom's cake look so awesome and the best thing is that it taste good too!
---
Fantastic
Reviewed on

9/06/2013
Christin C
OMG, I can't say enough how delicious my cake was, it was so moist even after a few days from the wedding. The cake was a little pricey, but totally worth it. It was gorgeous, plus LaMeeka did a very cool Crown Royal grooms cake for me that my hubby loved.
---
Exceptional Wedding Cakes
Reviewed on

8/26/2013
Shavela W
"Cakes by LaMeeka" is the best choice for wedding cakes in Atlanta and the surrounding areas. I was initially impressed by the fabulous cake designs on LaMeeka's website, but was not convinced that she made the cakes until I went for my cake tasting. The cake tasting experience... Read More was wonderful. LaMeeka provides professional service with a personal touch. When choosing a wedding cake, it is important for the cake to be beautiful and even more important for it to be of good quality. LaMeeka's Cakes far exceeds these expectations. She did my cake as well as my husband's groom cake and both were exceptional. If you are planning your wedding, please be sure to schedule a cake tasting with LaMeeka and I promise you will not be disappointed.
---
Delicious Cake
Reviewed on

8/08/2013
Kelli P
Our wedding planner recommended Cakes by La'Meeka and after several tastings, we decided to book them for our July 2013 wedding. We provided a picture of what we wanted for our day, and the design turned out great, as well as the taste of the cake. I was pleasantly surprised to... Read More find an affordable cake with both great flavors and beautiful design.
---
Looks great and taste even better
Reviewed on

11/29/2012
Lillian H
Customer was excellent. Cake was absolutely beautiful! We were pleased with our three tier cake, the strawberry poundcake layer was yummy.
---
The Perfect Wedding Cake
Reviewed on

10/01/2012
Rita S
Cakes by La'Meeka made my perfect wedding cake. My guest are still talking about my cake. It not only looked amazing it taste was so good we ate all three layers. I will be calling her again and again. Thanks La'Meeka for making my day speical. R Sands
---
A tasty treat
Reviewed on

9/04/2012
Sharita G
My cakes were great my husband loved his grooms cake and it was delicious. The wedding cake was a show stopper and the taste was unforgettable,the owner was a pleasure to work with.
---
Delicious
Reviewed on

6/11/2012
Francina G
My cake was all that I imagined. The taste and appearance. Everyone raved about how moist the cake was and the beautiful design. Great service from the vendor as well. Grooms cake came out great as well.
---
Come for the ceremony... stay for the cake!!!
Reviewed on

4/28/2012
Wayne D
My wife made the initial arrangements for the cake. La'Meeka was very helpful in providing mini samples for me to taste since I was out of town. We could have easily had a cake out of any one of the flavors... the toughest part was deciding on which of her excellent flavors we... Read More would choose for the layers. La'Meeka provided a beautiful cake and did so in a very timely fashion. She found an elegant cake that was well within our budget.
---
DELICOUS!!!!
Reviewed on

10/11/2011
Lashavous A
Not only did La'Meeka make our wedding cake the most BEAUTIFUL wedding cake I have ever laid eyes on, it was soooooo DELICOUS!!!! She did an AWESOME job. Our guests are still commenting on how great the cake tasted. I highly reccomend her :)
---
cake
Reviewed on

9/21/2011
Monique D
cakes by lameeka was great. my wedding cake and the grooms cake were beautiful and delicious. everyone loved both cakes and she made the cakes exactly how we wanted them. i would recommend cakes by lameeka to anyone.
---
Mmm mmm good!
Reviewed on

6/15/2011
Resena H
I must say LaMeeka makes some of the best wedding cakes on the southside of Atlanta. I didn't go to very many cake tastings because after I taste her cake I stopped looking. I have been getting phone calls from family and friends asking "who made the cake"? I am definitely... Read More going to use her again for other events and parties.
---
very good CAKE! the icing color was off
Reviewed on

5/10/2011
LaKecia J
Why ask for a color swatch if you are not going to get an exact match on the icing color? Why not give the bride heads up that you were unable to match the color and give her an option to pick a new color? My only concern with La'Meeka was that the icing color was OFF. There are... Read More so many shades of pink so I specifically expressed how important it was to have icing that was a close match to the color swatch that I provided. Other than that the cake was soooooooooooooooooo good (butter almond cake & butter cream icing)and although it was the wrong color it was soooooooo pretty!!! If you are serving lots of liquor I would advise you to scale back on the cake. I had lots of cake left. Oh... one more thing ... La'Meeka does not play about her money. She called me the night before my wedding around 11:15 pm requesting a $70 dollar payment if I wanted my grooms cake. SMH. So make sure that you pay her in full in advance! But the cake was soooooooooo good so I would use her again.
---