Inside Yankee Star Aaron Judge's Private Marriage with Samantha Bracksieck
The record-breaking baseball player married his longtime love in 2021.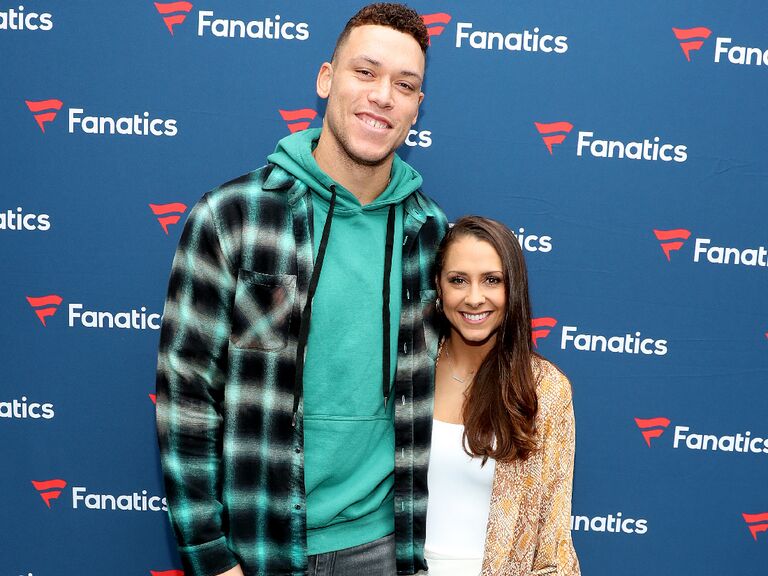 Tasos Katopodis/Getty Images for Fanatics
Aaron Judge certainly has a lot to celebrate. The New York Yankees outfielder has broken a number of records so far in the 2022 MLB season. First, he tied the single-season American League home run record on September 28th when he hit his 61st home run against the Toronto Blue Jays—matching the number that was set 61 years ago by fellow Yankees player Roger Maris in 1961. Days later, on October 4, he set his own record by hitting his 62nd homerun against the Texas Rangers. Now, fans anxiously watch as he continues his historic journey to the 2022 playoffs alongside the Yankees.
But the beloved athlete has even more to celebrate off the field. Despite being notoriously tight-lipped about his personal life, we know that Aaron Judge married his wife Samantha Bracksieck less than a year ago, in December 2021. Here, we share everything we know about their long-standing relationship, as well as their secret Hawaiian wedding.
In this article:
Is Aaron Judge Married?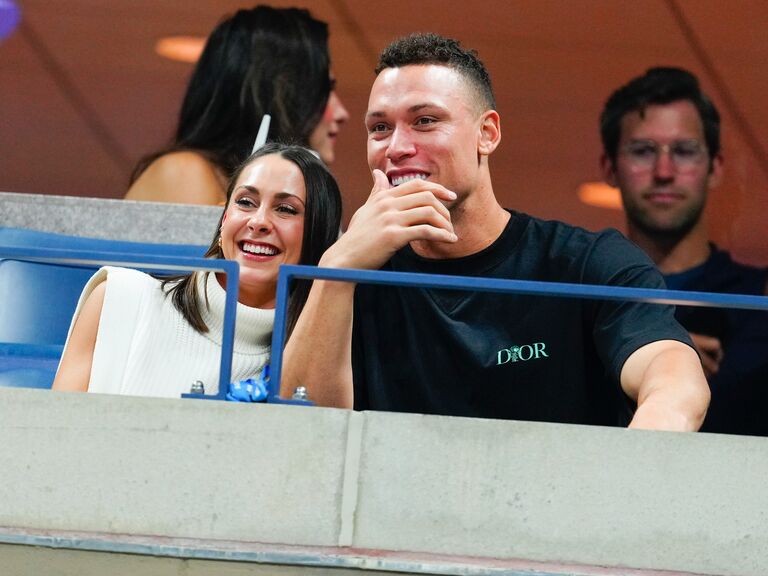 It's the question on the minds of curious fans everywhere: Is Aaron Judge married? The answer is yes. After dating for quite a long time, Aaron Judge married Samantha Bracksieck in December 2021—but more on that below.
Aaron Judge and Samantha Bracksieck's Relationship Timeline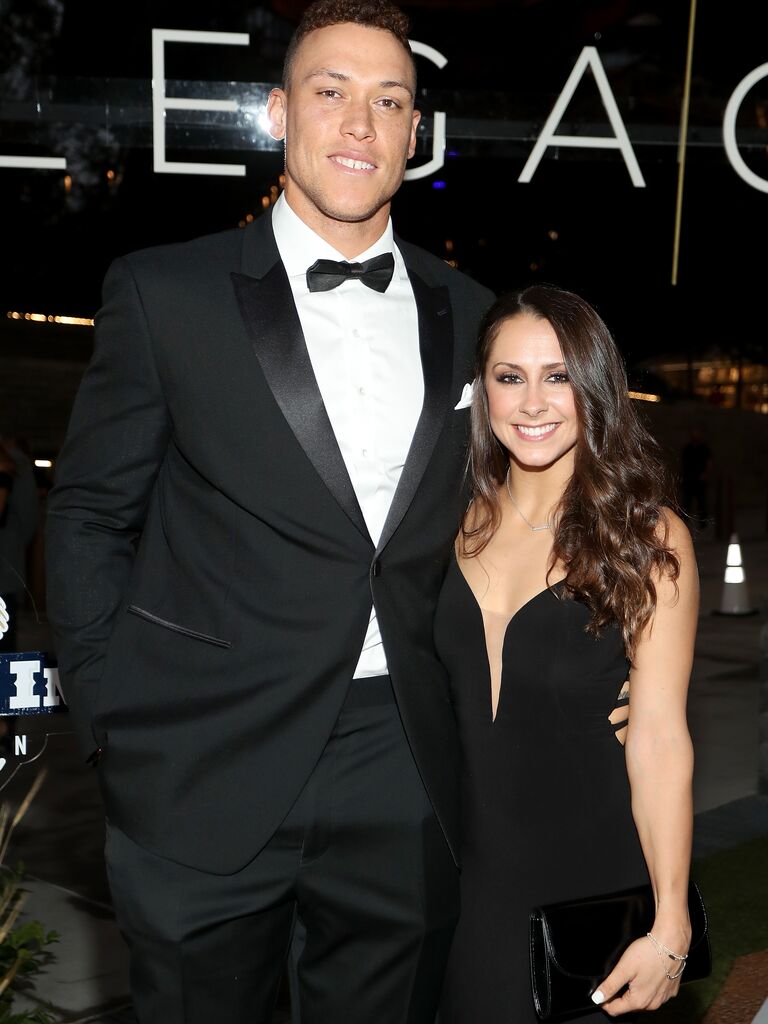 The beginning of Aaron Judge and Samantha Bracksieck's love story is somewhat unknown. Bracksieck, who doesn't have a social media presence, has only appeared on Judge's Instagram twice: once in a collage from a 5K race in 2014, and again in a photo with his family at the MLB's All-Star Break in July 2022.
The Couple Reportedly Met in High School
According to various reports, Aaron Judge and Samantha Bracksieck allegedly met in high school. They both attended Linden High School in Linden, California, where Judge excelled in three sports: football, basketball and baseball. He graduated in 2010.
After high school, they both attended Fresno State University in Fresno, California. While there, they both received a number of accolades—Judge, for his achievements on the Fresno State baseball team; and Bracksieck, for her success in her kinesiology studies. According to an article from Fresno State College of Health and Human Services, Bracksieck was awarded "Outstanding Master's Degree Project" for her project "Posterior Elbow Angle During the Movement Phase of Throwing in Relation to the Susceptibility of UCL Injury in Major League Baseball Players."
They Frequently Attend Sporting Events Together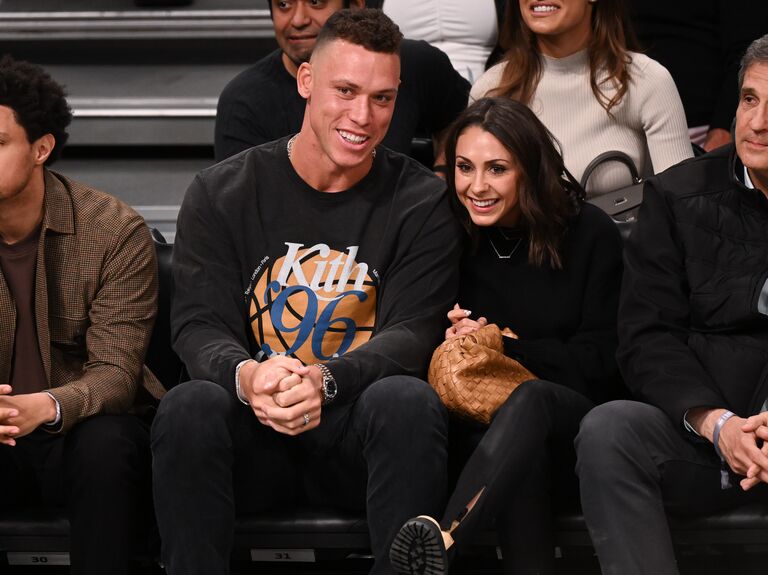 Following their college years, Judge was selected by the Yankees as the 32nd pick in the first round of the 2013 MLB draft. He made his MLB debut in 2016 and went on to hit a home run in his first career at-bat. He continued to have a record-breaking rookie season.
Amid his soaring athletic success, Judge continued to keep his romantic relationship out of the public eye. Still, though, the two are often seen attending sports events, sitting courtside at NBA games and taking in US Open matches. Bracksieck has also attended quite a few public events with Judge, like The LegaCCy Gala in 2019 and the Sports Illustrated Super Bowl party in 2020. They've also attended charity events together. In 2019, the couple visited patients at Valley Children's Hospital in Madera County, California, to support Judge's foundation ALL RISE. The organization, which he founded in 2018, aims to help young children and teens become responsible citizens through leadership programs, grants, baseball camps and other activities.
They Never Formally Announced Their Engagement
In keeping with their private nature, Aaron Judge and Samantha Bracksieck never formally announced their engagement. It's not known exactly when Judge popped the question, but the duo fueled engagement rumors when Bracksieck was photographed wearing a diamond ring in June 2021.
Aaron Judge and Samantha Bracksieck's Wedding Details & Photos
So, when did Aaron Judge get married? Thanks to paparazzi photos published by the NY Post, we know that Aaron Judge and Samanta Bracksieck's wedding took place on December 11, 2021 at Montage Kapalua Bay resort in Maui, Hawaii. In the image—which has never been publicly shared by the couple—Judge is seen wearing a dark suit while kissing his bride, who wore a white dress with an intricately-designed back and a cascading veil.
While we don't know much about the exclusive guest list, photos on Twitter showed Judge's Yankee teammates Gary Sanchez, Luis Cessa and Gleyber Torres on vacation in Hawaii at the same time as the wedding, alluding to their presence at the nuptials.