Who is Jalen Hurts' Girlfriend? All About Bry Burrows & Their Relationship
The Eagles quarterback is in the spotlight as he heads to Super Bowl LVII.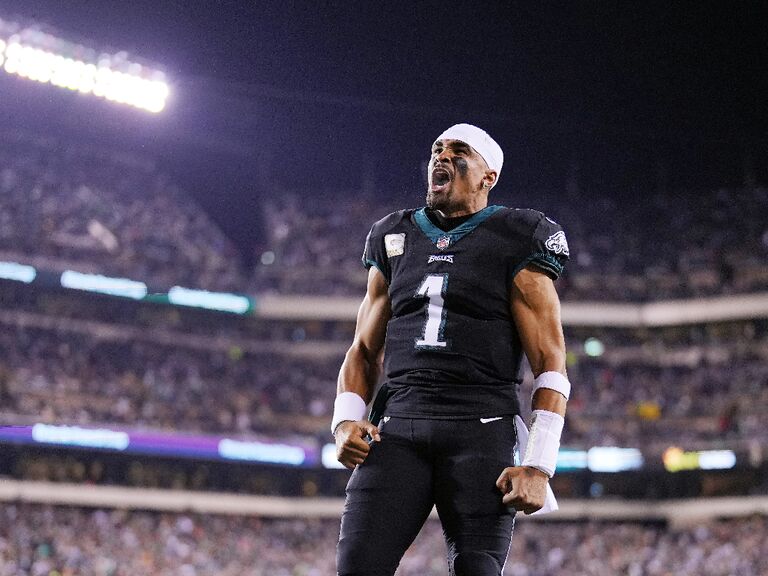 Mitchell Leff / Getty Images
All eyes are on Jalen Hurts as he and the Philadelphia Eagles head to Super Bowl LVII to face Patrick Mahomes and the Kansas City Chiefs in Arizona. While there's been plenty of buzz about the NFL quarterback's impressive 14-3 record during the 2022-2023 season, fans can't help but speculate about his private love life too. The 24-year-old is rather tight-lipped when it comes to his relationship off the field, so if you find yourself wondering, "Does Jalen Hurts have a girlfriend or wife?" you certainly aren't alone. Here's everything we know about Jalen Hurts' relationship status.
Is Jalen Hurts Married?
At the moment, Jalen Hurts is not married. The athlete, who has been with the Philadelphia Eagles since 2020, hasn't even publicly spoken out about having a wife or girlfriend. Despite this, he is reportedly dating Bryonna "Bry" Burrows, who made her first public appearance with Hurts after the Eagles won the 2023 NFC Championship game against the San Francisco 49ers.
Who is Jalen Hurts' Girlfriend, Bry Burrows?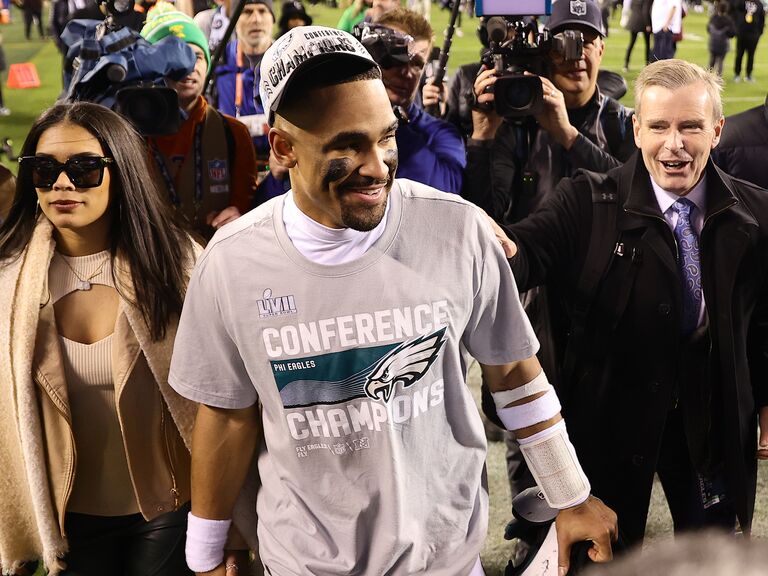 While Jalen Hurts hasn't officially confirmed that he's dating Bry Burrows, it's speculated that the two have had an on-again, off-again relationship for at least seven years. Here's what to know about the rumored couple.
Bry Burrows and Jalen Hurts Reportedly Met in 2016
Various outlets allege that Jalen Hurts and his girlfriend Bry Burrows met in college. After graduating from Channelview High School in Channelview, Texas in 2016, Hurts went on to play football at the University of Alabama, where he started as the quarterback during his freshman year. It was there that he reportedly began dating Bry Burrows, who was also a student. Many believe that the couple continued to see each other even as Hurts transferred to the University of Oklahoma for his final college season in 2019 before his NFL draft.
Bry Burrows Graduated from the University of Alabama
According to her LinkedIn profile, Bry Rivera Burrows graduated from the University of Alabama with a Bachelor's degree in political science before pursuing her master's in business administration at the same institution. Based on a tweet from the school's Culverhouse College of Business, Burrows served as vice president of the MBA Association and captain of the national award-winning MBA Case Team.
She Lives and Works in Dallas, Texas
Bry Burrows' LinkedIn states that she currently works for IBM as an AI Partner. Prior to that role, she served as a Software Financing Leader for the same company. While it's unclear where she's from, Burrows now lives and works in Dallas, Texas—about 240 miles away from Hurts' family home in Channelview, just outside of Houston.
The Eagles Quarterback Went Public with Burrows after the 2023 NFC Championship Game
Although it's believed that Jalen Hurts and Bry Burrows have been dating since college, she only made her first public appearance by her boyfriend's side at the 2023 NFC Championship match. Hurts led the Philadelphia Eagles to victory over the San Francisco 49ers, which ultimately secured their spot in the Super Bowl. After Philly's win, Hurts was joined by Burrows on the field where they hugged and celebrated the milestone win. In a sweet gesture, he even placed his championship hat on his girlfriend's head.
Following the post-game excitement at Lincoln Financial Field, Burrows was photographed walking back inside the stadium with the Eagles QB. As the images began making their rounds on social media, TikTok videos of the couple quickly went viral—simultaneously breaking the hearts of fans who were hoping that he was, in fact, single. ("I just fell to my knees," read one cheeky comment.)
The Couple Keeps Their Relationship Out of the Spotlight
If you're planning on scouring Instagram for evidence of Jalen Hurts' girlfriend, you won't find much. Despite being linked to each other since 2016, Hurts has yet to post his girlfriend on his social media pages, and vice-versa: Burrows keeps her Instagram account set to private. Amid the anticipation of Super Bowl XLVII, time will tell if Jalen Hurts and his girlfriend share more about their romance.