The 45 Most Iconic Famous Couples Of All Time
These duos are the definition of relationship goals.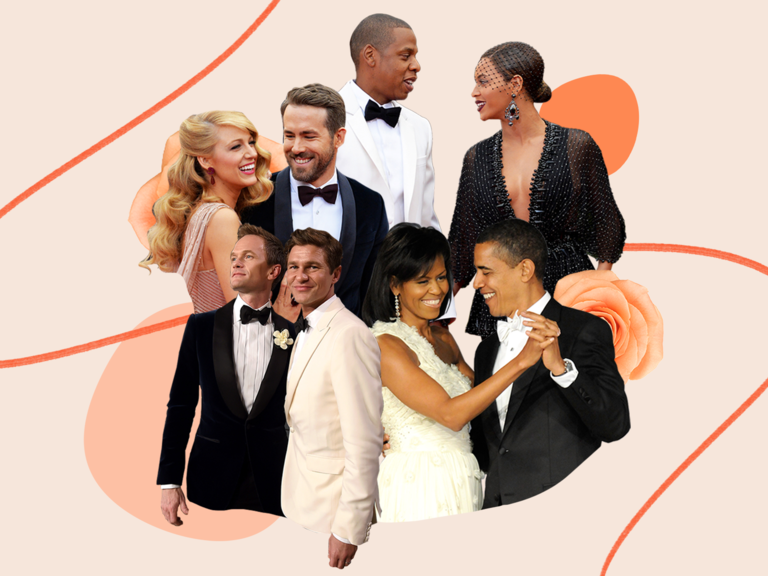 Getty Images | Design by Tiana Crispino
Beyond the glitz and glamor of red carpets, silver screens and theater stages, famous celebrity couples share a bond that feels larger than life. We look to these iconic couples to entertain us through the parts they play and the work they do, but sometimes it's their real-life roles as married partners that capture hearts the most. When two people come together to make the perfect match—be it your married-for-decades grandparents or one of many famous couples embracing on the big screen—it sparks all the feels. Here, we highlight 45 of the most heartwarming celebrity couples throughout history, from historical duos to modern pairings. Look back on their love stories and relive their sweetest moments together.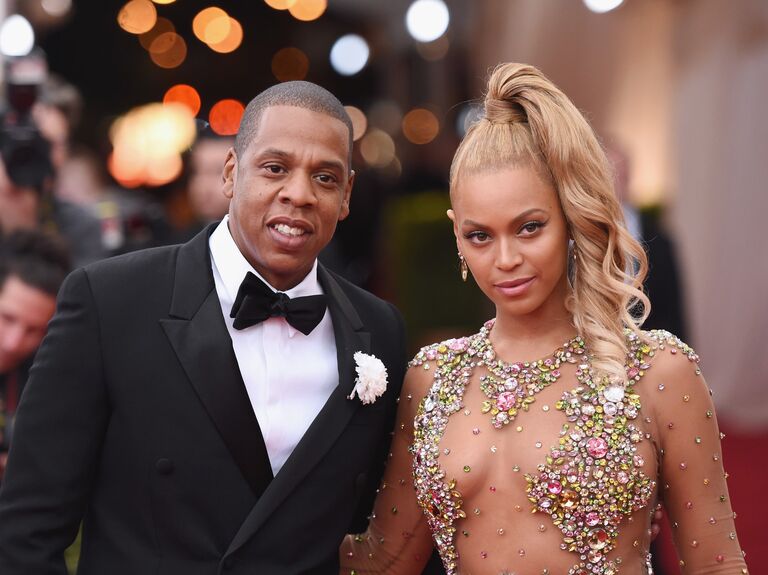 We can't kick off a list of the most iconic married celebrities without mentioning Beyoncé and Jay-Z. The musical powerhouses have been together for over 20 years, and their top-secret New York City wedding in 2008 was one that completely reshaped the industry. They're still married today and share three children together: Blue Ivy, and twins Rumi and Sir.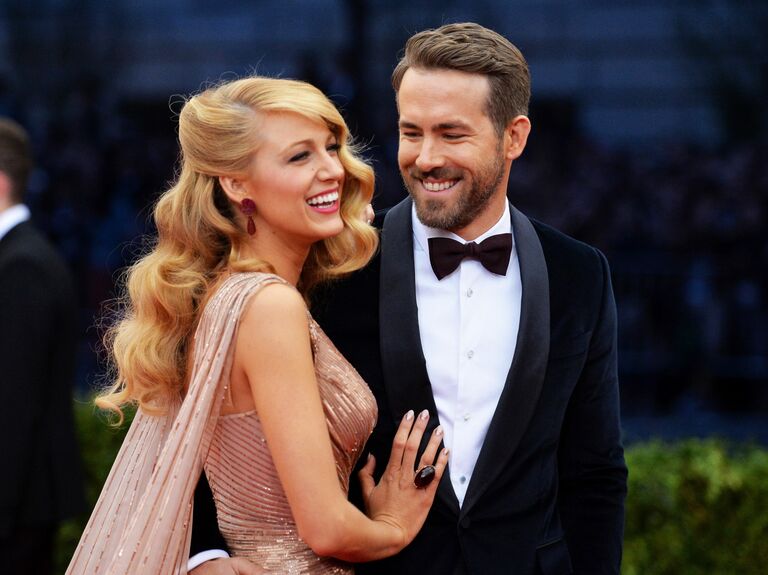 The same goes for Blake Lively and Ryan Reynolds. The actors met on the Green Lantern film set in 2010 where they played on-screen lovers—and by 2011, their scripted romance transferred to real life. Today, they're one of the most beloved celebrity couples in Hollywood, thanks to their endearing sense of humor and the love they publicly share for each other. After getting married in a private wedding in 2012, they're now the proud parents to daughters James, Inez, Betty, and a fourth whose name has yet to be publicly shared.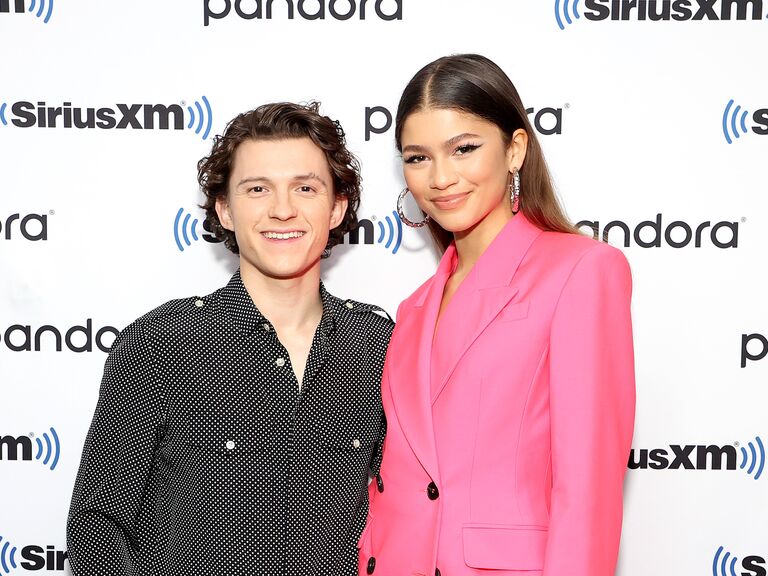 Although Zendaya and Tom Holland aren't engaged or married just yet, they're one of the most talked-about Gen Z couples. The actors met on the set of Spider-Man: Homecoming in 2016 and embarked on a years-long friendship before their romance was made public in 2021. While this iconic couple tends to keep the details of their relationship out of the public eye, fans can't help but hope these two get engaged in the near future.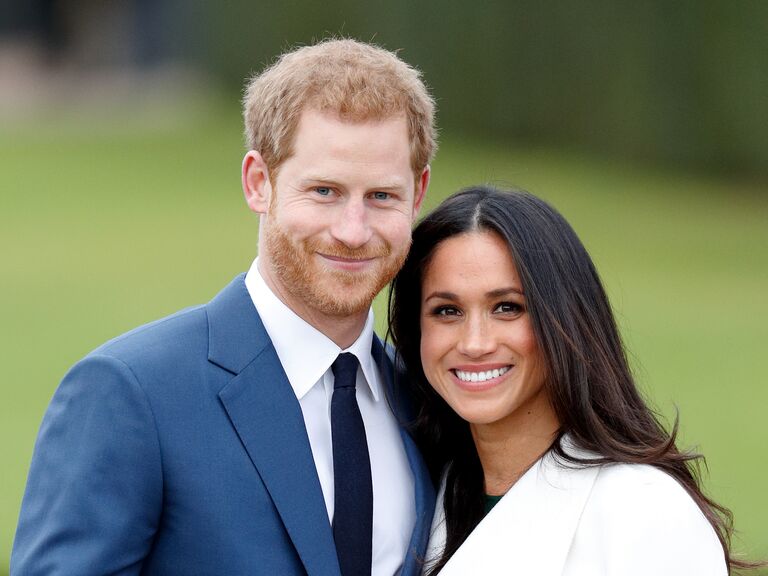 The world was captivated by Meghan Markle and Prince Harry's 2018 royal wedding, and for good reason. The American actress began dating the British prince in 2016, and their bi-continental romance elicited a flurry of excitement, buzz and curiosity. Their highly-anticipated nuptials were watched by an estimated 2 billion people around the world, and the Duchess's custom Givenchy gown instantly became one of the most iconic wedding dresses of all time. In early 2020, Prince Harry and Meghan expressed their desire to step down as full-time members of the royal family. In the years since they relocated to Santa Barbara, California, they've forged a path as trailblazers in their respective careers, dedicating their time to humanitarian work and parenthood; The royal parents have since grown their family to include son Archie and daughter Lilibet.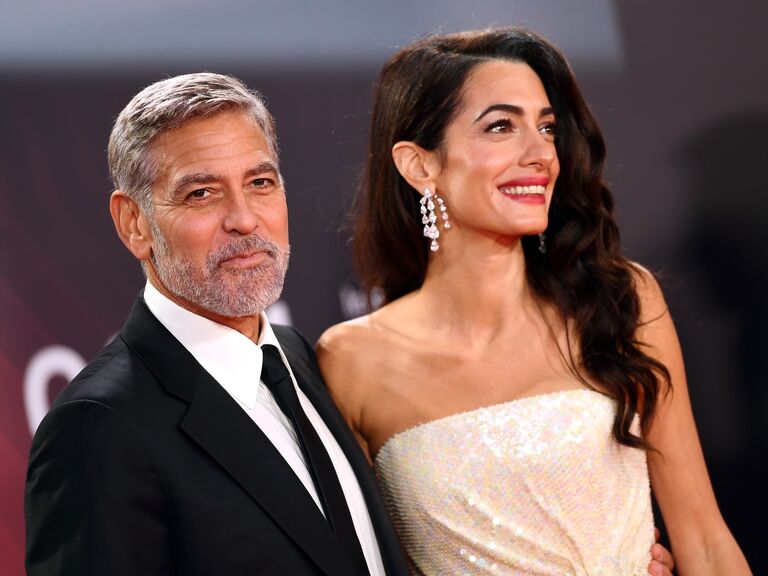 It doesn't get more glamorous than George and Amal Clooney. This iconic couple had a meet-cute for the ages at a dinner party Clooney hosted at his Lake Como villa in 2013. The Oscar-winning actor sparked up a fast friendship with the successful human rights lawyer, and their relationship turned romantic later that year. By 2014, Clooney popped the question. The couple got married at a star-studded wedding in Venice, Italy that same year, which brought out scores of onlookers and paparazzi all trying to catch a glimpse of the luxe affair. The Clooney twins, Alexander and Ella, joined the family in 2017.
Neil Patrick Harris and David Burtka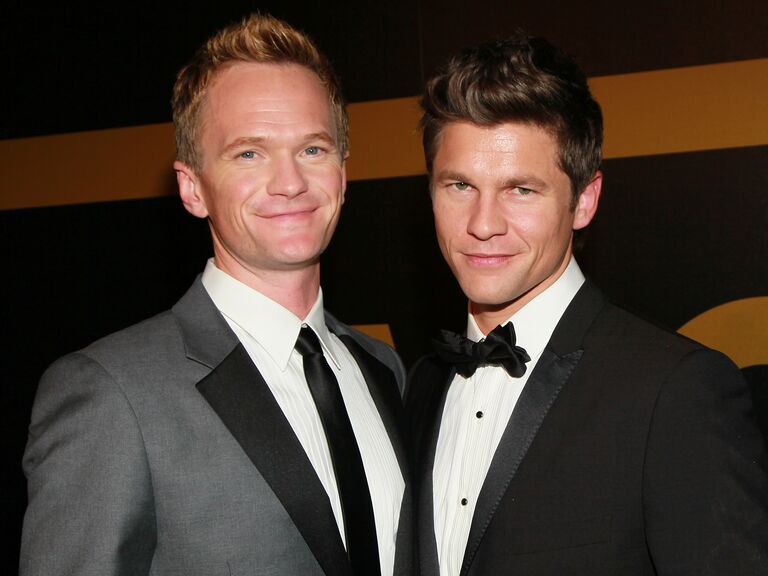 This iconic couple has stood the test of time. Neil Patrick Harris and David Burtka met on a street corner in New York City in 2004, and their friendship grew into something more. The actors took their romantic relationship public in 2007 and welcomed twins Harper and Gideon via a surrogate in 2010. After gay marriage was legalized in New York in 2010, this famous couple formally announced their engagement. They were officially married in 2014 during a private (yet lavish) ceremony in Italy.
Barack and Michelle Obama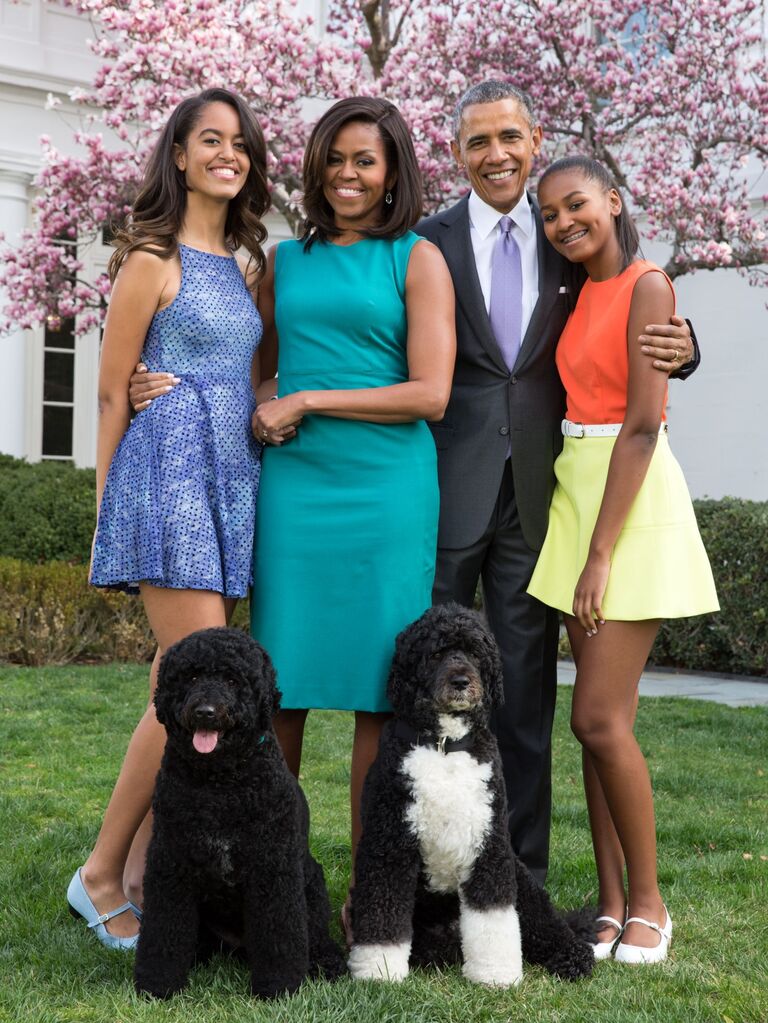 Barack and Michelle Obama will go down as one of the most famous couples in history. Years before they became President and First Lady of the United States, they met when they were both working at a law firm in Chicago. They were married on October 3, 1992, and later welcomed daughters Malia and Sasha. Michelle was a fierce supporter of her husband throughout his presidency, which spanned from 2009 to 2017. To this day, the Obamas often speak about their marriage, including how they've overcome challenging times and how their relationship continues to flourish now outside of the White House.
John Krasinski and Emily Blunt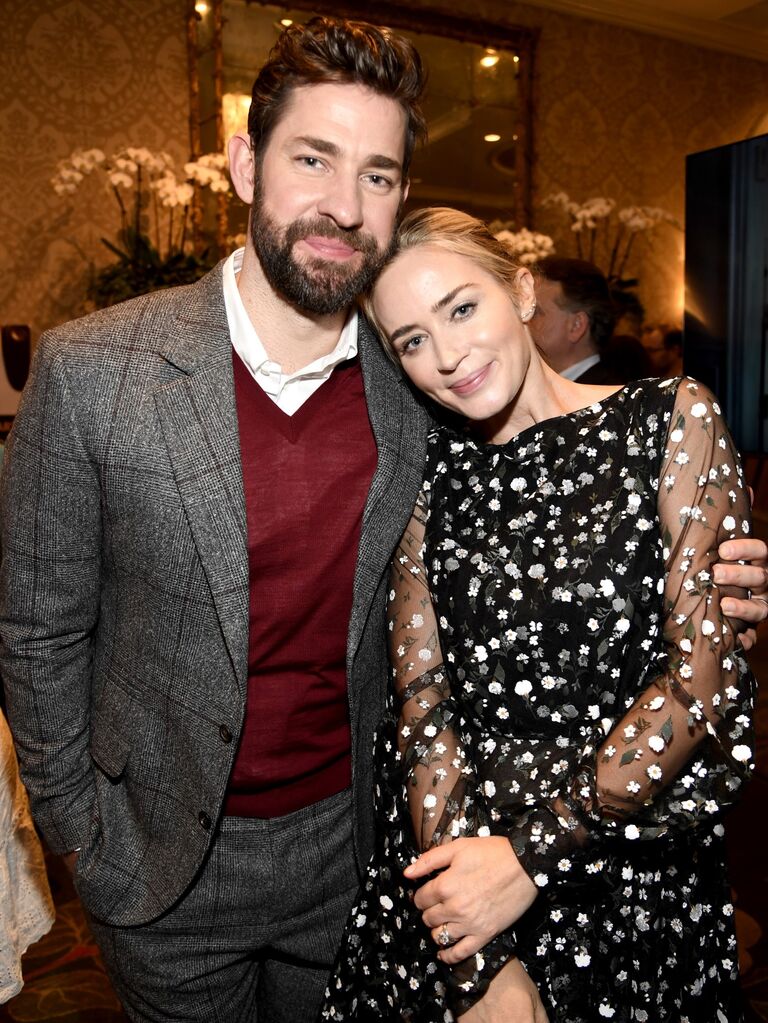 We know him as Jim from The Office, and her as Emily in The Devil Wears Prada. Separately, John Krasinski and Emily Blunt are two of the most well-known actors in Hollywood—and together, they make up one of the most iconic couples. They crossed paths for the first time in 2008 when they were both at the same restaurant and a mutual friend introduced them. They got engaged the following year and were married on July 10, 2010, at George Clooney's villa in Lake Como, Italy. They've since welcomed two daughters together and had the opportunity to play on-screen spouses in the 2017 horror flick A Quiet Place.
Penélope Cruz and Javier Bardem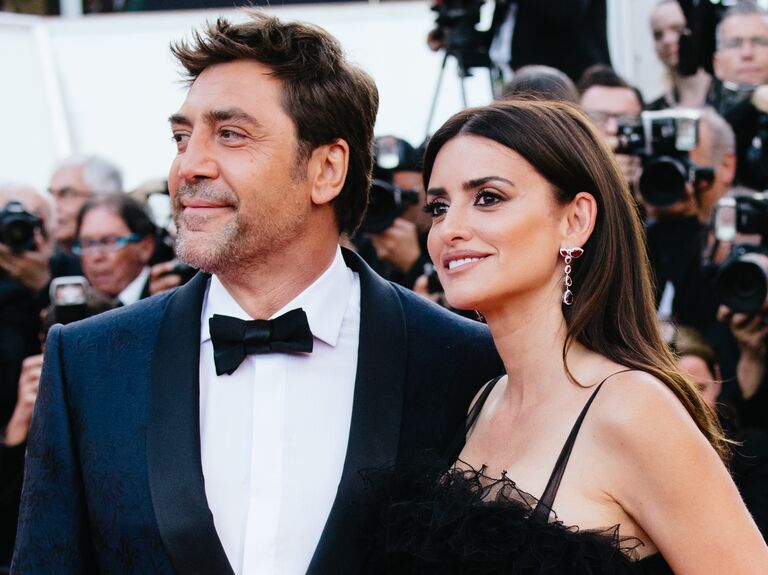 Penélope Cruz and Javier Bardem's relationship goes all the way back to 1992. The Spanish actors met on the set of their film Jamón Jamón, and would go on to star alongside each other in three other films. Their professional partnership turned romantic, and they began dating in 2007. The couple got married at a friend's private home in the Bahamas in July 2010 and went on to welcome a son and daughter in 2011 and 2013, respectively.
Megan Rapinoe and Sue Bird
When it comes to athletic power couples, no partnership is quite as dynamic as Megan Rapinoe and Sue Bird's. Rapinoe, a soccer player, and Bird, a basketball player, began dating in late 2016, but they didn't publicly announce their relationship until July 20, 2017. They made history the following year by becoming the first same-sex couple to star on the cover of ESPN's The Body Issue. Since then, they continue to break barriers through shared activism and philanthropic work. They announced their engagement on October 30, 2020, and revealed their wedding plans are dependent on each other's busy sports schedules.
Speaking of athletic power couples, we have a soft spot for Simone Biles and Jonathan Owens. This iconic couple met on the celebrity dating app Raya in March 2020 and have been dedicated advocates for each other. Owens, an NFL player for the Houston Texans, was a vocal supporter of Biles when she withdrew from Olympic events due to mental health concerns in 2021. He proposed to the gymnast on Valentine's Day in 2022, and they shocked their fans and followers when they announced they secretly got married at a Houston courthouse in April 2023.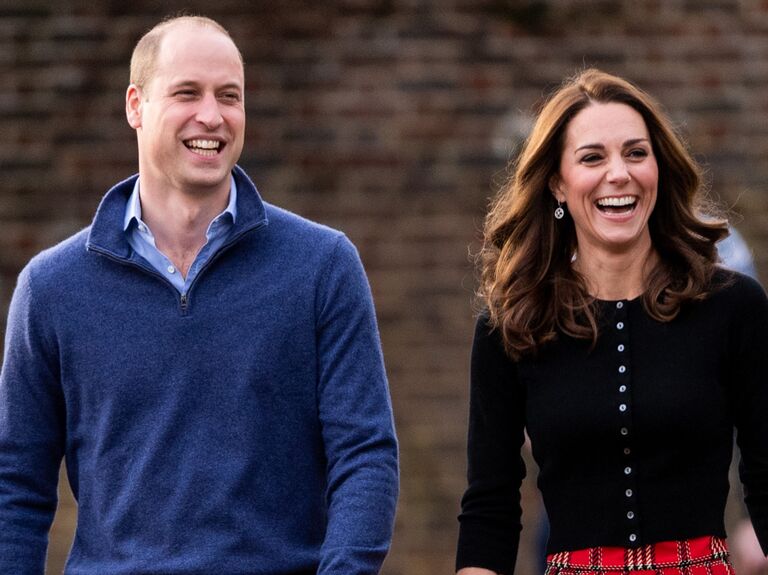 Prince William and Kate Middleton's love story is a real-life fairytale. The duo met while in college at St. Andrews University in Scotland and began dating in 2003. Despite a brief split in 2004, they've been together ever since. Prince William proposed on a trip to Africa in October 2010 with Princess Diana's engagement ring. They were married in a quintessential royal wedding ceremony on April 29, 2011, at Westminster Abbey. Their children, Prince George, Princess Charlotte and Prince Louis, all joined the line of succession to the British throne behind their father. Upon the death of Queen Elizabeth II in 2022, the famous couple assumed the titles of Prince and Princess of Wales.
Joe Jonas and Sophie Turner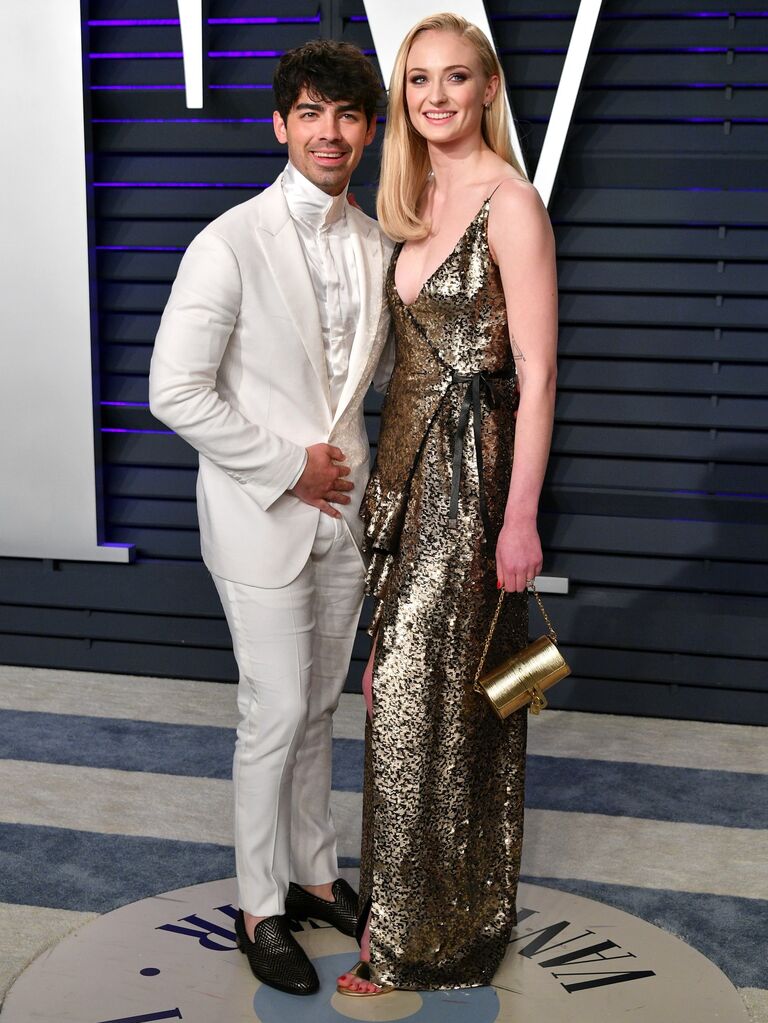 We can't have a list of famous married celebrities without including Joe Jonas and Sophie Turner. The singer began dating the Game of Thrones actress in 2016, and they got engaged one year later. Although they attempted to have a top-secret Las Vegas wedding in May 2019, their plans were foiled when a guest live-streamed the chapel ceremony on Instagram. They held a lavish sequel ceremony the following month in the South of France, and have since grown their family with the birth of two daughters in 2020 and 2022. Turner served as the inspiration for the song "Hesitate" off the Jonas Brothers' reunion album Happiness Begins, which was released in 2019.
Tom Hanks and Rita Wilson
As one of the longest-married celebrity couples, Tom Hanks and Rita Wilson have an incredible love story. They met in 1981 on the set of the TV comedy Bosom Buddies, and their paths crossed once again in 1985 while filming Volunteers. By 1988, Hanks and Wilson were married, and they've happily been together ever since. Wilson became the stepmother to Hanks' children Colin and Elizabeth, whom he has from a previous relationship, and they went on to have two more children together: Chet and Truman.
Viola Davis and Julius Tennon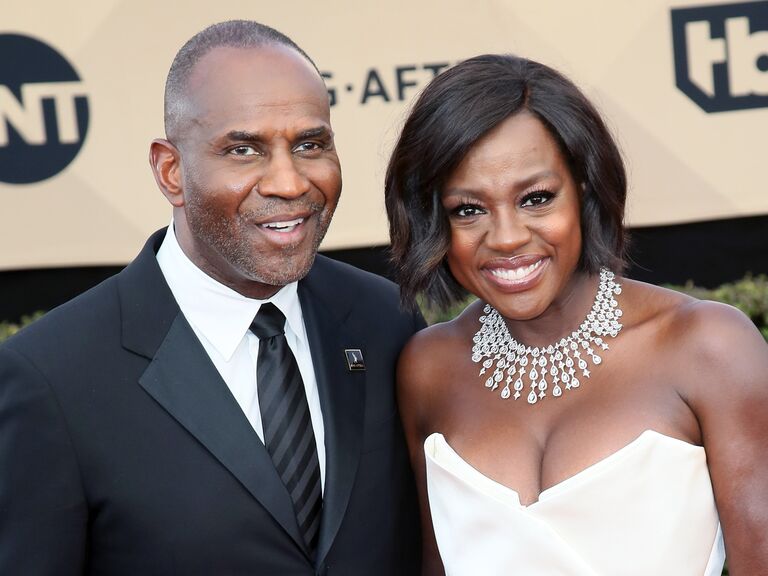 As one of the few Hollywood performers to have the prestigious honor of being an EGOT (the recipient of Emmy, Grammy, Oscar and Tony awards), Viola Davis is often regarded as one of the most influential actors of our time. Outside of the spotlight, she has a heart-warming relationship with husband Julius Tennon. Davis married the fellow actor in June 2003, and they adopted their infant daughter Genesis in 2011.
Kevin Bacon and Kyra Sedgwick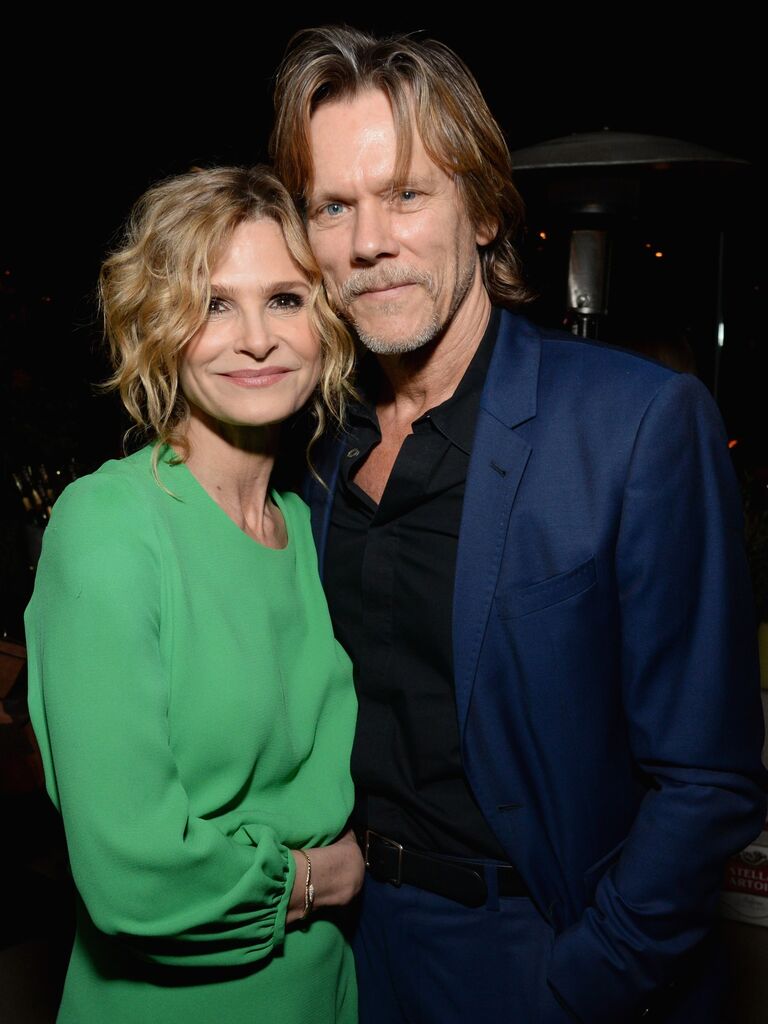 Given their status as one of the longest-married famous couples in Hollywood, Kevin Bacon and Kyra Sedgwick's romance is one of our favorites. The actors met on the set of the PBS special Lemon Sky, and they were married on September 4, 1988. They went on to star in four movies together, as well as a celebratory video produced by rapper will.i.am after Barack Obama's 2008 presidential win. They share children Travis and Sofia.
Elton John and David Furnish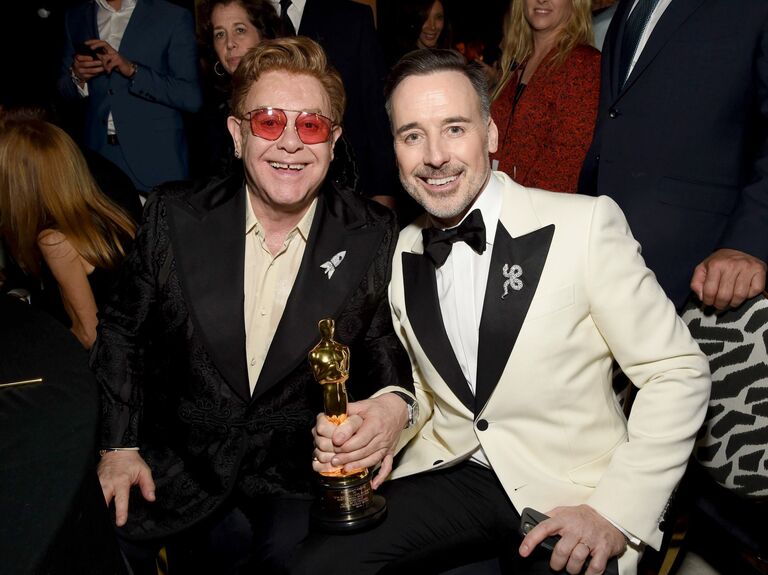 It doesn't get more iconic than Elton John, and we can't help but have a soft spot for his relationship with longtime love David Furnish. The singer first came out as bisexual in a 1976 interview with Rolling Stone, and in another interview with the publication in 1992, he confirmed he was "quite comfortable about being gay." He began dating Furnish, a Canadian filmmaker, in 1993. On December 21, 2005, the day that the Civil Partnership Act was introduced in the UK, John and Furnish were among the first same-sex couples to form a civil partnership. When same-sex marriage was legalized in the UK in 2014, the couple officially got married on the ninth anniversary of their civil partnership. They went on to welcome two sons together via surrogate. The couple collaborated on the production of Rocketman, the 2019 biographical film about Elton John's life.
John F. Kennedy Jr. and Carolyn Bessette Kennedy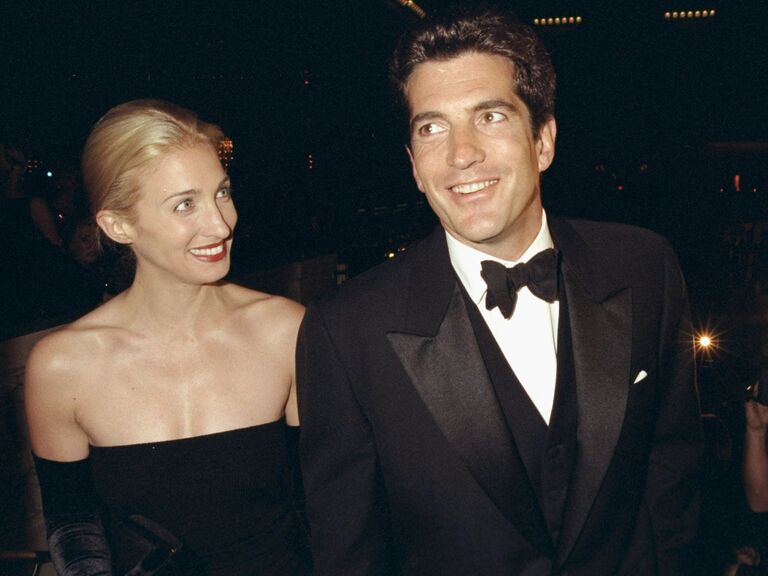 Perhaps one of the most iconic couples of all time was John F. Kennedy Jr. and Carolyn Bessette Kennedy. The son of President John F. Kennedy met the model in 1992, and they began dating in 1994. Their high-profile relationship sparked an onslaught of media attention, as gossip columns and paparazzi documented everything the couple did together. Bessette moved into her boyfriend's NYC apartment in 1995, and the duo got engaged later that year. They succeeded in keeping their September 12, 1996 wedding a top-secret affair, thanks to their choice to get married on the remote Georgia island of Cumberland. Their intimate nuptials took place amid candlelight in a small wooden chapel, and Bessette wore a trendsetting slip wedding dress with a cowl neckline. This popular love story was tragically cut short when the couple died in a plane crash on July 16, 1999.
Nick Jonas and Priyanka Chopra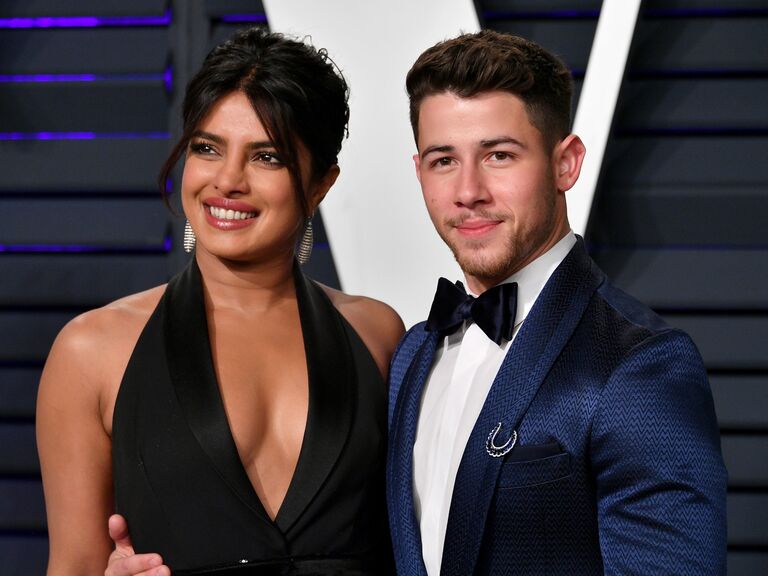 When it comes to memorable celebrity weddings, Nick Jonas and Priyanka Chopra's nuptials top the list. The couple began dating in May 2018, and by the end of the year, they were married. The duo hosted many traditional Hindu and Christian wedding ceremonies and parties throughout India and the United States. Four years later, they welcomed their first daughter, Malti, via surrogacy.
LeBron James and Savannah Brinson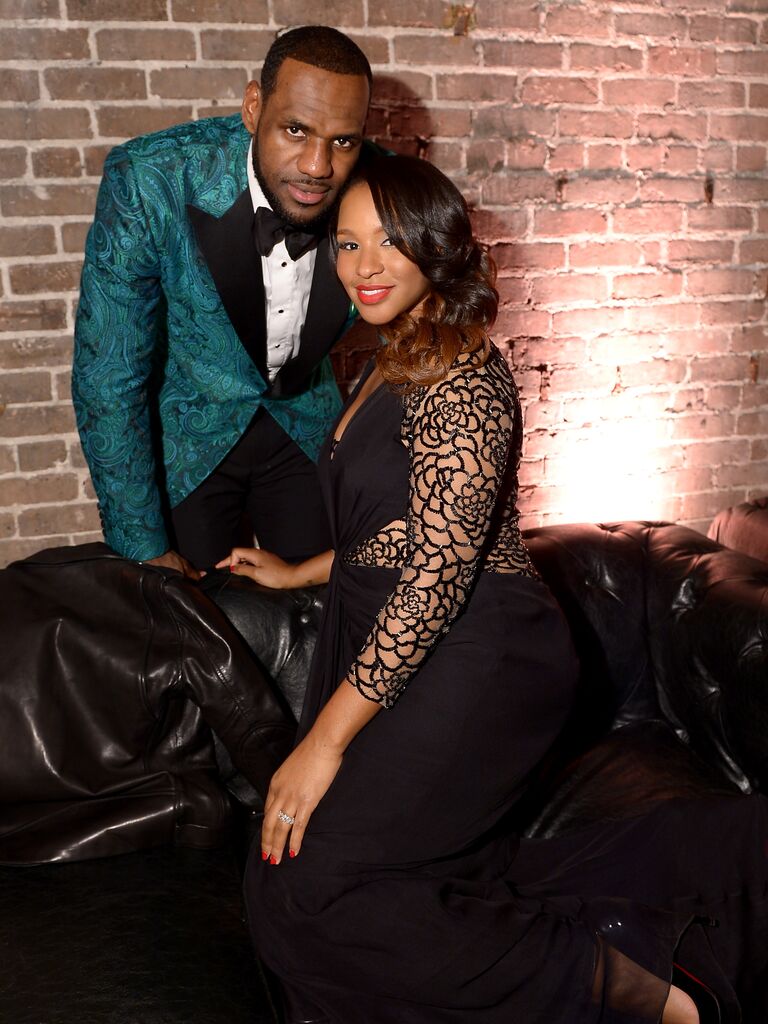 High school sweethearts LeBron James and Savannah Brinson's love story never fails to make us swoon. Brinson met the future NBA star at the young age of 16 when he was attending a rival high school. After getting his phone number, James invited her to a basketball game; after, they went out to dinner at Applebees with their friends. Their first official date was at Outback Steakhouse, and the rest is history. They were married on September 14, 2013, in California and share two sons and one daughter. The couple's son Bronny is already following in James' footsteps, as he was named a McDonald's All-American basketball player in 2023, 20 years after James' selection.
Chrissy Teigen and John Legend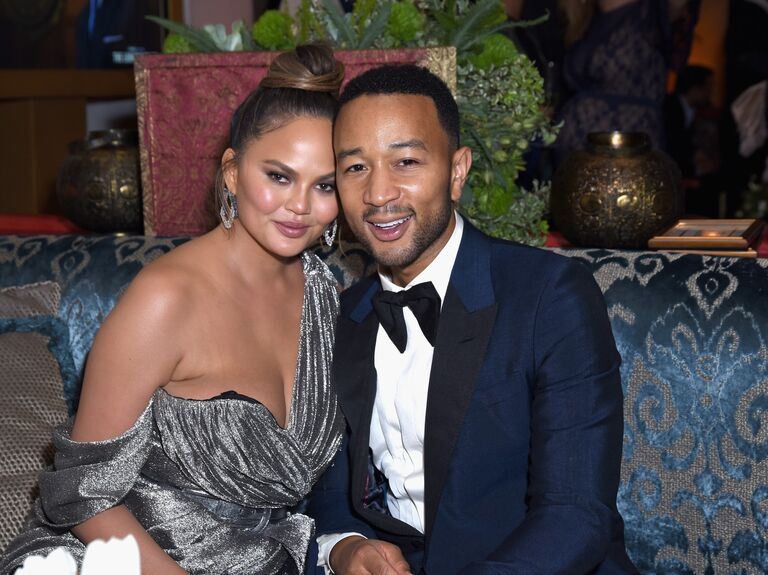 Fate brought Chrissy Teigen and John Legend together. Teigen was cast as Legend's love interest in the 2006 music video for his song "Stereo." The on-screen romance transferred to real life, and they began dating the following year. After four years together, Legend proposed in December 2011. The famous couple got married in a dreamy Italian ceremony on September 14, 2013, at a villa on Lake Como. They have three children together, and after facing a tragic pregnancy complication in 2020, they later spoke about how their strong relationship foundation helped them move forward.
Sarah Paulson and Holland Taylor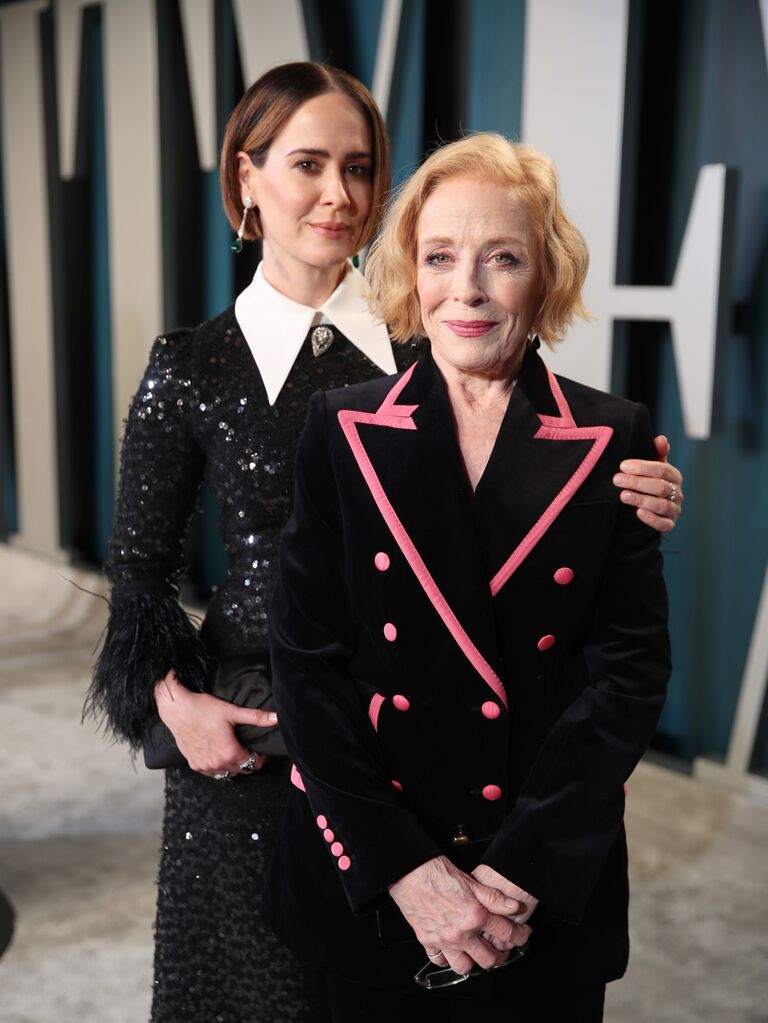 We love to love Sarah Paulson and Holland Taylor's relationship. The American Horror Story star began dating Taylor, an Emmy-award-winning actor, in 2015. They met at a dinner party 10 years prior but reconnected thanks to social media. They often attend award shows together arm-in-arm and frequently share heartfelt posts about each other online.
Johnny Cash and June Carter Cash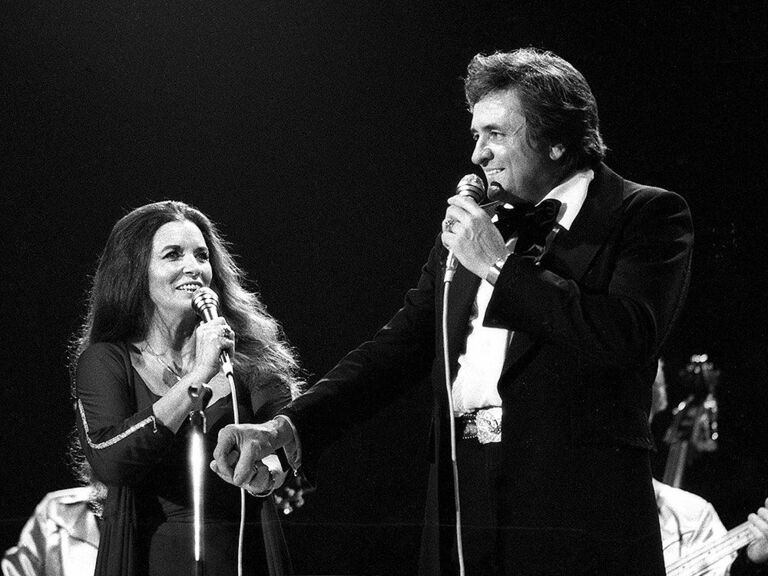 It's easy to remember the influence Johnny Cash and June Carter had on country music, but it might not have been possible had she not been the positive force that changed his life. The musical artists first met backstage at the Grand Ole Opry, and 13 years later, Cash proposed to his love during a live performance in Canada. They were married on March 1, 1968, and had one child together. For 35 years, this iconic couple served as pioneers of the music industry as they made music and toured the world together until Carter's death in 2003.
Freddie Prinze Jr. and Sarah Michelle Gellar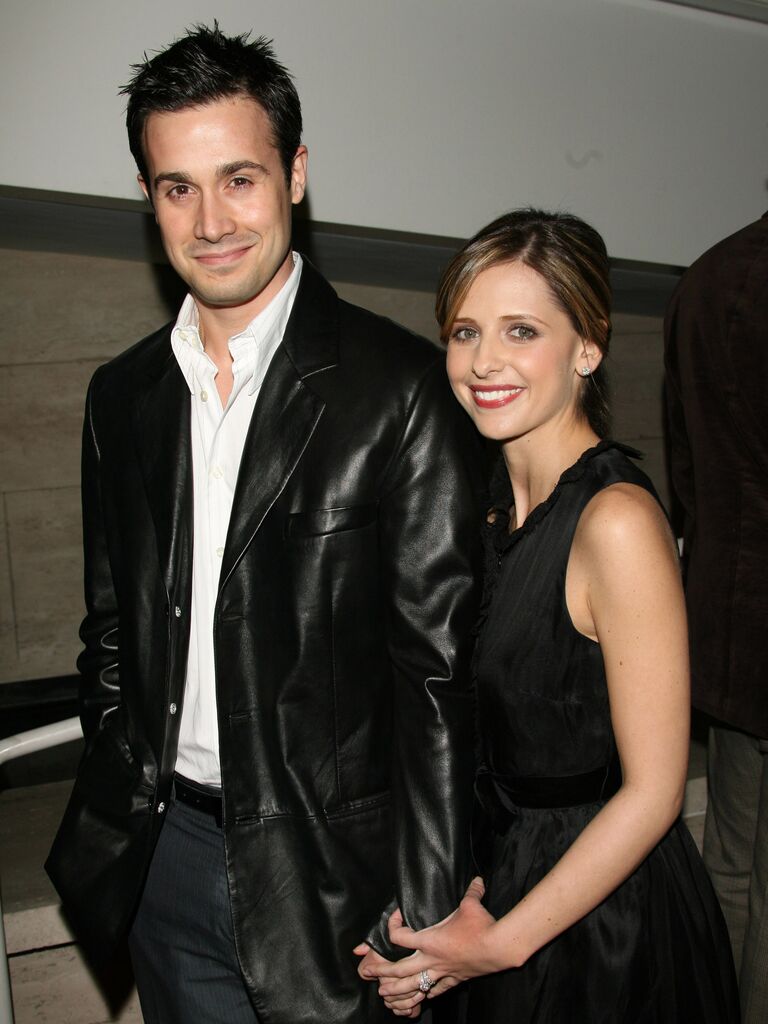 If you're a '90s kid, you probably have a soft spot for Freddie Prinze Jr. and Sarah Michelle Gellar. This well-known pair met on the set of the 1997 horror movie I Know What You Did Last Summer, though they didn't become romantically involved until 2000. The famous celebrity couple got engaged the following year, and they got married in Puerto Vallarta, Mexico, in September 2002. They've continued to star in roles alongside each other, including two Scooby-Doo live-action films, Happily N'Ever After, and Star Wars Rebels. The pair became parents with the birth of their daughter in 2009, followed by their son in 2012.
David Bowie and Iman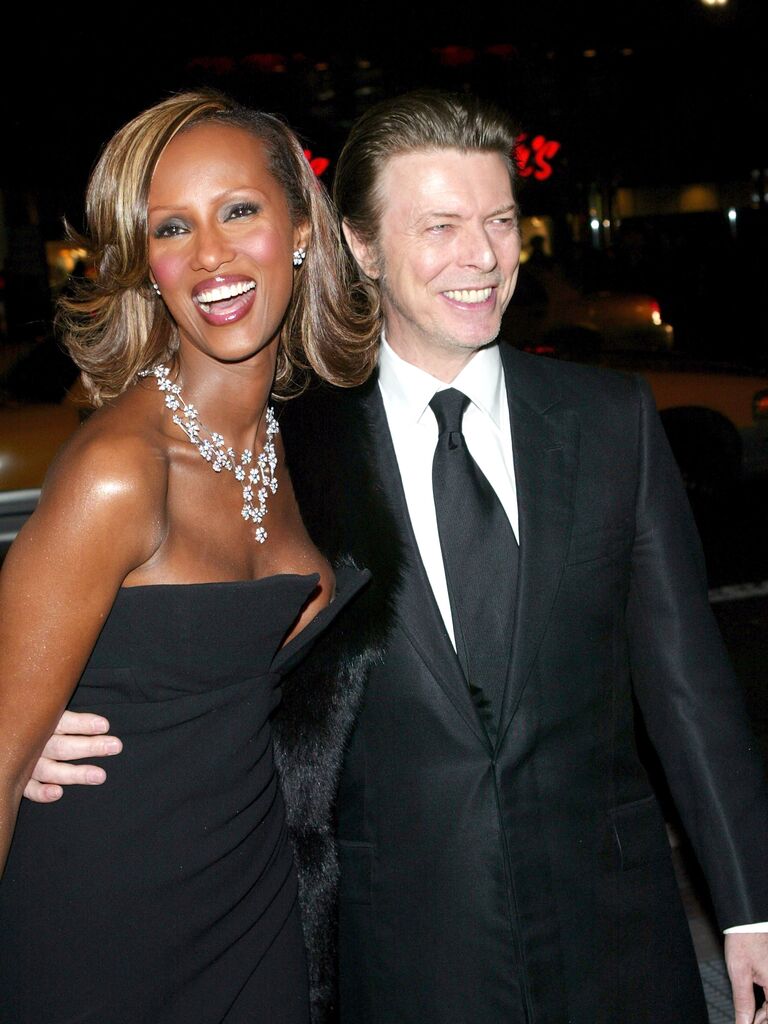 Before the rocker lost his secret battle with cancer in 2016, David Bowie and Somalian model Iman shared a beautifully artistic life together as one of Hollywood's most beloved and famous interracial couples. They met on a blind date set up by mutual friends in 1990 and quickly fell in love. By 1991, Bowie named his work "Abdulmajid" after his girlfriend. They were married the following year on April 24, 1992, in Switzerland, and they welcomed a daughter in 2000. Following Bowie's death in 2016, Iman wrote a touching tribute to her husband that captured the hearts of well-wishers and fans around the world.
​Oprah Winfrey and Stedman Graham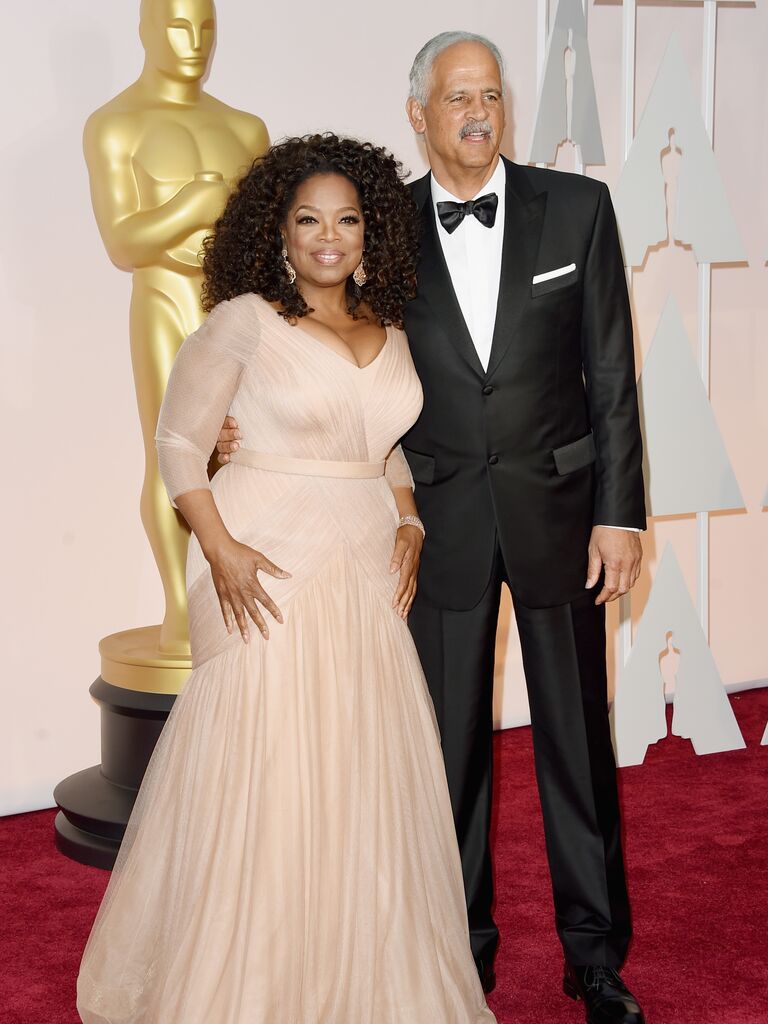 She may be the first African-American billionaire, but long before Oprah became a household name, she fell richly in love with longtime partner Stedman Graham. They began dating in 1986, and were even engaged to be married in 1992. Although the two never did end up tying the knot, their decades-long partnership demonstrates their dedication to one another.
Goldie Hawn and Kurt Russell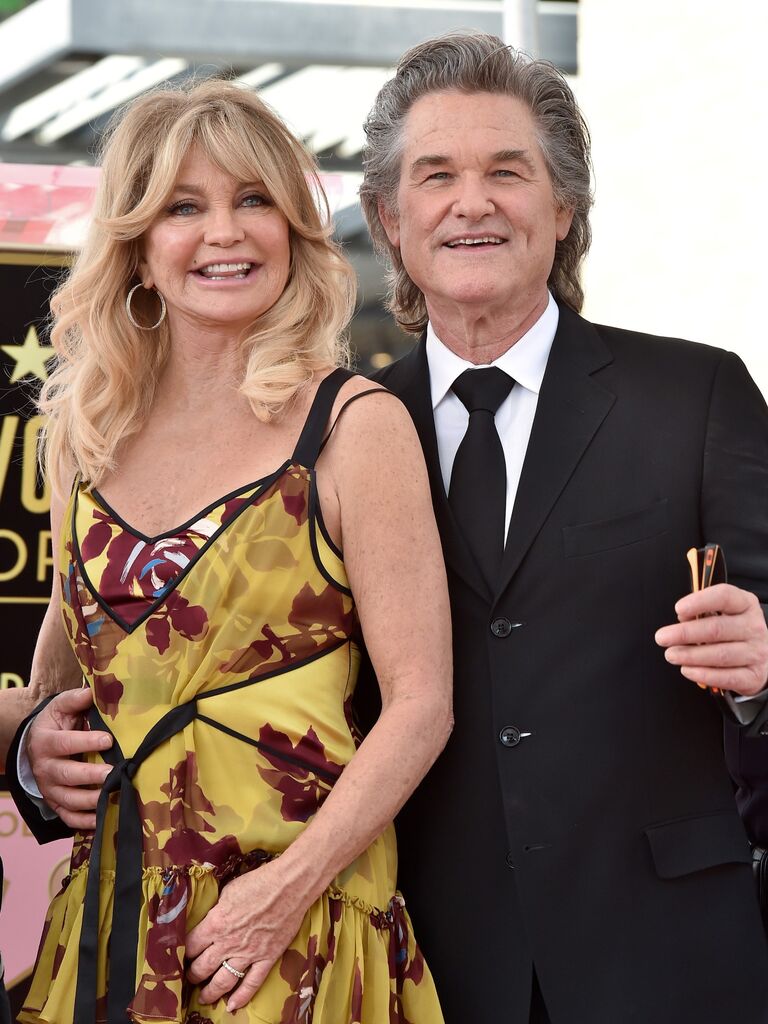 Not seeing the need to make their relationship official through marriage, Goldie Hawn and Kurt Russell have been inseparable for more than three decades. This famous celebrity couple met in 1966 while filming The One and Only, Genuine, Original Family Band, but didn't reconnect until they crossed paths on another movie set. They began dating on Valentine's Day in 1983, and now own multiple properties together around the world. Hawn, who is the mother of actors Oliver and Kate Hudson from a previous marriage, also became the stepmother of Russell's son Boston.
David and Victoria Beckham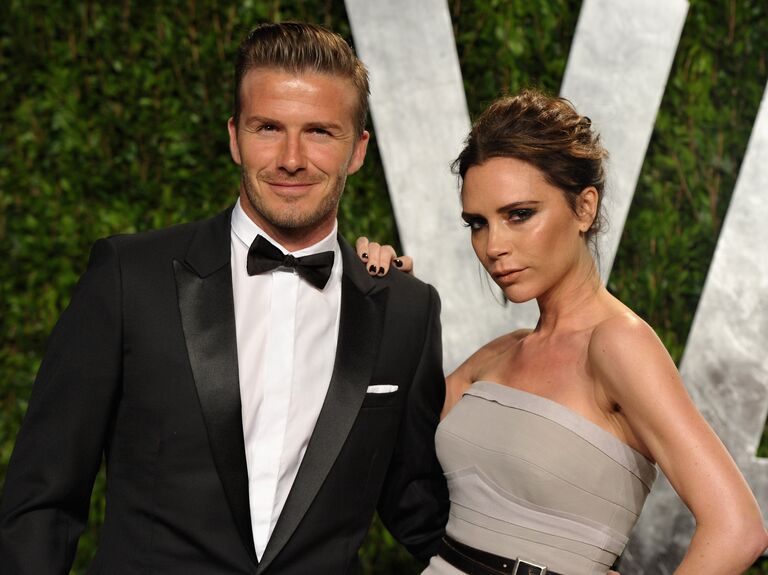 This famous couple is as posh as it gets. After meeting at a charity soccer event, David Beckham began dating Victoria Adams in 1997. According to his teammates, Beckham had a longtime crush on the Spice Girl but was incredibly shy when they met. They got engaged in 1998 and immediately became known as "Posh and Becks" by fans. Their iconic wedding is one we still look back on today. They swapped vows in an Irish castle, and the newlyweds changed into matching purple outfits for their reception (where they sliced their wedding cake with a sword). Their oldest son Brooklyn was four months old at the time and had the honor of serving as ring bearer. They've since welcomed three more children: Romeo, Cruz and Harper.
Michael J. Fox and Tracy Pollan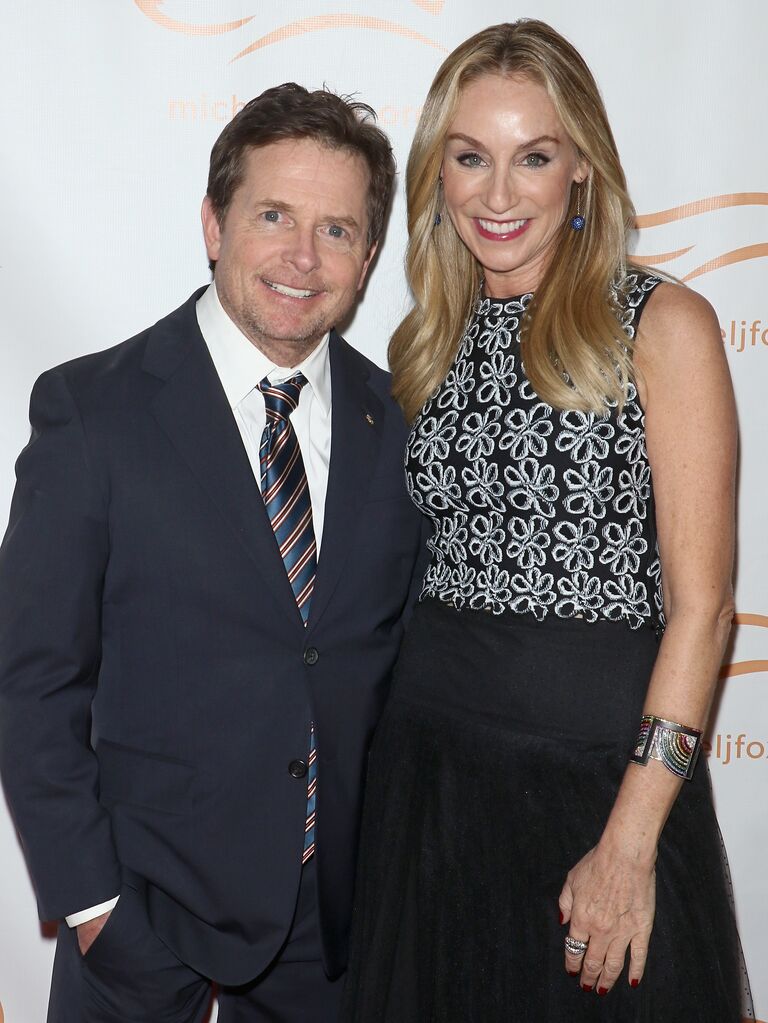 Michael J. Fox and Tracy Pollan turned their on-screen relationship from the 80's sitcom Family Ties into a real-life romance when they got hitched in 1988. They have four children together and are still happily married today. Following Fox's Parkinson's disease diagnosis, Pollan has been a dedicated advocate for her husband and his philanthropic organization, Michael J. Fox Foundation for Parkinson's Research.
Ashton Kutcher and Mila Kunis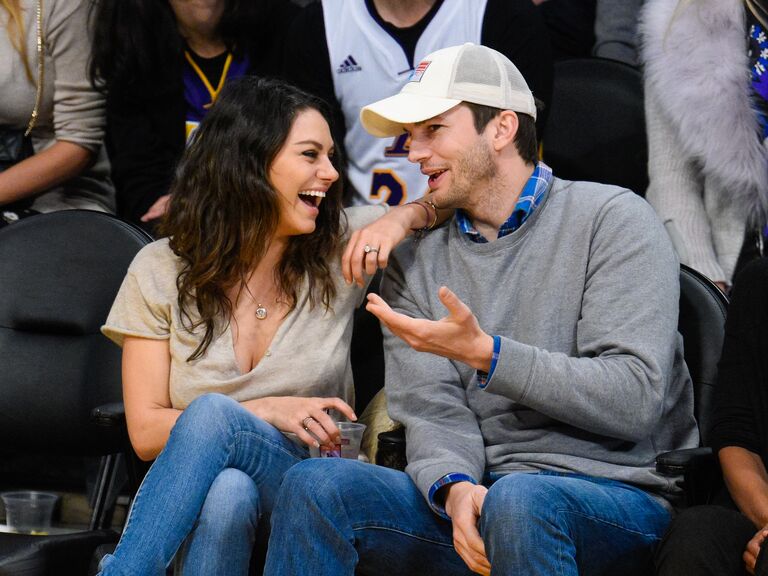 How can you not love when an on-screen romance becomes an IRL romance? Long before this celebrity couple got married, Ashton Kutcher and Mila Kunis were Kelso and Jackie—the vain, not-so-bright couple on That '70s Show. In fact, Kutcher was Kunis' first kiss… and it just so happened to be captured on camera. They didn't begin dating until 2012, and Kutcher proposed two years later. After getting married in California in July 2015, they grew their family with two kids: a son and a daughter.
Justin Mikita and Jesse Tyler Ferguson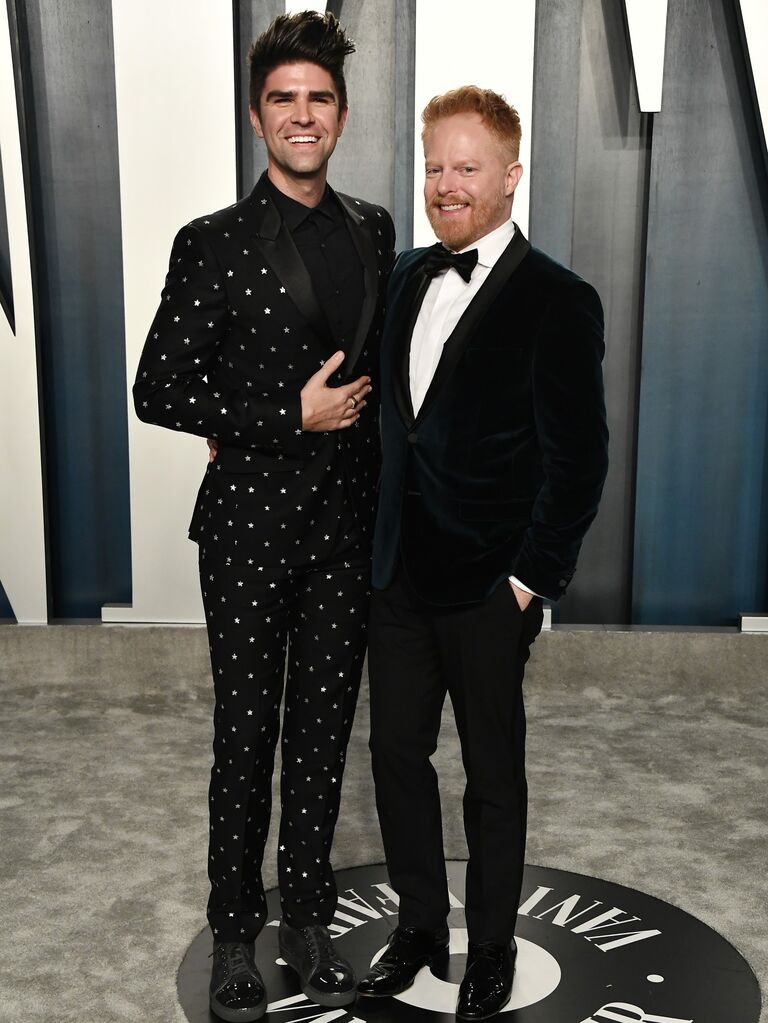 What's not to love about this famous couple? Jesse Tyler Ferguson, known for his beloved role on Modern Family, announced his engagement to lawyer Justin Mikita in 2012 after dating for two years. They got married in New York City on July 20, 2013, and had the famous playwright Tony Kushner officiate their wedding. They celebrated the birth of their children in 2020 and 2022.
Sarah Hyland and Wells Adams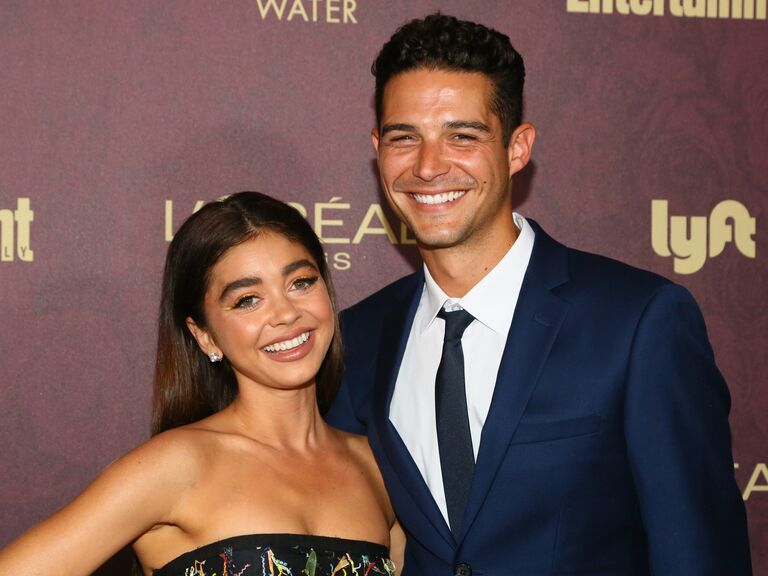 Jesse Tyler Ferguson had the esteemed honor of officiating the wedding of one of our other favorite celebrity couples: Sarah Hyland and Wells Adams. Hyland, who also starred on Modern Family, connected with Adams, who was a contestant on The Bachelorette, through Instagram DMs. After dating for two years, Adams popped the question on a tropical beach vacation. They swapped vows on August 20, 2022, at a picturesque vineyard in Santa Ynez, California.
Matthew Broderick and Sarah Jessica Parker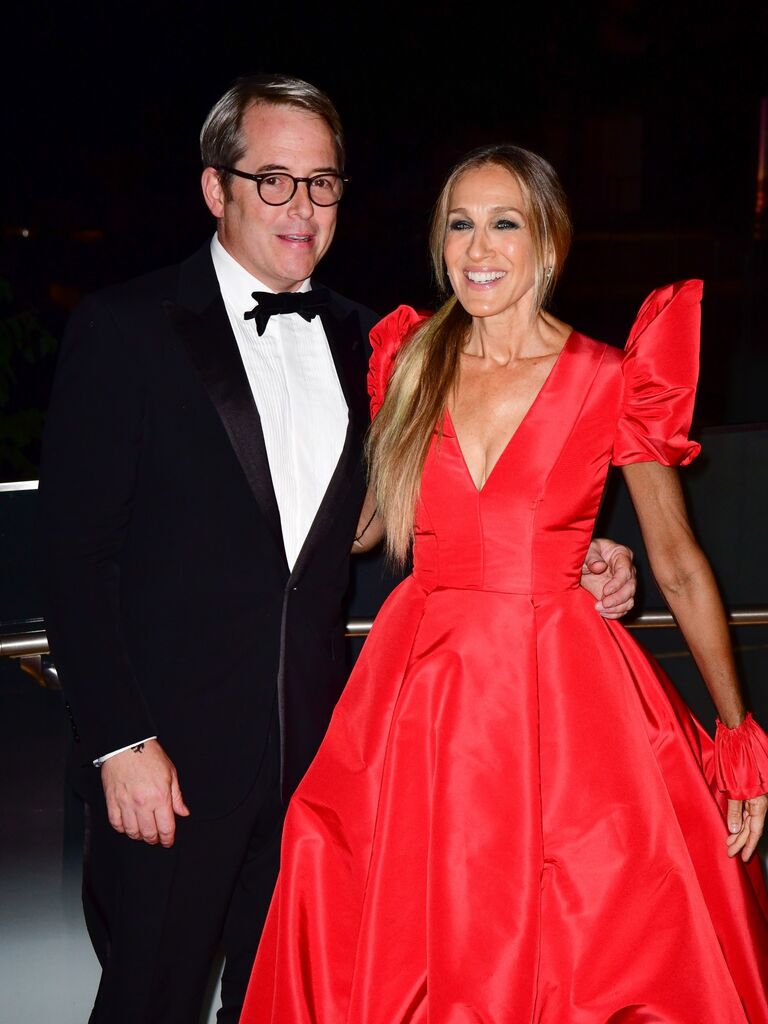 While Sarah Jessica Parker's famous on-screen character Carrie Bradshaw struggled with her dating life, that's not the case for Parker. These actors were introduced to each other by Matthew Broderick's brother when they all performed at the same theater company. They got married on May 19, 1997, in New York City and went on to have three children together: son James and twin daughters Marion and Tabitha.
Alicia Keys and Swiss Beatz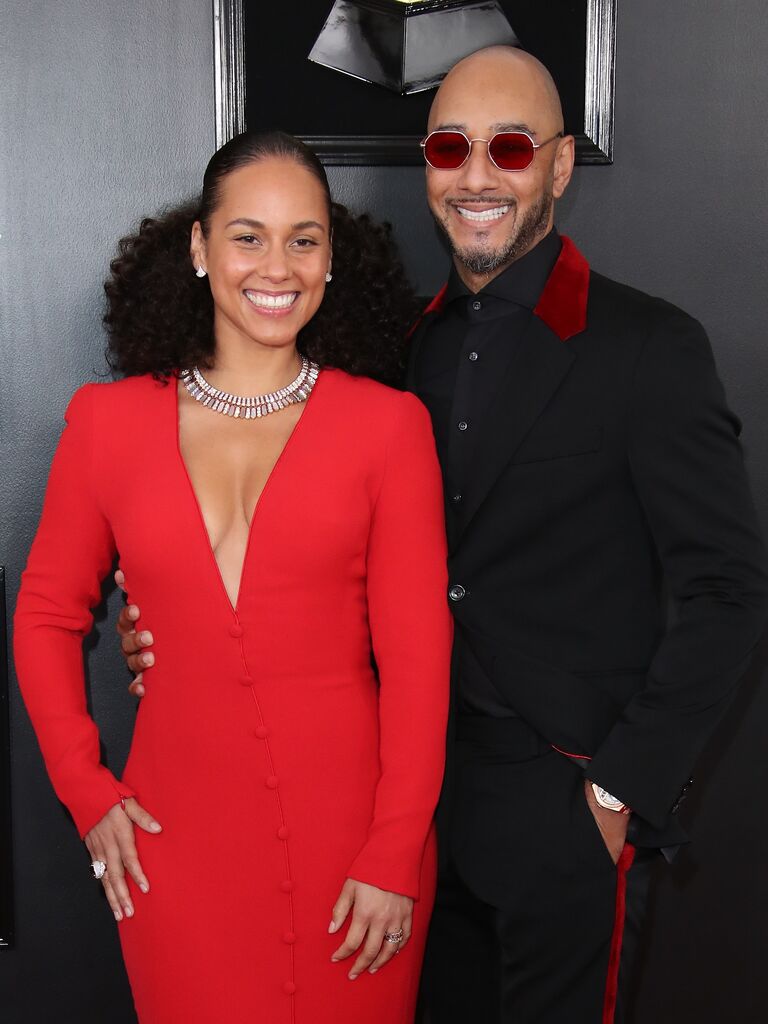 This romance is on fire. Although she keeps her relationships out of the public eye, we know that singer Alicia Keys began dating rapper Swizz Beatz in early 2010. The performers, who knew each other as teenagers, announced that they were engaged—and expecting a child together—in May of that year. They got married at an ultra-private wedding on the Mediterranean in July, and by October their son Egypt was born. He was joined by his sibling Genesis in 2014.
Matthew McConaughey and Camila Alves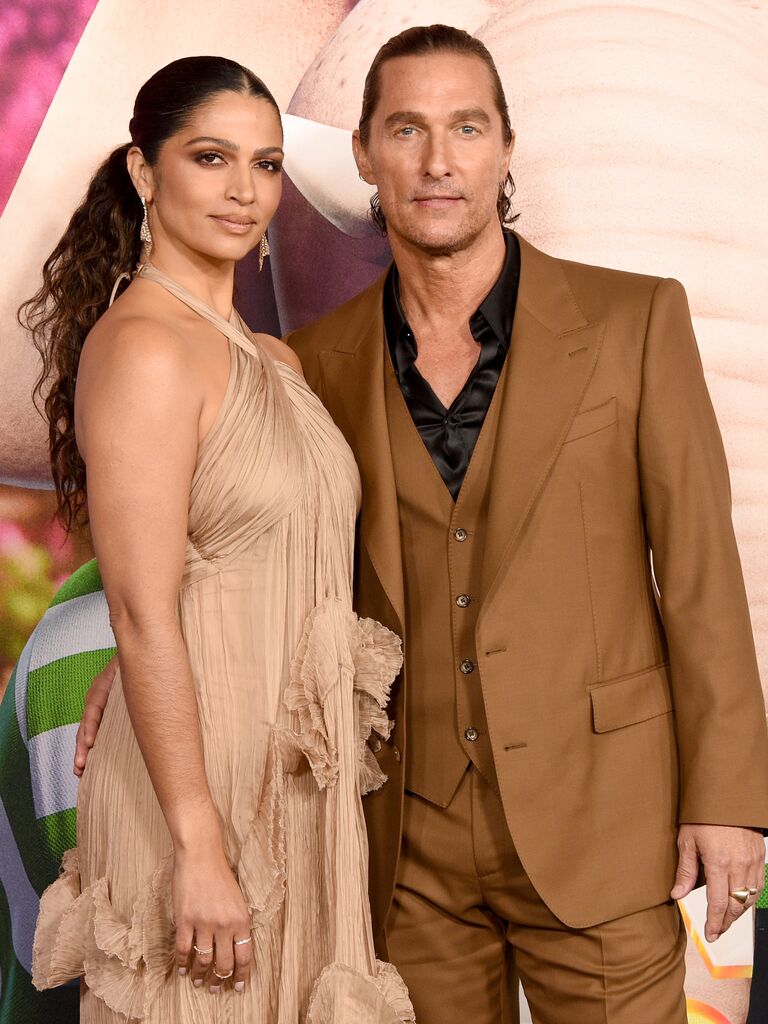 Alright, alright, alright: This is one famous couple we can't get enough of. Actor Matthew McConaughey met model Camila Alves in 2006 at a Los Angeles club—and for the rom-com star, it was love at first sight. They confirmed their romance on the cover of People Magazine one year later, and their first two kids were born in July 2008 and January 2010. McConaughey proposed on Christmas Day in 2011, and they were married on June 9, 2012, at their home in Austin, Texas. Their third child was born later that year.
Julia Roberts and Danny Moder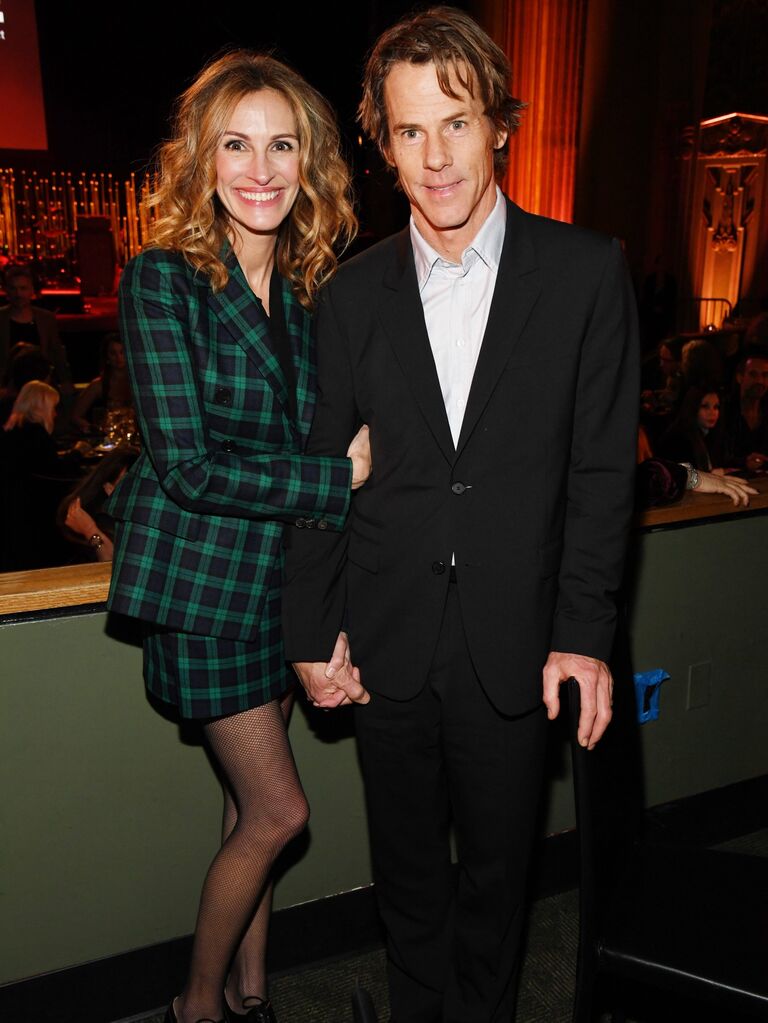 Julia Roberts has starred in some of the most iconic wedding movies of all time, and her real-life love story is just as magical. She met cameraman Danny Moder on the set of the film The Mexican in 2000, though they were both with other people at the time. Roberts and Moder got married on July 4, 2002, on her ranch in New Mexico and welcomed three kids together.
Judd Apatow and Leslie Mann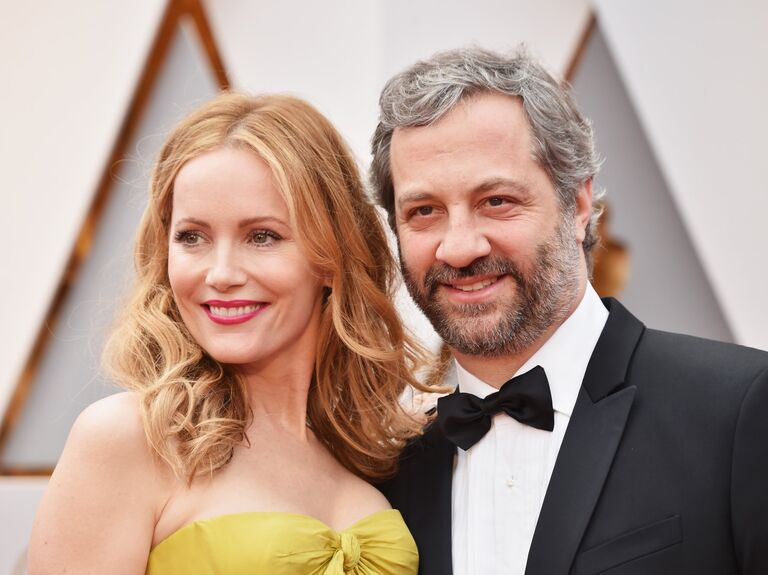 The chemistry between Leslie Mann and Judd Apatow was so strong that it carried over from an audition into real life. Apatow, a director and producer, read lines with Mann when she auditioned for the 1996 film The Cable Guy. They got married on June 9, 1997, and had daughters Maude and Iris, both of whom followed in their parents' footsteps; Maude rose to fame on the hit HBO show Euphoria while Iris has starred in two Netflix projects.
Kristen Bell and Dax Shepard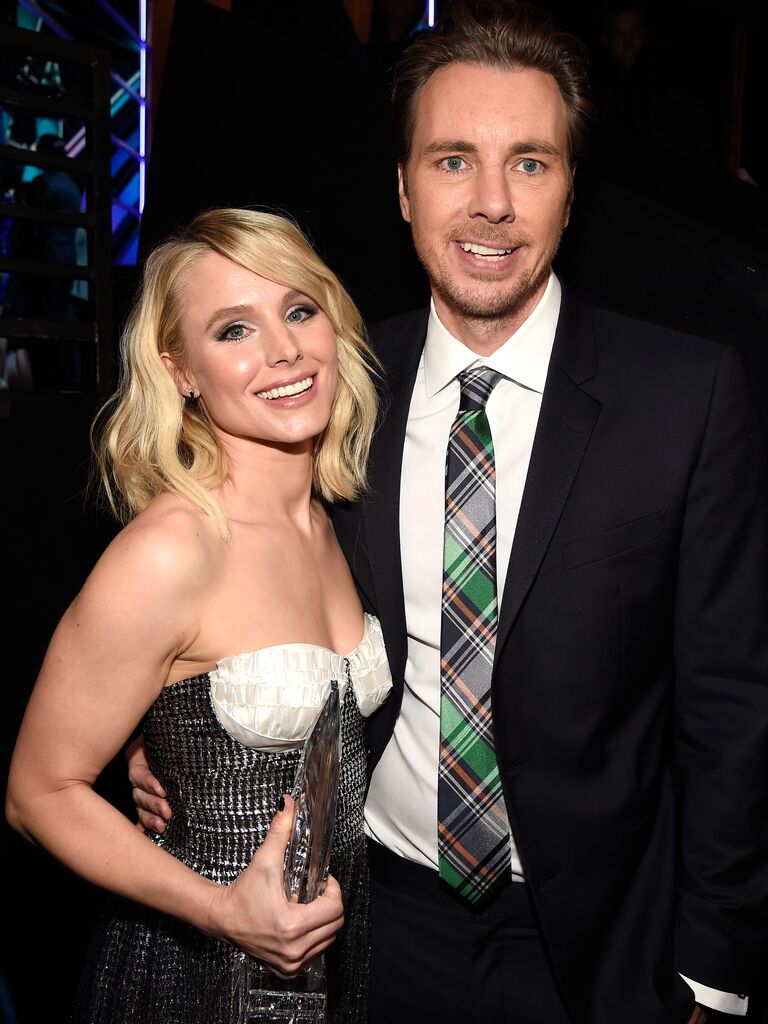 If it's true that the couple who laughs together, stays together, then Kristen Bell and Dax Shepard have a very long and happy life ahead of them. This famous funny couple began dating in late 2007 and got engaged three years later. Before getting hitched, they publicly stated they wouldn't get married until the state of California legalized same-sex marriage. In the interim, they starred in movies like When in Rome and Hit and Run. When the Supreme Court ruled that the Defense of Marriage Act was unconstitutional on June 26, 2013, Bell proposed to Shepard on Twitter—and he happily accepted. They officially wed at the Beverly Hills County Clerk's Office on October 16, 2013, and welcomed a daughter later that year and again in 2014.
Tim McGraw and Faith Hill
Despite meeting at a Nashville music gig in 1994, country music singers Tim McGraw and Faith Hill were seeing other people at the time. It wasn't until Hill joined McGraw's tour in 1996 that their friendship took a romantic turn. McGraw proposed on that tour, and their whirlwind courtship culminated in a wedding the same year. The couple invited loved ones to McGraw's aunt's backyard in Louisiana for what was supposed to be a charity softball game. Much to their surprise, though, the couple appeared wearing a wedding dress and a tuxedo and sealed their union. They went on to have three daughters together and are still happily married today.
Steve Carell and Nancy Walls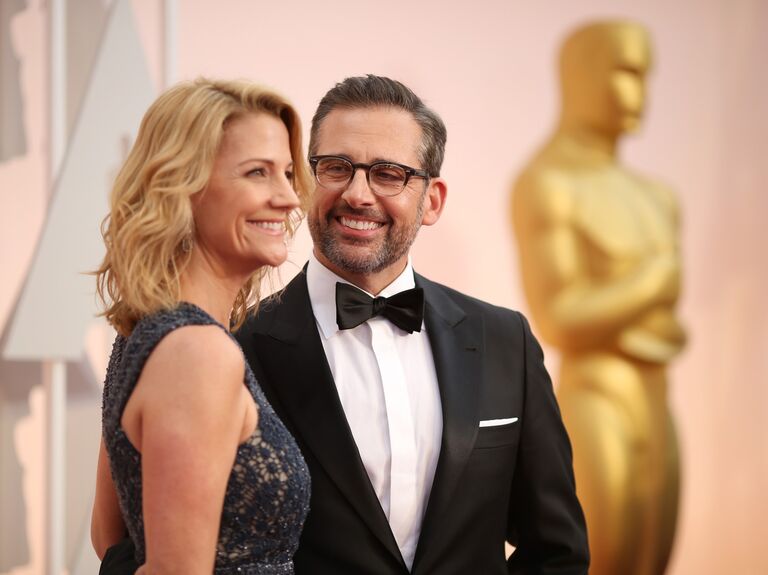 Did you know Steve Carell's wife was featured in The Office? While Carell made a name for himself as Michael Scott, his real-life wife Nancy Walls appeared on the show as the office manager's real estate agent-turned-girlfriend. Off the screen, this famous couple met when Walls attended an improv class taught by Carell. They got married in August 1995 and have two children together.
Pink and Carey Hart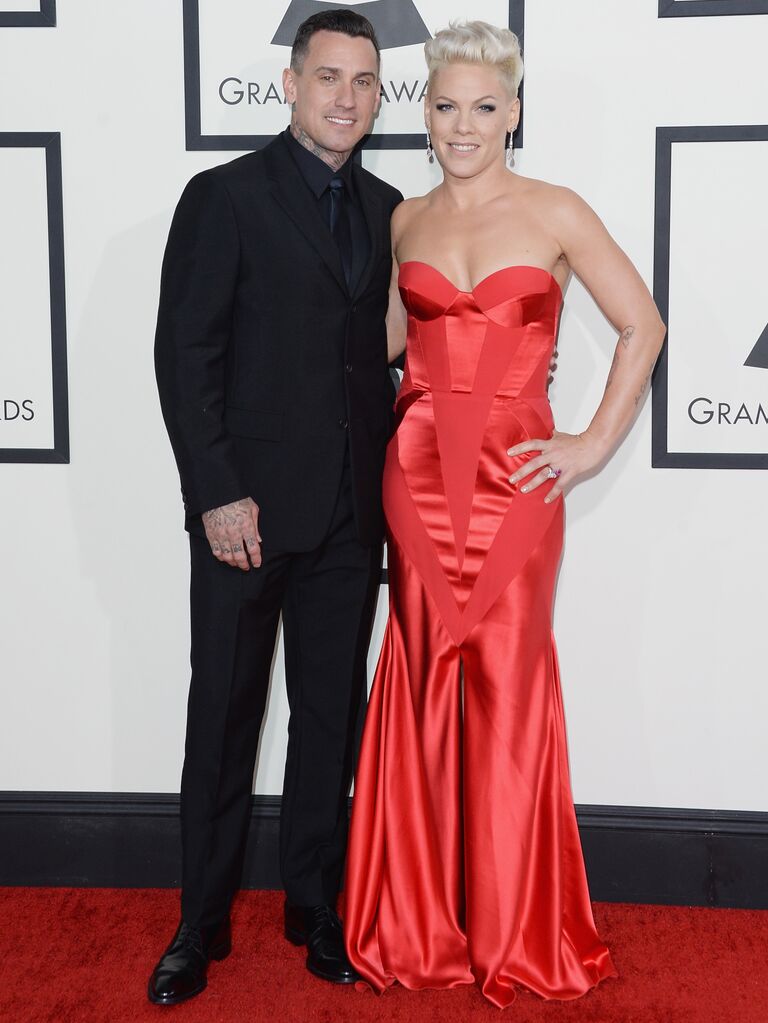 This iconic couple is responsible for one of the most memorable celebrity proposals of all time. After meeting at the 2001 X Games in Philadelphia, singer Pink and motocross racer Carey Hart instantly hit it off. As a nod to their romantic beginnings, the performer proposed to her boyfriend during a race in 2005. While Hart was driving around the track, Pink wrote "Will U Marry Me?" on a pit board. When Hart drove past her, she added, "Serious!" to the sign. He stopped mid-race to accept the proposal before his newly-minted fiancée insisted that he finish. The couple got married in Costa Rica on January 7, 2006, and Pink wore a ruffled Monique Lhuillier wedding dress. Although they announced their separation in February 2008, they attended marriage counseling and reconciled two years later. They're still together today and have two children.
Frida Kahlo and Diego Rivera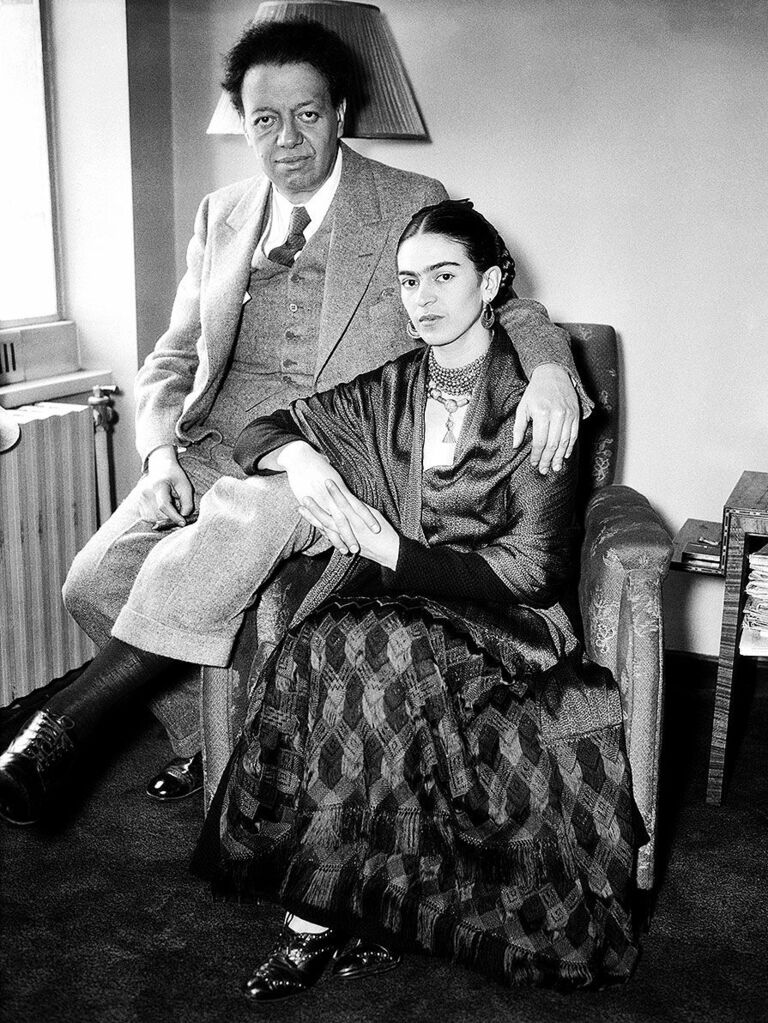 Known for their Mexican art, the relationship between painters Frida Kahlo and Diego Rivera was constantly subjected to media attention. The two first met in 1922 while Rivera was painting a mural at Kahlo's school, but they were formally introduced by a mutual friend at a party in 1928. They got married at a civil ceremony in August 1929. Although they split up 10 years later, this famous historic couple remarried again in 1940.
Martin Luther King Jr. and Coretta Scott King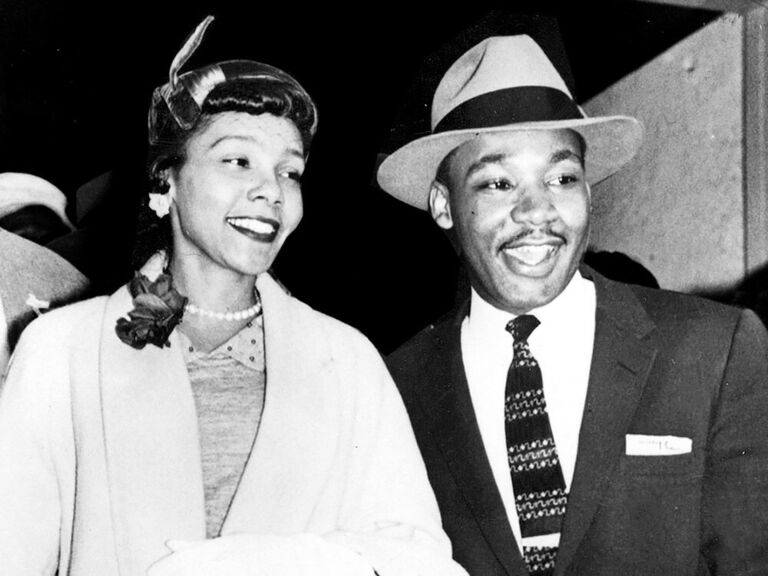 While he may get more of the Civil Rights spotlight, Martin Luther King Jr. and Coretta Scott King worked side-by-side as partners in activism. They were introduced by friends in college, and by their second date, the connection was palpable. This well-known historical couple got married on June 18, 1953, at the bride's parent's house in Alabama. They had four children together.
Humphrey Bogart and Lauren Bacall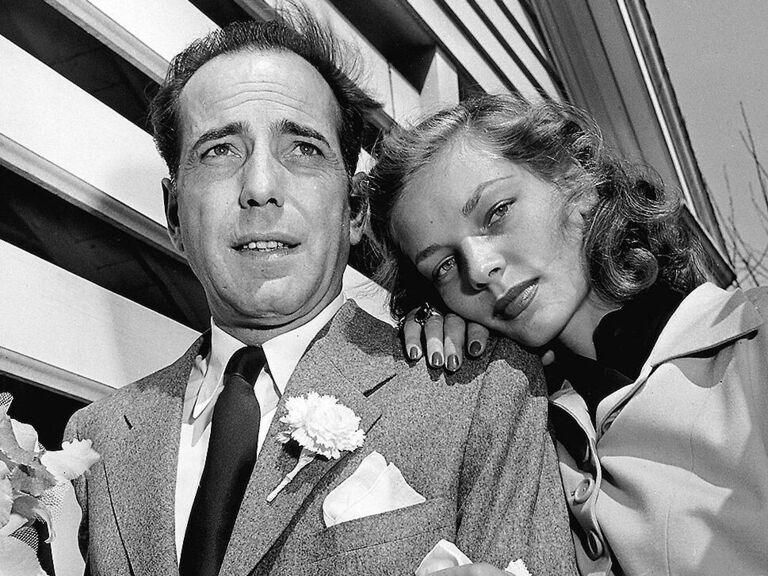 This leading duo of golden-era films rose to the top of the all-time famous couples in movies. Humphrey Bogart and Lauren Bacall fell in love while filming the 1944 flick To Have and Have Not, and shortly after making their second film, this iconic couple got married in 1945. During their marriage, they played on-screen love interests in films like Dark Passage and Key Largo.
John F. Kennedy and Jackie Kennedy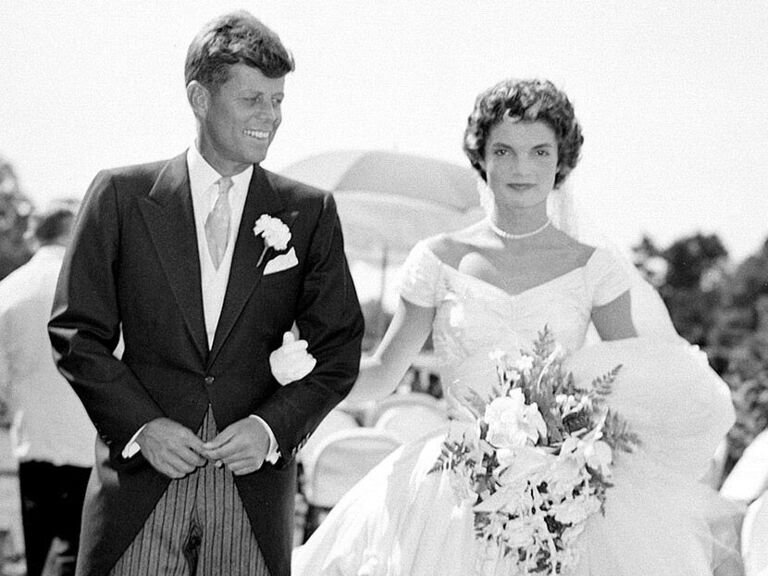 Of all the famous couples in history, we can't overlook John F. Kennedy and Jackie Kennedy. The pair ran in similar social circles and were introduced by a mutual friend at a dinner party in May 1952. Thanks to plenty of overlapping interests and similarities, this iconic duo's chemistry was instant. JFK proposed after the November election of that year, but his wife-to-be took her time responding. She finally accepted after spending a month in Europe, and the two were married on September 12, 1953. They had four kids together, though two died in infancy. They made history when JFK became the president in 1960. During his time in office, Jackie Kennedy skyrocketed in popularity thanks to her fashionable style and her highly-publicized restoration of the White House. They remained married until this tragic death in 1963.