American Idol's Bobby Bones Marries Caitlin Parker at Home
"I waited so long for the right one."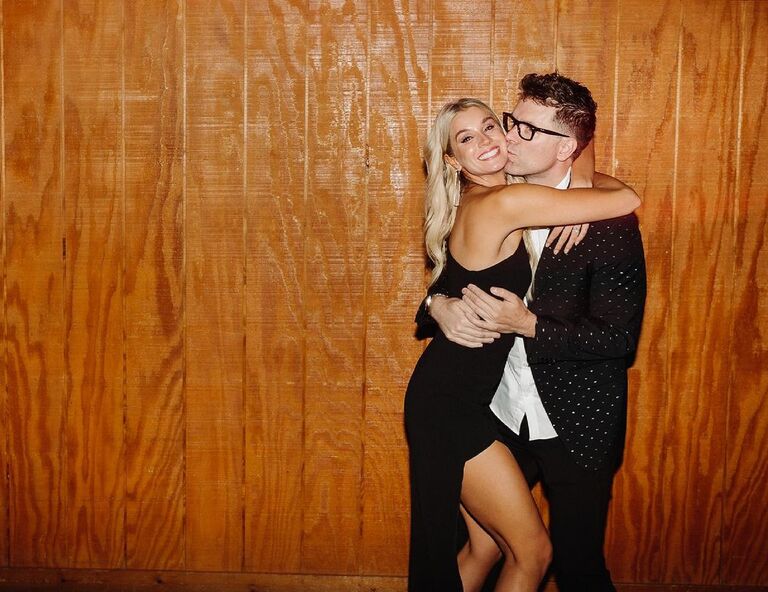 Bobby Bones / Instagram
Say hello to Hubby Bones. American Idol's Bobby Bones and Caitlin Parker are married. The couple married Saturday, July 17, in their Nashville home, the very place where Bones, 41, proposed to Parker, 29, in October 2020.
"We love home. We picked this place out together—that was really one of the first decisions that we made as a couple. And so she thought, 'What if we got married here?'" Bones told People.
"It was such a big gesture for Bobby to want to get a home for us both, that had some of my touches," Parker told the mag. "We got to start fresh. For me, it really wasn't even a question. It was just—if we're getting married in Nashville, we're getting married at the house."
The wedding party included former tennis player Andy Roddick, who's married to Brooklyn Decker. Additional interesting touches included the couple walking down the aisle to the tune of The Office theme song. They also involved their dogs in the ceremony, who were all dressed in bow-ties and pearls as they thankfully made their way down the aisle without a hitch.

The pair, of course, needed their pro team to still execute their at-home wedding vision. They hired planner Josiah Carr of Ninth & Everett, who worked with designer and florist Stella Rose Floral (also hired by Chris and Lauren Lane for their nuptials) to completely transform the couples' abode with beautiful arrangements set against a tented backdrop.
Another personalized touch was the couple's instructions for their string quartet Viva La Strings. The artists ended up playing music during cocktail hour… while floating in the bride and groom's pool.
Bones revealed his engagement in October with sweet photos from the proposal. "I am the luckiest," said Bones, host of his eponymous Bobby Bones Show. "I waited so long for the right one. And it [paid] off. Surprised her with a secret proposal in the barn in the backyard."
Bones [nee Estell], whose resume includes a Mirrorball Trophy with dance pro partner Sharna Burgess from Season 27 of Dancing With the Stars, used his music industry connections to orchestrate an ultra-thoughtful surprise. "After she said yes, our song 'nothing left to lose' by Mat Kearney was playing outside," he recalled. "And it was @matkearney playing it."
The reason behind the surprise was rather sentimental after Parker had once expressed, during a Kearney concert, that she knew how Bones was her lifelong person. "So lucky he played it again for only us tonight," Bones added. "I'm so happy I get marry to love of my life."
Parker also shared her own take to the engagement, writing on social media: I get to marry the best man I've ever known. Bobby surprised me with the most amazing proposal in the barn in our back yard which was immediately followed by a live performance of @matkearney singing our song. I am in shock and feel like the luckiest girl in the world. I'm so in love & so happy. ❤️ - the future Caitlin Estell."
The couple's love story origin traces back to a taping of DWTS. It just so happens that Parker's best friend is a PR rep for ABC, according to People, and introduced the future lovebirds during a Lauren Alaina taping. The rest, as they say, is history.