Elena Delle Donne and Amanda Clifton: 10 Things You Didn't Know About Them
Here are the top things you might not have know about The Knot's 2017 Dream Wedding couple.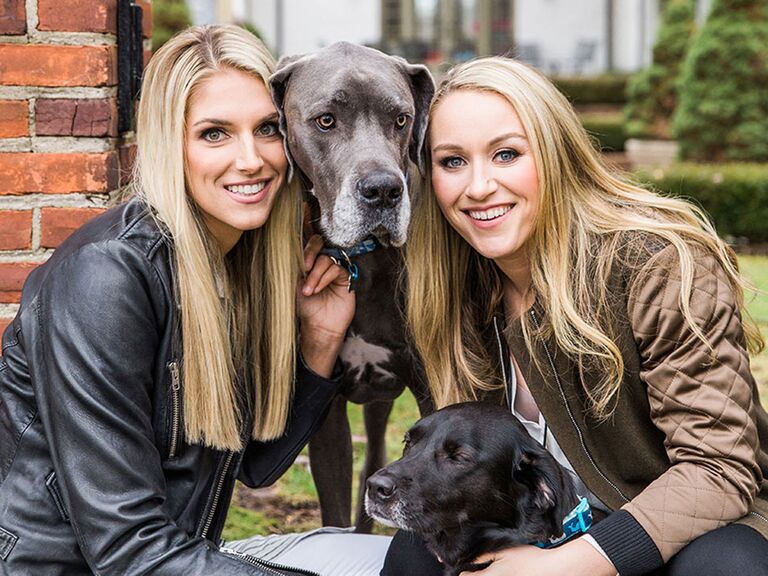 HUDSON NICHOLS PHOTOGRAPHY
Since The Knot first announced them as the 2017 Dream Wedding couple, WNBA star and Olympic gold medalist Elena Delle Donne and her fiancée, director of the De11e Donne Academy, Amanda Clifton, have been a little busy. Besides their typical, hectic schedules on and off the basketball court, the lucky brides-to-be worked tirelessly with Brooklyn, New York–based wedding planner and event designer Jove Meyer to plan a gorgeous and personalized wedding centered around family, friends and giving back to the community.
As Elena and Amanda get excited for their November 3, 2017 wedding at Hempstead House in Sands Point, New York, they shared a few fun facts about their relationship, wedding details and looking ahead to their amazing life together.
1. They're a food-loving couple with a serious sweet tooth.
Elena and Amanda are constantly traveling, so they make sure to take advantage of each locale's restaurant scene. "Whenever we travel we always explore different cities through food," Amanda says. "Elena has a huge appetite, which she always needs to satisfy with dessert at the end of the night. With Elena, instead of 'work hard, play hard,' it's 'work hard, eat hard.' " That's also why they're so psyched to get to NYC for wedding cake and menu tastings: "We've placed the most emphasis on food and music [for our wedding]," Amanda says.
2. Amanda remembers the exact moment she knew she was in love with Elena.
"I knew I fell in love when there was a weekend I was supposed to be going home to see my family and I literally could not get myself to leave [Elena's] house," Amanda says. "I kept stalling and making up reasons to wait a little bit longer before I left. I had never felt that feeling of not wanting to leave someone so badly!"
3. They share two dogs, Wrigley and Rasta, who each starred in one of their proposals (and will hopefully make an appearance at the wedding!).
One thing you need to know about these two is they absolutely adore their dogs, Wrigley the Great Dane and Rasta the black Labrador. "They are our world!" Amanda says. So, naturally each pup had to play a role in both of their proposals. Wrigley helped Amanda propose to Elena on the beach by carrying a ring over to Elena on his collar, and Rasta was the MVP of Elena's proposal to Amanda on their rooftop, rocking a veil and "Marry me?" sign while Elena presented Amanda's ring. As for their wedding day, Wrigley and Rasta probably won't be in the ceremony itself, but they'll definitely be around for tons of pictures and as many other prewedding events as possible.
4. Elena was so surprised by Amanda's proposal, she thought it was a joke at first.
Both women got a chance to propose, but Amanda popped the question first in 2016 at a dog beach on Lake Michigan. "Elena was not at all expecting my proposal, which is exactly what I wanted and why I asked her when I did," Amanda says. "Yes, we had talked about getting engaged and our future, but she had no idea I was going to ask her that day in Chicago. She was so surprised in fact that she thought it was a joke!" Little did Amanda know, Elena had been plotting her own proposal scheme, which she flawlessly executed a few weeks after saying "yes" to Amanda. So when Amanda proposed, Elena thought she had found out and was pulling a prank on her (which Amanda does all the time—see below).
5. Downtime is all about chilling with each other, Rasta and Wrigley.
With Amanda and Elena's busy schedules—you know, Amanda just running the De11e Donne Academy and Elena casually playing for the Washington Mystics of the WNBA (not to mention keeping that 2016 Olympic gold medal clean!)—downtime can be hard to come by. But when they do get a rare, quiet moment, they're inseparable. "We usually spend it getting take out and hanging out with our dogs at home. We leave them more often than we want to, so when we're home we like to spend as much time with them and with each other as possible," Amanda says.
6. Amanda loves to play pranks on Elena.
The two also love to joke around, especially Amanda. "We both like to have fun—there are very few times in our relationship when we're serious," Amanda says. "I like to mess with Elena quite a bit. She's too nice to ever play jokes on me, but I've been scaring her since I met her. Her reactions are pretty amazing." Watch Amanda scare Elena in this hilarious Instagram post—it's too good.
7. They know how to indulge in a seriously romantic date night.
Their ideal dinner for two? "A huge steak dinner that takes about two hours, always including a bottle of Cabernet followed by dessert and a very slow walk to our car," Amanda says. That's one date night itinerary we can get behind.
8. The best piece of marriage advice they've ever gotten might actually be the best piece of marriage advice ever.
When it comes to maintaining a happy, healthy marriage, Amanda says the best piece of advice they've ever come across has more to do with the stomach than the head and the heart: "Keep each other's belly full, meaning don't let [your spouse] get hungry or hangry—everything goes downhill when you get hangry." Very wise words.
9. They're over-the-moon excited to be married—and to have kids!
Amanda and Elena know how lucky they are and how special their bond is. Since dating, getting engaged and now planning a wedding, their relationship hasn't changed much—in the best way possible. "We spent every second together before we were engaged and we still spend as much time together as we possibly can," Amanda says. Even after their November nuptials, Amanda says, "[h]onestly, we don't think [our relationship] will change much at all. The only significant change will be having kids, which we're very excited to do! I'm thinking having children will just bring us closer together."
10. In lieu of wedding gifts, they're asking guests for donations to causes close to their hearts.
One of the many things that makes these women so extraordinary is their unwavering dedication to giving back. Instead of a traditional registry, Amanda and Elena have set up a charity registry through TheKnot.com, where faraway fans and close loved ones alike can donate to the Elena Delle Donne Charitable Foundation, which supports the Special Olympics and victims of Lyme disease. These two important causes are also extremely personal. Elena's beloved sister Lizzie was born deaf, blind and with other disabilities, while Elena herself was diagnosed with Lyme Disease in 2008. "[Lizzie's] made me a different person. She's my constant perspective…. She's never said a word to me, but Lizzie has taught me more than anyone in my life," Elena says on the couple's Crowdrise page.
Check out their cutest wedding planning moments on Instagram.