Why 'Fixer Upper' Star Joanna Gaines Wouldn't Trade Her Small Engagement Ring for the World
Read the sweet story of Chip and Joanna Gaines's engagement here, and why Joanna refuses to upgrade her subtle sparkler—straight from their new book!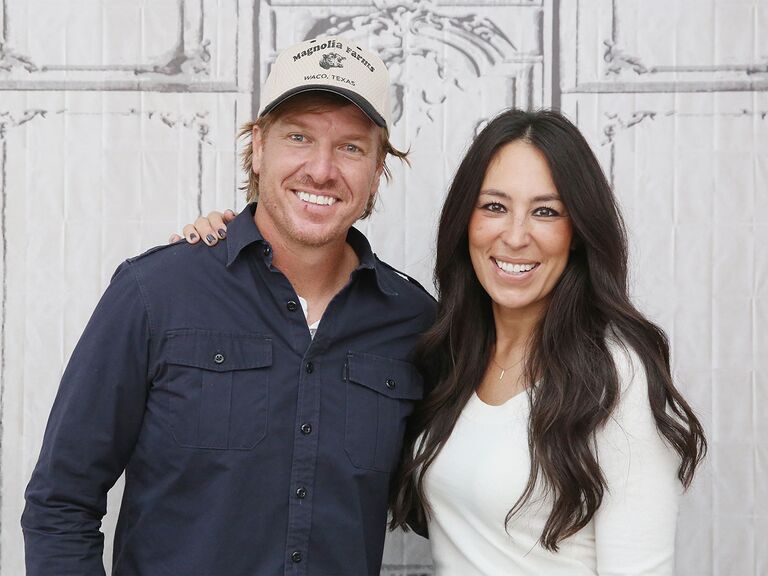 Mireya Acierto/FilmMagic
Chip and Joanna Gaines, beloved husband-and-wife home improvement duo and stars of HGTV's Fixer Upper, released their first book, The Magnolia Story, on October 8. That means you can finally read all about their inspiring love story, thriving small business, and the ups and downs they've faced on their journey together.
Our favorite moment in the book is when Joanna shares the story of their engagement, then explains why she can never part with her original engagement ring, a small, but meaningful diamond that fit the couple's budget at the time.
Chip proposed to Joanna by telling her they were headed to a private concert, then surprised her with a detour at a jeweler's store owned by Billy Holder, a high school friend of Chip's father. When they arrived, Chip kneeled and popped the question, then brought Joanna into the store to design her engagement ring in person with Holder. After settling on the perfect design—a round diamond in a vintage-style platinum setting—Joanna slipped on a gaudy, fake diamond as a placeholder while Holder took the time to create her actual ring. The couple wanted to have a little fun and trick their friends and family, who'd always expected her to choose an understated piece.
"There were all sorts of hugs and tears of joy that made that night the most perfect night ever, and of course they were all taken aback by the size of my 'diamond.' It's funny to me that, even way back then, they all seemed to realize that a flashy ring just wasn't my style. They expected to see me wearing something a little subtler, a little smaller, a little more classic maybe. But we strung them along for a good long while, and we all had a good laugh when Chip finally revealed that the ring was fake," Joanna writes about the night of their engagement celebration.
Twelve years later, the couple invited Holder to their anniversary party on their farm, and Chip and Holder surprised Joanna with the opportunity to choose a new, larger engagement ring diamond. In The Magnolia Story, Joanna recalls this evening and the incredibly sweet reason behind her decision not to upgrade her rock:
"[W]e went back to the farm and found Billy sitting on my front porch holding a selection of diamonds on a black velvet tray. 'Chip wants you to upgrade,' he said to me.
'My engagement ring?' I said.
'Yes! He knows you love the setting, but he wants you to be able to pick out a better diamond like your mom did.'
"So Billy showed me all of these beautiful diamonds and told me I could have my pick. That's supposed to be every girl's dream, right? But I looked him in the eye, and I said, 'I'm sorry, but no. This is the original diamond I picked, and it's perfect just the way it is.'
"It wasn't a 'perfect' diamond, but it was perfect for me. I felt bad that Billy wasn't going to make the big sale he was hoping for that day, but I don't ever want to replace that diamond or that ring. To me, my ring is part of our story.
"If I looked down at my hand and saw a more expensive diamond in that setting, it somehow wouldn't fit. I would know that we couldn't have afforded that diamond back when we first got engaged. The story wouldn't add up.
"But this ring, with this diamond, the one I wear every day—this ring fits."
It just goes to show that whether you wear a huge, Elizabeth Taylor–approved rock or a simple band, what really matters about your engagement ring is the love and commitment it symbolizes.
To read Chip and Joanna's entire book, get your copy of The Magnolia Story right here.