The Bachelor's Lauren Bushnell and Chris Lane Welcome Their First Child Together
The family of three has "Big, Big Plans."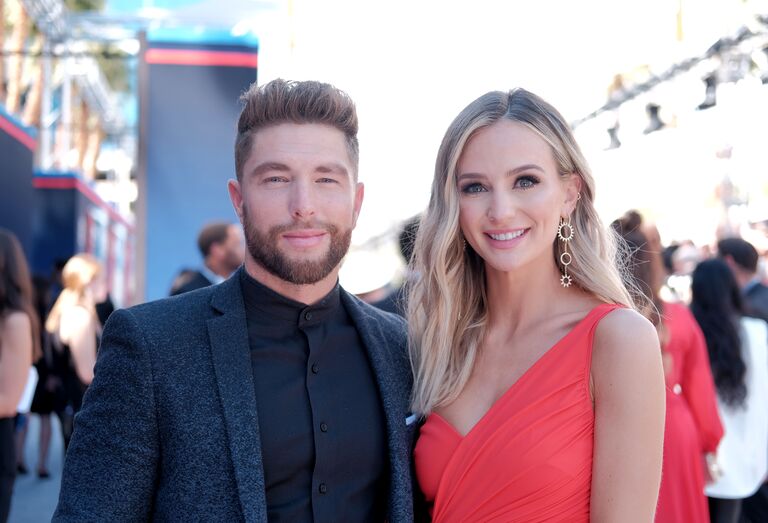 Jason Kempin / ACMA2019 / Getty Images for ACM
There's a new Bachelor baby in town. Country artist Chris Lane and his wife, Lauren Bushnell Lane, who starred on The Bachelor, have welcomed their first child together.
The proud parents debuted their child, a baby boy named Dutton, on Instagram just days after his birth. "Words can't describe the love i feel inside my heart for this little man! Thanks for all the prayers," Lane, 36, expressed. "I will never understand how @laurenlane birthed a 9 pound baby! DUTTON WALKER LANE welcome to the world."
Former reality star Bushnell, 31, also shared photos with her baby boy. "Dutton Walker Lane 🤍 born June 8th, 2021," she wrote. "Your dad and I can't get enough of all 9 pounds of you. Now back to baby cuddles and praising Jesus over and over again for this little miracle!!"
The couple announced they were expecting in December 2021, posting a photo of the sonogram at the time. "A dream," Bushnell expressed. "Except I'm not dreaming. I'm wide awake. Holding your dads hand, watching you dance around in my belly. Listening to your little heart beat. My new favorite sound. A miracle. New life. Our sweet baby. Thank you Jesus! All the glory belongs to You."
Fittingly, the accompanying music on the Instagram Reel was a track of her husband's entitled "Big, Big Plans." In a separate interview with People, the former reality contestant revealed: "There really wasn't anything physical happening; I just had a funny feeling I was pregnant."
Bushnell and Lane celebrated their one-year wedding anniversary in October 2021, commemorating the occasion with wedding photos. About 170 guests attended the "secret garden"-themed nuptials held in Nashville. "I feel like I"m the luckiest guy in the world to be marrying her," Lane said at the time of his wife. 
Bushnell rose to fame on Season 20 of The Bachelor, where she was the final rose recipient. The former flight attendant and her ex-fiancé Ben Higgins also starred on their own Freeform show, which documented their engagement. She and Lane formed a friendship in 2015, which eventually turned romantic several years later.