Ashton Kutcher and Mila Kunis Open Up About Their Marriage and More in a Rare Joint Interview
The couple will celebrate their fifth wedding anniversary in July 2020.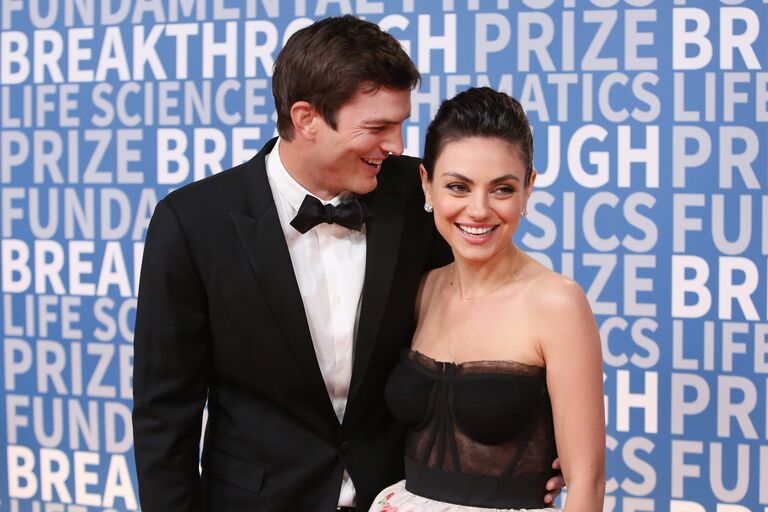 Jesse Grant / Getty Images
One of Hollywood's most beloved couples, Mila Kunis and Ashton Kutcher, sat down for a rare joint interview on The Tonight Show Featuring Jimmy Fallon on May 4, and judging by their uncontrollable giggles and sweet sideway glances, the pair have been keeping each other's spirits up while social distancing with their kids.
Earlier in the day, ahead of their appearance on the show, Kutcher shared a sweet snapshot of the pair sharing a kiss to his Instagram. In the image, the couple are poised for a smooch in a field of bright orange flowers, their eyes closed as they enjoy each other's company in the sunshine.
Mila Kunis and Ashton Kutcher Marriage Update
Both Kutcher, 42, and Kunis, 36, have largely opted to stay out of the spotlight in recent years, instead focusing their attention on their two young children—daughter Wyatt Isabelle, 5, and son Dimitri Portwood, 3. On May 4, however, the pair gamely shared a tiny glimpse into their home life, telling Fallon that they've been diligently sharing home-schooling duties for Wyatt and Dimitri, with a little help from their friends.
"The one thing we did do that I feel like is a good hack is we enlisted our friends to do 20-minute Zoom sessions with our kids," Kunis said. "We were like, 'Teach our kids anything.' And so that gives us 20 minutes of not parenting and also allows our kids to have another interaction."
Added Kutcher, "It works really well with people who are single and they're at home and they're alone and they don't have kids that they chase around all day, so they've got a free 20 minutes and the kids just engage with them." Among the many subjects that the couple's friends have taught Wyatt and Dimitri so far: sustainable energy and electricity, how to bake cookies, and how to make flower arrangements.
And when the former That '70s Show costars lead lessons, they tackle the task as a team. "We set up a curriculum for the week and we plan it out and figure out what the kids are going to learn throughout the week," Kutcher explained. "This week we're doing the human body. So we're going to learn about the skeletal system, the digestive system. We have the kids ask questions at the beginning of the week and then throughout the week we have to get the answers to the questions."
The pair also worked together to launch a special line of Pinot Noir they aptly named "Quarantine," with 100 percent of the proceeds going to four charities that are directly helping with COVID-19 relief efforts: Give Directly, Direct Relief, The Frontline Responders Fund, and America's Food Fund.
Mila Kunis and Ashton Kutcher's Love Story
Kutcher and Kunis have long been each other's biggest fans (even, arguably, before they got married in a private ceremony in Oak Glen, California, on the Fourth of July). The duo played love interests on That '70s Show, but didn't actually date in real life until many years later, after reconnecting at the Golden Globes in 2012.
"We were at an awards show, and I was backstage," Kunis told Marc Maron on his podcast in 2018. "I was looking around, and there was, like, a really beautiful man from the back. I was like, 'What a very nice stature of a gentleman.' I was literally, like, 'Ooh, he's kind of hot.' I was single. And then he turned around, and I was like, 'Oh, my god! It's Kutch!' I thought it was the weirdest thing that I was checking this guy out, and it was somebody I'd known forever."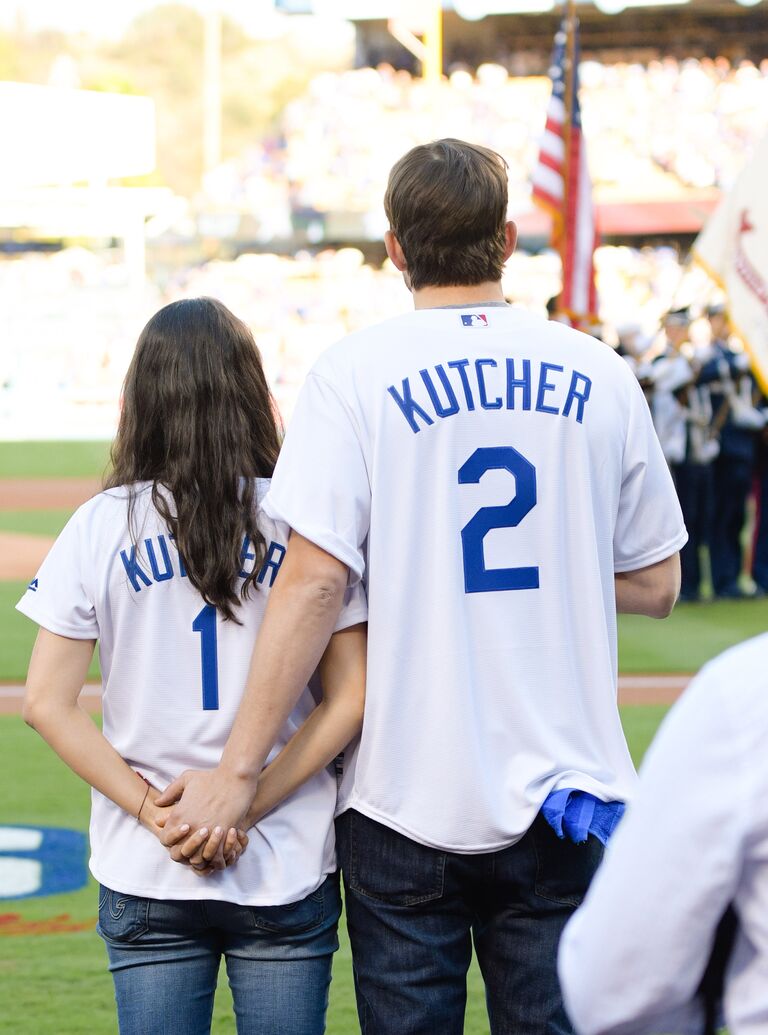 Mila Kunis and Ashton Kutcher's Wedding
The couple got engaged two years later, in February 2014, and welcomed their first child, Wyatt, that fall. Since then, they've largely stayed out of the limelight, but on the occasions when they have attended red carpet events, they've gushed at length about each other, clearly enjoying each other's company.
In an August 2014 interview with W magazine, Kunis admitted that she actually never thought she would get married, but that dating Kutcher, whom she called her "movie-star crush," is what changed her mind. "I never wanted to get married," she told the magazine. "From the age of 12, I prepared my parents for no marriage. Now, my theory on weddings is: Don't invite anyone. Do it privately and secretly." And much to her credit, very little is known about the couple's ultra-private July 4 ceremony.
They ended up enjoying a honeymoon in their RV across California shortly after the nuptials. "If you've ever seen the National Lampoon movies, our honeymoon was like a real-life National Lampoon's honeymoon. I'm not exaggerating. I'm not saying it for a laugh. We also went honeymooning with my in-laws," Kunis revealed. The star had given her husband a gift card for an RV service "not thinking that my husband's gonna go, 'Oh! That's our honeymoon!'"
Still, despite bungling the honeymoon, they're madly in love. In 2017, upon accepting the Robert D. Ray Pillar of Character Award in his native Iowa, Kutcher thanked Kunis for making him a better man and partner on a daily basis in a really sweet speech. "This morning, I woke up and she kicked my a-- on character," Kutcher joked at the time. "I thought I was awesome because I got up early and helped with the kids before she woke up and I let her sleep a little bit. And then she's like, 'Well, now you're gonna act tired? I do it every day.' But it was a character moment, right? Because she's right.