Real Housewives of New Jersey's Teresa Giudice Is Engaged
The mom of four is getting married again.
Teresa Giudice is engaged. The original cast member of Bravo's The Real Housewives of New Jersey is engaged to her boyfriend Luis "Louie" Ruelas, the couple confirmed to People on Thursday, October 21.
According to the report, the future spouses got engaged at the Amanzoe Resort in Greece. Ruelas' proposal involved fireworks, candles, roses and string music. "It was absolutely exquisite," a source told the mag. "The choreographed fireworks display illuminated a 'Marry Me' sign as Louie got down on one knee. Teresa was completely surprised."
Former RHONJ cast member Dina Manzo was there to witness the occasion with her husband.
Teresa and Louie have been dating for over a year. The latest franchise significant other made his debut on the smash reality series in May 2021. "A year, wow I would have never imagined how in one year I would feel so loved. You are so kind, supportive & loving," Giudice wrote to celebrate their one-year anniversary. "You take great care and consideration in everything you do. You have shown my girls so much love, I adore you. I admire your incredible parenting & your work ethic, and the passion you put into everything you do. You have made me smile every single day for the last year and I love you today and all of my tomorrows."
She alluded to a possible proposal via Instagram on Tuesday before the announcement. "Don't ever stop dreaming," Teresa wrote with the hashtags, "#love #soulmate #greece." Giudice's brother, Joe Gorga and his wife, Melissa Gorga, also both appear to be friendly with her future husband.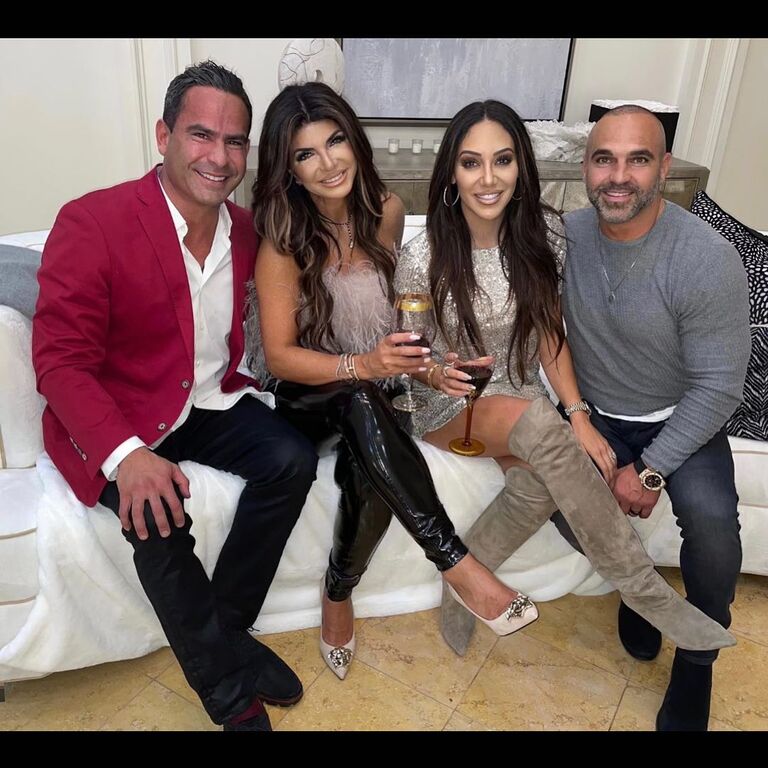 Teresa Giudice & Husband Joe Giudice's Relationship
Giudice shares four daughters, Gia, Milania, Gabriella and Audriana, with her ex-husband, Joe Giudice, who now resides in Italy following his 41-month prison sentence and deportation. Teresa also served 11 months in prison as part of the scandal.
In December 2019, Teresa and her ex-husband split after she visited Italy, where there was a deep discussion about the future of their relationship. She and Joe were childhood sweethearts and had been married since October 1999.
Prior to the engagement announcement, Joe Giudice spoke to Us Weekly about his relationship with his ex. "I mean, she's with her new guy and everything," he said. "Why would I want to go back to that? … There's a lot of other women out there." Despite that, he said they shared a cordial relationship. "I talk to her," he noted. "It's not like we call each other every day but … I got nothing against her. I grew up with her, you know what I mean? She's the mother of my kids."