Home

Events by Peter's Wholesale Florist
About this Vendor
Events by Peter's Wholesale Florist
Using only the freshest blooms, Events by Peter's Wholesale Florist creates one-of-a-kind arrangements that reflect your vision and fit within your budget no matter what the occasion.Our personalized service and award winning fresh-cut floral designs will ensure that your arrangements are a memorable part of your special day!
Details
Aisle Decorations, Centerpieces, Pedestals, Plants, Vases, Decorations + Accents, Bouquet Wraps, Bouquets, Boutonnieres, Flower Arrangements
Contact Info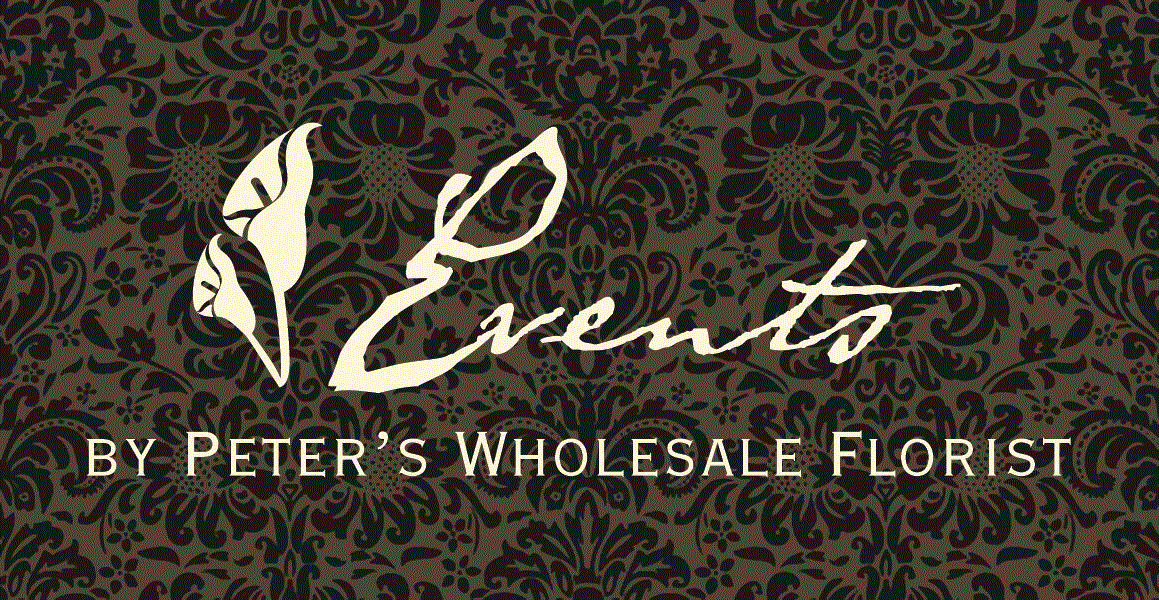 47 Irving Ave, Stamford, CT
Servicing the tri-state area
Gorgeous Flowers & Fantastic Service
Reviewed on

10/04/2013
Allegra P
My sister decided to get married one day and I, of course being her twin had to throw her a wedding. I panted; I cried and I was scared half to death until I met Teddy at Peters Wholesales. He was so helpful, he put my mind at ease and was able to be as flexible as I needed him to be. You would think I was the only customer he ever had. He was so dear, kind and to boot-- talented! My sister had the most gorgeous wedding. I told all my friends I am going to start a new TV show- "Wedding on a Dime". Thank You Teddy for your talent and thoughtfulness. You made my backyard look gorgeous and my sister as beautiful as can be. We were all stunned. Mwaaaah!!!! Allegra
---
Absolutly Stunning Flowers!
Reviewed on

10/03/2013
Jennie S
Teddy was amazing to work with and created a dream wedding with his beautiful flowers! Our table arraignments, bouquets, candles everything was amazing and picture perfect! He worked with us and showed us what each flower would look like and what color they would be to match everything. His attention to detail and creativity blew me away and gave us the most beautiful wedding!
---
Beyond Amazing!
Reviewed on

9/09/2013
Jesse M
Working with Teddy and the Event's by Peter staff was excellent! Every experience with them made me feel confident and comfortable that everything would be great on my wedding day. They exceeded my expectations! The flowers were phenomenal! All the bouquets, boutonnieres, wristlets, church arrangements arrived exactly on time and looked amazing! The prices are reasonable, and Teddy will work with you to stay within your budget. Teddy even worked and coordinated with the baker making my wedding cake to coordinate the floral arrangements on the cake! I cannot say enough great things about Event's by Peter, they made my wedding day fantastic!
---
Reviewed on

6/21/2015
I would give 5 stars except for the fact that Teddy, the owner, is a little gruff and the location is not upscale but don't let that put you off as he and his team are amazing with flowers. Our bride brought pictures and wanted a very specific look and they recreated it perfectly The centerpieces were full and just tbe way we hoped for and the bouquets just beautiful. You can pay more happy you won't find any better!
---
Frustrated
Reviewed on

3/27/2015
We dealt directly with Teddy, the owner of this establishment, and first ran into problems around payments - he charged us more than we had understood for the deposit, and then began demanding further payments without prior notice. This escalated into a situation where we found ourselves considering abandoning the deposit as Teddy was extremely rude to myself, my wife and our day-of-coordinator. In the end, Teddy delivered the flowers as promised, which is why this is a 2-star rather than a 1-star review; however, it was a frustrating experience overall that added unneeded stress to our wedding.
---
Beautiful Floral Design
Reviewed on

1/06/2015
amber e
I just used Teddy for my New Year's Eve wedding. I met with Teddy 3 times over the course of planning my wedding and left very happy after each visit. The first visit was to discuss what I wanted done, the second was to see samples of the centerpieces/flowers and the third was to make changes to décor (4 days before the event. Teddy was nothing but accommodating and wonderful to work with. He was flexible on price and was able to keep us within our budget without sacrificing a thing! We even ended up renting a few things including a red carpet, overlays and an outdoor heater from his party rental business. On the day of the wedding, I was blown away by the work he and his team did. It was everything I wanted and then some. Everything was just as I had imagined it would be and we received many compliments from the guests on the beautiful décor! I would recommend Teddy to anyone looking for a florist and would even use his services again if the occasion arose! Thanks Teddy for the amazing job!
---
Teddy did a great job!
Reviewed on

11/04/2014
Stephanie L
Teddy did a great job on the flowers for my wedding. The colors were exactly what I wanted and they really stood out in the photos. I was very happy with the job and would recommend this business to any bride!
---
Beautiful, amazing, over the top flowers! Best in the business!
Reviewed on

10/30/2014
Barbara B
Thank you Teddy for making my wedding beautiful!! The flowers and my bouquet were EXACTLY what I wanted. I could not have asked for anything better. Everyone loved my flowers and my guests were all fighting over who gets to take home the centerpieces. Teddy and his staff were such a pleasure to work with, my sister and I had the best time throughout the process. Teddy will forever be a good friend of ours.
---
Amazing
Reviewed on

10/29/2014
Jessica B
They did a great job!!! The flowers were beautiful!! Everything we wanted and more!!!
---
Teddy is the best!!
Reviewed on

10/27/2014
Jordan Z
We got married back in September and we had a few friends refer us to Teddy for the floral arrangements. I saw pictures of his work and decided I had to have him do my flowers for my big day. At first, I was indecisive of what I wanted but I explained that I wanted fall themed flowers but not too over the top with the bright oranges and reds but not so subtle as to where they didn't pop at all. A little contradictory, right? Well Teddy knew exactly what to do and made all of the bouquets and table arrangements exactly how I wanted. His ability to take a bride's idea and turn it into a dream come true is surreal. I would definitely recommend Teddy to all my friends and anyone getting married. He is truly a miracle maker and I am forever thankful for everything he did to make our day perfect.
---
Flowers for my wedding
Reviewed on

10/27/2014
lauren d
We had our wedding back in August and it truly was the most beautiful wedding I've ever seen because of Teddy!! We gave him our vision of a rustic ceremony and reception and he was able to design exactly what we were looking for. There were a few last minute mishaps at the venue and Teddy came through to save the day. The extra time and dedication he puts into his craft is truly phenomenal. I read another review saying that you would think you were Teddy's only customer and that is so true!! He went above and beyond to make sure nothing was less than perfect. Our day wouldn't have been as special if it wasn't for him.
---
Peter's Wholesale is Superb!
Reviewed on

10/19/2014
I worked with Teddy and to say he is incredible at his job would be an understatement. The process was incredibly streamlined and Teddy helped me pic out all my wedding flowers in one short meeting. Because of his experience and knowledge of the business...all my questions were answered! The price was unbelievably reasonable and the day of the wedding went off without a hitch! I received so many compliments on the flowers and how beautiful everything looked! I will definitely use them again!
---
Beautiful
Reviewed on

10/14/2014
Emily M
Teddy was so friendly and an absolute pleasure to work with. He was able to accommodate our smaller budget, and willing to give me as many options as I needed to make sure that I was happy. Planning our CT wedding all the way from CA was very challenging, but Teddy helped me feel very comfortable and confident that all of the flower arrangements would look beautiful, and they did! Our centerpieces were gorgeous! I am still so in love with them.
---
Fantasy
Reviewed on

9/30/2014
Flavia C
I wanted I fantasy feel to give a WOW moment to my guests without being over the top. Teddy at Events by Peter's Wholesale Florist did just that. My bouquet was spectacular a true focal point for all photos, my guests are still raving about the decor, everything just blend together for a beautiful romantic atmosphere. I couldn't be happier.
---
Beautiful
Reviewed on

9/07/2014
Jennifer G
We worked with Teddy to pick out our flowers for our wedding in May. He was very helpful especially since our wedding was Mother's Day weekend! We met with him twice and everything came out as planned. He was great at listing out everything we needed. Teddy was at the venue even before we were. The flowers were amazing and they look so nice in the pictures. My favorite of course was my bouquet but my guests were all fighting over who got to take the centerpieces home! Teddy made this a very easy process and did excellent work.
---
Beautiful flowers and great service!
Reviewed on

8/31/2014
Nevine D
Peter's Wholesale Florist provided us with the most gorgeous flowers and with the greatest quality. Peter was so great to work with and the whole process was so easy! We received so many compliments on our flowers. If you are looking for beautiful fresh flowers, great service, and great value- this is it!
---
excellent
Reviewed on

8/26/2014
Helen G
The flowers were gorgeous and arranged beautifully. They were delivered on-time and I didn't have to worry about a thing. And my bouquet and a few of the centerpieces I took home lasted almost a full week after the wedding. I highly recommend Peter's Wholesale Florist.
---
Beautiful Flowers
Reviewed on

3/11/2014
Vicky C
Peter's Wholesale Florist put together beautiful arrangements for us. We chose something very simple but they made it look elegant. Everyone said how lovely the flowers were. We pre-ordered and paid up front and we ended up over ordering. They did not give us the option to make changes to what we had ordered but in the end it worked out okay.
---
Flowers that were not only beautiful but stood up against the July heat!
Reviewed on

8/31/2013
Carly W
Peter's Wholesale Flowers was recommended to me by my best friend, who's co-worker had used them for her wedding. My mom and I called and on the same day Teddy was able to see us. After going to a number of florist who said we could not get peonies in July nor would hydrangeas stand up in the heat, we were feeling discouraged. We sat down with Teddy and went over our dream idea for flowers. He's reply " not a problem." Not only did Teddy give us a great price, but he flew in peonies from Alaska and my hydrangeas survived. When I returned from my honeymoon two weeks later, the center pieces and the bridesmaids' hydrangeas were there to greet me. On the day of the wedding, I didn't have to worry about my flowers. Teddy's staff delivered them to my house, the church and the reception. They were so nice and just as excited as I was about how the flowers turned out. Teddy and his staff are barn non ( not to mention Diesel!!!) Thank you for making our wedding so beautiful. All the Best Carly and Bobby Hanson Carl and Linda Wieland
---
ABOVE AND BEYOND
Reviewed on

8/22/2013
Lauren M
My husband and I tied the knot on 6/8/13. Teddy at Peter's Florist came highly recommended to us, and we completely understand why! We mentioned some ideas that we had, including the colors and types of flowers that we were interested in, and Teddy came up with THE most beautiful arrangements we could ever imagine. The bridesmaids and I had STUNNING bouquets, and our centerpieces for our reception were unbelievable. Teddy and crew completely exceeded all of our expectations, by far. We could not believe the set up of our hall, all thanks to Teddy and crew at Peter's Florist. They really went above and beyond, and we are more than satisfied with all of their work! If you want your flowers to be extra beautiful, use Peter's Florist! Very Satisfied Bride, Lauren D'Onofrio
---
Beautiful bouquets
Reviewed on

8/21/2013
Lisa C
I loved my bouquet and my attendant's bouquet. The centerpieces were fine. The large arrangements were dying before the night ended.
---
Completely satisfied
Reviewed on

8/21/2013
Maria M
We used Peter's Wholesale Florist as our vendor for our wedding flowers and I was so happy with how beautiful everything was. Teddy, the owner showed me a beautiful and unique centerpiece arrangement which got us a huge amount of compliments. My bouquet and my bridesmaids bouquets were absolutely beautiful. Teddy was wonderful to work with and he was on time with the delivery and he has my highest recommendation.
---
Exactly what I pictured...
Reviewed on

8/21/2013
Kimberly B
Peter's Wholesale Florist was awesome to work with for my wedding!! I loved everything that they did! My centerpieces were exactly what I had pictured and I got a million compliments. My bouquets were beautiful as well and lasted all day long in the hot summer weather. They were also thousands of dollars LESS than all the other florists I had gotten quotes from. Teddy (the owner) was very friendly and easy to work with. I emailed him often and always got a very quick response. I would recommend them to any of my friends.
---
good; no frills florist
Reviewed on

7/11/2013
Kimmery
Teddy has his wedding business down to an art. He has lots of pictures that you can look through and all of his bouquets come out stunning.
---
Very good
Reviewed on

4/30/2013
Deloretta hi babe love u karl 12/6/12 L
We met with Teddy and he was excellent. He did not always respond to his e-mails in a timely manner and at times I had to send several and he did not return calls promptly, which drove me nuts! and added to my existing anxiety. However, I would certainly recommend him to my friends and families. Our flowers were beautiful and I would certainly use him for another event!!
---
Send Message