Home

Events by Peter's Wholesale Florist
About this Vendor
Events by Peter's Wholesale Florist
Events by Peter's Wholesale Florist creates one-of-a-kind arrangements with only the finest flowers that will reflect your vision and cater to your budget no matter what the occasion. Our personalized service and award winning fresh-cut floral designs will ensure that your arrangements are a memorable part of your special day!
Details
Aisle Decorations, Centerpieces, Flower Girl Baskets, Pedestals, Plants, Vases, Wedding Arch, Decorations + Accents, Flower Crowns, Bouquet Wraps, Bouquets, Boutonnieres, Corsages, Flower Delivery + Setup, Flower Preservation, Flower Arrangements
Contact Info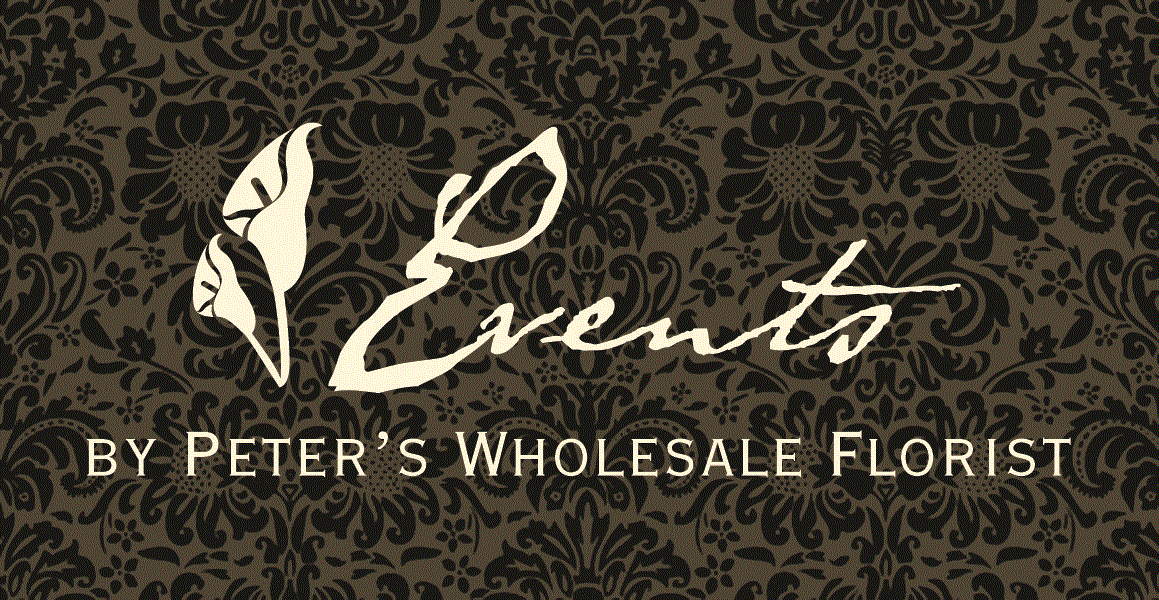 Reviewed on

10/28/2017
Claudia B
If there were 500 stars, Peter's would get it. The flowers for my wedding were BEYOND spectacular. My husband and I had a vague idea of what we wanted, but once Teddy started putting ideas together, they were amazing. On top of it, they had never been to the location before,... Read More and it was a bit tricky with where we were having the ceremony, but they did the research and built the perfect backdrop for our wedding. During the reception, people actually asked me if the flowers were fake because of how perfect they looked. We received so many compliments and guests were in awe of the flowers throughout the venue. The service that Teddy provided was flat-out flawless. I will recommend him (Peter's) to anyone that has an event, times ten. Absolutely fantastic in every way. Additionally, the prices were extremely reasonable - Peter's is willing to work with any budget and they help guide you through the process. We had no idea what our budget for flowers was, but as we discussed our wish list, we arrived at a very reasonable ballpark which they were willing to continue editing. There was no pressure, but rather a focus on the couple's need/wants and what they are comfortable with in terms of spend. A million thank you's to Teddy for making our amazing wedding even more spectacular!!!
---
Reviewed on

2/04/2017
Jennifer L
Teddy was referred to us by a colleague at work who was also planning her dream wedding. We are so thrilled and thankful for the referral! Teddy created an absolutely perfect ambiance with arrangements that went far beyond what we even imagined--He made our wedding day... Read More everything we envisioned and more! We first met with Teddy eight months before our big day. At this meeting, we looked through Teddy's work, sharing photos and ideas of what we envisioned (e.g. flower types, colors, designs, styles, etc), while Teddy made sure to write every detail down. As the meeting progressed, we began to have a finalized vision in our head--it was already better than we imagined when we first walked in. It was obvious to us how knowledgeable and detail oriented he was! It was amazing how he spent two hours on our consultation to make sure we were comfortable with everything. Teddy has years of experience that allowed him to guide us making suggestions and recommendations that only made the experience better. As our big day approached, we began to finalize all the details with Teddy. We met with him to make sure our original vision hadn't changed. Teddy came to the meeting very prepared with mock arrangements and bouquets to give us a better idea of how the vision would come to life--they were beautiful and really set our nerves at ease. We also enjoyed meeting with Teddy because his personality was so easy to get along with, which made the process fun rather than stressful when making decisions. Fast forward to our Wedding Day! Teddy was there with a whole crew working tirelessly to set everything up. He made sure everything was ready before our guests began to arrive. Teddy takes a great deal of pride in his work--he made sure to visit both my (soon to be!) husband and I to see how we were doing and make sure we loved everything and that he brought our dreams to life. It was actually during this time that we learned that Teddy stayed up all night working on our arrangements. Teddy told us that a specific type of flower we wanted and that he had ordered wasn't up to his standards. So instead of just hiding it or substituting a different flower, Teddy drove to the flower market at 3AM and handpicked the replacement flowers that were up to his standards. It is this type of behavior that so impresses us an is above and beyond what other flower vendors we met with would have done. Teddy cares deeply, and knows how important his work is. We would highly recommend Teddy to everyone looking for a florist. We are confident that Teddy will do WHATEVER it takes to make the day perfect and make all your "fairy tale" wedding dreams come true! We wholeheartedly thank Teddy for everything he did, and without doubt recommend him--it would be a mistake to use anyone else!
---
Reviewed on

11/09/2017
Kaili J
AMAZING consultation with Teddy (and Diesel)! He's so wonderful & easy to work with, and is great at recommending arrangements and sticking within your budget. HIGHLY recommended!
---
Reviewed on

11/01/2017
Michelle M
Events by Peter's Wholesale Florist is the best in the industry. As the mother of the bride, I wanted everything to be perfect and Teddy at Peter's Wholesale surpassed all of our expectations! He did everything in his power to make sure all ran smoothly in the planning and the... Read More day of. We knew we didn't have to worry at all with Teddy running the show. The flower arrangements and decorations at both the church and reception were magical. Everyone kept commenting on how romantic the setting was! Teddy's expertise is second to none and I look forward to using Peter's Wholesale in the near future. Big thanks to Teddy!
---
Reviewed on

11/01/2017
Michelle M
I wish I could give Events by Peter's Wholesale Florist 10 gold stars! I can't say enough great things about Peter's Wholesale, in particular, Teddy, who helped us create the most magical, elegant wedding. Teddy truly went above and beyond for us. From start to finish, Teddy was... Read More flexible, accommodating and extremely knowledgeable. Every detail was perfect and the flower arrangements, candles and bouquets looked like something out of a dream. Teddy, thank you for bringing our dream to life and making our wedding day one we will never forget. Your expertise shines in all that you do! I will continue to recommend Peter's Wholesale Florist to everyone I know!
---
Reviewed on

11/01/2017
Jeanine F
Teddy was great! He was straightforward, honest and efficient. All the other florists I contacted while vendor shopping wouldn't give me an estimate , kept stalling and one was even down right rude. Teddy gave me prices right off the bat and was willing to work with my budget.... Read More He was very personable and helped bring my vision to life. Go to Teddy!
---
Reviewed on

10/30/2017
Ashley F
Teddy has outdone himself once again. He was on time with beautiful flowers. Extremely helpful when it comes to deciding what you want if you walk in clueless as i did. I highly recommend him and will definitely use him again in the future!
---
Reviewed on

10/30/2017
Lisa V
They deserve way more than 5 stars, this is an A+++ company!! From flowers to ceremony i couldn't have been happier. i was a little nervous because i didn't love the look of where i was having my ceremony but they way they transformed it is really just unbelievable!! the... Read More runner, aisle candles, sprinkled rose petals, floral arrangements to the back drop was a million times nicer than i even hoped for. my bouquet was EXACTLY what i had envisioned in my head (but wasnt able to really express to Teddy) it was like he must have been inside my mind to make exactly what i imagined. the centerpieces were simple like i wanted but absolutely stunning. i know there is no way i would have been as happy if i had chosen any one else to do my wedding!!!
---
Reviewed on

10/29/2017
Mary D
Excellent! Would highly recommend. Very responsive and created the exact look I was looking for. If you want great quality and a great price I would look no further. One very satisfied bride here!
---
Reviewed on

10/29/2017
Allison H
Peter's Wholesale Florist was absolutely incredible for our black tie wedding at the Metropolitan Club in NYC! Teddy took the time to meet with us and truly understand our vision. He was supportive throughout the entire planning process and he created something better than we... Read More ever could have imagined! We got so many compliments about how beautiful the flowers were and I was obsessed with my bridal bouquet in particular! Peter's Wholesale is the absolute best!
---
Reviewed on

10/29/2017
Sarah F
Teddy did a great job working with us to help us choose flowers that were beautiful and within our budget. We had no idea what we wanted and he was very patient with us showing us samples, colors and guiding us towards our beautiful displays. I would highly recommend them!
---
Reviewed on

10/29/2017
Krista B
Teddy did a great job on our wedding and rehearsal flowers. He is friendly and easy to work with. I would absolutely work with Teddy again!
---
Reviewed on

10/29/2017
Elizabeth H
Teddy Gianokos and Peter's Wholesale Florist did an amazing job at my daughter's wedding! The flowers were fabulous and got rave reviews from everyone who saw them. What was truly invaluable was the way Teddy uses technology to help bring dreams into focus and guides choices... Read More to complement everything from the church to venue. My daughter's bouquet completely enhanced her in proportion and style. I can't say enough about how great it was to work with him. He is truly a find that every bride should have behind her on her special day!
---
Reviewed on

10/28/2017
Christina C
Very Best!!! Could never have imagined how amazing they were !!!
---
Reviewed on

10/28/2017
Amanda K
Peter's Wholesale Florist did an amazing job. Teddy is very easy to work with from start to finish. He has many different pictures of floral designs that you can look at to get an idea what your looking for. Teddy worked with us to make sure the flowers would match the color... Read More scheme we went with for our wedding day. Teddy went above and beyond on the wedding day making sure the flowers continued to look good throughout the day. We couldn't have asked for a better florist!
---
Reviewed on

10/27/2017
Amanda R
Our wedding flowers were absolutely beautiful! Everyone complimented us on not only my bridal bouquet, but also the entire wedding party's florals, the centerpieces, and accent florals we used for the ceremony. Teddy was great to work with (and came highly recommended by a good... Read More friend). We will definitely be hiring Teddy for any other floral needs we'll have! We also decided (two weeks before the wedding) to rent some votives to add to our centerpieces, which were the perfect touch. Thanks again, Teddy!
---
Reviewed on

10/26/2017
Parisa B
Peter's Wholesale is the best in the business for so many reasons. Teddy was so easy to get along with and so easy to work with. He listened to my "vision" (which was honestly just a bunch of jumbled ideas that I did not know how to articulate) and made thoughtful... Read More recommendations, which were absolutely welcomed. We actually wound up using ALL of his ideas and we couldn't have been happier with the outcome. There was no pressure, he was transparent with his costs and was happy to work within our somewhat limited budget. I have recommended to him to several brides and grooms and have received similar feedback on their experience with Teddy. THANK YOU THANK YOU for absolutely everything, Teddy. We are so grateful for you, your team, and of course, the friendly welcome's from Diesel!
---
Reviewed on

9/14/2017
J S
Teddy was fabulous to work with! He was very good at duplicating images that we showed him to make our floral arrangements exactly the way we wanted them!
---
Reviewed on

6/27/2017
Jessica C
Peter was difficult to work with, meetings with him were a scattered mess he was constantly calling us for payments (tacky) and my flowers were ok some of the flowers were dying within hours.
---
Reviewed on

6/12/2017
Christie R
Teddy was a pleasure to work with and did an absolutely phenomenal job on our wedding!!! He took the time to meet with us before the wedding and arrange samples - and, when I wanted to make changes - met me in stride! My bouquet, our ceremony arbor and the entire reception area... Read More were all perfect! Thanks for everything!!
---
Reviewed on

2/02/2017
Heather D
Teddy was more than we could have imagined when we walked in for our consultation. He is personable, down to earth and willing to work within a reasonable budget! He is very thorough in his consultation and helps brings your ideas to Iife! I recommended him to a co-worker of... Read More mine and two days later she had a consultation with him and is using him as her florist as well! Thank you Teddy for making wedding planning so enjoyable, easy and fun!
---
Reviewed on

2/01/2017
Stephanie S
I am surprised there are so many good reviews on here! I called to speak to someone about a consultation, I got the owner and he was extremely RUDE and very unpleasant over the phone. I will not be using him or recommending him for weddings because of his lack of customer... Read More service, understanding and patience.
---
Reviewed on

10/31/2016
Lauren W
Teddy was a pleasure to work with! He took the time to review different flowers with us and set up mock arrangements weeks before the wedding to ensure it was exactly what we wanted. All of the bouquets and reception centerpieces were absolutely beautiful. The dance floor decor... Read More with tulle and lights looked stunning. Everything looked perfect! We would highly recommend Peters Wholesale Florist!
---
Reviewed on

10/31/2016
Jana C
Teddy was great and really came through on our wedding day! We were budget conscious and he was open to working with us to get the look that we wanted within our price range. The flower arrangement was gorgeous, would definitely recommend.
---
Reviewed on

10/31/2016
Stephanie K
Teddy was amazing to work with and most importantly, he understood our needs. He made our day more magical than I ever imagined. I highly recommend Peter's Wholesale Florist! Pleasure to work with!
---