Home

Marchi- The Culture of Jewelry
About this Vendor
Designing Traditional and Rustic Bridal Jewelry
Made to order and in stock bridal jewelry set with GIA certified diamonds, created and natural, rustic and gem quality diamonds and gemstones. Our metal is reclaimed and fair mined and everything ethically sourced. I am a merchant for the modern age. Plain spoken, service oriented and willing to work a lot for as little as possible. Give me an opportunity to speak with you, you'll benefit whether you purchase from me or not.
Details
Bracelets, Earrings, Necklaces, Rings, Wedding Jewelry, Fashion, Engagement Rings, Custom Designs, Jewelry Cleaning, Ring Insurance, Ring Sizing, Ring Services, Wedding Rings
Reviewed on

3/25/2018
Heidi W
We are so happy to have found John and Marchi. This is not the place you go if you are looking for department store style selection or used car style salespeople. John is an artist, not a salesman. His work and service are top notch. He spent a lot of time with us on... Read More multiple occasions and was flexible and accommodating when my husband had an allergy to a metal in the ring we had purchased for him. We had a diamond from our family and he designed the setting for us as well as our wedding bands. He has done jobs large and small for my husband and me and we have always been happy. He also has a great selection of unique pieces on hand.
---
Reviewed on

3/15/2018
Christine H
John is amazing! We told him what we had in mind that we were unable to find in other stores and he put together the perfect engagement ring for my fiance. We'll definitely be going back for our wedding bands. I fully trust and value his opinion and expertise.
---
Reviewed on

3/09/2018
Yana G
Amazing jeweler, we were searching for the perfect ring on Jeweler's Row but everyone was trying to sell us something that they thought we wanted. That's a big turn-off. John asked us questions and got a sense of who we were as a couple, so refreshing! He was patient and NEVER... Read More pushed us to buy anything. We found the perfect ring, he was incredible!
---
Reviewed on

3/04/2018
Lydia M
You're in the right hands if you decide to go to Marchi. John is incredible. My fiancé and I walked into his shop with my (deceased) Father's gold wedding band from 1974. We wanted to use his band to create both our wedding bands. John helped us craft the *perfect* two unique... Read More rings we all visualized together. He takes his time. He draws out options. He has an obvious big heart and a ton of skill to match. We are so happy with our rings. My engagement ring is also a bit of a large moonstone and odd shape and John also helped me create the kind of wedding band that would help hold it in place as well as look aesthetically pleasing-comfort AND quality (: We will always go to John for our homemade needs. Or if we want to chat- walking into John's shop is relaxing and fun. I'd give 6 stars if it were an option.
---
Reviewed on

3/04/2018
Becky P
When thinking about engagement rings earlier this year I felt overwhelmed at the big jewelry stores. I immediately went on Yelp and after reading the reviews knew that Marchi was on the list of places to check out. My fiancée and I had several checklists we needed before picking... Read More a place to get an engagement ring from. We needed a flexible payment plan, wanted something designed, and wanted to pay a fair price and not be overcharged for a ring just because it was a "wedding ring." Marchi was the first stop and as soon as we talked to John, we both knew we didn't have to look anywhere else. We did go into a couple more shops after our first visit (I like to consider all my options before making a decision), and after a salesperson telling my fiancé "he should shake me" after I told him all the rings looked the same, I knew John was the real deal. Other places were crowded, hurried, chaotic and we felt like during this intimate time in our life we wanted a personalized and relaxing experience. Months later, I came down with my fiancé to see the ring. It was exactly like the drawing John had shown me but I had originally asked for smaller white diamonds on the side. Unfortunately I just wasn't in love with it and asked John if he could change the three small diamonds to one black diamond. He was not upset, but absolutely accommodating and made the change for me. While in the shop I also saw couples make changes and John is absolutely accommodating. A couple months later and my fiancé went to make the last payment on the ring. John had closed the shop real quick to make an errand, recognized my fiancé on the street and he went back and opened the shop just for him. Let me tell you, don't waste your time going to anyone else. I LOVE MY RING!! It's absolutely gorgeous and absolutely fits my personality. I will only be going back to John from here on out for all my jewelry needs! We went back and got a matching set of stud earrings and got our wedding bands here as well. He had a perfect black diamond one that was just made which worked out great for my band. My husband had a band passed down in his family that John hand engraved and polished like new. Marchi is out jeweler for life.
---
Reviewed on

3/03/2018
Jennifer H
John is the best jeweler. Period. He made my fiancée and I feel so comfortable and informed. He helped us design the perfect rings and we ADORE them. We get compliments daily. John is not a slimy sales guy either. Some of the other jewelers just felt so car salesman like but not... Read More here. If you're in need of jewelry, especially an engagement ring don't look further than Marchi.
---
Reviewed on

3/03/2018
Elizabeth A
My fiancé and I worked with John to design my engagement ring using my great grandmother's diamond. The process from start to finish was seamless and most importantly, we trusted John with this priceless heirloom. There was no pressure or sales pitch. When we saw the completed... Read More engagement ring I couldn't stop looking at it. It was exactly what I wanted. When it came time to buy our wedding bands it was no question that we would go to Marchi. Now with a couple months until our wedding, we just made another stop at Marchi for wedding jewelry. John is trustworthy and knowledgeable about jewelry and the quality of his work can't be beat. It's an added bonus that he has the cutest dog, Moses in his shop with him. We will continue to use John for any of our jewelry needs!
---
Reviewed on

3/03/2018
Sarah A
I love that John is "my jeweler." It's terrific to have a person/shop I know I can trust and who is so down-to-earth, helpful, knowledgeable about stones and metals, and has some truly creative designs. I'll definitely bring my friends and family to Marchi! After doing a fair... Read More amount of research on jewelers on Jeweler's Row, I made an appointment at Marchi. My then boyfriend came with a strict budget and I wandered away to look at his cases as they discreetly discussed. John asked what I was looking for and then brought me a variety of options, sticking with boyfriend's budget: he even called another jeweler he knew would have the stone that is now my engagement ring! At every step of the way he made my boyfriend comfortable (always important!) and let me know pros and cons of each decision (we discussed sapphires and other non-diamond options) without pushing me toward or away from any of them. I didn't get the engagement ring till months later, but it's exactly what I wanted! We returned for my wedding ring, which John tweaked three times till it was perfect. And later my then fiancé returned for his wedding band. I ventured back to Jewelers Row to have pearl earrings made to match a borrowed necklace and brought my mother by Marchi jut to say "hi," 'cause I hadn't seen pearl work at Marchi and it turned out that he could (and did) craft pearl earrings exactly what I wanted for far cheaper than the other jewelers we had stopped in with beforehand. Ps. He also had my engagement ring polished to perfection before my wedding free of charge and asked me to stop by from time-to-time to steam clean my rings. Looking forward to those visits!
---
Meet The Owner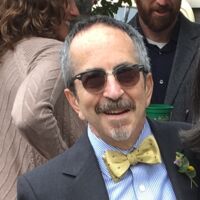 John Marchiafava
I've worked in the jewelry industry since I was a kid in high school. Selling for and managing some of the best known stores on jewelers row. In 2004 I opened my own store and started designing and selling for myself. It's amazing that something that was such a chore can become so enjoyable once you're able to do it your own way.