Home

Touched by Time Vintage Rentals
About this Vendor
Touched by Time Vintage Rentals
We are a prop rental company specializing in Event/Wedding Rentals. We have many unique vintage one of a kind pieces, all hand picked, filled with history! Oh the stories they could tell! We are here just waiting for you so we can help make your special day as unique as you are. Some of the items we carry include Farm Tables, Eclectic Wood Chairs, Upholstered Chairs, Dressers, Settees, Sofas, Suitcases, Trunks, Frames, Chandeliers, Lanterns, Arbors, Backdrops, Doors, Windows, Candlesticks, Books, Cameras, Typewriters etc... We even have an antique horse drawn buggy, a claw foot tub & a vintage trailer turned photo booth! If you need props, a stylist, or someone to just chat with about your wedding vision, give us a call we would love to hear from you and help make your dream come true!
Details
Decorations + Accents, Benches, Chairs, Dinnerware, Heating + Cooling Equipment, Glassware, Lounge Furniture, On-Site Delivery + Setup, Dining Tables, Tables, Tear Down, Rentals + Equipment

Reviewed on

10/31/2017
Lisa D
My husband and I truly don't have words to describe how awesome this mother/daughter team is! From the very start of planning our wedding Nancy and Kelly have been sweet, personable, and extremely helpful. We were really drawn in by their vintage furniture and décor, but the... Read More more we got to know them the more we realized how invaluable they were to our wedding. Throughout the planning process their communication was prompt, they answered all of our questions, and truly understood our vision. We loved their eye for design and attention to detail. For our wedding our personal favorites were their farm tables, vintage doors, and lounge set up! If you decide to work with Nancy and Kelly, you know you will be working with a team who truly cares.
---
Reviewed on

11/01/2017
Majda E
Because of Touched by Time Rentals, my wedding day went above and beyond my expectations. Their professionalism and follow through was impeccable and they hand delivered, and set up each perfect and beautiful piece themselves. Not one piece that I requested was missed, and it... Read More was true to, if not more beautiful, than it is in the pictures they display online. Because of their furniture, my wedding gave the very homey, family feel I was desiring and I will remember that forever! Their furniture displays well and looks amazing and timeless in photos as well. I received several compliments on how beautiful their pieces were from my guests. I am forever grateful to this company for allowing us to use their amazing furniture in our wedding to make it our perfect day!
---
Reviewed on

10/25/2017
Jo-Anna W
I could go on for days about this Mother/Daughter Team! Nancy and Kelly are AMAZING! I booked my venue and package with them in March 2015, and although my wedding wasn't until October 2017 they still catered to me as if my wedding were just days away. They become our friends... Read More (more like family) and I know my day would have never been the day it was without them! I plan on hiring them again for any excuse of a party I can talk my husband into having haha I can praise them all day!! Thank you ladies for EVERYTHING! You two are forever apart of the Morris family!
---
Reviewed on

12/06/2017
Lori I
If you want a gorgeous wedding, look no further. The pieces that Kelly and Nancy offer are so unique and gorgeous. They took my vision and made it into so much more. From the candle sticks, to the suitcases, to the lounge furniture- everything was so impeccably selected and... Read More placed in a way that made me feel like I was in some kind of editorial photo shoot. Kelly and Nancy were always so accommodating and helpful with all of my ideas, and they really went above and beyond in creating our dream wedding. They truly seem to love what they do and, as a result, are absolutely amazing at it! If we ever throw another big party again, we'll definitely be contacting Kelly and Nancy !
---
Reviewed on

11/02/2017
Sweet Stems Florist S
As a Wedding florist I am lucky enough to work with many awesome vendors. Nancy is awesome and without a doubt one of my favorite reccomendation for my brides that are in need of beautiful rental furniture and decor. Touched By Time has soo many georgous pieces, sure to add that... Read More perfect look to your special day! <3
---
Reviewed on

11/01/2017
Jeremy R
Nancy and Kelly are simply amazing!! Their attention to detail, amazing vintage rentals and the the icing on the cake; they're really kind and want your wedding day to be perfect....you can't go wrong!!
---
Reviewed on

10/31/2017
Colleen H
Kelly and Nancy are amazing, kind and will do anything to make sure your event looks amazing and put together exactly how you imagined it and even better than you imagined it! Their attention to detail is truly amazing. They have everything and anything you can think of for all... Read More your decorations needs. They are an amazing team and we would recommend them to anyone we know. They made our wedding day so beautiful and cant thank them enough! Thank you Kelly and Nancy!!
---
Reviewed on

10/31/2017
Tiffany G
Nancy and Kelly are an amazing team. We loved that they had plenty to choose from since we didn't do the typical blush and white color scheme. It really helped take our wedding to the next level and they brought our wedding style and vision to life. We love how collaborative and... Read More personable they are. Since the wedding, we have been able to grow close to them and consider them great friends. We highly recommend to anyone looking for a beautiful and stress-free wedding!
---
Reviewed on

10/31/2017
Erika S
Working with Nancy and Kelly for my wedding was amazing. They had literally everything I could want to my day complete, and more. Not only that, but the ideas they offered were great as well. I was able to put my full trust in them, and the execution was flawless. Kelly and... Read More Nancy are personable, and incredibly accommodating. They met our every need, created things just for my wedding, and even add additional touches to make it just right. They are simply fantastic.
---
Reviewed on

10/30/2017
Maddison Y
Kelly and Nancy are the best people to work with. They take your vision and compliment it with their own great ideas. Touched by Time Vintage Rentals has the most beautiful pieces to choose from to make any occasion perfect! They provided so many gorgeous rentals for our wedding... Read More that just made everything so beautiful! They are kind, funny, and truly go above all expectations to ensure everything is what we imagined and more. We love you guys and are so thankful we had you apart of our big day!
---
Reviewed on

10/29/2017
Rachel H
They are a wonderful family ran operation, with attention to detail and very easy to work with! I highly recommend Touched by Time for any vintage furniture rental. Their products are the perfect addition to any wedding and add a unique flare!
---
Reviewed on

10/29/2017
Jessica W
Touch by time made my wedding day . They saw my vision and created it right before my eyes . There selection of details for my special day were incredible and they did everything they could at all times to insure it was perfect for me . They were amazing !
---
Reviewed on

10/24/2017
Heather G
I have to say as a photographer, I am so extremely impressed by the eye that Nancy and Kelly have for quality and beauty and unique finds. They have this incredible talent of being able to piece together the most beautiful displays from a dessert table to an entire ceremony and... Read More reception. Quality rentals including authentic handcrafted farm tables and real antiques, and classic vintage pieces that complete any look for elegance and sophistication and fun. As a friend and fellow vendor the work ethic and loyalty and compassion they display is unlike anything else I have ever witnessed. Every single bride becomes family to them and every vendor as well. Nancy and Kelly are the perfect duo, they highlight one another's passion and skills for the wedding industry and more importantly the creativity to bring your fairytale to life. I always highly recommend them to every couple I meet.
---
Reviewed on

10/23/2017
Cathee S
I'd first like to made it known that Nancy and Kelly are the best duo team around! You could not ask for a better pair of ladies to help you out on your special day. :) In regards to the vintage rentals, this should DEFINITELY be on your list. All of the items they provided for... Read More the wedding were stunning, and I received so many compliments from guests about the styling of everything that was done. From the antique rugs during the ceremony, to the rustically setup barn for cocktail hour, to the reception area with long farm tables, mismatched china and goblets, lounge area, and our adorable sweetheart table! It was all GORGEOUS. I'm literally over the moon about everything they did! And on top of that, everything ran smoothly and without hitch (at least, if there was any issues I did not know about them). :) Thank you again Nancy and Kelly for everything you do!
---
Reviewed on

5/27/2016
Victoria A
Nancy and Kelly are the very best! They made everything that I had planned come to life with all of their pieces. Kelly was at my side from beginning to end on my wedding day. She helped make everything run so smooth. There's nobody else I'd want to use. Can't wait for our 1... Read More year anniversary photo shoot!
---
Meet The Owner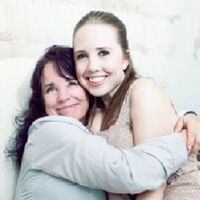 Nancy and Kelly Kruse
We are a Mother & Daughter Styling Team. We enjoy going on the hunt for new treasures. We love to take someones castaway & breathe new life into them, so they can be enjoyed for many years to come. We hand picked our distinctive collection. We love that we can up-cycle and re-purpose! Our desire is to give each of our rentals new life! It is our hope that our rustic, romantic, elegant and unique pieces will add that perfect amount of charm for you and your guests to enjoy throughout your day. Bringing forth a delightful sense of warmth and love to help create memories that last a lifetime.