Ashley Graham Is Expecting Twins With Her Husband
The couple marked 10 years of marriage in 2020.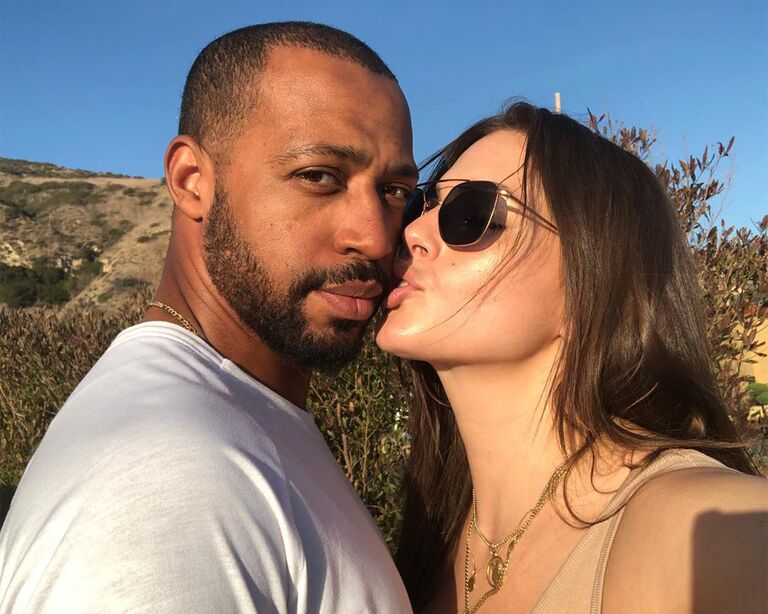 Ashley Graham / Instagram
Ashley Graham and husband Justin Ervin are expecting twins. The model and body positivity activist revealed on social media in September 2021, that her family is growing even more with a touching video of various moments throughout her pregnancy.
The clips showcase Graham's double-confirmed pregnancy tests, as well as her trip to the obstetrician and gynecologist, where she and Ervin learn they're having two baby boys. "Are you serious?" Graham laughs. "We're having three boys!"
The little ones will have a big brother to look up to upon their arrival. Graham and Ervin welcomed their son, Isaac Menelik Giovanni Ervin, in January 2020. In July 2021, the model discovered she's pregnant again. "The past year has been full of tiny surprises, big griefs, familiar beginnings and new stories," she wrote. "I'm just beginning to process and celebrate what this next chapter means for us."
Graham and her husband marked 10 years of marriage in August 2020. "What was different about him was he was consistent. I think consistency is really hard to find in people, in general, and then to find it in a man who is pursuing you? It's like, 'Wow, I never had that before,'" she previously told The Knot in an exclusive interview. "We obviously had the same traditions and upbringings and beliefs. We made each other laugh. I kept telling him, 'I'm not tired of you, I'm not tired of being around you.' He was always shocked by that, because I always would get really bored with guys. He was just so different. The difference in him and his consistency were what really got me."
In 2009, Ervin proposed to Graham with a flat diamond, an atypical choice with a great backstory. "It's because I'm a very active person: I'm either in the gym or I'm putting my hand in a pocket or I'm changing clothes all the time," she explained in the same conversation. "I wanted it to be gold but not shiny gold, I wanted it to be brushed. I wanted it to be stackable and I wanted to be able to fuse it together."
How Ashley Graham and Her Husband Met
The pair first met on Sunday in an elevator of all places. "We met at church in New York City," she said. "I had just gotten out of a relationship. I wrote down everything I wanted in a future husband, but I knew that in everything I had written down, I didn't want to date. I wanted to be single."
However, the unexpected happened. "It wasn't even a year later when I met Justin. We were in an elevator. I was volunteering and he rode the elevator up and down with me," she added. "I was like, 'I know what you're doing buddy.' …We dated a year and we got married."
Ashley Graham's Impact on Weddings
Graham has relentlessly advocated for a shift across fashion for size inclusivity, even focusing her efforts on the wedding industry. In early 2020, she created a line for Pronovias based on her own experiences with wedding dress shopping from a decade prior. "When shopping for my dress, I had limited time and in-store options, which made it difficult to find that perfect dress. I wanted something classic that would flatter and celebrate my body, but shopping for wedding gowns off the rack isn't always easy for curvy girls," she told The Knot at the time. "Therefore, the main priority was to offer a wide range of different styles and sizes for all body types, and the second priority was comfortability. We also kept undergarments top of mind and even built-in shapewear so you don't have to think about it later."
Graham has been one of many voices across the wedding industry to shift the body positivity conversation. Model Hunter McGrady, the cover girl of The Knot Fall 2019 Fashion Issue, decided to custom-design her wedding dress after her shopping experience ahead of her 2019 nuptials. "I saw the dresses that were available out there," she previously disclosed. "I wasn't incredibly impressed, because I wanted a very specific style that was only available in straight sizes [00 to 12]."