Hillary Clinton Shares Photo from Daughter Chelsea Clinton's 2010 Wedding
See even more wedding photos here.
Barbara Kinney (handout photo via Getty Images)
Hillary Clinton shared a precious photo from her daughter Chelsea Clinton's wedding in honor of Mother's Day 2020. A decade has passed since Chelsea Clinton's wedding to Marc Mevinsky, which was planned and orchestrated by event designer Bryan Rafanelli.
In the wedding photo shared to Instagram, the mother-daughter duo is joined by Hillary's own mother, Dorothy Howell Rodham. "Happy Mother's Day to these two mothers dearest to my heart," the former Secretary of State captioned the photo. The image is rather sentimental as Hillary's mother passed away in 2011, a year after the nuptials. Former first daughter Chelsea, then 30, wore a custom-made, strapless Vera Wang gown with an A-line silhouette and crystal-encrusted belt at her waist. Hillary's mother-of-the-bride attire was a bright pink Oscar de la Renta gown with intricate floral detailing, while the eldest Rodham opted for a soft heather grey dress with beaded accents.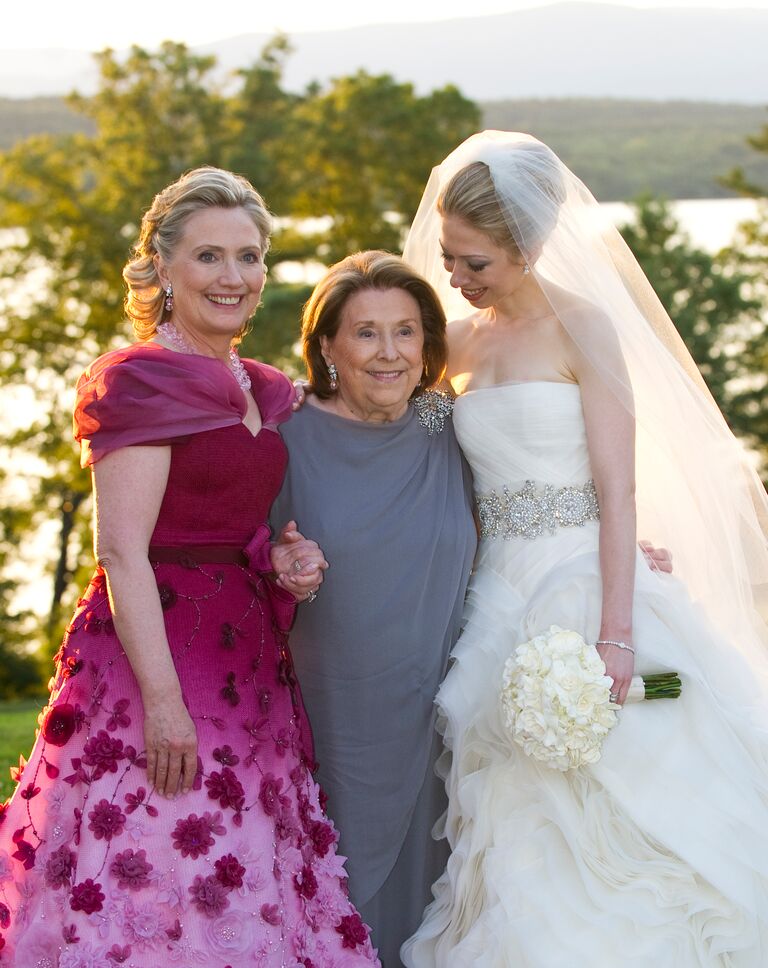 "Three generations of strong amazing women who give so much to our country!" one follower commented on the post. "Thank you!" Added another: "And Happy Mother's Day to you and Chelsea—shining examples of strong, loving, empathetic motherhood."
Chelsea Clinton's wedding to longtime beau Marc Mezvinsky was a joyous occasion that took place in front of 400 family and friends at the Astor Courts Estate in Rhinebeck, New York, on July 31, 2010. Guests included everyone from former Secretary of State Madeleine Albright to actor Ted Danson to Vera Wang herself.
Chelsea Clinton Wedding Dress Details
Vera Wang's design included design details that were trendy at the time, including raw-edged laser cut organza swirls on the skirt and train and a cathedral-length veil to match. The crystal-encrusted belt cost a reported $25,000 to create. Chelsea kept her jewelry to a minimum to let the belt really shine, with a simple pair of diamond earrings and a matching diamond tennis bracelet. Her bouquet was made up of monochromatic ivory blooms, all wrapped up with a white ribbon.
Mezvinsky, then 32, wore a Burberry suit with a skinny black tie, designed by Burberry's creative director Christopher Bailey. (He also, in following with Jewish tradition, wore a tallit, or Jewish prayer shawl, and a yarmulke.)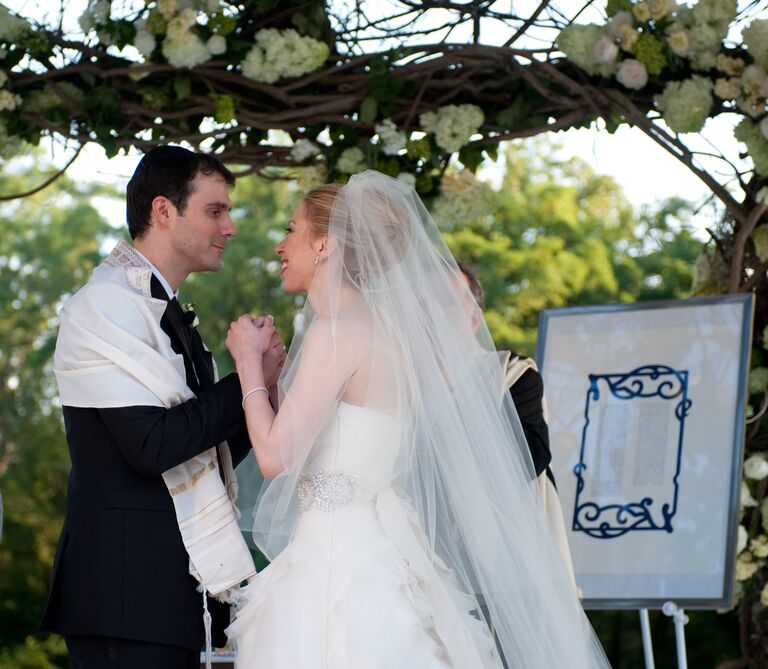 About the Ceremony
The couple had an interfaith ceremony that celebrated Chelsea's Methodist background and Mezvinsky's Jewish faith; as such, the ceremony was officiated by both a rabbi and a reverend, Reverend William Shillady and Rabbi James Ponet.
The ceremony took place outdoors and the couple exchanged vows beneath a Jewish chuppah made of fresh hydrangeas and roses, that was said to have cost between $35,000 and $45,000. Wedding guests read the Seven Blessings to honor Jewish tradition, as well as Leo Marks' poem, "The Life That I Have."
Chelsea Clinton Wedding Florals
Chelsea Clinton's wedding style was classic, as were her choice of blooms for her big day. The couple's wedding floral arrangements featured roses and hydrangeas in a variety of purples, pinks, and blues. Jeff Leatham, artistic director of the Four Seasons George V hotel in Paris and the beloved, go-to floral designer for the Kardashian family, was the creative mind behind the blooms.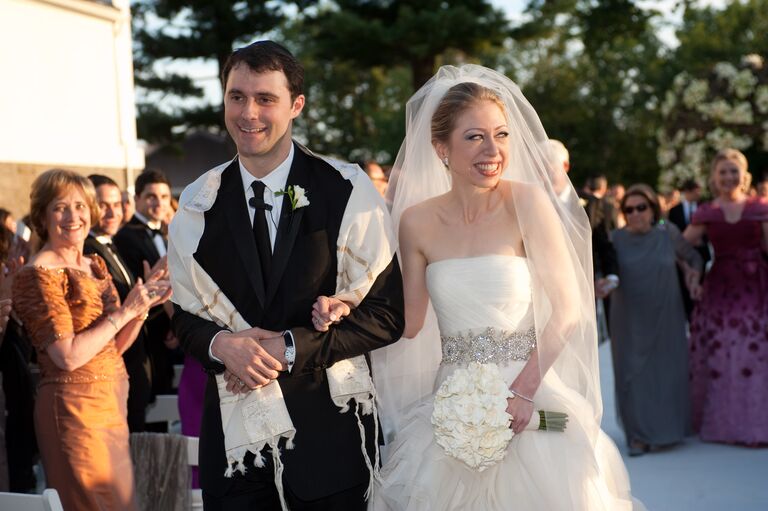 Marc Mevinsky and Chelsea Clinton Wedding Reception Details
Dinner consisted of a high-end menu catered by the St. Regis Hotel in New York City, and included such delights as short ribs, Atlantic char, a vegetarian option, and gluten-free rolls. Chelsea's dad, former President Bill Clinton, gave a toast during the reception, telling the gathered friends and family about how he felt like he had "been outnumbered" by women in the family ever since Chelsea was a tiny tot, but with the addition of Mezvinsky to the family, "the playing field is even."
When things moved to the dance floor, Chelsea and her father shared a dance to Frank Sinatra's "The Way You Look Tonight"; she and her new husband performed a choreographed routine for their first dance to Etta James' classic "At Last." Then, the 18-piece big band orchestra kept everyone on the dance floor throughout the rest of the night, playing classics until 4:30 in the morning.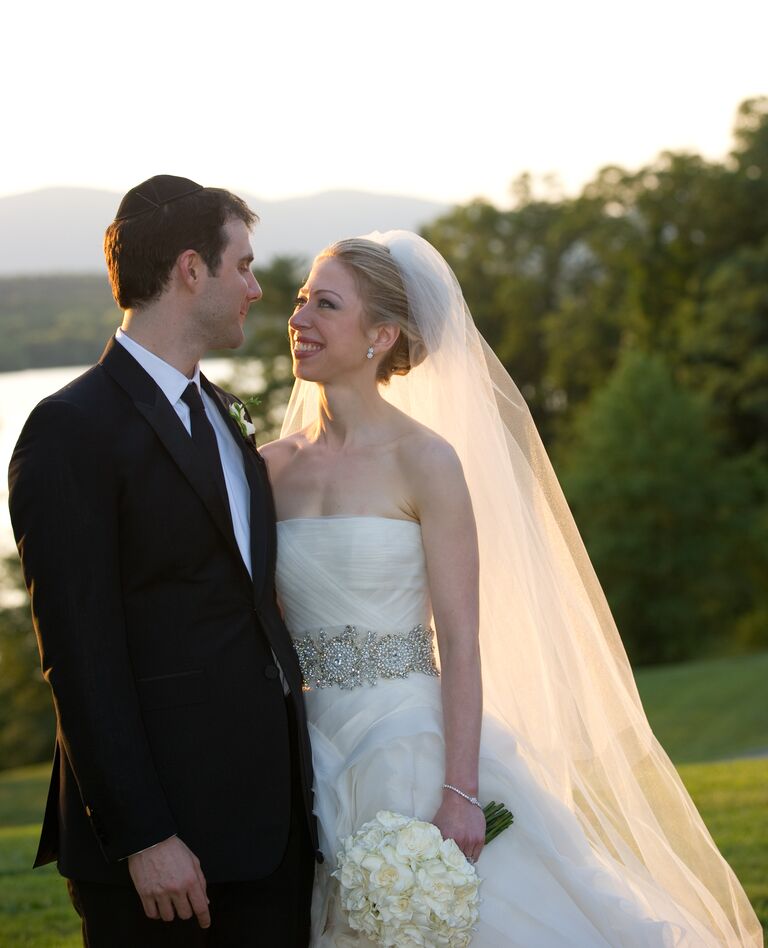 Chelsea Clinton Wedding Cake Details (It Was GF!)
The couple's wedding cake was quite the sight to behold. According to the baker from La Tulipe Desserts, the cake consisted of nine tiers and weighed approximately 500 pounds all said and told, and stood four feet tall. It was an all-white concoction, white 1,000 edible white sugar flowers carefully placed atop the cake by hand. Importantly, the vanilla cake was gluten-free to accommodate Chelsea's gluten allergy, and featured dark chocolate mousse filling made of local and mostly organic ingredients. The price estimate for the whole concoction? Somewhere between $10,000 to $12,000.