See Vera Wang Wedding Dresses From Bridal Fashion Week
Here's the designer's latest collection to hit the bridal runways.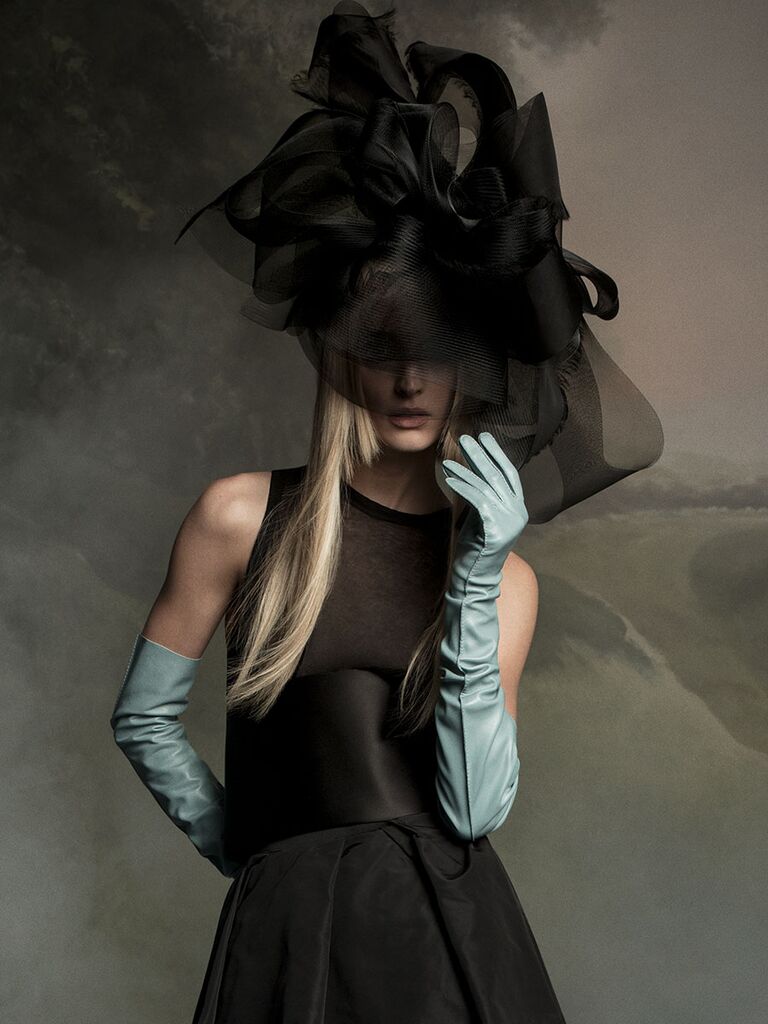 Before helping to completely transform the bridal industry with coveted Vera Wang wedding dresses, Vera Wang spent nearly two decades an editor at Vogue, immersing herself in all things fashion. But after becoming a bride herself and being able to relate on a new level, she transitioned her career when she was 40 years old to serve women on the most visual and emotional days of their lives: their weddings. She credits her keen ability to communicate with women through fashion for her ability to resonate with brides globally and Vera Wang's 2020 collections are no different; infusing grace yet individuality into the ethereal wedding gowns.
Vera Wang's Fall 2020 Wedding Dresses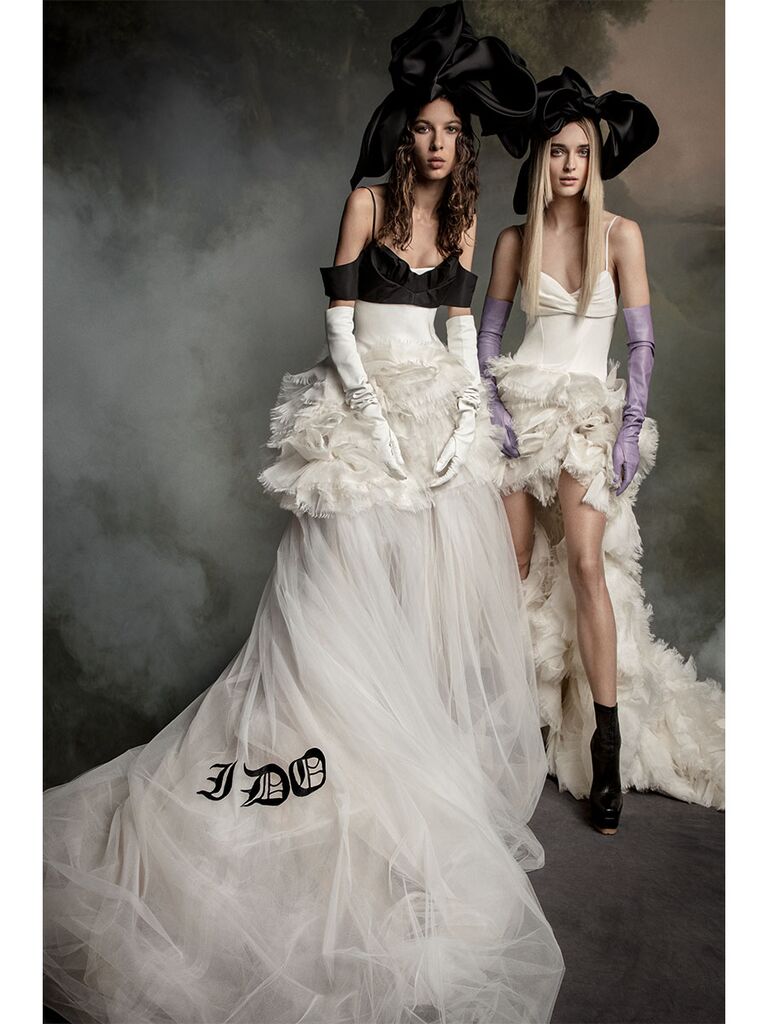 Left: Mia gown; strapless silk charmeuse and tulle ball gown with black embriodered words. Right: Patricia gown; silk faille high-low dress with draped bodice accented with frayed silk.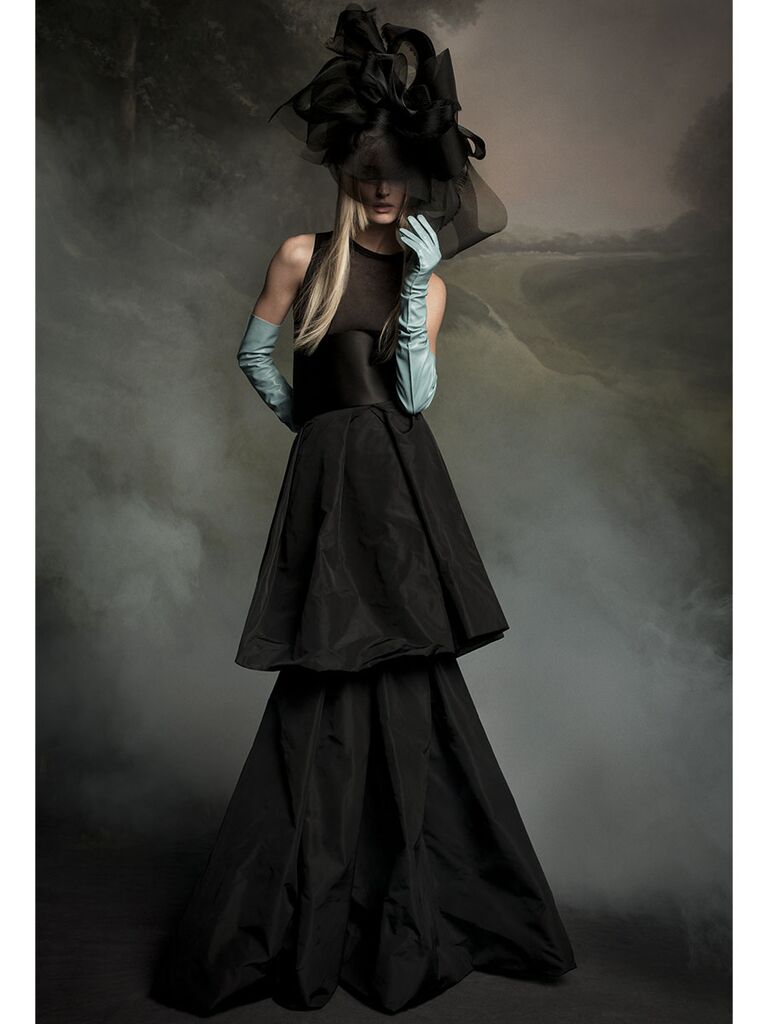 Doris gown; black silk faille double-tier skirt with jersey tank bodice and silk obi belt.
Left: Sarah gown; silk faille strapless high-low bubble-hem gown with draped bodice, black back bow, and black embriodery. Right: Emily gown; silk faille bubble-hem mini dress.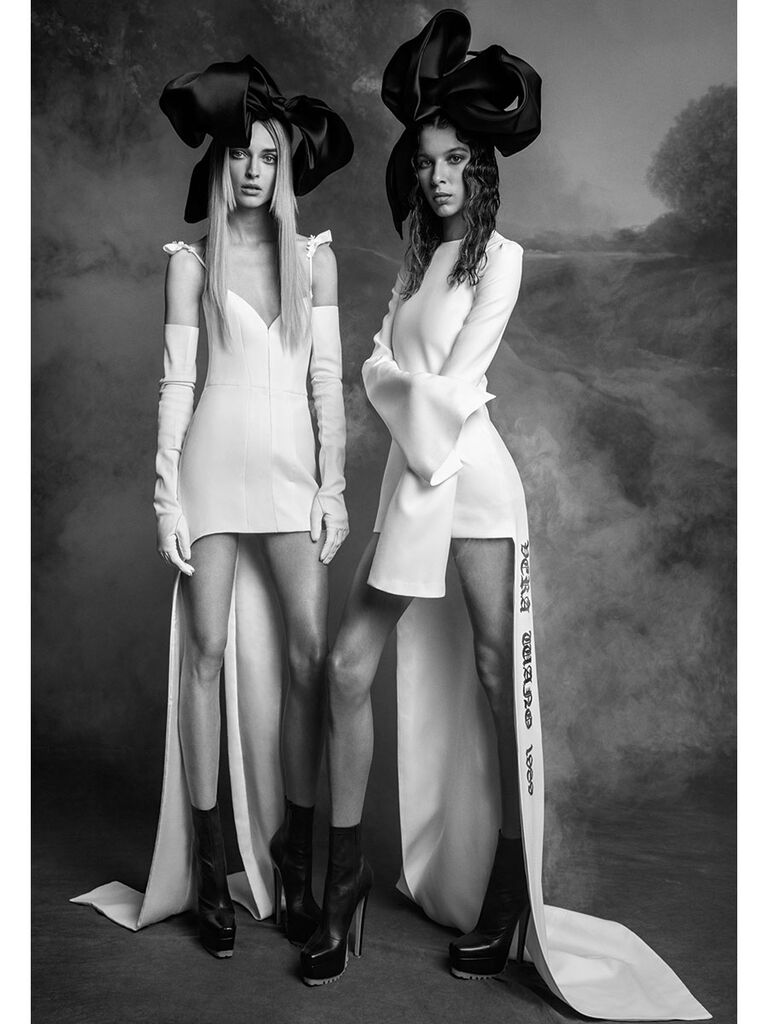 Left: June gown; crepe high-low dress with sweetheart neckline, ruffled straps, and floral train. Right: Susan gown; crepe high-low dress with crew neckline, long sleeves, and black embriodered lettering.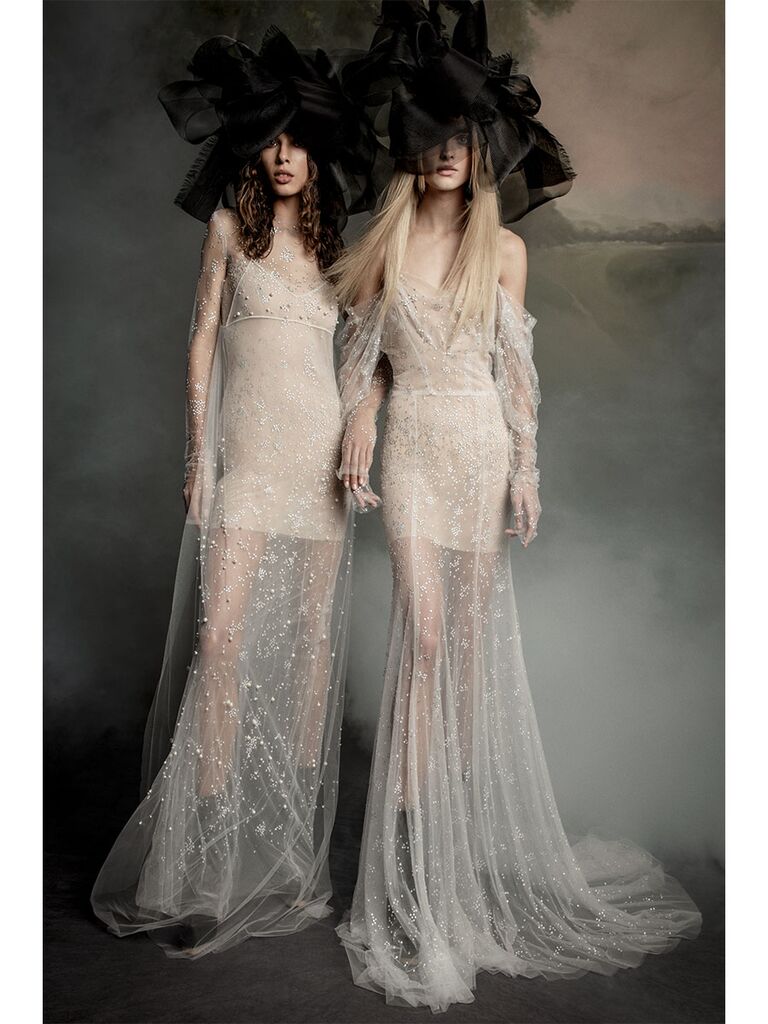 Left: Milly gown; tulle long-sleeve column dress with crystals. Right: Rose gown; tulle off-the-shoulder mermaid dress with crystals.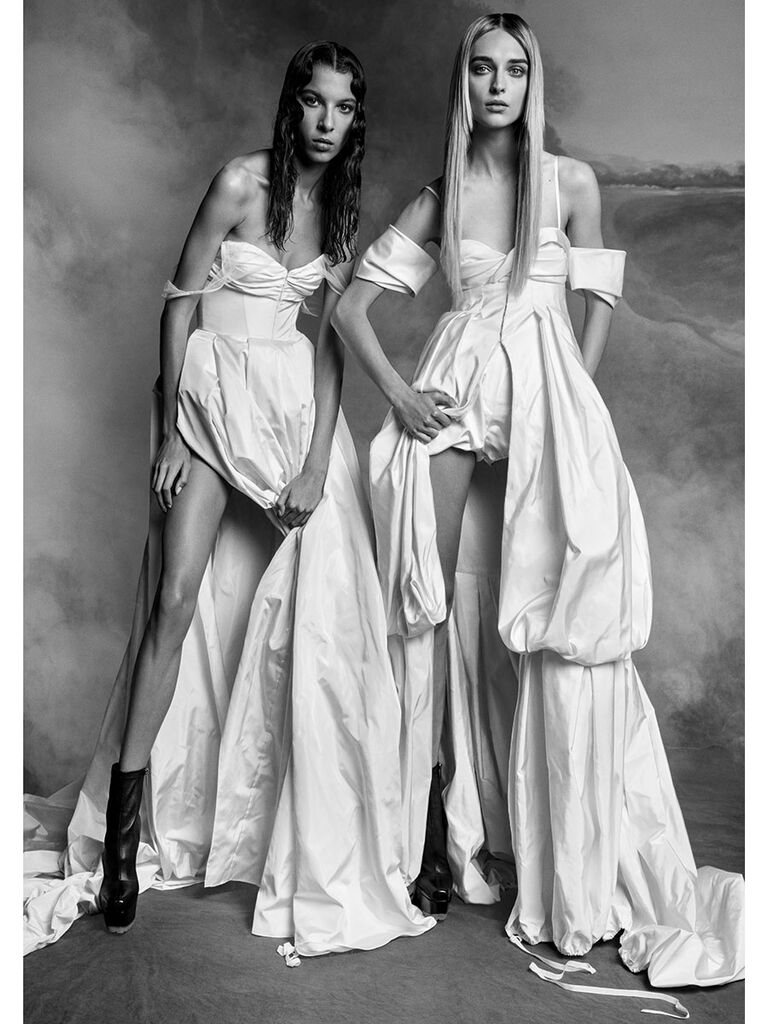 Left: Jean gown; silk faille ball dress with sweetheart neckline, pleated bodice, and tulle sleeves. Right: May gown; silk faille open-front dress with tiered bubble hems and off-the-shoulder sleeves.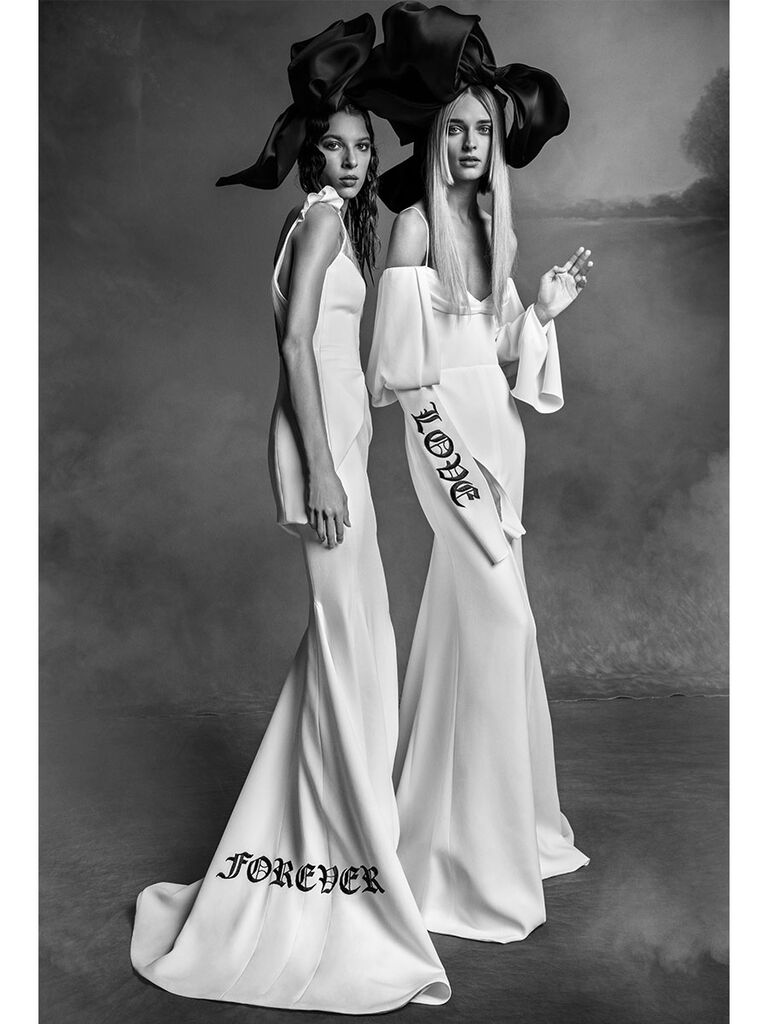 Left: Sally gown; crepe open-front mermaid dress with sweetheart neckline, ruffled straps, and black embriodered lettering. Right: Abby gown; crepe off-the-shoulder a-line dress with draped sleeves and black embriodered lettering.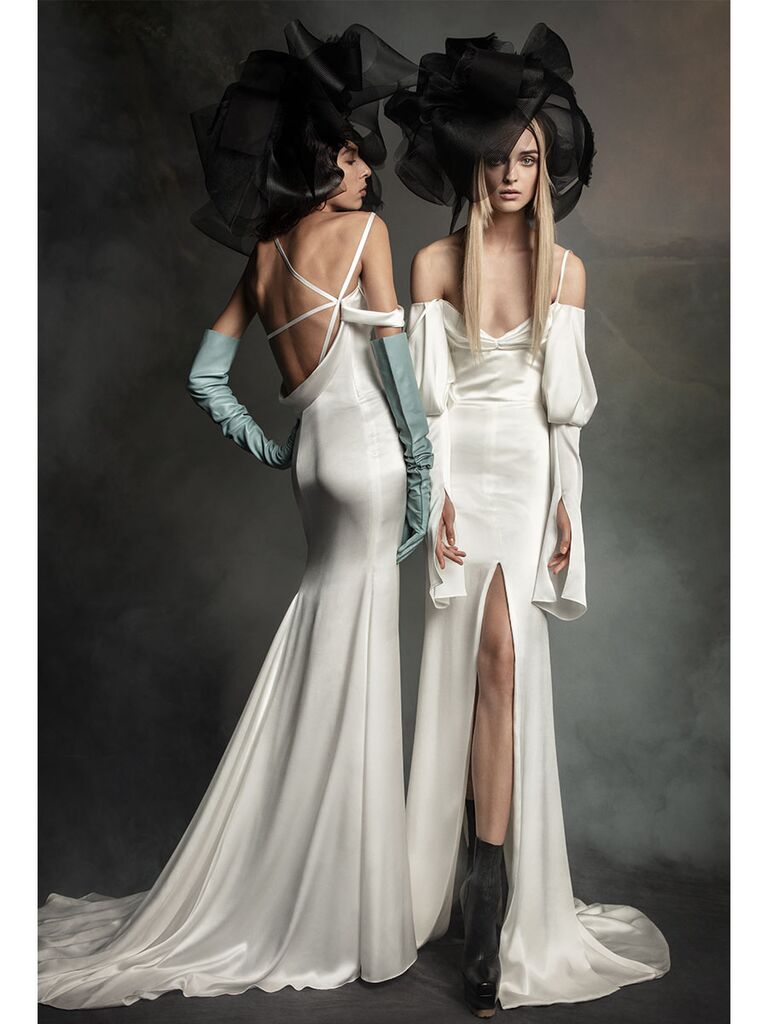 Left: Polly gown; silk charmeuse asymmetric bias dress with single draped sleeve. Right: Jane gown; washed silk charmeuse dress with draped sleeve and front slit by bust.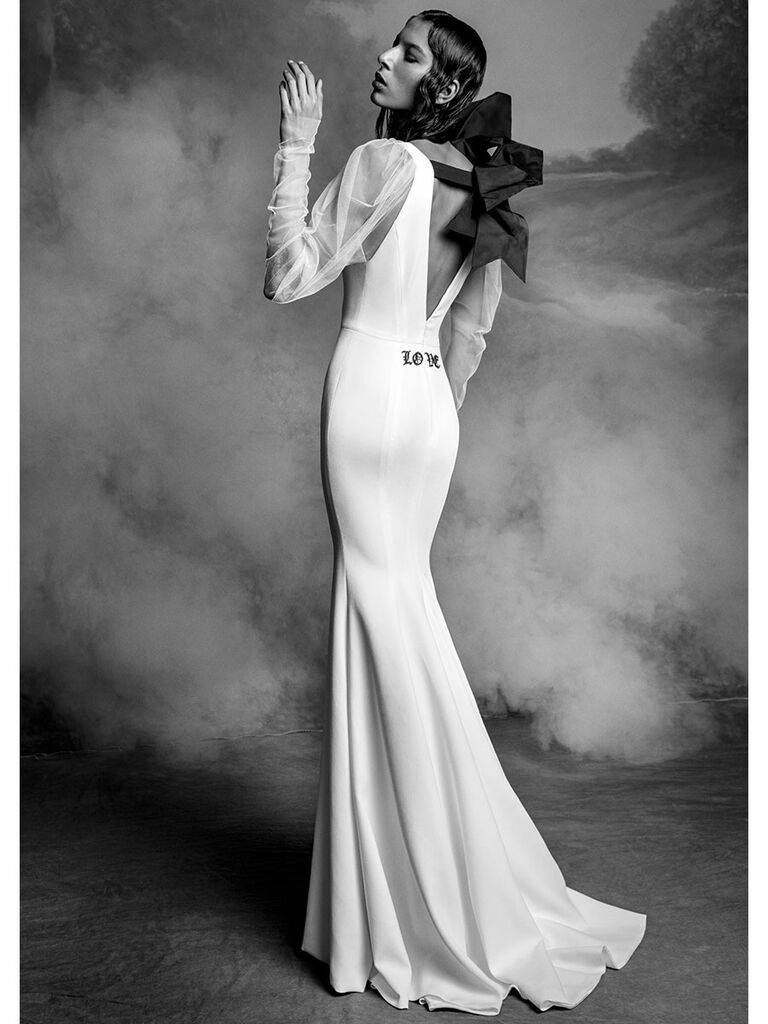 Helen gown; crepe mermaid dress with plunging back, tulle sleeves, black back strap, and black embriodered lettering.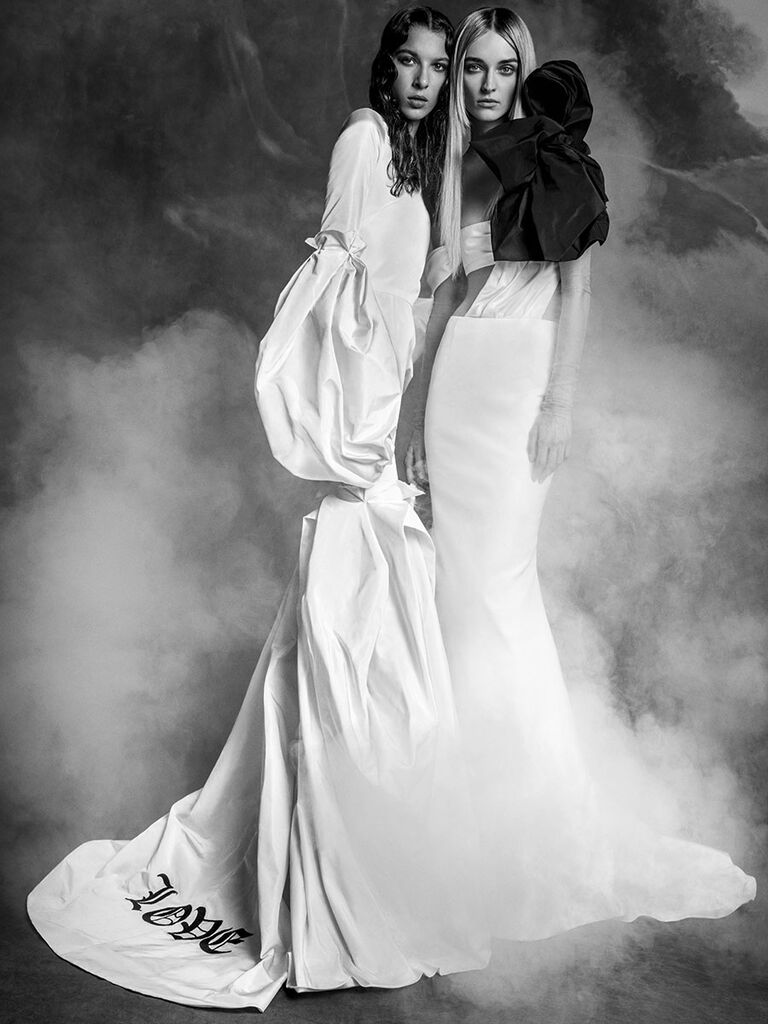 Left: Betty gown; silk faille crew-neck dress with blouson sleeves and black embriodered lettering. Right: Joan gown; silk faille asymmetric mermaid dress with cut-away bodice and black silk bow.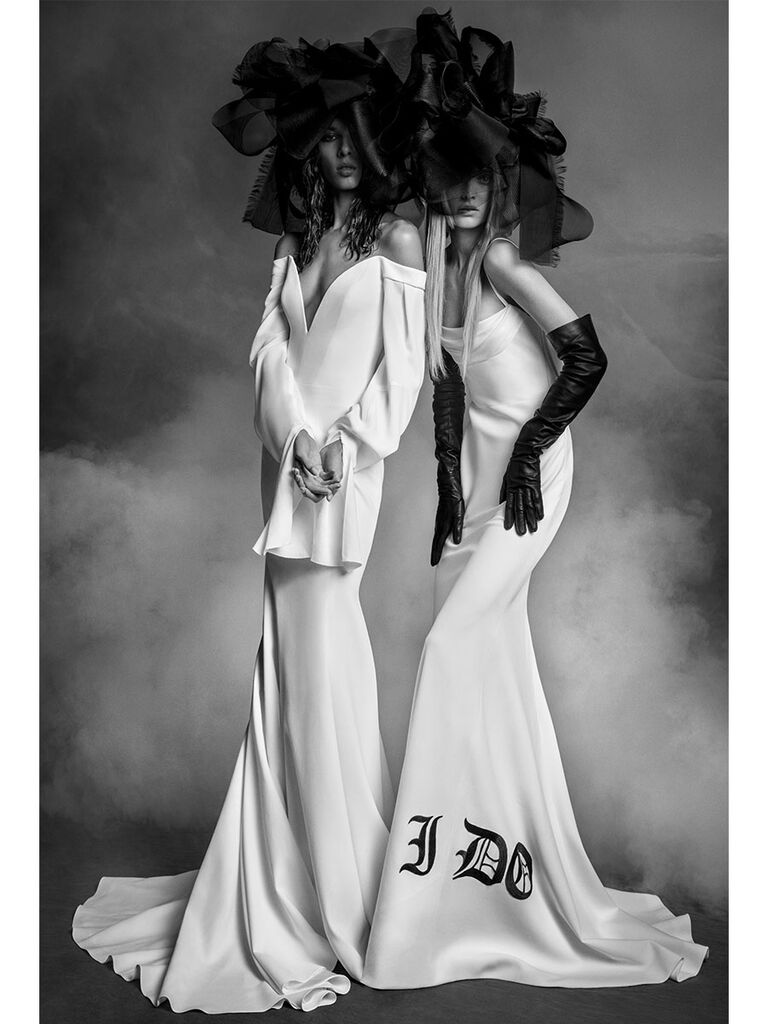 Left: Frances gown; crepe mermaid dress with pluning neckline and off-the-shoulder sleeves. Right: Martha gown; crepe slip dress with cowl neckline and black embriodered lettering.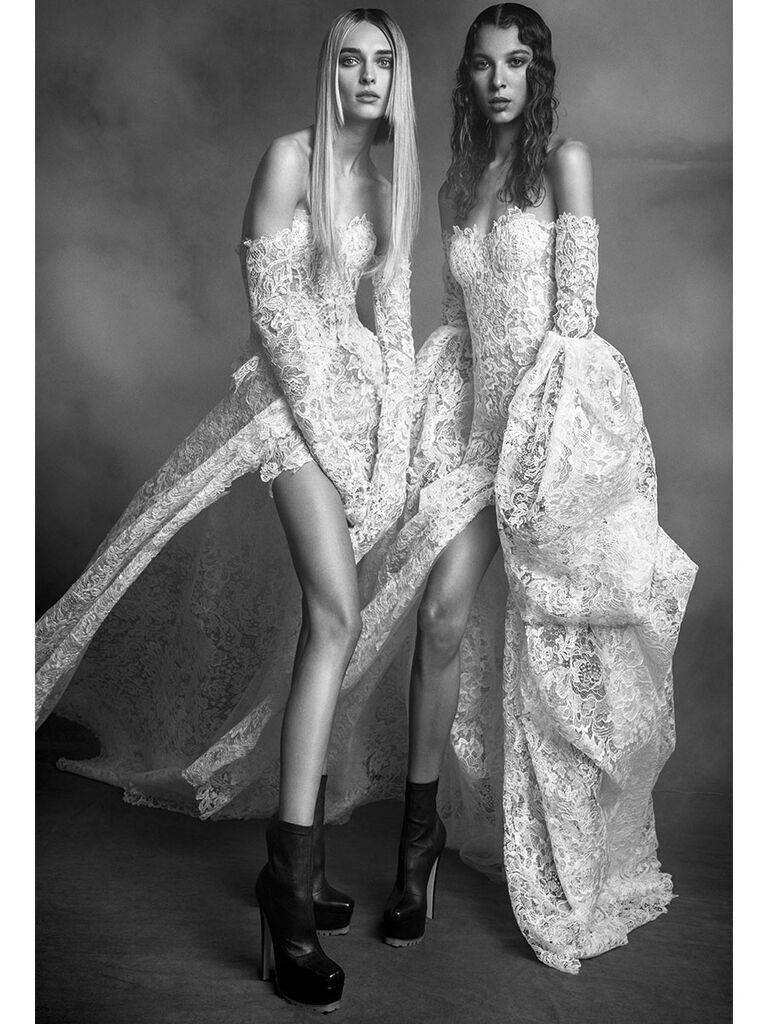 Left: Elizabeth gown; macrame lace strapless minidress with off-the-shoulder long sleeves. Right: Anne gown; macrame lace strapless mermaid dress with puffy off-the-shoulder sleeves and front slit.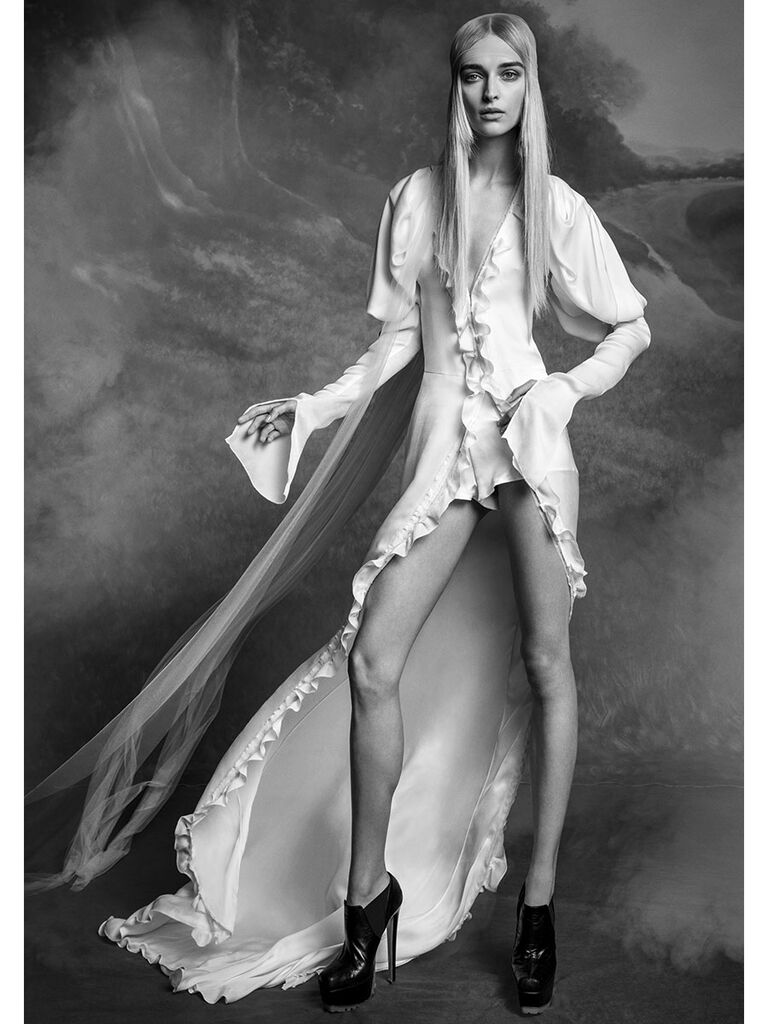 Mary gown; washed silk open-front dress with draped sleeves and ruffle detailing.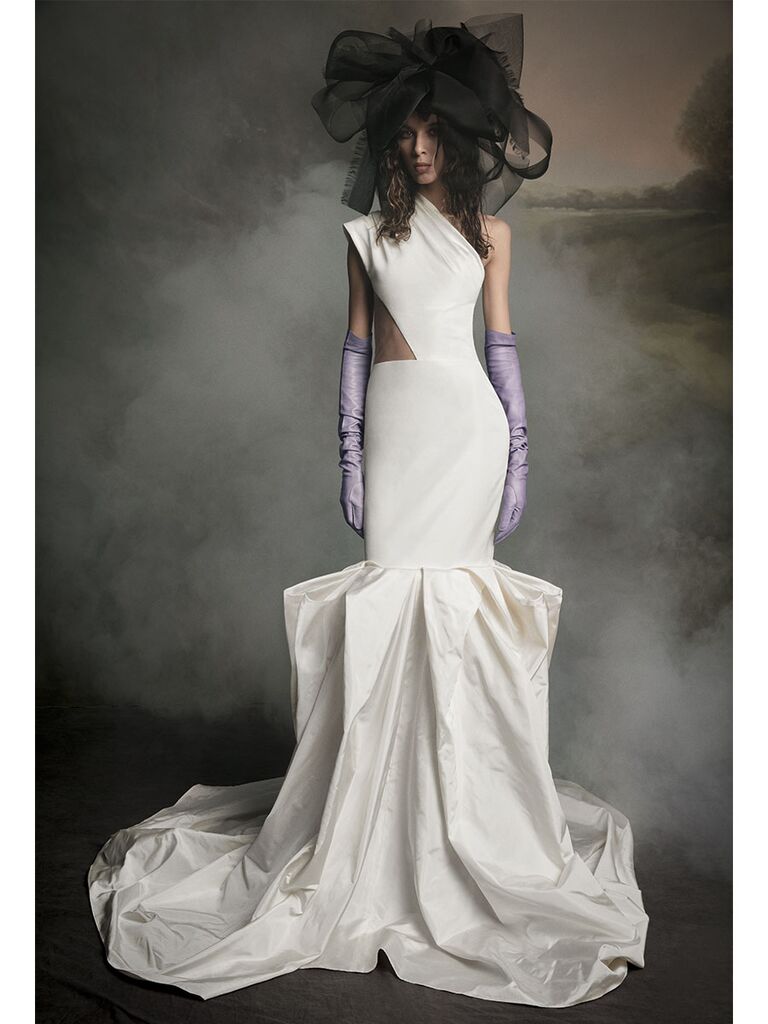 Molly gown; silk faille one-shoulder dress with cut-out bodice and mermaid skirt.
Vera Wang General Style
Vera Wang speaks to brides looking for sculptural yet light gowns that make a sophisticated impact. Her ethereal yet fashion-forward looks blend an airy vibe that feels effortless with a modern architectural edge that makes them unexpectedly sleek. Wang is also a master at adding asymmetrical touches to counterbalance any Vera Wang wedding dress from looking "too perfect" as her signature touch.
Vera Wang History
Based in New York City, Vera Wang worked at Vogue and then Ralph Lauren before leaving to become a bridal designer. She opened her first bridal boutique in 1990 in the Carlyle Hotel to showcase her wedding gowns and has since expanded internationally as her business exploded. While continuing to grow her brand across all aspects of the bridal industry — from tuxedos to place settings — Wang and her now ex-husband adopted two daughters whom they raised in Manhattan.
Vera Wang Collection History
One year after getting married in 1989, Wang made the bold decision to break into bridal as an independent designer and immediately connected with brides. Wang garnered huge success over the years because she's never been afraid to take risks with colors or silhouettes, setting industry trends for asymmetrical and sculptural designs that break the bridal gown mold.
For Spring 2020, Wang explains that she took to designing with a 360-degree approach and was striving for perfection by designing intricate gowns from every single angle. Despite the show-stopping looks that resulted from this mindset, she's still striving to keep topping herself and when Vera Wang's Fall 2020 looks hit the runway, she celebrated her impressive 60th bridal collection.
Other Vera Wang Labels
Vera Wang wedding dresses hit the bridal scene in 1990 with modern, elevated and sleek designs that made a statement. As her following in the wedding scene grew, Wang smartly expanded into all things bridal, understanding bride's broader shopping needs and and the impact that her reputation could have. In addition to expanding her bridal collection by offering White by Vera Wang, at David's Bridal as a line of more affordable wedding and bridesmaid dresses, Wang also has pretty much everything else a bride could need. From engagement rings, stationery, and fragrance to tuxedos for the groom at Men's Wearhouse, Wang even has an eyewear line to cover all areas that newly-engaged couples shop in. She even has registry must-haves with Vera Wang Wedgewood and home goods complete with bedding, tabletop, and gifts. But in 2007, Wang made another impactful venture outside of bridal with Simply Vera -- an affordable ready-to-wear line exclusive to Kohl's.
Celebs Who've Worn Vera Wang
Vera Wang has become a household name with a reputation for chic, fashion-forward bridal gowns in part thanks to the countless celebrities who have opted to wear her breathtaking looks for their own weddings. Just some of the famous brides who've stunned in Vera Wang wedding dresses include Chelsea Clinton, Ivanka Trump, Victoria Beckham, Mariah Carey, Kim Kardashian, Kloe Kardashian, Hilary Duff, Avril Lavigne, Alicia Keys, and Sarah Michelle Gellar. But even A-listers who aren't walking down the aisle still can't resist Wang and flock to her evening wear for memorable occasions. This includes Michelle Obama, Viola Davis, Sofia Vergara, Alison Brie, Constance Wu, and Taraji Henson.
Vera Wang Fun Facts
Vera Wang's past is filled with many fun surprises for fans. Before crushing it as a bridal designer, she started as an editor for Vogue as soon as she graduated college, becoming their youngest editor.
Many also don't know that her looks aren't just for the runways but have also been seen at the Olympics. She's designed costumes for many ice skaters including Nancy Kerrigan and Michelle Kwan. But her contribution to sports doesn't end there; she also designed the uniforms for the Philadelphia Eagles cheerleaders and Lady Gaga rocked Vera Wang during the 2017 Super Bowl.
Her work has also appeared in countless TV shows and movies. From Sex and the City's Charolette York wearing a Vera Wang gown during her first wedding Gossip Girl's Blair Waldorf naming Wang as her favorite designer to Anne Hathaway and Kate Hudson's characters both wearing custom Vera Wang wedding dresses in Bride Wars, her work is infused throughout pop culture.
Vera Wang Previous Wedding Dress Collections
Vera Wang Spring 2020 Collection
See every dress from Vera Wang's Spring 2020 line below.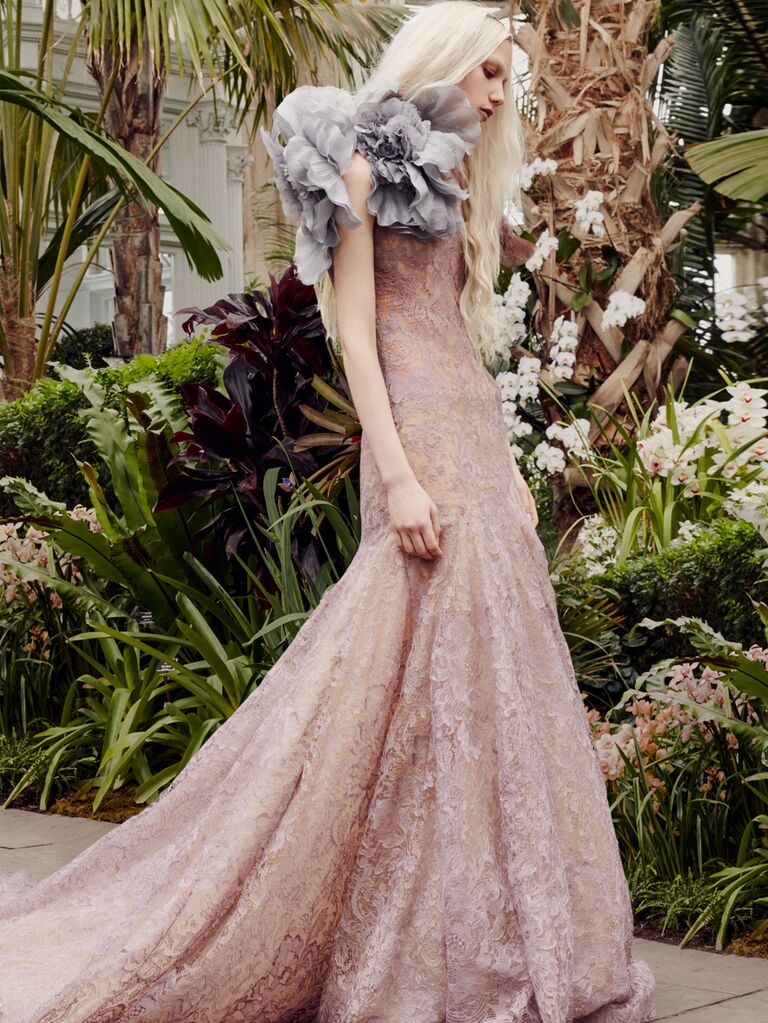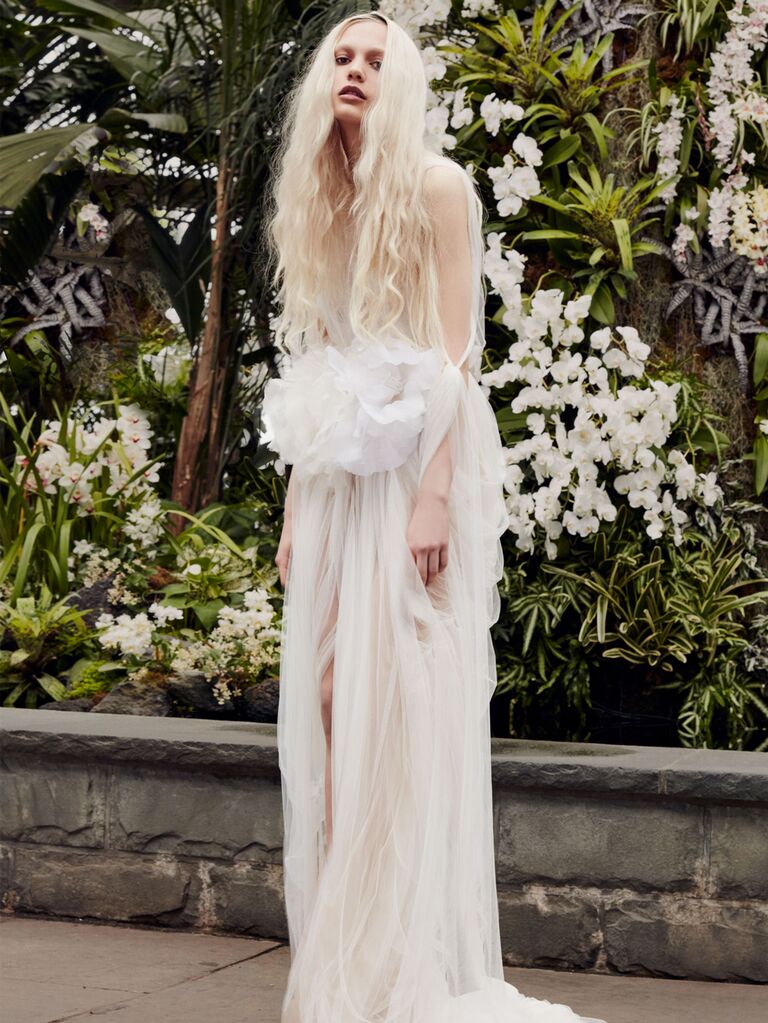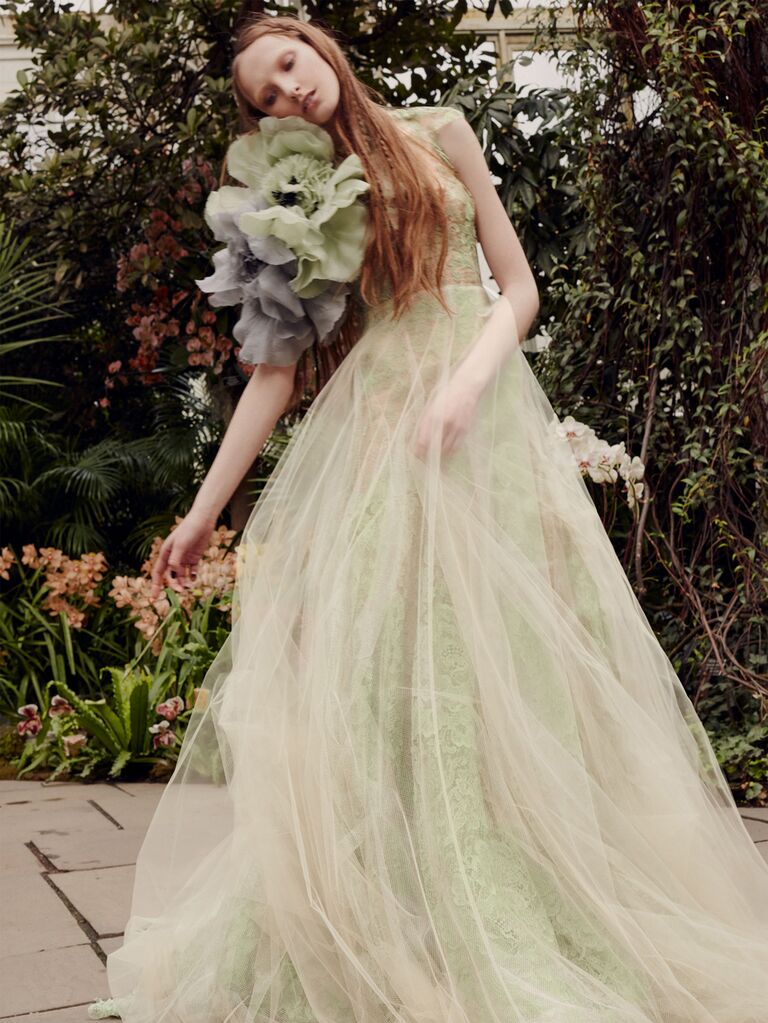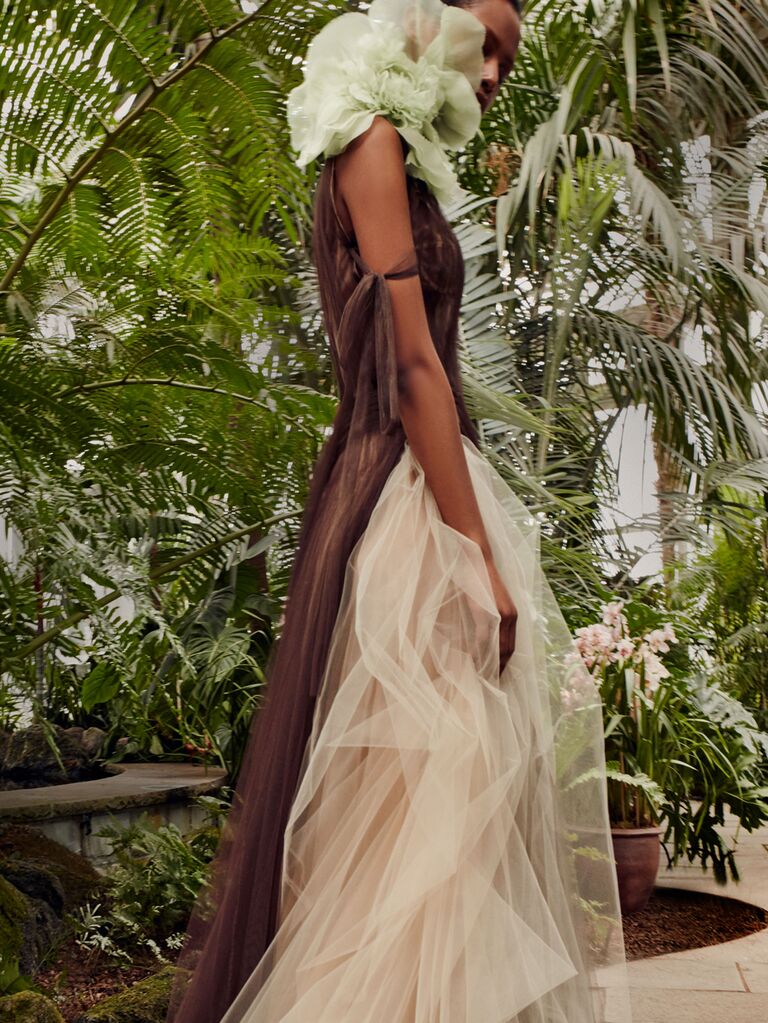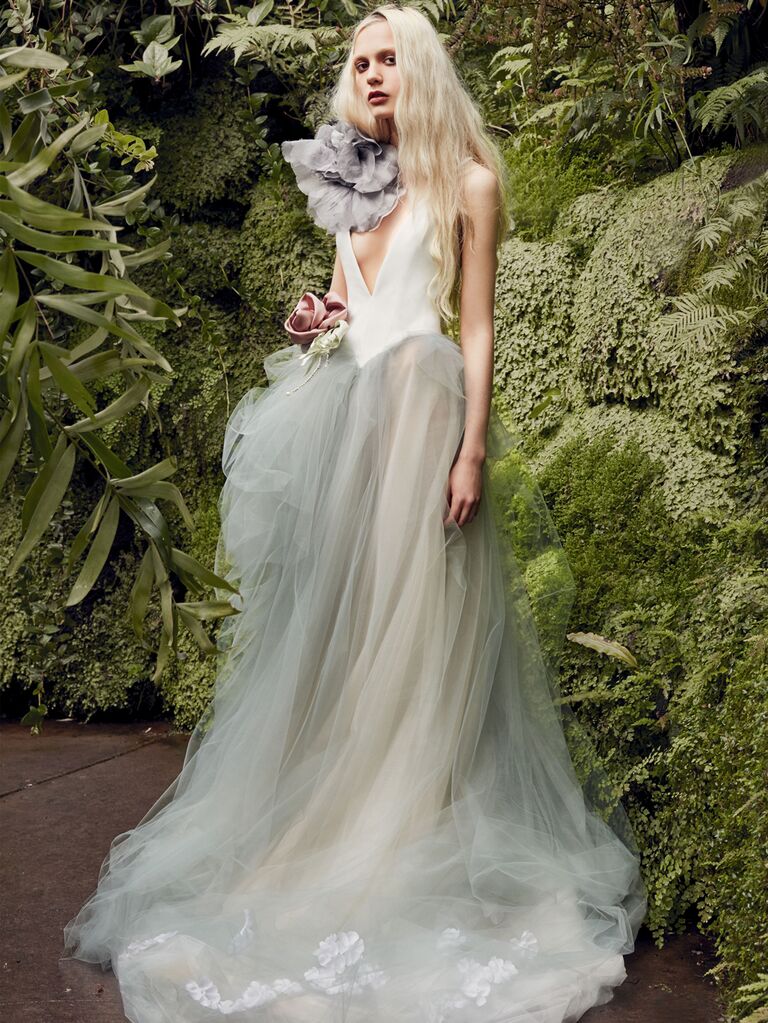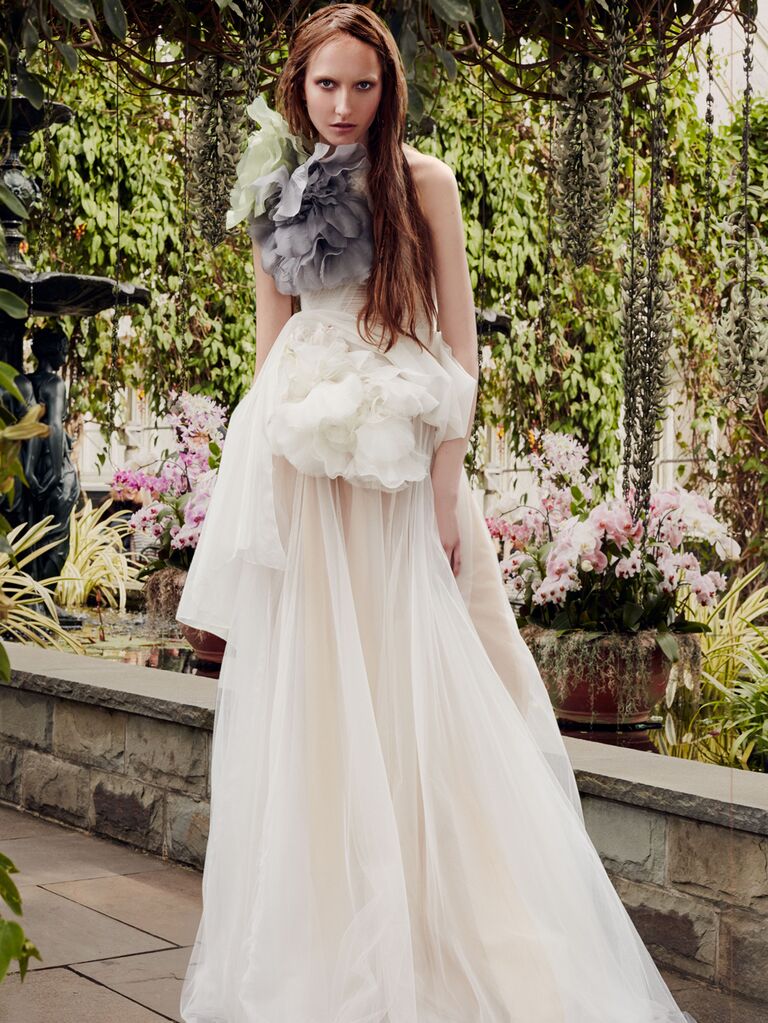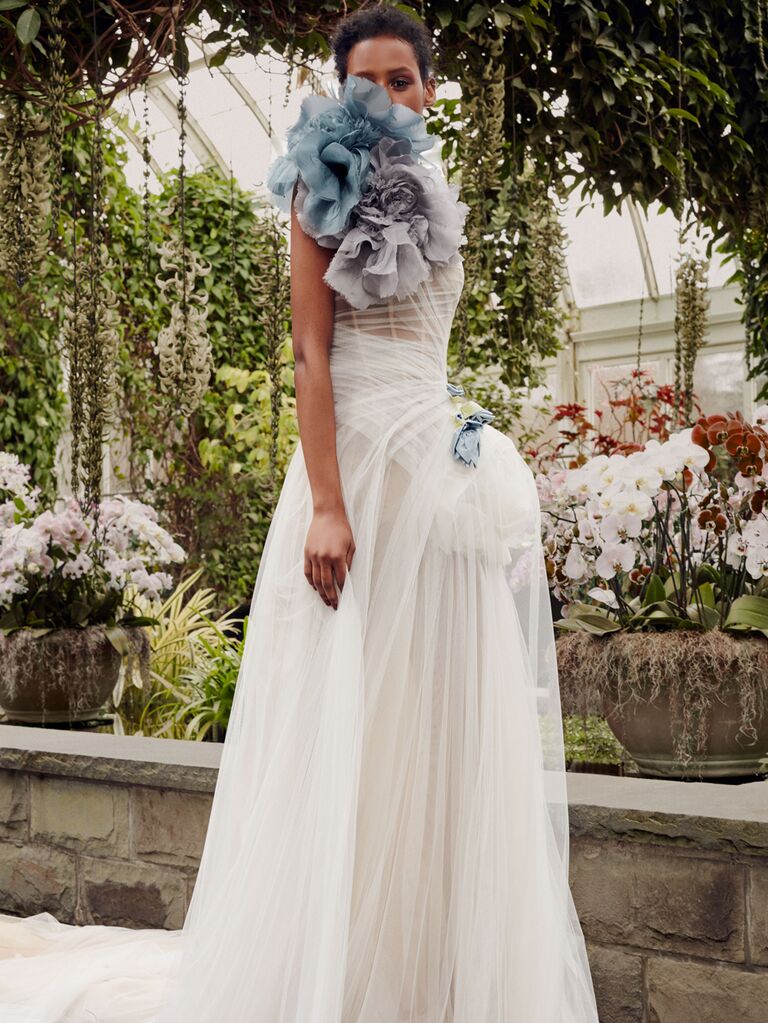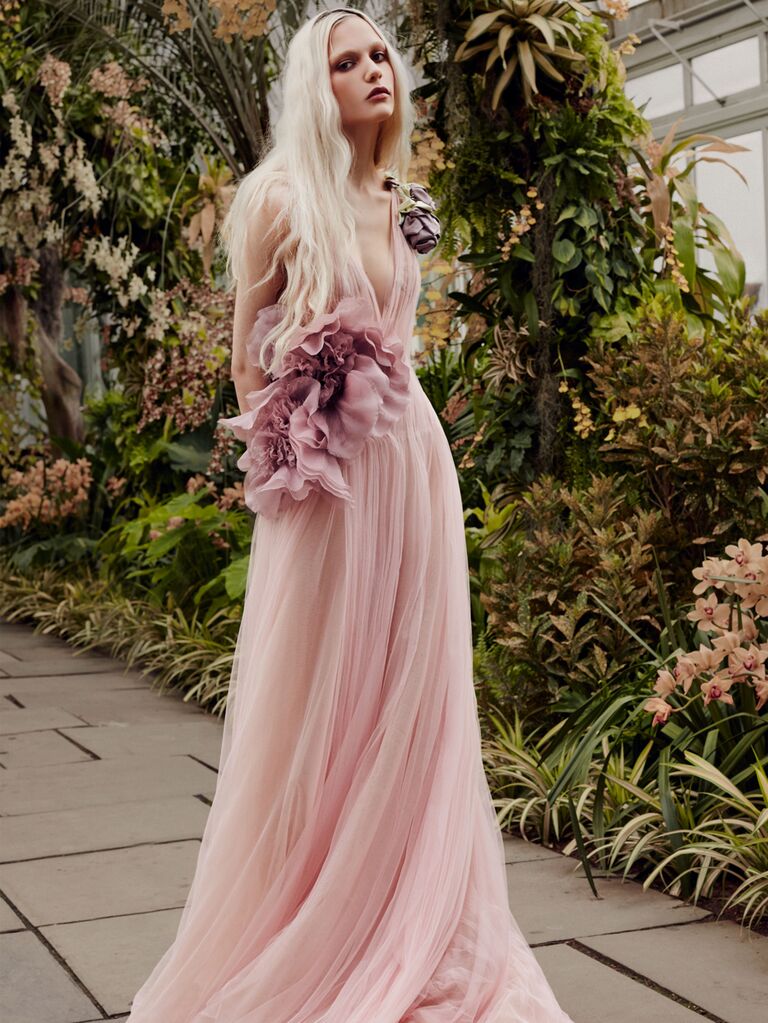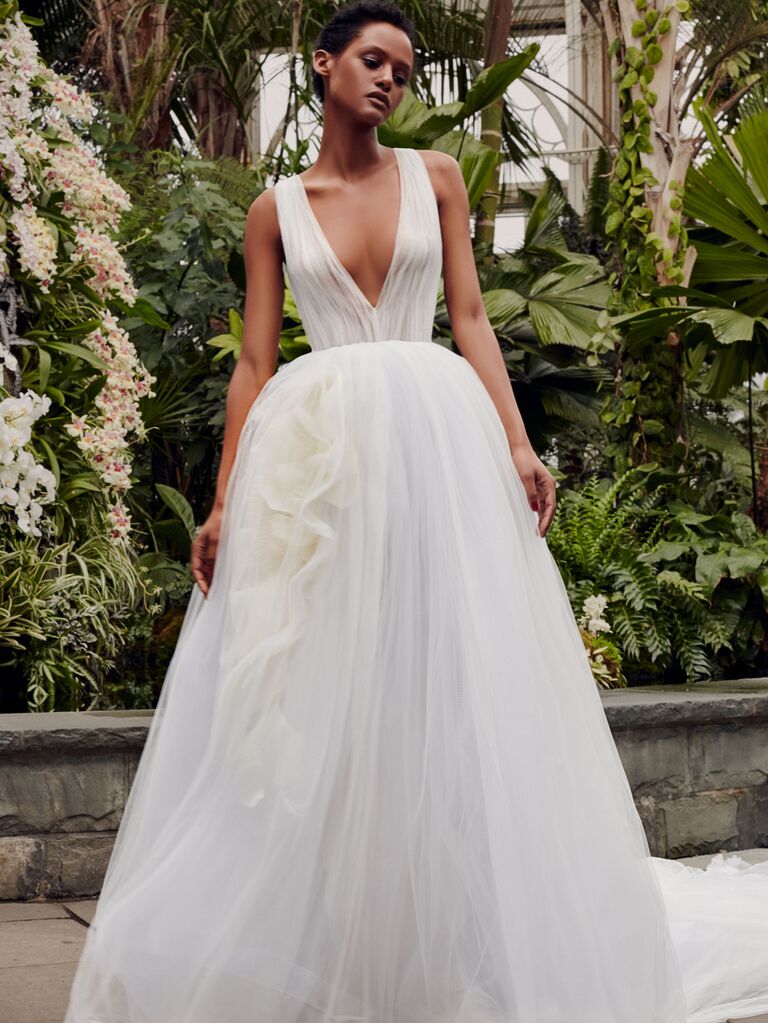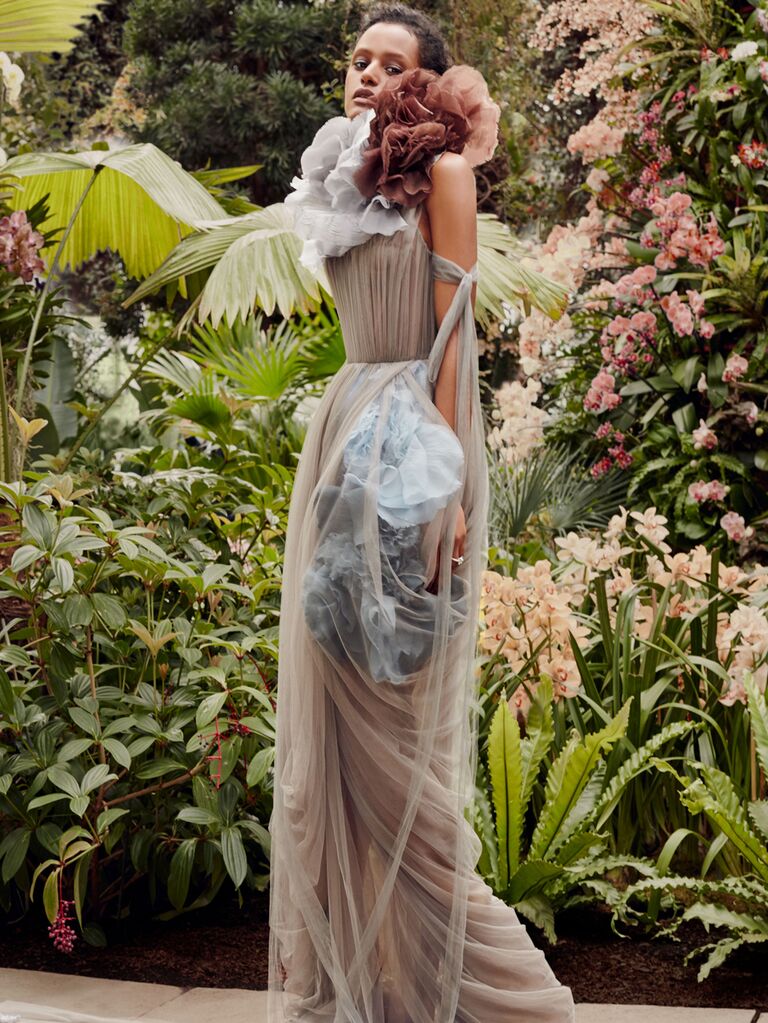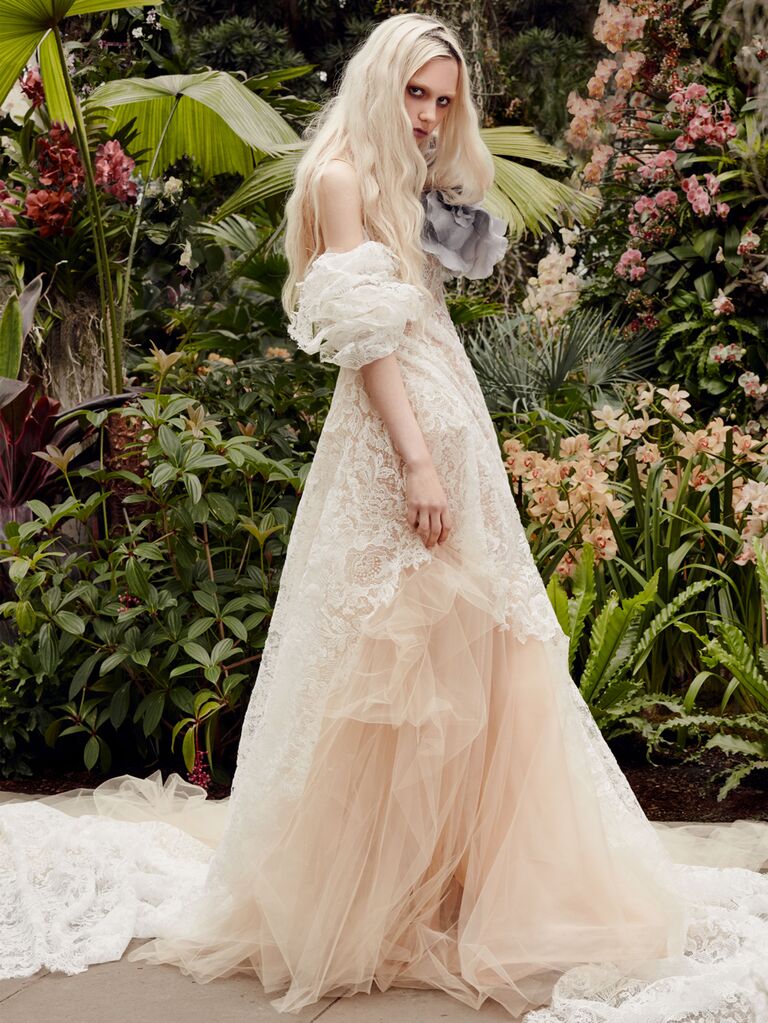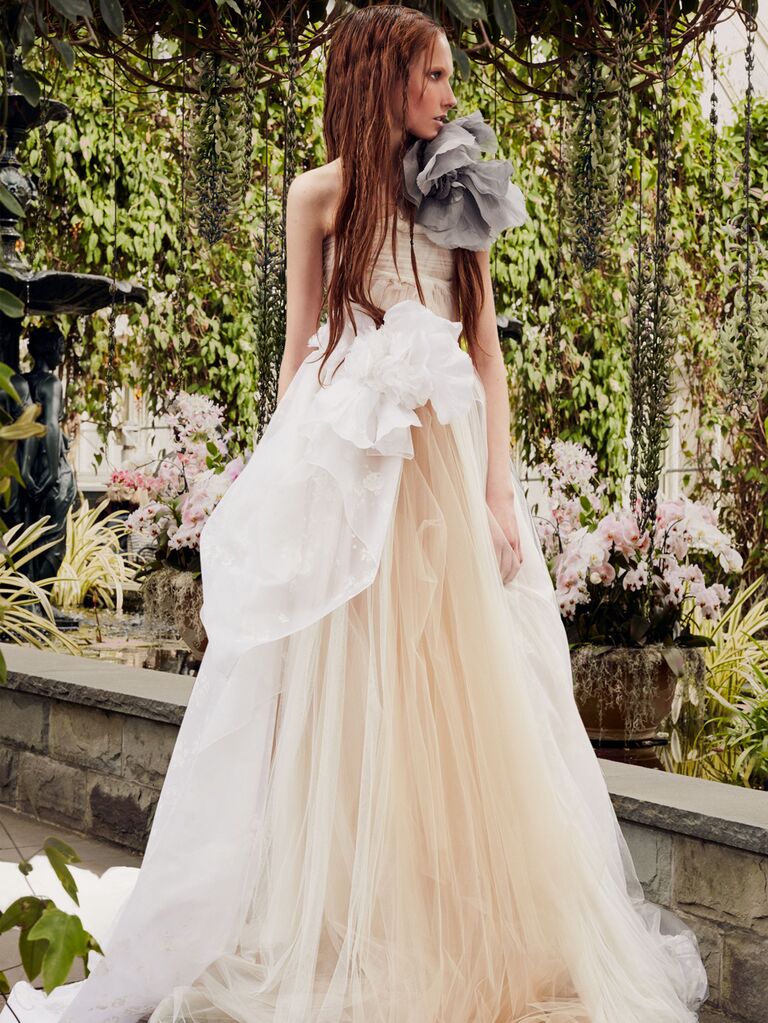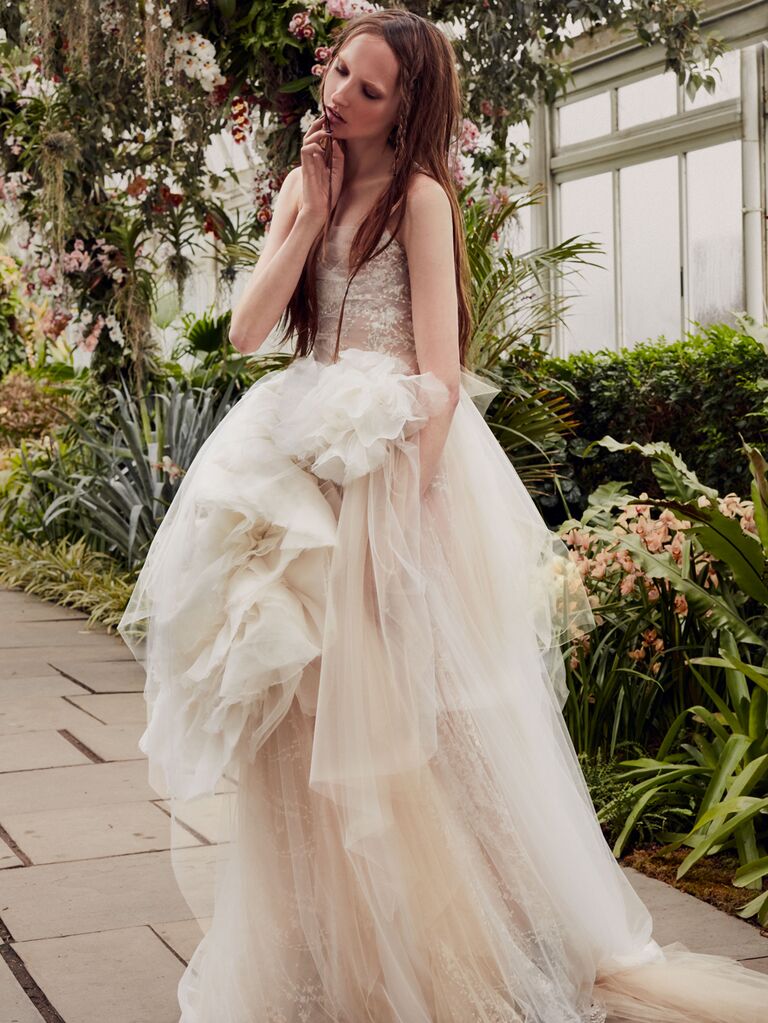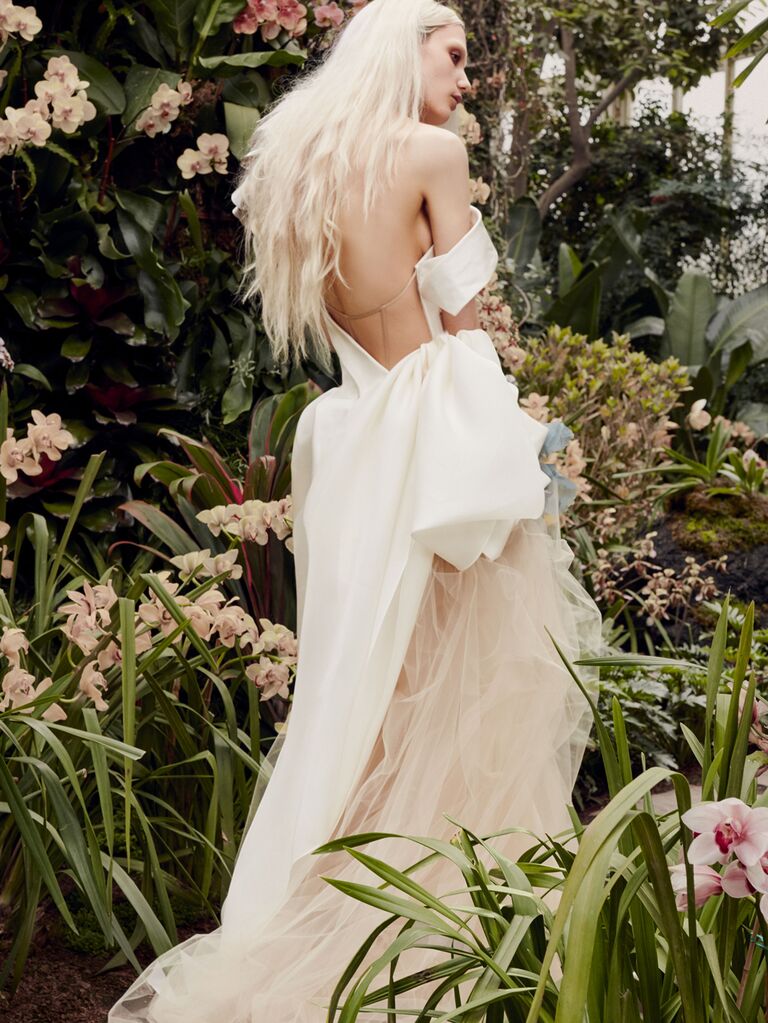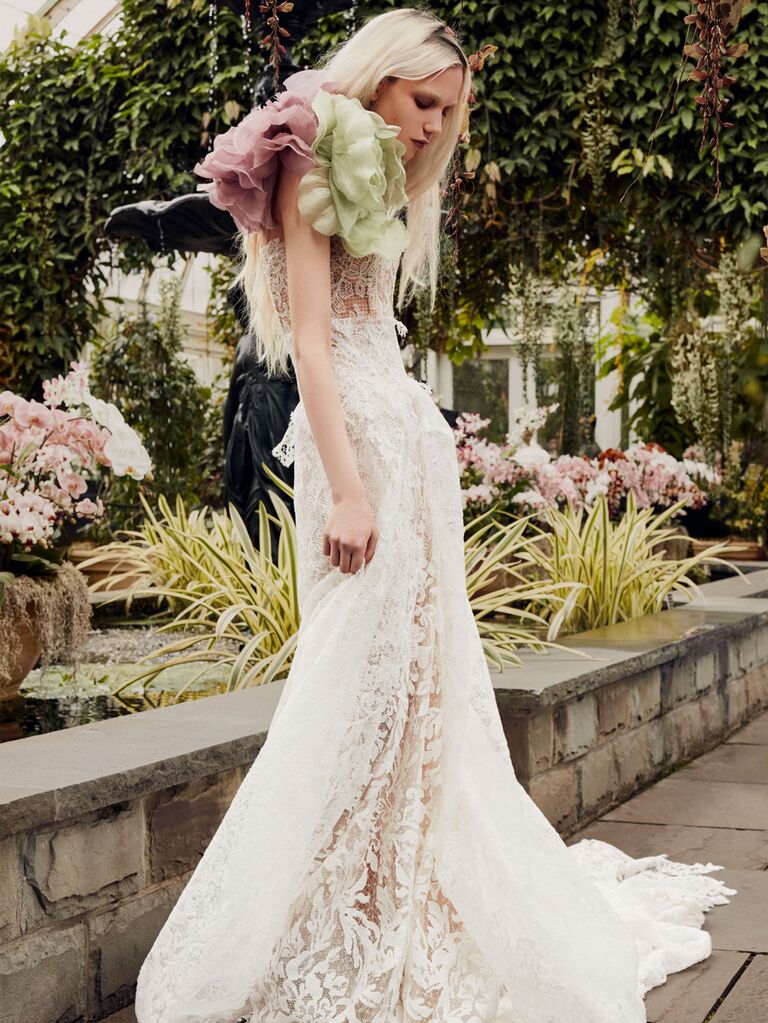 To check out all the Bridal Fashion Week galleries, plus wedding dress advice and more, go to TheKnot.com/bridal-fashion-week.