Exclusive: Disney Channel Actor Garrett Clayton's Wedding to Blake Knight Was Full of Surprises
Alicia Silverstone officiated.
In 2011, Garrett Clayton had just moved to Los Angeles to pursue his dreams for acting. Between auditions and the Hollywood networking circuit, Clayton worked at a 24-hour diner that just so happened to "serve some of Hollywood's most neurotic insomniacs," he laughs. His future husband, Blake Knight, had just graduated college and was working a strenuous assistant job in San Fernando Valley, which led him to the same diner one night.
"It was love at first sight for Blake, who was persistent in 'courting' me," laughs Clayton. The burgeoning future actor was intent on prioritizing the purpose behind his move to LA, but Knight was persistent. "There were work visits, love letters, Easter baskets, the occasional cupcake, and a night out to a particularly horrible production of Beauty & the Beast," laughs Clayton.
He caved just three months later. "I accidentally called Blake my boyfriend on the phone while we were driving down Ventura Boulevard," says Clayton. The rest, as they say, was history. Both grew into their respective careers—Clayton appearing in films like King Cobra and Teen Beach Movie; Knight emerging as a screenwriter for This Just In and The World's Funniest Animals.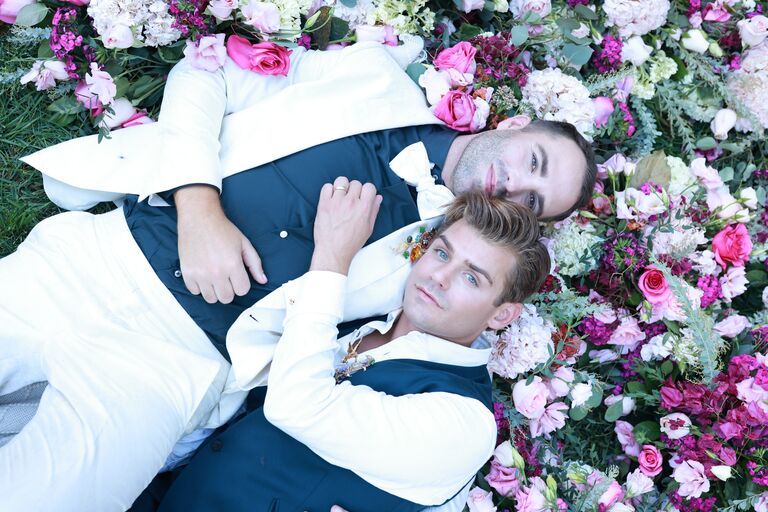 Seven years of romance later, Knight decided it was time to go from "boyfriend" to "fiancé" in January 2018. He fittingly chose to pop the question on the glittering Black Diamond Beach in Iceland. The ring was custom designed by Knight with Justin Duance Jewelry and included one particularly thoughtful touch: the piece was sandcast from the sand of the very beach where he proposed.

Garrett Clayton & Blake Knight on Wedding Planning
The wedding was originally planned for 2020, but COVID threw a wrench into that date. "We ended up changing our wedding date three times," Clayton reflects. "This was fine with us, but we were also surprised how much more difficult it was to lock down some vendors, who were likely overly cautious because of COVID and rightfully so, or understaffed. Sometimes I would place many calls with vendors, and email them, only to have them drop off and not get in touch again."
The couple's wedding planner, Jason Mitchell Kahn, was "insanely helpful," according to the grooms, especially with the events landscape busier-than-ever. "During these unprecedented times, it's important to be able to adapt—even when it comes to wedding planning," reflects Knight. "We had to alter our plans many times, but in working with our planner we realized that we could have a lot of fun with many of the things we had to tackle in untraditional ways. This included things like our lunch baskets, which ended up making the day feel even more unique. So try to look for the silver lining and have fun with the choices you have to make."
Garrett Clayton and Blake Knight's Wedding Album
The couple landed on a wedding at the Disney Family Estate erected by Roy O. Disney in the 1940s in L.A. "We've been friends of the Disney family for many years, and they graciously offered their beautiful lawn—which looks more like a Hawaiian paradise, with a waterfall and a working well—than any backyard," says Knight. "It's such a unique, expansive outdoor space especially for L.A., and we were very lucky to have the chance to get married there. The landscaping was green and lush, exactly what we needed for our garden party theme, and our friends even planted new flowers all over the yard to make our special day pop even more than it usually would have on the lawn." Read up on their personalized wedding details below.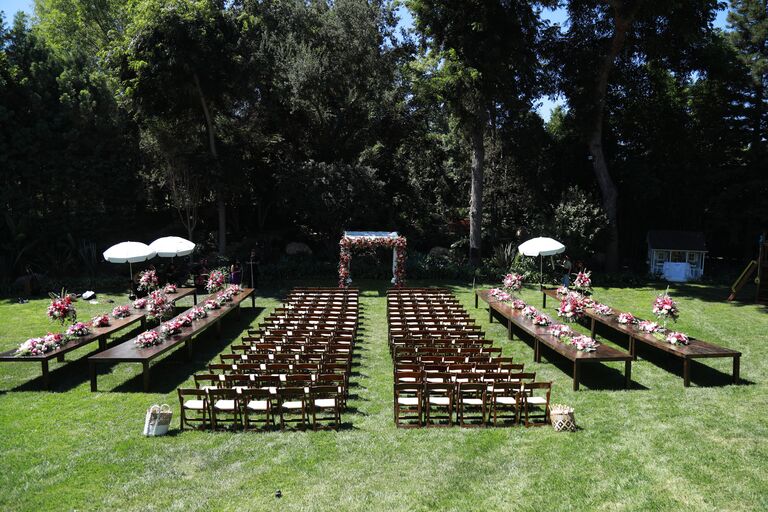 There Were Snow White-Inspired Touches

With a wishing well on the grounds of the estate, the couple decided to lean into a whimsical Snow White idea. "Our planner had a really cute idea of letting our guests leave us wishes for our marriage," says Knight. "Rather than having a traditional guestbook, we had three wishing jars set atop of the wishing well… One for our first anniversary, one for our fifth, and one for our 25th anniversary. Guests wrote their wishes on colorful bits of paper and added them to each jar—which we've now stored in the top of our closets so that we aren't tempted to open them too early."
"It'll be really fun to open them and read some of the more moving ones if we have a one-year anniversary party," adds Clayton. "And I'm sure there are a lot of hilarious ones in there, too!"
The Dress Code Was Specific
Given the many pivots and changes they experienced during COVID, the couple didn't want to add any pressure on their loved ones; therefore, they chose to abstain from having a formal wedding party. "We simply asked six of our closest friends to walk down to the altar before us," says Clayton. "It was very chill and stress-free, which we know isn't always how choosing a wedding party goes."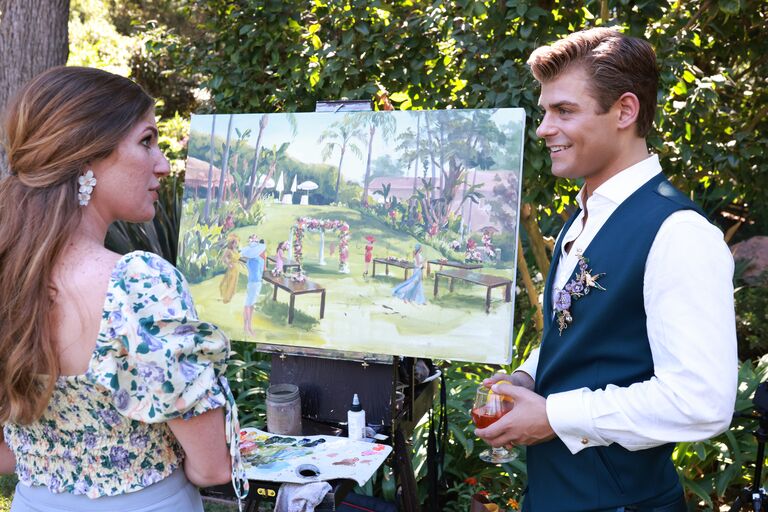 They did, however, have a theme: garden party chic. "We actually told people to think of the fashion brief as 'British Royal Wedding-meets-The Kentucky Derby'… and boy did people turn up with some amazing outfits," says Clayton. "Everyone was brightly dressed in florals and pastels, and there were plenty of big hats embellished with flowers and features. It was pretty awesome to look out over the crowd and see that everyone was having just as much fun with what they were wearing as we were."

Alicia Silverstone Was Their Officiant
One of the biggest highlights of the wedding was that it was officiated by a special friend of the couple's: '90s icon Alicia Silverstone. The Clueless actress had never officiated a wedding before and she was ready to roll up her sleeves for the couple.
"We met while working on King Cobra a few years ago," says Clayton. "She ended up absolutely killing it… I knew [Alicia] was the perfect choice to officiate for us when she started asking all the right questions about our relationship… what we loved about each other, about how we met, about our dreams for the future… She really did the work to make that part of the ceremony unique and special for us, and it's something we'll never forget… Plus, she's hilarious!"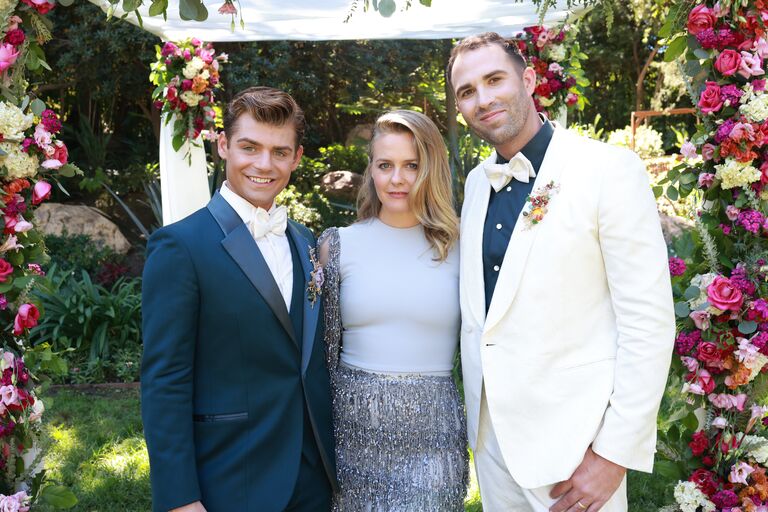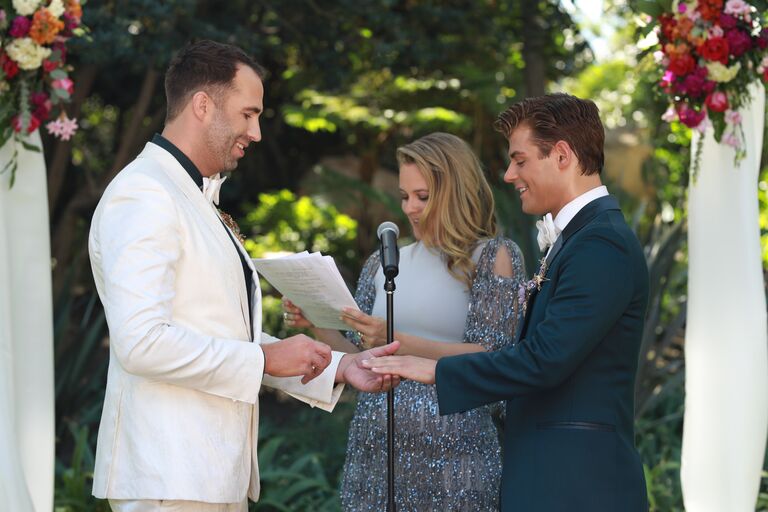 They Walked Down the Aisle Together

The standard format of a ceremony hardly applied to Knight and Clayton's day. "Since this was a gay wedding, and we also didn't have any religious affiliation between the two of us, we did some things a bit differently," muses Knight. "For instance, rather than one of us walking down the aisle to meet the other at the end, we both walked in with our mothers from the sides of the altar space, as equals, and met in the middle."
The Vows Recalled a Decade of Love
The couple wanted to recite sentimental, handwritten vows, knowing that their decade-long relationship was brimming with highlights. "My vows recounted our 10-year relationship, and many of the ups and downs we've endured together, including the moment I knew we'd be together forever," says Clayton. "It was when we both had to take shifts caring for our dog Orion, who was very sick at the time and who has since passed. It was a very trying time and we both worked well together for our little family. And I knew we'd always work well together for each other and the family we would one day build together."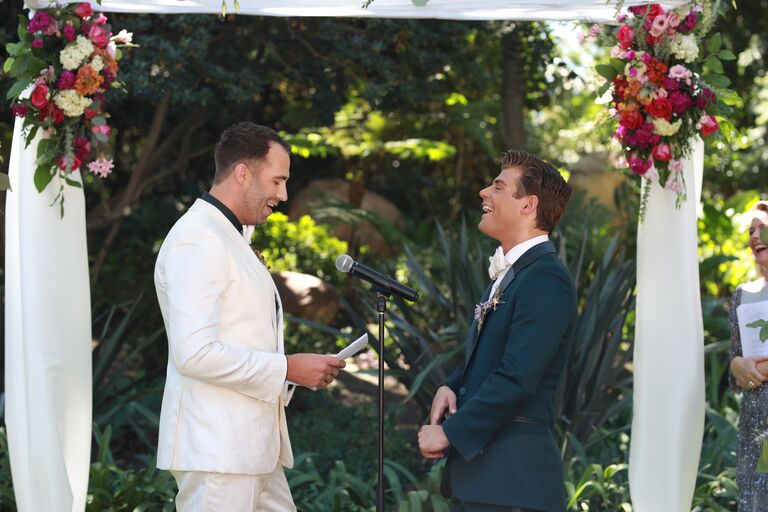 Knight admits he didn't complete his vows until the morning of the wedding. "They turned out to be very heartfelt," he recalls. "I based them on a dream I'd had over a year ago, where, in the dream, I could go back and change things that had happened in my own real-life past to create a better future for myself. But in the dream, I ended up right on the lawn with Garrett, getting married, and I never changed a thing about the two of us. I was crying most of the time I was finishing the vows that morning… so I knew that the waterworks would be kicking in during the actual ceremony."

Naturally, both grooms wept as they recited their vows—as did their guests. "Honestly, neither of us intended for our vows to be so weepy, but that's exactly what happened," they reflect. "Our guests kept commenting on how heartfelt and genuine both the vows and the speeches were throughout the day. Usually, we feel like the speeches are sort of more of a formality that people are forced to sit through, but the family and friends we had do our speeches really pulled out all of the stops, and it was pretty fantastic."
They Brought the Heat

Kelly Balch Photography
Though it was early September when they married, the couple didn't anticipate the level of heat that would waft through LA. "It was so hot, and we had our ceremony at noon, which meant there was a lot of direct sunlight right on our guests," recalls Knight. "Many of them had to move from the central aisle seating to the sides, where there was more shade from the trees."
"We did have a lot of paper parasols and umbrellas that we moved in to try and offset the heat, but still… It was a lot. I was melting during the ceremony," laughs Clayton.
They Went With a Picnic Theme

Kelly Balch Photography
The couple opted for a safer individual serving option for their wedding catering, planning originally for picnic baskets full of delicious meals. "We really couldn't wrap our minds around having over 150 picnic baskets lying around, so we opted for a recyclable paper basket that was good quality," they share. "We also decided not to print off programs for each person at the wedding, and let the day play out to people as more of a surprise… Additionally, we also used bamboo utensils for the flatware, and bamboo boat dishes for the cake plates, which we knew would break down much more easily in a landfill—and also happened to be on theme for what we wanted."
In Retrospect…
"One of my favorite moments of the wedding was a speech given by my best friends, John and Caleb. They really nailed it, and it was the perfect balance of being heartfelt and funny," recalls Clayton. "I don't see people cry and laugh at the same time too often! But it's magical when it happens. My dad and my aunt Sherree and Blake's mom Glenis also gave some pretty incredible speeches. It was awesome having so many of our friends and family, many of whom we don't get to see often at all, in one space together. I doubt we'll be able to do it again on that scale, but I hope so."
"The speeches were definitely a highlight for me too," concludes Knight. "But I think the moment right after the ceremony, once the stress of saying our vows and getting the formalities over with, had passed—it just felt like such a weight had been lifted off. We'd been waiting for that moment for so many years. We weren't legally able to get married at all for the first few years of our relationship, and then our wedding date got pushed back a few times because of Covid… so it really was a surreal, lovely moment when it came. We'd done it, and I know we both felt the joy in that as we walked away from the altar… as husbands."
Venue: Disney Family Estate | Planning: Jason Mitchell Kahn | Photography: Kelly Balch Photography | Ceremony Attire: Ermenegildo Zegna | Wedding Bands: Justin Duance Contemporary Jewelry | Florals: Commerce Flowers, Inc. | Videographer: Blake Eiermann | Officiant: Alicia Silverstone | Cake: Hannah Ziskin | Sweets: Coolhaus | Rentals: La Pinata Party Rentals | Wedding Painter: Torregrossa Fine Art | Transportation: Premiere Valet Services | Music: OC Strings | Catering: Grub Gals Catering | Invitation Suite: The Knot Invitations