Bill Gates' Daughter Jennifer Marries Equestrian Nayel Nassar
See the bride's two custom gowns by Vera Wang.
Alexis Anice/ALeA/Getty Images
Jennifer Katharine Gates, the eldest daughter of Melinda and Bill Gates, married equestrian Nayel Nassar on October 16. The couple exchanged vows during one of the busiest wedding weekends of the year, kicking off the festivities first with a Muslim ceremony on Friday as their guests traveled into Westchester, New York. They followed that event with their wedding on Saturday.
After a weekend of partying and throwing one of the most lavish weddings of the year, the bride posted the first look inside her nuptials on Monday. Gates posted the first official photo from her wedding weekend, fittingly from her long-awaited ceremony over the weekend. The photo reveals the bride's ecstatic expression and the groom grinning at guests upon being pronounced husband and wife. "My universe," she wrote on social media.
It was revealed that the couple hired top event planner Marcy Blum to orchestrate the luxe affair. Photographer Allan Zepeda documented the society wedding of the year.
In addition to hiring top pros, the bride selected Vera Wang to custom-design both her ceremony and reception gowns. "To @JenniferKGates. Congratulations to you and Nayel on your glorious wedding! May you share a lifetime of happiness and joy! XX Vera," the designer wrote on Instagram. "Jennifer wore a custom light ivory long sleeve A-line gown with hand appliqué French macrame lace on the bodice, sleeves and flowing onto a diaphanous light ivory and champagne Italian tulle skirt. The gown was worn with a light ivory Italian tulle chapel length veil trimmed in hand appliqué French macrame lace."
Later, Gates swapped into a dainty, lace trumpet gown for the reception. Wang's team revealed the gown was comprised of a custom "light ivory French macrame" and lined in nude tulle. The piece featured a square neckline and included macrame lace on the straps.
The venue, a 124-acre horse farm valued at $16 million, was purchased by the bride's parents in 2018. The estate was completely transformed to accommodate the wedding weekend with numerous structural adjustments on the sprawling grounds of the farm. The couple chose a lush white-and-green floral aesthetic that flowed seamlessly into the natural backdrop as the leaves in upstate New York started to transform into a rustic hue.

Leading up to the weekend festivities, the paparazzi caught the prep work at the venue (including snapshots of tthe couple's wedding pro team). Staffers built pavilions and windows on the property. They also spotted Jennifer and Nayel enjoying quiet time and taking rehearsal dinner photos outdoors in the picturesque fall weather.
Additional paparazzi photos were unveiled from the wedding day on Saturday. They revealed the bride, accompanied by both her mother and father, marching down the aisle in a long-sleeve, lace gown reported to have been custom-designed by Vera Wang. Jennifer's bridesmaids grinned in emerald dresses while carrying trendy dried floral arrangements that flowed effortlessly into the fall setting in upstate New York.
Technically, the wedding week kicked off first in New York City, where the couple celebrated their upcoming union at the Plaza Hotel with family members. The bride and others stayed in Tribeca at the Greenwich Hotel. Here's what to know about Jennifer Gates' wedding and engagement to Nayel Nassar.
Jennifer Gates' Prewedding Events
One month before the wedding, Melinda Gates hosted a bridal shower for her daughter at their family home in Washington. "Thank you for this incredibly special celebration, @melindafrenchgates," Jennifer wrote at the time. "So deeply grateful for all the amazing women in my life who advise, support, and uplift me. 🥂 to this new chapter!"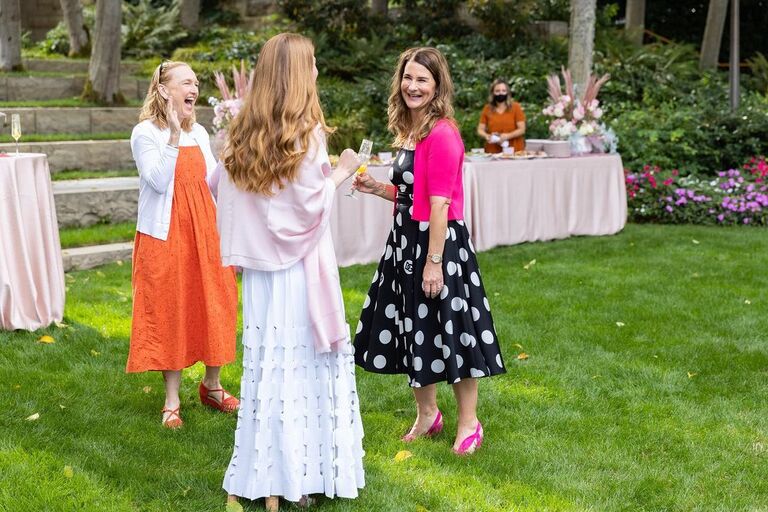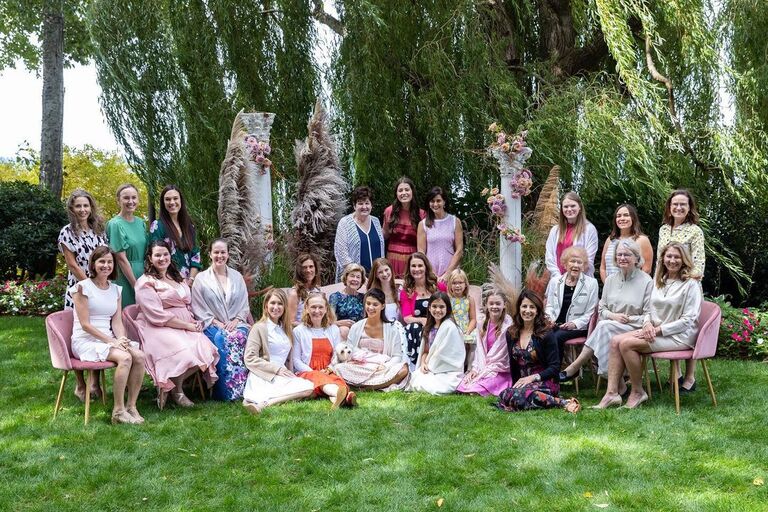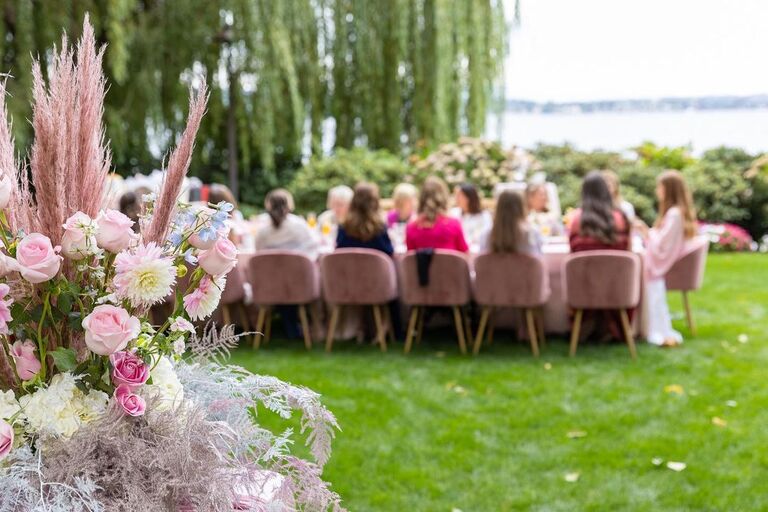 That wasn't the only prewedding event enjoyed by the bride-to-be. In the summer, Jennifer and her besties celebrated at the Rosewood Miramar Beach, a luxury property in Montecito, California, for a wellness-themed bachelorette party. The bride posted pics of herself enjoying oceanfront morning yoga and time with her friends. "Dreamy bachelorette, thank you to some of my favorite ladies for celebrating. my heart is full," she wrote.

Jennifer Gates and Nayel Nassar's Engagement
Nassar, an equestrian, proposed in January 2020 and updated his followers on Instagram that Jennifer Katharine Gates "SAID YES!!" He wrote at the time, "I'm feeling like the luckiest (and happiest) man in the world right about now. Jenn, you are everything I could have possibly imagined..and so much more. I can't wait to keep growing together through this journey called life, and I simply can't imagine mine without you anymore. Love you more than you can possibly imagine, and thank you for making every single day feel like a dream to me. Here's to forever!"
"Nayel Nassar, you are one of a kind," Jennifer added on her end. "Absolutely swept me off my feet this past weekend, surprising me in the most meaningful location over one of our many shared passions. I can't wait to spend the rest of our lives learning, growing, laughing and loving together. Yes a million times over."
The wedding, of course, will be a family occasion despite some painful decisions made by the parents of the bride that same year. Bill and Melinda most celebrated 27 years of marriage before splitting in 2021. Their New Year's Day wedding was held on the Island of Lanai, Hawaii, in 1994. They are parents to Jennifer, Rory, 21, and Pheobe, 18. (The bride's father is the founder of Microsoft and her mother leads her eponymous foundation and is renowned for charitable giving.)

Previously: the couple's favorite and most cherished wedding gift was from Bill Gates' parents: a sculpture of two birds side-by-side. "What we love about it so much is that it's these two birds who are looking forward together," Melinda Gates said in a "2019 panel. "What it reminds us is, these two birds, who presumably are mates, have a shared view out into the world."
"Working together as well as raising a family together, there's a certain intensity to that," Bill Gates also mused. "But we're very lucky because we mostly see things the same way. The goals are very much the same."