What You Didn't Know About Joe Biden's Wife Jill and Their Love Story
The former vice president had to propose five times before Jill said yes.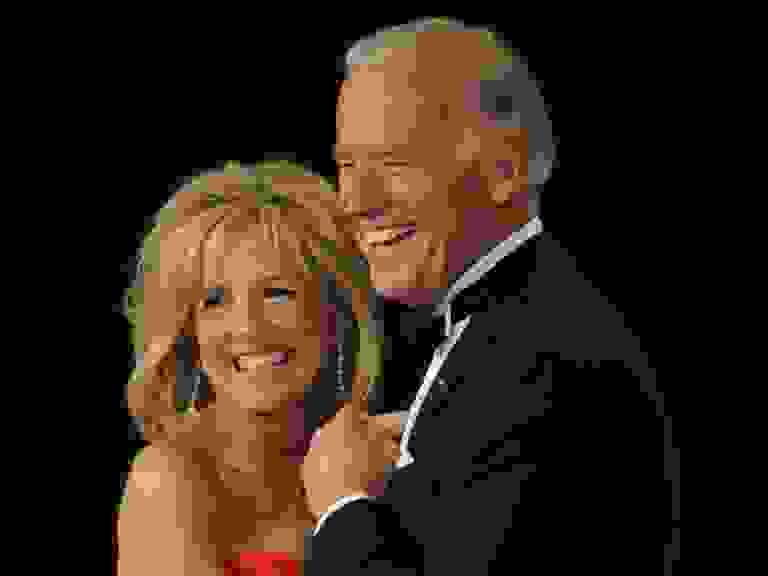 Timothy A. Clary / Getty Images Staff

Joe Biden's wife of 42 years, Dr. Jill Biden, has been his rock all throughout his 2020 presidential campaign. The Hammonton, New Jersey, native even fought off anti-dairy protesters who stormed the stage at one of the former vice president's Super Tuesday rallies in early March, making headlines and causing the American public to applaud her fierce loyalty. But even when their love isn't taking center stage on the campaign trail, both Jill and Joe have demonstrated the sort of teamwork and mutual support that aspirational marriages are made of, serving the public both together and apart.
Most recently, Jill has been campaigning for the former vice president of the United States, with three online campaign events held in early May specifically targeting Michigan voters, the first time the Biden campaign has designated a surrogate to stump in Joe's place—and Joe Biden's wife, of all people. She also didn't shy away from weighing in on who she thought could make a great vice president for her husband's potential presidency: former First Lady Michelle Obama. 
"I'd love it if Michelle would agree to it," Jill told CNN. "But you know, I think she's had it with politics. I don't know. She's so good at everything she does. That would be wonderful." (This was before Kamala Harris was announced as his running mate, of course.)
Jill is far from just Joe Biden's wife, however. A lifelong educator, worked as an instructor teaching English at Northern Virginia Community College while she was serving as second lady, a decision that Joe Biden supported and spoke of admiringly while he was acting as former President Barack Obama's second-in-command. Jill also helped co-found Joining Forces, along with former First Lady Michelle Obama, to support service members returning from active duty. Later on, after they had all left the White House, she and the democratic presidential candidate started the Biden Foundation, which had initiatives championing everything from LGBTQ rights to supporting military families. Suffice it to say, the pair make quite the dream team. But how did the dynamic duo come to be?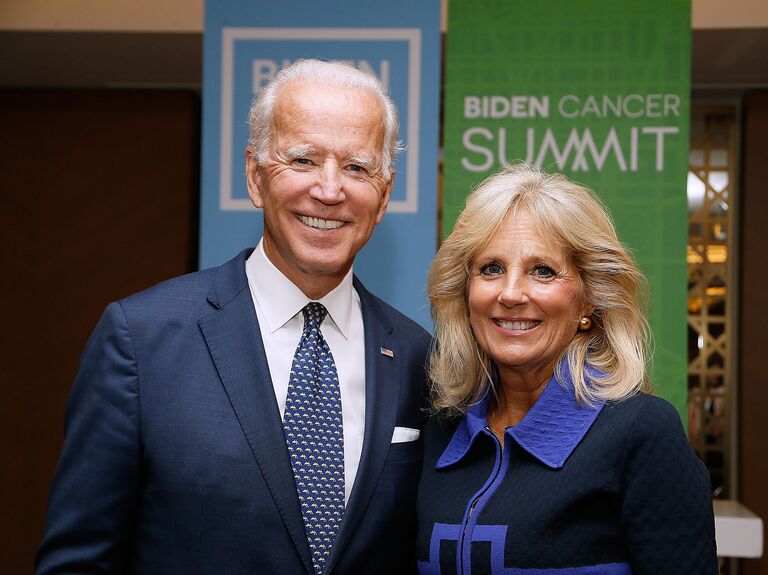 How Former Vice President Joe Biden Met Jill
When Joe and Jill first met in 1975, they were at very different points in their lives. Joe had, three years earlier, lost both his wife, college sweetheart Neilia Biden, and his 1-year-old daughter, Naomi, in a tragic car accident in which a tractor-trailer slammed into their station wagon. Their two young sons, Hunter and Beau, survived. Jill, meanwhile, was a senior at the University of Delaware, just about to graduate and pondering the future. It was Joe's brother Frank who introduced the pair.
"I was a senior, and I had been dating guys in jeans and clogs and T-shirts, [and] he came to the door and he had a sport coat and loafers, and I thought, 'God, this is never going to work, not in a million years,'" Jill told Vogue in 2016 of the first time Joe came to pick her up for their date. "He was nine years older than I am! But we went out to see A Man and a Woman at the movie theater in Philadelphia, and we really hit it off. When we came home … he shook my hand good night … I went upstairs and called my mother at 1:00 a.m. and said, 'Mom, I finally met a gentleman.'"
How They Fell in Love
The pair dated, and Joe has said before in interviews that he sometimes felt as though his late wife, Neilia, had a hand in bringing the two together. "She gave me back my life," Joe said of Jill in hise 2007 memoir Promises to Keep. "She made me start to think my family might be whole again." At the time, Joe was still raising Hunter and Beau by himself, but Jill was quickly integrated into the family, joining them for the holidays.
Both boys grew attached to Jill, and vice versa, and Joe recalled in his memoir the moment he knew it was time to propose. According to the former vice president, his boys, then aged 6 and 7, broached the subject of marriage one morning while he was shaving. Hunter, according to Joe, told him, "Beau thinks we should get married." Beau clarified, "We think we should marry Jill. What do you think, Dad?"
Biden wrote that he told his sons, "I think that's a pretty good idea."
How Joe Proposed
The only problem was that Jill wasn't quite ready for marriage just yet. According to Jill, Joe had to propose five times before she finally said yes. Her concern, she told the publication, wasn't about whether or not she loved Joe, but that she loved the boys too much for the marriage to not work out. "I said, 'Not yet. Not yet. Not yet.' Because by that time, of course, I had fallen in love with the boys, and I really felt that this marriage had to work," she said. "Because they had lost their mom, and I couldn't have them lose another mother. So I had to be 100 percent sure."
Finally, after four failed proposals, Joe gave Jill and ultimatum, telling her, "Look, this is the last time I'm asking you. I don't care when we get married. But I want a commitment." That was enough for Jill to make the decision, and she finally said yes.
Their Wedding
The couple kept their wedding relatively low key, exchanging vows in New York City at the United Nations chapel on June 17, 1977. About 40 of their closest family and friends served as witnesses, as did Beau and Hunter, who were important parts of the ceremony: they stood right up at the altar by Joe and Jill's side. "The way they thought of it, the four of us were getting married," Joe wrote in his 2007 memoir.
The foursome even went on a honeymoon together to further cement their family bond. Years later, in 1981, when Joe and Jill welcomed a baby girl together, Hunter and Beau were tasked with choosing the perfect name for her; they named their little sister Ashley.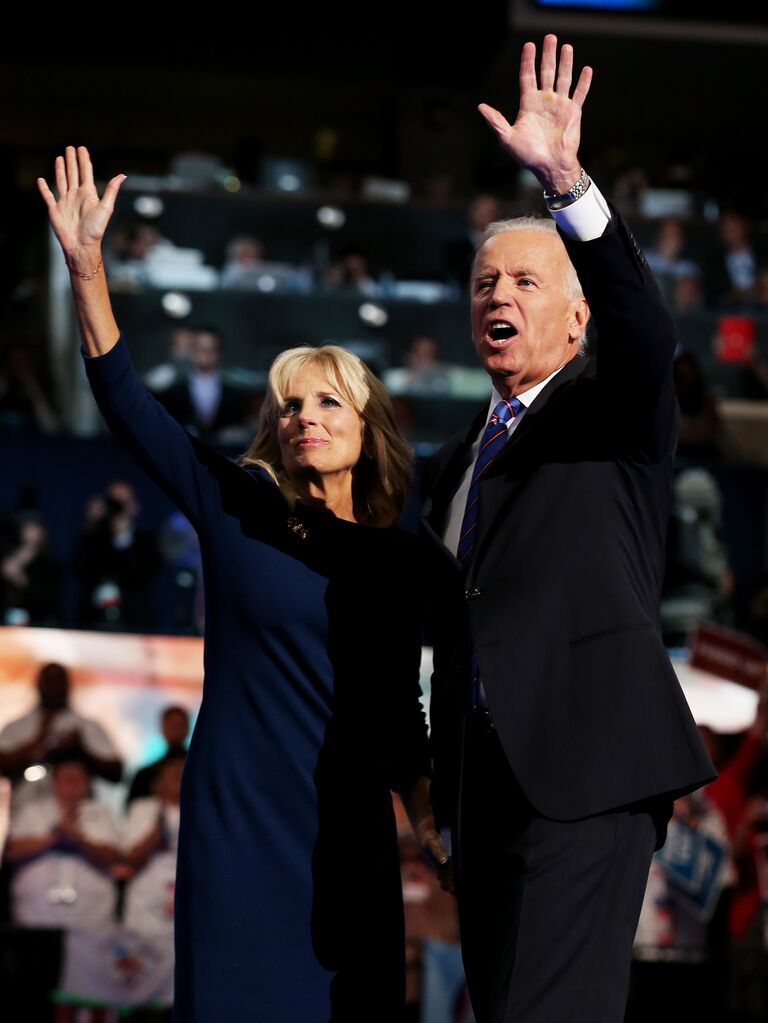 Looking Ahead
Jill has taken an active role in her husband's presidential campaign, and has proudly helped to champion his causes in events and at rallies in recent months. The Biden Foundation officially suspended operations in April 2019 as Joe began to contemplate a run for office, in order to remain as financially transparent as possible throughout his presidential run. She has instead been stumping for Joe in virtual town halls, speaking with local residents and leaders about their concerns from a safe social distance. She also shares tiny glimpses into the couple's home life via her Instagram account, including a sweet Easter post that showed the couple coloring eggs.