8 Things You Didn't Know About Kamala Harris and Her Husband Douglas Emhoff
The vice president Googled him before the first date.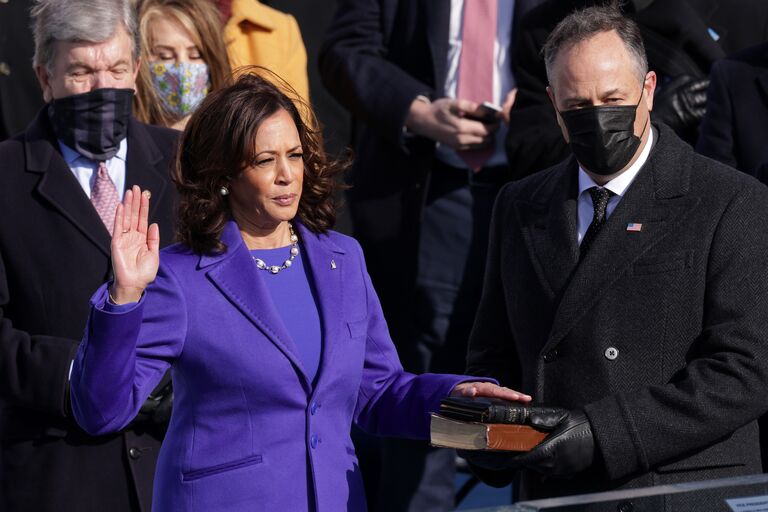 Alex Wong / Getty Images
Kamala Harris is the Vice President of the United States of America, meaning her husband, Douglas Emhoff, is now the first-ever "second gentleman" in the nation's history. Harris, a junior U.S. Senator from California and President Joe Biden's pick for VP, has filled numerous roles throughout her political career, starting as a lawyer and transitioning into politics as a former state attorney general. Now, Harris is the first-ever, female vice president in the history of the country.
Into her ascent as Vice President of the United States of America on January 20, 2021, Harris has inspired countless future leaders across the country, while expressing gratitude for her husband and family for their relentless support throughout her career in public service. In private, Harris has been a wife and stepmom (adoringly referred to as "Momala") since her 2014 wedding to Emhoff.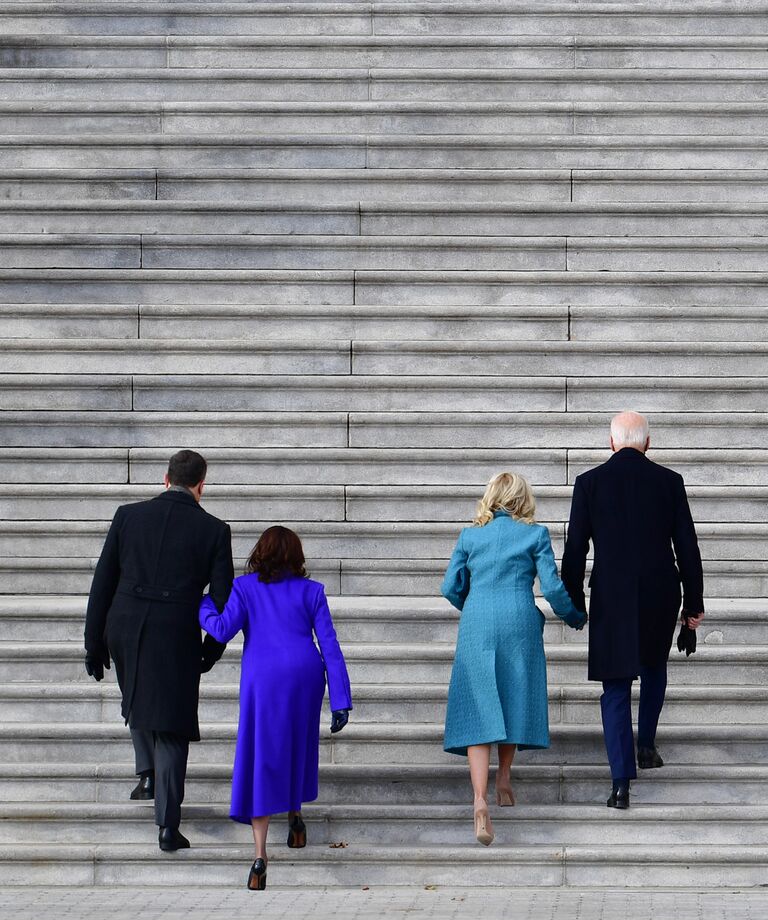 Below is the power couple's American love story, the details behind their intimate nuptials and more little-known facts about their high-profile marriage. Scroll through to learn more about Kamala Harris and her husband, Douglas Emhoff.
Kamala Harris & Her Husband Met on a Blind Date
Vice President Kamala Harris first met her husband on a blind date after being set up by a close friend. (Fun fact: According to The Knot 2019 Jewelry & Engagement Study, 19% of all engaged couples meet through the commonality of mutual friends.)
The initial meet-and-greet took place at an unknown location in San Francisco, where she was previously an elected district attorney. The role ultimately paved the way for Harris to be elected as California State Attorney General. Similarly, her husband is also a lawyer; in fact, a partner at DLA Piper, a law firm based in D.C. and L.A. "He represents large domestic and international corporations and some of today's highest-profile individuals and influencers in complex business, real estate and intellectual property litigation disputes," his bio reads on the website.
The date, of course, was a success and Emhoff followed up immediately for a second, Harris wrote in her memoir. "I'm too old to play games or hide the ball," he wrote in an email to Harris. In that same note, he also sent his schedule along to secure more time together. "I really like you," he wrote, "and I want to see if we can make this work."
Kamala Looked Up Doug Before the Date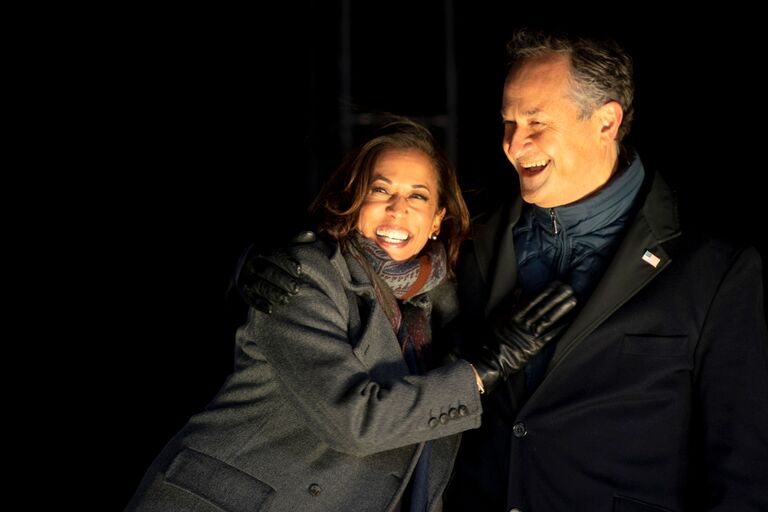 What's a meet-cute without the internet research first? Harris admitted in an interview with CBS' Sunday Morning in January 2021, that she did, in fact, Google her future husband. "[My best friend] said, 'Just trust me. Just trust me,'" Harris recalled. "You know, she wanted me to just kind of go into it. She said, 'Don't Google him.'"
In a fit of laughter, Harris added: "…I did!"
Emhoff made the first move on the then-California Attorney General by asking her out. So I left this ridiculous voicemail, which she has saved and plays back to me on our anniversary every year," Emhoff said in the same interview. "I thought I'd never hear from her again. But?"
"He, it was adorable," Harris laughed. "I mean, the thing about Doug is that he is exactly who he is. He's just fully authentic and clear about the things he cares about. And it's family, it's his work."
Meeting His Kids Was a Big Deal
Prior to Vice President Kamala Harris and Douglas Emhoff's engagement, there was one big moment for the couple, which involved the vice president's first greeting with her beau's two children from his first marriage: Cole and Ella. "When I met Doug, the man who would become my husband, I also met a man who was a divorced father of two children, Cole and Ella, named after John Coltrane and Ella Fitzgerald," Harris wrote in an Elle essay. "As a child of divorce, I knew how hard it could be when your parents start to date other people. And I was determined not to insert myself in their lives until Doug and I had established we were in this for the long haul. Children need consistency; I didn't want to insert myself into their lives as a temporary fixture because I didn't want to disappoint them. There's nothing worse than disappointing a child."
"So, we took it slow," she continued, "and Doug and I put a lot of thought into when and how I would first meet the kids. And that meant waiting."
At some point, the couple became aware that their relationship was special. "As we waited, anticipation grew," she continued. "When the day finally came, I had butterflies in my stomach. The plan was to go to a seafood hut off the Pacific Coast Highway called the Reel Inn, a favorite of the kids."
He Proposed in Her Apartment
In a press conference, Harris revealed her engagement to the public while she held her post as California's attorney general. Emhoff proposed privately in his then girlfriend's apartment on March 27, 2014. By then, the couple had dated for "about a year," Harris said at the time, according to the Sacramento Bee.
He popped the question with a "simple" engagement ring: a round brilliant diamond set on a platinum band. In the same press conference, she had made the wedding timeline clear by remarking, in typical Harris confidence, "I don't believe in long engagements."
Their Wedding Included Jewish Rituals
True to her word, Kamala Harris and her husband were married just five months later. They shared an uber intimate wedding in a courthouse in Santa Barbara, California, in August 2014. The bride's sister, Maya Harris, officiated the nuptials.
As Emhoff is of Jewish upbringing, the couple honored their new marriage by including the "breaking of the glass" during their ceremony, a Jewish wedding ritual. Harris, who was raised largely in Oakland and self identifies as "mixed-race" as she is of Indian and Jamaican descent, identifies as a Black Baptist. It was her first time getting married, while it was Emhoff's second.
The Kids Refer to Her as "Momala"
After the wedding, Harris became stepmom to Emhoff's two children from his first marriage: Cole and Ella. After becoming their step mom, the trio agreed they would refer to her as "Momala." Wrote Harris: "[We] agreed that we didn't like the term 'stepmom.'"
In fact, Harris publicly shares her title to her stepchildren, even referring to herself as "Momala to Cole and Ella" in a 2019 Mother's Day post. "They are brilliant, talented, funny kids who have grown to be remarkable adults," Harris wrote in her Elle essay. "I was already hooked on Doug, but I believe it was Cole and Ella who reeled me in."
"Our time as a family is Sunday dinner," she continued. "We come together, all of us around the table, and over time we've fallen into our roles. Cole sets the table and picks the music, Ella makes beautiful desserts, Doug acts as my sous-chef, and I cook."
In a January 2021 interview with the New York Times, Cole joked about how "Momala" has its moments. "I was a senior when they got together, and I remember I saw a tweet that someone did," he recalled. "It was a photo of Kamala at the Kavanaugh hearing, and someone tweeted, like, 'I'd hate to have to look at that face and explain why I'm late for curfew.' And I was thinking, 'I've literally had to do that.'"
They're Very Cute Together in Private
Ask anyone close to the couple and they'll describe the pair as just that: "coupley," according to Cole. "It depends on the setting. Because Doug and Kamala together are like almost vomit-inducingly cute and coupley," he said. "I'm like, When is this going to wear off?"
"It's so insane," Ella added. "It's like the honeymoon phase forever. Like, the rest of the world gets to see it on social media, but we live that."
Emhoff Will Be the First-Ever "Second Gentleman" in US History
Throughout the 2020 presidential campaign trail, it became very clear: Kamala Harris's husband has long been incredibly supportive of his wife's successes. In August, Emhoff made a big splash while joining his wife on stage, alongside Joe and Jill Biden, when his wife was declared the Vice Presidential candidate under the Democratic Party ticket.
The foursome have made numerous joint appearances, all following social distancing measures due to the coronavirus and COVID-19's ongoing effects across the country. The affectionate couple, of course, has often been photographed laughing together throughout Joe Biden's now-successful bid for the presidency and their marriage will continue to surge in interest as Harris enters into office in 2021.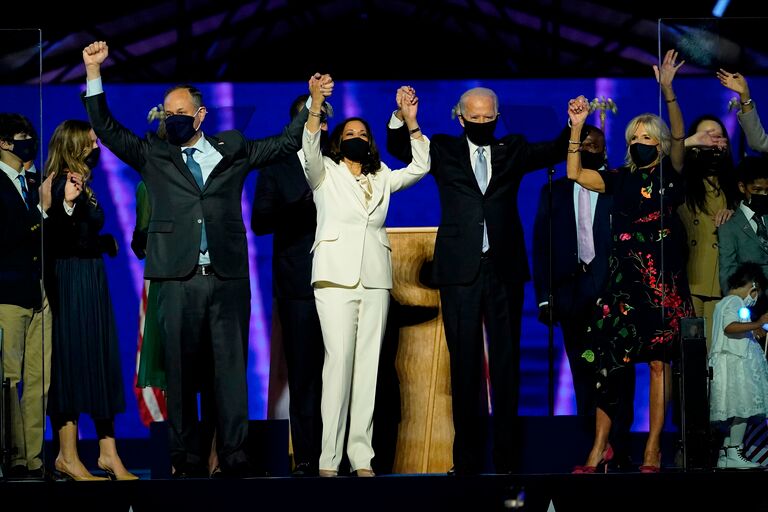 "There was a whole conversation… mostly among his friends, whether he should just be called the 'first dude,'" Harris laughed in the couple's joint appearance on CBS News.
"And other names that I can't repeat on national television," Emhoff added.