Is NFL Quarterback Josh Allen Dating Hailee Steinfeld? Here's What We Know
The two first sparked romance rumors in May 2023.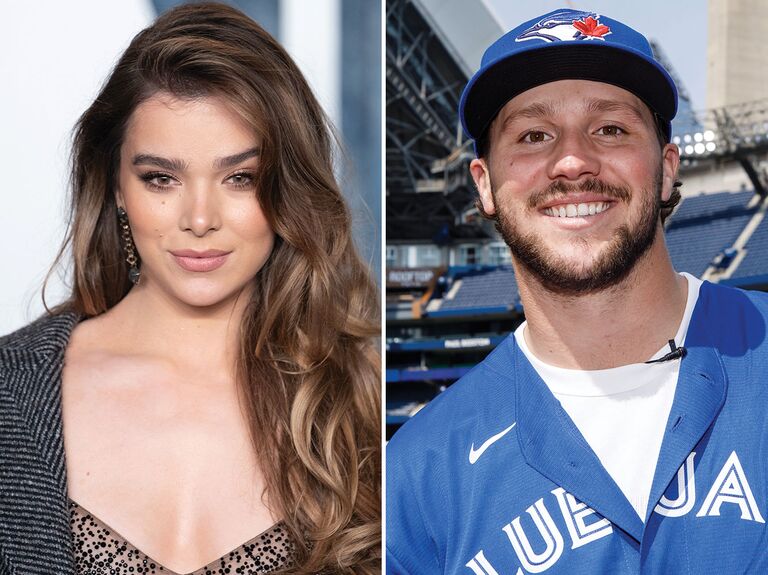 Is NFL quarterback Josh Allen dating Hailee Steinfeld? Whether you're a football fan or a chronically online pop culture connoisseur, you might be wondering about the status of this A-list couple who recently took the internet by storm. Earlier this year, the Hawkeye actress and Buffalo Bills star made headlines after they were photographed together for the first time in May. Fast forward a few months, they were seen on a vacation together in Mexico. Then, in an August appearance on the sports podcast Pardon My Take, Josh Allen seemingly spoke about his girlfriend for the first time. So, what's the latest on Josh Allen and Hailee Steinfeld? Here's what we know about their budding romance.
Josh Allen and rumored girlfriend Hailee Steinfeld first sparked relationship rumors in May 2023.
Although the couple has yet to explicitly confirm their romance, Josh Allen briefly spoke about his girlfriend in an August 2023 episode of a Barstool Sports podcast.
On September 17, Hailee Steinfeld was spotted attending a Buffalo Bills game where Josh Allen led the team to victory over the Las Vegas Raiders.
Is Josh Allen Dating Hailee Steinfeld?
While neither person has officially confirmed the rumors, it does appear that Josh Allen is dating Hailee Steinfeld. After the quarterback split from longtime ex-girlfriend Brittany Williams earlier this year, he was spotted with Steinfeld in New York City over Memorial Day weekend. Shortly after, they were also seen in what appeared to be a snapshot of a double date with friends.
On May 29, 2023, a source told People that the "cute couple" had been "hanging out for a few weeks" and added that the relationship is "new, but they are having fun." They continued, "He's going to be very busy with training camp, though, so they're not putting too much pressure on things and will see where it goes."
Josh Allen and Hailee Steinfeld's Relationship Timeline
Considering not much is known about Josh Allen and Hailee Stenfield's romance, their relationship timeline is sparse—but we can piece together a few key moments, such as when they were first spotted together when they enjoyed an international vacation, and when Allen seemingly confirmed the girlfriend rumors. Here's a breakdown of Hailee Steinfeld and Josh Allen's complete relationship timeline.
May 2023: Josh Allen and Hailee Steinfeld are Spotted in NYC
It's unclear how Josh Allen met Hailee Steinfeld, but rumors of a budding romance sparked at the end of May 2023 when they were photographed multiple times together throughout Memorial Day weekend. Paparazzi shots showed the two hanging out the entire weekend, and in one shot they appeared to be on a double date with friends.
July 2023: Josh Allen and Hailee Steinfeld Vacation Together in Mexico
The two were seen together once again over the Fourth of July weekend when they embarked on a PDA-filled vacation in Mexico, further fueling the romance reports.
August 2023: Josh Allen Seemingly Confirms He's Dating Hailee Steinfeld
Finally, Josh Allen addressed his alleged girlfriend when he appeared on the Barstool Sports podcast Pardon My Take on August 2. When asked if he had seen the headlines about his steamy vacation with Steinfeld, he replied, "The fact that anybody cares about that still blows my mind."
He went on to criticize the paparazzi who took photos of them on their private boat, saying it's a "gross feeling" to be photographed and creates a sense of "insecurity" for them.
September 2023: Hailee Steinfeld is Spotted at a Bills Football Game
Further fueling the rumors, Hailee Steinfeld was spotted attending a Buffalo Bills home game in New York against the Las Vegas Raiders on September 17. As seen in photos shared on social media, Steinfeld wore a Bills jersey as her rumored boyfriend led the team to a 38-10 victory.