A Mexico Honeymoon For Every Type of Couple
Relax at top-tier beach resorts and explore Mayan culture.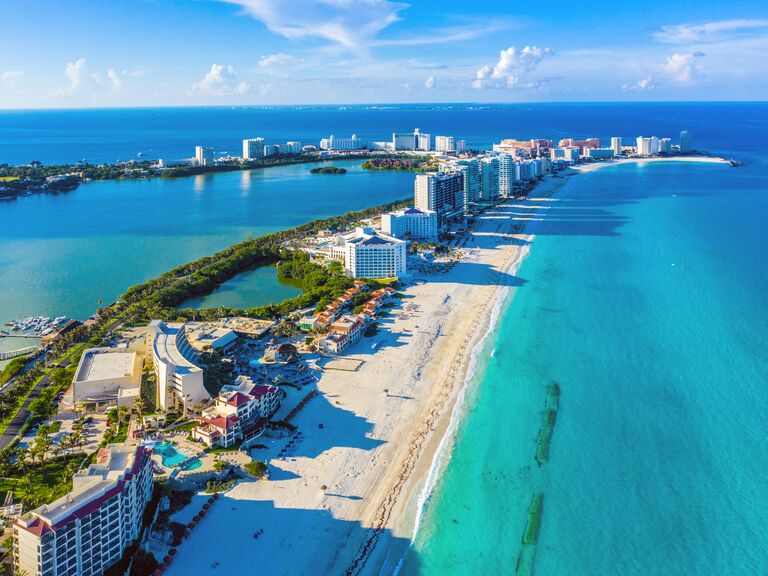 Hotel Zone of Cancún (Frederick Millett / Shutterstock)
We have included third party products to help you navigate and enjoy life's biggest moments. Purchases made through links on this page may earn us a commission.
Beautiful beaches, lively nightlife and unparalleled five-star luxury resorts make Mexico one of the best honeymoon destinations in the world. It's an ideal spot for newlyweds looking to start a marriage on a fun note (imagine chilling on white-sand beaches with a margarita in hand). Plus, newlyweds will be treated to first-class concierge service at beach resorts and dance the night away at famed clubs.
Mexico is a relatively short trip from the US, as certain spots are about a four to five-hour flight from New York or Los Angeles. People living in Southern states, like Texas, can get there in about two hours. Couples seeking a Mexico honeymoon are encouraged to researchCOVID-19 restrictions before booking stays. When the time arrives, a Mexico honeymoon is one you'll remember for years to come. Here's how to have a world-class romantic getaway.
Is Mexico Good for a Honeymoon?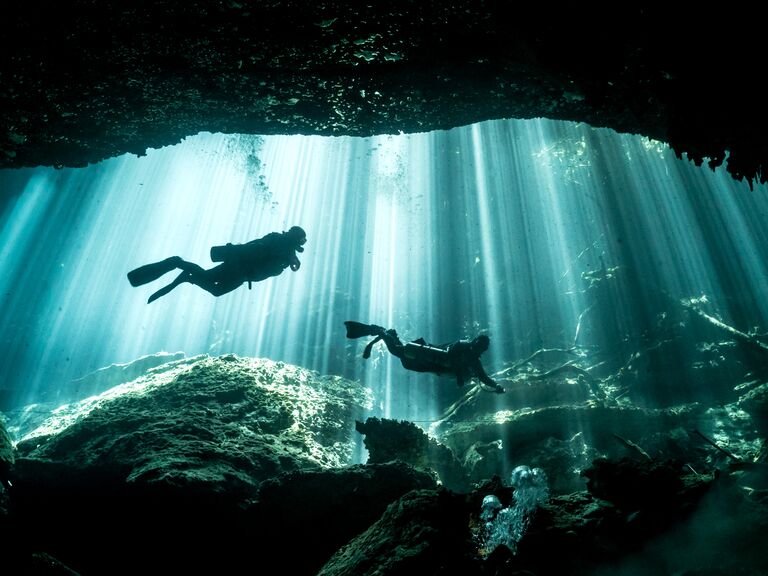 Pros of a Mexico Honeymoon
Mexico's all-inclusive resorts offer honeymooners everything they need for a memorable vacation. Stays often involve opportunities to relax in cabanas or palapas, while receiving concierge bar service menus ranging from margaritas to fast-casual tacos. Dining in the evening often involves mouthwatering steaks and high-end tequila flights. Guests can usually sign up for experiences arranged by their resort, like snorkeling and scuba diving in the warm Pacific or Caribbean waters.
Cons of a Mexico Honeymoon
Oceanfront views and spa resorts are convenient, and it's why they're often packed with tourists. However, you'll experience privacy from the confines of your infinity pool or jacuzzi. Though the resorts often offer trips to historical and cultural sites, like the Mayan ruins, a Mexico honeymoon may not be ideal for people looking to really travel around a country.
The US government also warns that non-violent and violent crimes are common in Mexico, so you'll want to ensure someone you trust accompanies you. Always remain aware of your surroundings.
The Best Times of Year to Go on a Mexico Honeymoon for Good Weather
You'll want to enjoy the Mexican beachfront lifestyle to the fullest. The best way to do this is to go during the dry season, typically from December to April. Ocean-adoring couples will also want to check on the best times to stay along the Riviera Maya, given factors like seaweed drying up on shore.
Things to Do During a Mexico Honeymoon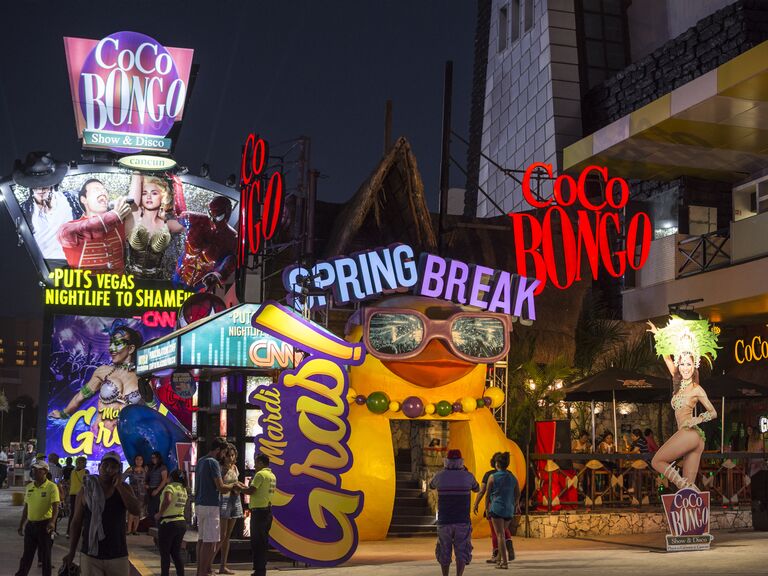 Mexico boasts plenty of opportunities to relax by the water and explore the land. Snorkeling and scuba diving adventures are available through many of the all-inclusive resorts. There's also world-class cuisine, day beds beneath cabanas and shops to explore. But each area has its own character and attractions.
Relax in Cancun
A hot spot for Spring Break, Cancun is also a favorite honeymoon destination. The Mexican city, located on the Yucatán Peninsula bordering the Caribbean Sea, boasts enough activity to keep you busy all week along with plenty of room to relax. The MUSA Underwater Museum takes you on a scuba diving adventure featuring beautiful sculptures beneath sea level. And there are more than a dozen beaches, including Playa Tortugas and Playa Delfines, where you can sit back and sip a margarita.
Explore the Riviera Maya from Playa del Carmen to Tulum
Situated on the Yucatán Peninsula south of Cancun, the Riviera Maya is generally considered the stretch from Playa del Carmen to Tulum. Playa del Carmen is a sophisticated seaside getaway known for its white-sand beaches. Guests can sail the turquoise waters on a luxury catamaran or stay land-locked by playing a round of golf at Iberostar Playa Paraiso Golf Club, a championship-level course. At night, Coco Bongo is famous for bringing a Vegas-style atmosphere south of the border. Tulum, meanwhile, is home to some of the best-preserved Mayan ruins on earth. Explore them while rarely losing sight of the blue-green waters of the Caribbean.
Enjoy the Nightlife in Los Cabos
This city is full of honeymoon resorts and ocean views. Located at the tip of the Baja Peninsula, Los Cabos includes two towns: Cabo San Lucas and San Jose del Cabo. Cabo San Lucas is for the party people. There's plenty of nightlife to be enjoyed, like the popular dockside watering hole Nowhere Bar. Cabo Wabo Cantina, the site of MTV's first-ever Spring Break, is another famous option. San Jose del Cabo is the quieter, oft-overlooked Los Cabos town, but it's a place to get a more authentic Mexican experience. There, you'll find mom-and-pop shops and restaurants serving traditional Mexican cuisine.
Take in Cultural Sites in Mexico City
The capital of Mexico may not have the same luxe reputation as some of the country's resort cities. But it's a perfect romantic getaway for couples who are craving culture along with "obligatory" beach days. Museo Jumex is a hub of top contemporary art, and Teotihuacan is home to the world's third-largest pyramid, the Pyramid of the Sun.
Shop in Puerto Vallarta
Located on Mexico's Pacific coast, visitors love Puerto Vallarta for its natural beauty and nightlife. Dive in and discover colorful reefs and diverse marine life on underwater adventures. Open-air shops, live performances and sculptures make the Malecon Boardwalk a vibrant place to explore by day. Olas Altas is a favorite area in Puerto Vallarta for LGBTQ+ couples. It boasts trendy restaurants and hopping clubs where newlyweds can dance all night.
Swim With Dolphins in Playa Mujeres
Playa Mujeres is ideal for laid-back couples looking for an upscale but peaceful getaway. It doesn't have the same party scene as Los Cabos or Cancun. Instead, it feels like an untouched paradise. Guests can spend a day at sea swimming with dolphins or cruising in a yacht. A visit to the Rafael Nadal Tennis Centre is a must for tennis fans.
Best Hotels and Resorts in Mexico for a Honeymoon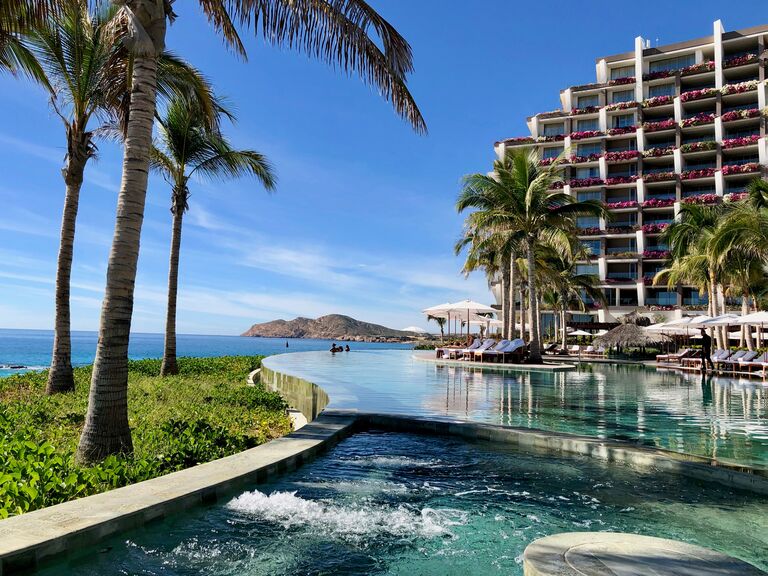 Rosewood Mayakoba
White-sand beaches and a lush jungle surround this five-star Riviera Maya resort. Rosewood Mayakoba's resort spa is actually on its own island and seeks to have people find harmony using Mayan philosophies. The 150-minute Cenote Temazcal Purification treatment, which includes a steam bath in herbal-infused water, is Exhibit A. Outside of the spa, Rosewood Mayakoba offers destination experiences to places like Chichen Itza and an array of dining options.
W Punta de Mita
An edgy and eclectic beach resort, the lauded W Punta de Mita offers plenty of sun, surf, sand, ceviche and a spa. During the day, active couples may want to explore one of the country's best surf breaks (the resort is located right on it) or enjoy a seafood-themed cooking class. After a day of fun, they can head to the spa to unwind and round out the evening with a world-class meal. While in the area, they may spot a celebrity as Punta de Mita is a favorite destination in Mexico among the stars.
Cuixmala
Cuixmala is a resort offering a unique boutique hotel-style experience in Puerto Vallarta. It's a pristine paradise set on more than 30,000 acres of nature reserve and along the Pacific Ocean coastline. Protected wildlife, like zebras and nearly 300 species of birds, roam free. Guests have access to three private wild beaches, three restaurants and comfortable accommodations.
Hacienda Temozón
Located in the heart of the Yucatan Peninsula, Hacienda Temozón looks like something out of a fairytale. The coral walls feel fresh, and the palm tree-lined swimming pools appear positively paradisial. The Presidential Suite is the epitome of luxury, featuring a private plunge pool and woven hammocks so you can sleep like the Mayans (There are beds, too).
Careyes
Pristine and swimmable beaches, villas with infinity pools and multiple restaurants on-site all make Careyes a one-of-a-kind destination for honeymooners. In some ways, the property resembles Positano, Italy, with its pristine beach coves and clifftop villas for newlyweds craving the Mediterranean. However, this Pacific Coast estate is way more private with few tourists and zero cruise stops.
Isla Mujeres Palace
Isla Mujeres is an ideal honeymoon resort—it's for couples only. Lavish accommodations include rooms with private balconies and whirlpools; plus, a world-class spa for pampering. Enjoy specialty cocktails underneath a thatched-roof hut, take a siesta in a hammock, and indulge in candlelit sunset dinners with your loved one at an array of on-site restaurants.
Grand Velas Los Cabos
Desert meets sea at the Grand Velas Los Cabos. The all-inclusive resort has a little bit of everything—infinity pools, eight dining options ranging from relaxed to posh, a spa and waterfront rooms. Enjoy a brunch at sea, a romantic picnic in paradise (the beach or Azul garden), and a stargazing experience with a side of champagne.
Las Ventanas al Paraíso
Celebrities like Cameron Diaz and Leonardo DiCaprio have retreated to Las Ventanas al Paraíso. Step one foot on the gorgeous grounds and you'll see why. There's a tequila bar, four restaurants, including spots for seafood, Asian fusion cuisine and private dining options. The refined suites include infinity pools and stunning views.
Secrets Maroma Beach Riviera Cancun
Secrets Maroma Beach Riviera Cancun is situated on a gorgeous beach. The resort is home to a mini-golf course, tennis courts and archery. When it's time to refuel, meals are included at this all-inclusive resort. Dolphin Discovery Playa del Carmen Maroma, an opportunity to swim with dolphins, is a popular day trip about four miles away.
Mexico City Marriott Reforma Hotel
Located in the heart of downtown Mexico City, Marriott's accommodations are plush and posh. It's near two handfuls worth of museums and Chapultepec Park. If you are not eating out on the town, the hotel has an upscale steakhouse and authentic Mexican restaurant to check out.
Conrad Punta de Mita
Located less than an hour from Puerto Vallarta, Conrad Punta de Mita offers honeymooners a happy marriage of rich culture and luxurious amenities. Whether you want to sip on a cocktail from the swim-up bar at the property's adults-only pool or relax in a private plunge pool from the comfort of a suite patio overlooking the ocean, water is just a step away no matter where you turn. After a refreshing tip, make your way to the beckoning spa for a treatment, such as a Temazcal purifying ritual, inspired by the local Huichol culture. And a dining experience at one of the seven on-property establishments will cap off your culturally rich honeymoon.
What to Pack for a Mexico Honeymoon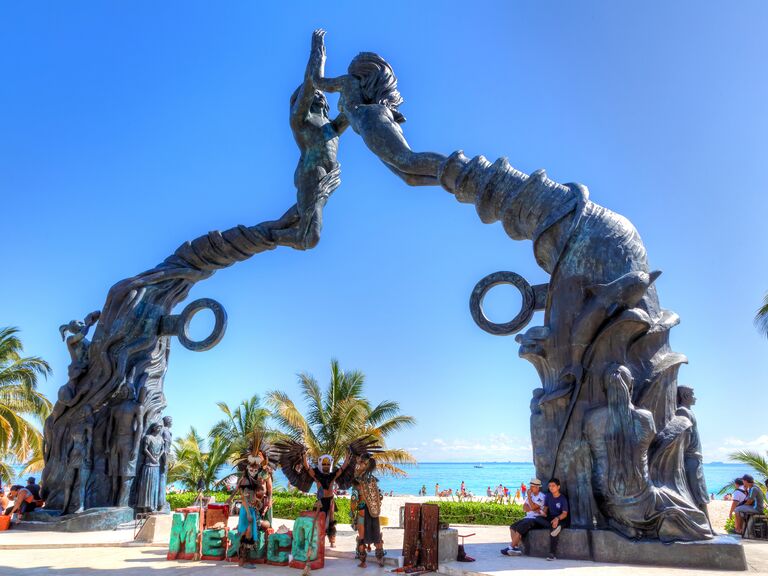 Beaches, pools and water sports dominate Mexican honeymoon itineraries, so you'll want to bring a couple of swimsuits and at least one towel. Sunscreen is also a must.
Since the luxury resorts have an array of dining options, you'll want to pack some casual and fancier outfits for your time on land. (We suggest packing shorts, T-shirts, dress slacks and stylish frocks.) The latter will also come in handy if you plan to enjoy the nightlife scene.
If you plan to explore historical sites, like the Mayan ruins, pack comfortable walking shoes. An umbrella and raincoat are always a good idea.