What You Didn't Know About Kate Middleton's Wedding Dress
Her 'Something Blue' was sewn inside the dress.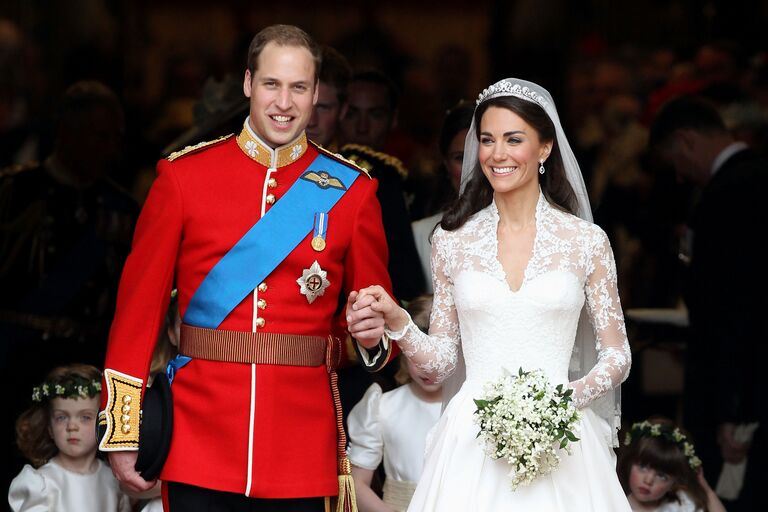 Chris Jackson/Getty Images
The fanfare that surrounded the Duke and the Duchess of Cambridge's royal wedding in April 2011 pales in comparison to the hubbub that continues to surround Kate Middleton's wedding dress (two, in fact), both designed by Sarah Burton for Alexander McQueen. From its long sleeves to its lace ball gown, the iconic Kate Middleton wedding dress has inspired many celebrity copycats who've hoped to channel her effortless grace on their own wedding days. The Duchess of Cambridge's second dress, worn at the reception that evening, has similarly served as creative fodder for dress designers looking to capture a more relaxed, but elegant, silhouette.
Here, we round up everything we know about Kate Middleton's wedding dress, nearly 10 years after she and Prince William first said "I do" at Westminster Abbey.
Kate Middleton's Wedding Dress (Both) Were Alexander McQueen
If there's one thing that Middleton has been known (and praised!) for during her tenure as a public figure, it's her consistency in taste, and loyalty to her countrymen's designers and artists. For both dresses, Middleton sought out the talents of Sarah Burton, the creative director of Alexander McQueen, and worked closely with Burton to bring her design visions to life.
"Miss Middleton chose British brand Alexander McQueen for the beauty of its craftsmanship and its respect for traditional workmanship and the technical construction of clothing," the Palace said in a statement on Will and Kate's wedding day. "Miss Middleton wished for her dress to combine tradition and modernity with the artistic vision that characterizes Alexander McQueen's work."
Burton also created Middleton's younger sister Pippa's head-turning maid of honor gown, which was made of an ivory, satin-based crepe that had buttons and lace trim that matched Middleton's gown.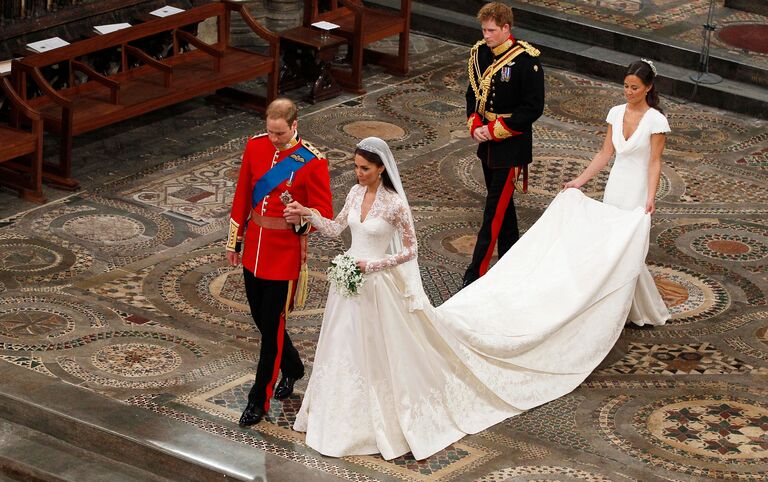 Kate Middleton Worked Closely With Burton in the Custom Process
The fashion-forward Duchess apparently had a huge hand in the process of imagining and designing the gown, and the two women became good friends as a result of their collaborative efforts. "I loved making the dress, I loved adapting my ideas to suit the person and the occasion, and we put our hearts into it," Burton told T: The New York Times Style Magazine back in 2014. "I respect the intimate nature of that lovely project and I respect the friendships that were forged during it … an instinctive, intelligent, imaginative young woman's wish for a beautiful wedding dress—or any kind of dress—is the most natural thing in the world. I was honored to pick up the challenge and always will be."
Middleton and Burton plotted to incorporate some particularly meaningful details to the custom gown, including hand-cut lace roses, daffodils, thistles, and shamrocks woven into the sleeves themselves to symbolize England, Wales, Scotland, and Northern Ireland. The lace flowers were then added onto ivory silk tulle. In order to make sure that the lace and the threads were as pristine as possible, dressmakers supposedly had to wash their hands every thirty minutes and use new needles every three hours to ensure the highest quality possible. In all, the gown cost an estimated $434,000.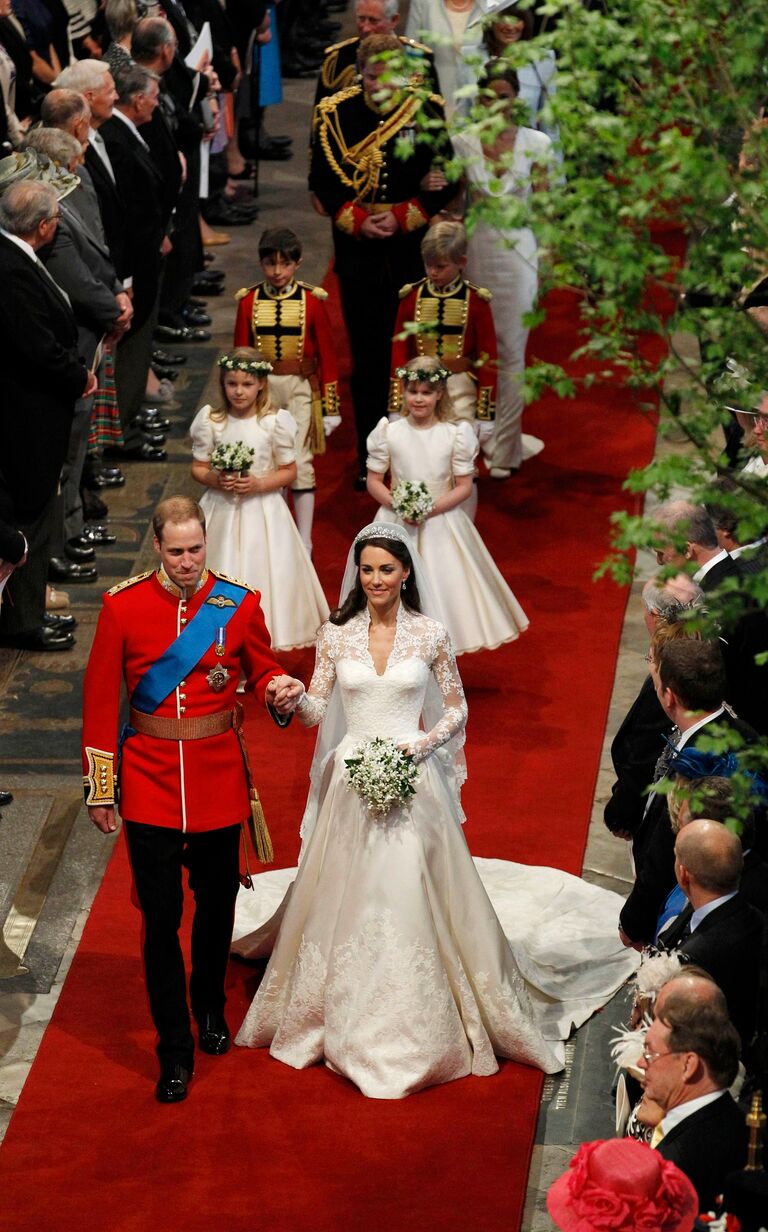 The Gown Featured Two Colors
Though most more traditional wedding gowns are primarily white or ivory, Kate Middleton's wedding gown was a mixture of both —and it worked. The main body of the dress was made of a combination of white and ivory satin gazar, which was both smooth and stiff enough at the bodice and other portions of the gown, to hold the iconic shape that is often associated with McQueen creations. Burton also, memorably, sewed a blue ribbon on the inside of the dress for Middleton's "something blue."
Kate Middleton's Wedding Dress Was a Nod to Victorian Tradition
The Duchess's iconic wedding gown melded both tradition and modernity together, with a particular nod to traditional Victorian silhouettes. The dress was "narrowed at the waist and padded at the hips," the Palace said in a release at the time, noting that this is both influenced by the Victorian tradition of corsetry and Alexander McQueen's own designs.
The dress, with its lace collar and long sleeves, also drew comparisons to Grace Kelly's iconic wedding dress—which, as it turns out, isn't too far off, considering that one of the lacemakers who worked on Middleton's gown also contributed to Kelly's wedding dress from several decades prior.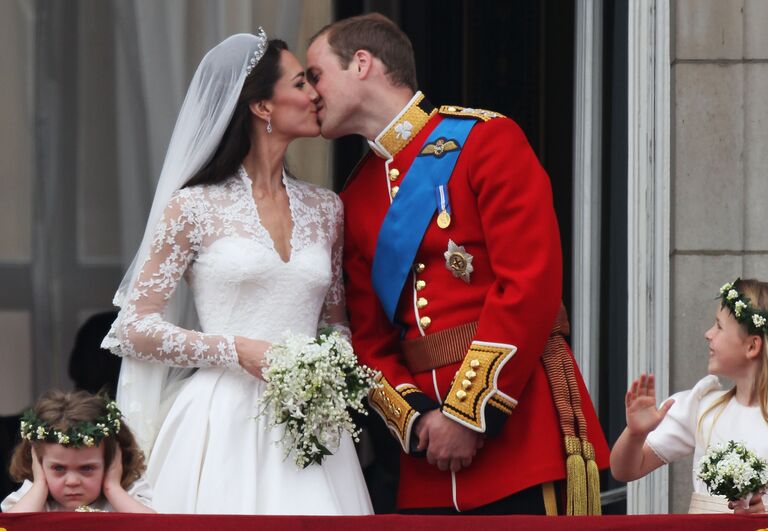 The Train was Nearly 9-Feet Long
One of the most dramatic moments of the royal wedding was when Middleton stepped out of a car at the bottom of the steps leading up to Westminster Abbey, and her long, flowing train was arranged carefully behind her by her sister, Pippa Middleton. But just how long and flowing was it? Apparently, the train measured nearly 9-feet long, which may seem excessive, but for the sake of comparison, her mother-in-law Princess Diana's wedding dress train measured nearly three times that, at 25 feet in length.
The details of Middleton's train are also a sight to behold: the dress featured 58 gazar and organza covered buttons on the back, each one fastened by rouleau loops. And the underskirt was fully fleshed out as well, with silk tulle that helped to give the gown its shape. Burton reportedly designed the bottom of the dress itself to resemble an opening flower.
Kate Middleton Wore the Cartier Halo Tiara
Queen Elizabeth II Kate Middleton the diamond and platinum tiara she was gifted on her 18th birthday by the Queen Mother. The piece is a vintage and was crafted by Cartier himself in 1936.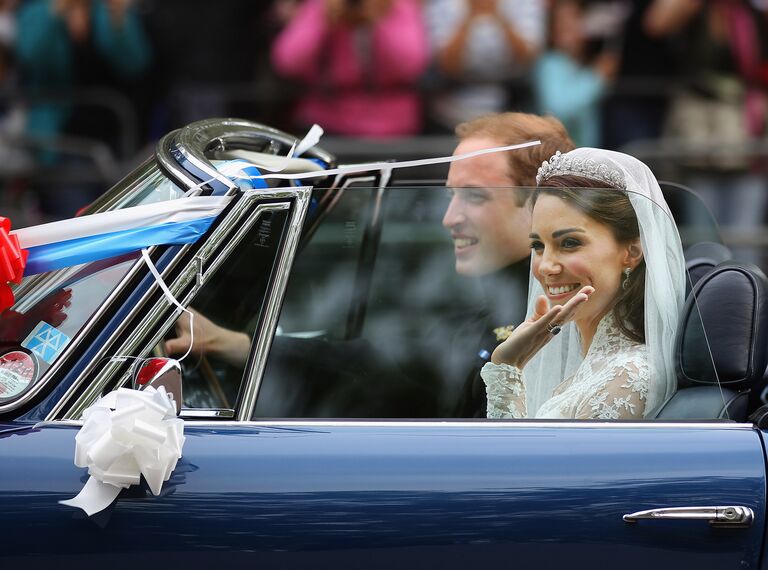 Kate Middleton's Second Wedding Dress Details
Though it is the less-talked about of the two dresses the Duchess wore that day, Middleton's second wedding dress was just as elegant, ideal for an intimate reception at Buckingham Palace later that evening. The second dress was made of smooth ivory satin and included a sweetheart neckline, circle skirt, and a diamante belt that helped accentuate Middleton's slim waist. In photos that began to circulate several years after the 2011 royal wedding, the Duchess can be seen wearing a modest white angora bolero covering her shoulders.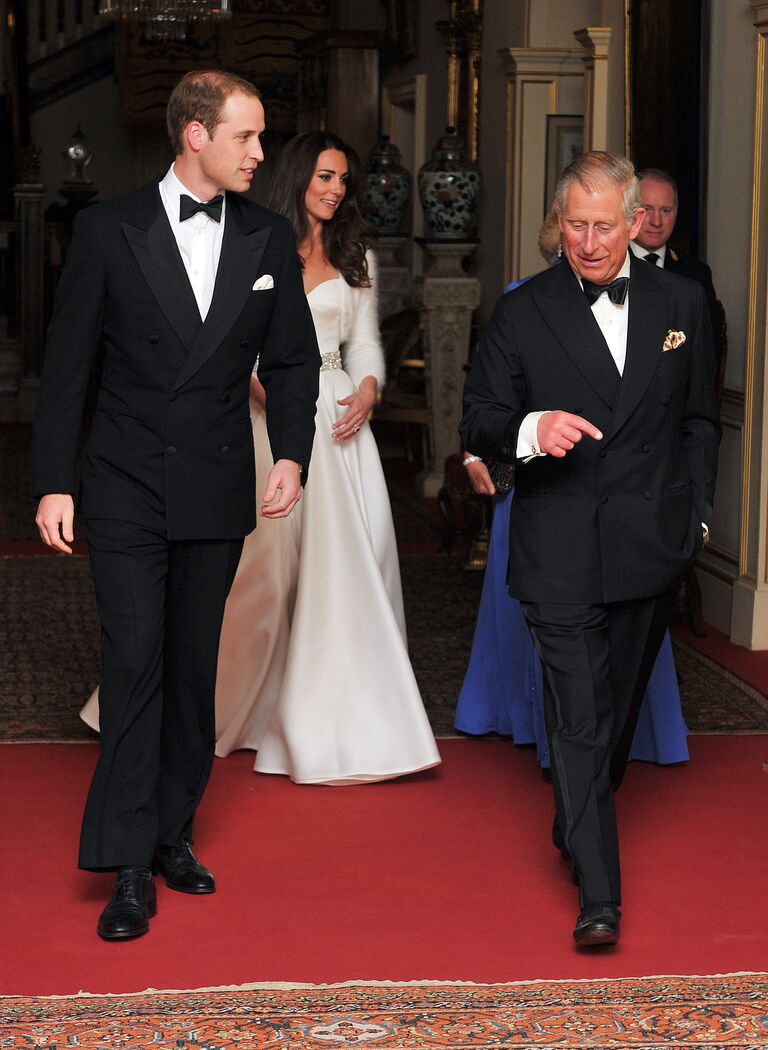 The Differences Between Kate Middleton and Meghan Markle's Wedding Dresses
Both Kate Middleton and Meghan Markle tapped female British designers to create their now-iconic wedding dresses. While the Duchess of Cambridge requested Burton's assistance for her Alexander McQueen gown, Markle went with Clare Waight Keller of Givenchy, to design her dress on her wedding day. Both wore sleeved pieces, but the designs were vastly different.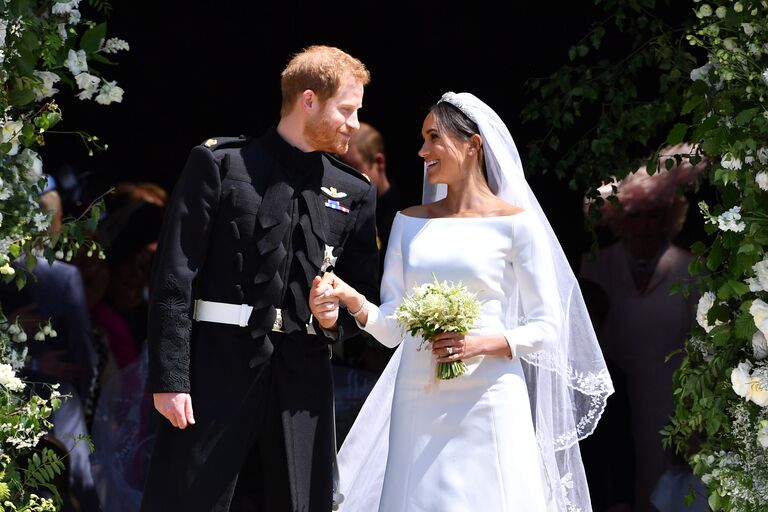 Markle's gown, a three-quarter-sleeved ivory piece, featured a bateau neckline and was simple in its fabric of double-bonded silk cady. Middleton, of course, had delicate lace sleeves and custom designs of hand-cut, lace flowers interwoven into the fabric itself.
Celebrity Lookalike Dresses
Kate Middleton's wedding dress sparked a flurry of copycat gowns even among celebrity brides in the last decade. Names include Nicky Hilton, who chose a long-sleeve, lace Valentino gown for her July 2015 wedding to James Rothschild. Hilton has said the true inspiration went back to Grace Kelly. Other celebs to don similar style gowns include Girls actress Allison Williams and Spice Girl Geri Halliwell.