Cameron Diaz Gives a Rare Glimpse Into Her Marriage With Benji Madden
"I love being married."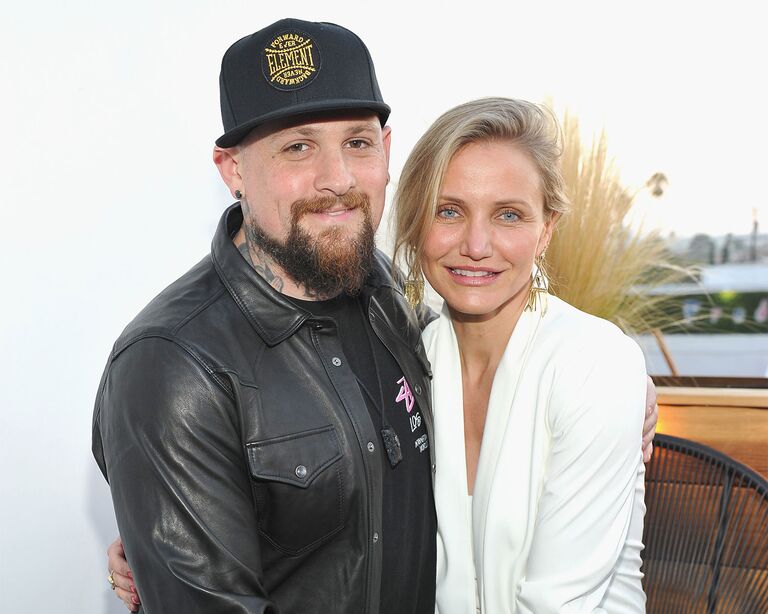 Donato Sardella/Getty Images for REVOLVE
Five years have already passed since Cameron Diaz and Benji Madden's wedding day. The couple married in January 2015 in an at-home wedding before a slew of A-list friends—several, members of their wedding party. "We couldn't be happier to begin our new journey together surrounded by our closest family and friends," they declared at the time.
That happiness, it appears, has trickled over to everyday life. "I love being married," Diaz, 47, said in a new and rare chat with makeup artist Gucci Westman. "The best thing that ever happened to me is finding my husband and our partnership, and his friendship and all that."
The Charlie's Angels actress has now taken a six-year break from acting, with it presumed that she has since retired. In the interim, Diaz has released a book about the body and, most recently, welcomed her first child with Madden, daughter Raddix, in December 2019.
"I'm never going to say never. I'm not a person who says never about anything," she noted about acting, though she's taken up a big replacement role as chef in her household. "Now that I'm home for six years, half of my house is my kitchen," Diaz continued. "When I feed the people I love, the thing that I want for them to have is the experience of feeling like it hit their heart--that they can feel my love. I want to cry. My food is my love language."
Diaz and Madden rarely discuss their personal lives. In fact, they stunned fans when they announced they had welcomed their first child together in December 2019. "I love being a mother," Diaz told Who What Wear CEO Katherine Power in an Instagram Live session in early April. "It's the best, best, best part of my life. I'm so, so grateful and so happy. And it's the best thing ever and I'm so lucky to get to do it with Benji and we're just having the best time. It's so great. I'm just thrilled."
The couple first met through Richie, a member of Diaz's inner circle, among other celebrities like designer Jen Meyer, Barrymore, Kate Hudson, Witherspoon and more. After a whirlwind seven-month relationship, they married in early January 2015.
Celeb event planners Yifat Oren (the name behind Hilary Duff's nuptials) and Stefanie Cove (the mastermind behind Anne Hathaway's wedding too) orchestrated Cameron Diaz and Benji Madden's wedding. The bride's Beverly Hills home was protected by a white tent to prevent aerial shots from paparazzi. It has been noted, however, that she looked resplendent in a gown by Georgina Chapman and Karen Craig.
Cameron Diaz's wedding party members included Nicole Richie, Diaz's now sister-in-law, as well as Drew Barrymore. Diaz's former assistant Jesse Lutz as well as her sister, Chimene Cain, also served as bridesmaids, while Joel Madden served as the best man. The 100-person guest list included close pals like Reese Witherspoon, Gwyneth Paltrow, Lionel Richie, Judd Apatow, Leslie Mann, Nancy Juvonen, Will Kopelman among many others.
"It was a big wedding, but they still managed to make it feel very personal. Only their families and very special friends attended," another source told People, which broke the news at the time, of the wedding. "It all felt very down-to-earth and sweet. Guests arrived smiling and almost seemed giddy. Everyone was excited to be a part of the wedding."