Kelly Rowland Reveals Her Marriage Secrets
The singer is coming up on six years of marriage.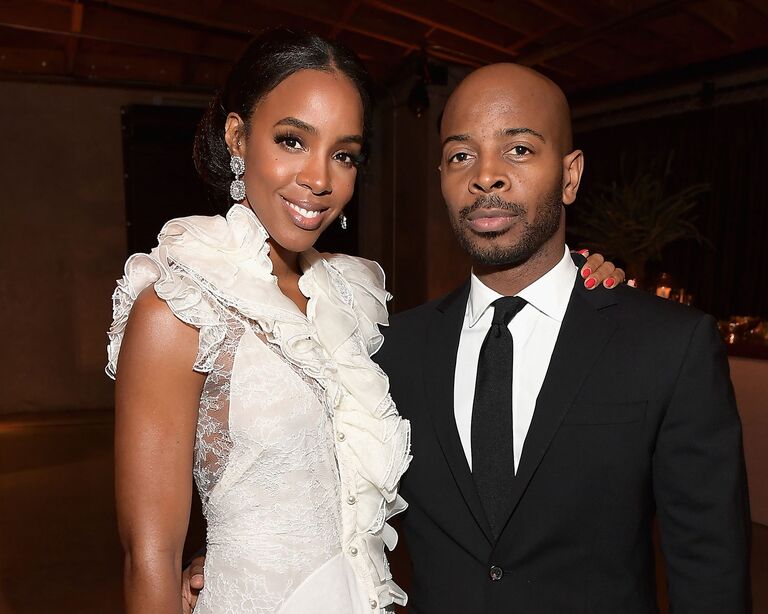 Matt Winkelmeyer / Getty Images for Baby2Baby
Kelly Rowland and husband Tim Witherspoon's key ingredient to a successful marriage is simple: communicate, communicate, communicate. What form that communication takes, however, ranges from the sexy to the practical. The singer, who recently released flirty new single "Coffee," has been married to her husband for six years; the couple has kept their relationship fresh and interesting by letting the other know, constantly, just how much they love and desire them.
Kelly Rowland and Her Husband Aren't Afraid of Roleplay
After six years of marriage, every couple needs to make an effort to keep their relationship exciting. In a recent interview with People Magazine, Rowland explained what she and her hubby do to spice things up.
"As far as sex is concerned, I'm like, 'Well, if I have to play dress up and do role-play, honey, if I need to be 'Alicia' tonight and give you a surprise in the middle of the night or something, then it needs to happen," Rowland, 39, told People. "When we met each other, we had fun. Two years from now, we'll have fun. I think if you hold that close to you, it can always show itself in your relationship."
Who Is Kelly Rowland's Husband?
Tim Witherspoon might just be an international man of mystery. Information about Kelly Rowland's husband is sparse, but some media sources credit him with being Rowland's manager. An old article from the now-defunct ezine, Bustle, claimed that Witherspoon might have also produced a track on Michelle Williams's 2004 album, Do You Know.'
It does seem that Rowland is Witherspoon's only client. In any case, the fanfare surrounding the release of "Coffee" could point to the fact that Witherspoon is working hard to help support his glamorous wife.
We also know that Rowland homeschools her son, Titan Jewel. Perhaps Witherspoon also pitches in with the education of his kiddo. Either way, it seems Witherspoon is happy to stay out of the spotlight and let his wife take center stage.
How old is Kelly Rowland's husband?
He's a youthful 46 (born January, 1974), making him seven years older than his wife.
Want to know a fun fact about Kelly Rowland's husband? Apparently, it was love at first sight… at least for Tim. "He said he knew by the first date," Rowland confessed to ABC News in 2017. As for Rowland, it took her a little longer. But really, not that much longer.
The singer has previously revealed that she knew she wanted to marry Witherspoon shortly after they started dating. He knew even sooner than that. "He said he knew by the first date," she previously told ABC News in 2017. "I knew [by] the third date. I was like, 'Oh my God!' I got nervous, to be completely honest, because I was like, 'This feels like my husband.'"
"Me and my husband see each other as equals," she continued. "And we love each other and respect each other above anything. We've made our own rules. It's working out great."
Kelly Rowland & Husband Tim Witherspoon's Wedding
Rowland and Witherspoon, 38, married in May 2014 in an intimate destination wedding in Costa Rica with just a few dozen of the couple's closest friends and family members. Rowland's former bandmates, Beyonce and Michelle Williams, were of course on the invite list, as well as Solange Knowles. The theme was breezy and airy with the bride in a beach-friendly wedding gown with a draped open back.
The pair now share 5-year-old son Titan. As they're six years into their marriage, Rowland told People, they're both digging in to do the hard work to make their relationship as strong and compassionate as possible. That, she said, starts with knowing themselves first.
Kelly Rowland & Her Husband's Marriage Tips
"If I wasn't taking the time to get to know myself better in this crisis, we would be struggling," Rowland said. "We go to therapy every week and we're so proud of it. It's just to keep the relationship and the space of communication open, [so we're] ready for each other. I have a husband who supports me and is there for me and loves me and I'm the same for him. I met my best friend. There's nothing that we can't talk about."
"When I meet an older couple, I always ask them, 'What's the one thing that can break up a marriage?' and they're like, 'Money and communication,'" she continued. "With every challenge, there is a solution and I think he and I have grown to talk about everything."
A Commitment to Commitment
Rowland admitted that her understanding of marriage has evolved, and is continuing to evolve, as she and Witherspoon grow together and individually through their relationship. Namely, she said, she's learned that there's no such thing as "out"; she and Witherspoon are both in it for the long haul.
"Before I was married, I was like, 'Well, if it doesn't work, you just get a divorce,'" she said. "[But now,] that's not an option for me. That's not an option for me because I know I have a good man. I know I have someone that loves me unconditionally, and we're gonna sort this thing out, we're gonna figure it out. Above anything, we've got faith and we've got each other. Marriage means a lot to me. It's something that I hold very sacred."
Can't get enough celebrity wedding goss? Then check out 49 songs celebrity couples chose for their first dance. This list includes the first dance song of Kelly Rowland's former bandmate, Beyonce and her superstar husband, Jay-Z. If you're planning your own nuptials soon, let these songs inspire you as you build your own wedding song list.