Lily Allen and 'Stranger Things' Actor David Harbour Secretly Marry in Vegas: See the First Photos
The couple has one big reason to Smile.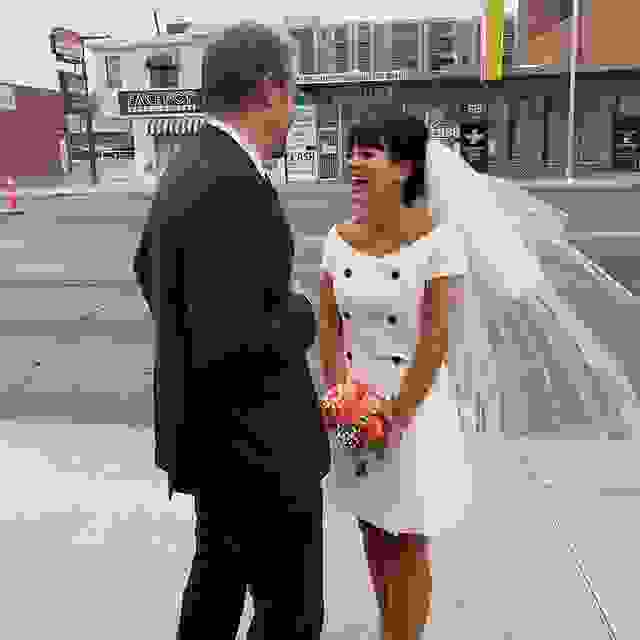 Lily Allen / Instagram

Lily Allen and husband David Harbour have one big reason to "Smile." The couple secretly married on Monday, September 8, and they confirmed their nuptials via Instagram days later by sharing the first photos from the wedding. 
According to People and ET, the pair got their marriage license in Las Vegas, where they exchanged vows at the Graceland Wedding Chapel, a popular choice for eloping to-be-weds. The intimate elopement, which took place amid COVID-19, was naturally presided over by an Elvis impersonator.
For the nuptials, Allen chose a simple, bateau-neckline, cream dress featuring velvet buttons by Christian Dior. The couple then celebrated their newlywed status with treats from West Coast fast food favorite, In-N-Out Burger. 
"In a wedding officiated by the king himself, the people's princess wed her devoted, low born, but kind credit card holder in a beautiful ceremony lit by the ashen skies courtesy of a burning state miles away in the midst of a global pandemic," wrote Harbour, who's best known for his role as Jim Hopper in the Netflix series Stranger Things. "Refreshments were served at a small reception following."
This is Allen's second marriage after she finalized her split from husband Sam Cooper, with whom she shares two children, Ethel and Marnie. It is Harbour's first. The pair had just returned from an extended getaway to Croatia, where they enjoyed time as a family of four abroad. 
Engagement speculation swirled around the couple after Allen first displayed a photo of her engagement ring via social media in May. Though they never officially confirmed their updated relationship status, Allen alluded to the proposal by coyly responding to a comment with, "First rule of engagement club ........."
The two have been linked since October 2019.