The Knot Official Guidebook for COVID-19 Wedding Help
Bookmark this page.
by The Knot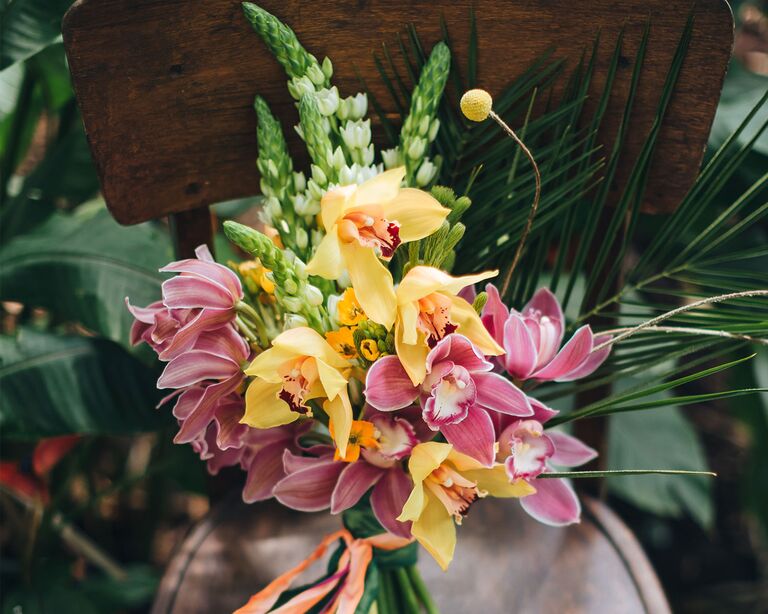 Last Updated: May 27, 2020
As couples globally are facing the COVID-19 pandemic, taking the right actions and navigating this ever-evolving scenario is proving to be challenging for many. Like you, here at The Knot, our teams are making daily decisions through the lens of how to best keep our couples, employees and partners safe and healthy. We're here for you through the ups and downs of planning your wedding during the coronavirus pandemic, and we'll continue to update our guide on all things related to weddings and COVID-19 as new information is available from the CDC and WHO, as well as from experts within the wedding industry.
Remember you're not alone right now. A million weddings have been postponed through August 2020, and we know it's a challenging time for so many couples impacted by this pandemic. 
We want to be here for you every step of the way. In addition to the resources below, The Knot has opened up a dedicated hotline to answer any and all questions about planning and weddings during coronavirus that you may have. We can be reached at (833) 998-2865 or [email protected]. 
How to Get Started
If you're just starting to plan or you're now in the phase of having to postpone your wedding, start with the pieces below for a foundational overview of COVID-19's possible impact on your big day.
According to the Centers for Disease Control and Prevention, group gatherings should be restricted to less than 50 persons, while federal guidelines propose no more than 10. What does this all mean for weddings during coronavirus, or after quarantine?
A piece on all the necessary steps to take when postponing your wedding due to the coronavirus.
For couples with wedding dates in 2020, we did the math for you. Here's exactly what to do if you'd planned to get married in May, June and beyond.
How to tackle dress shopping, vendor relationships, and more amid coronavirus. The good news? You can actually get a lot done.
Got a question about how to navigate through all the news and noise? Check out our expert-sourced answers to all your queries here, which we're updating regularly.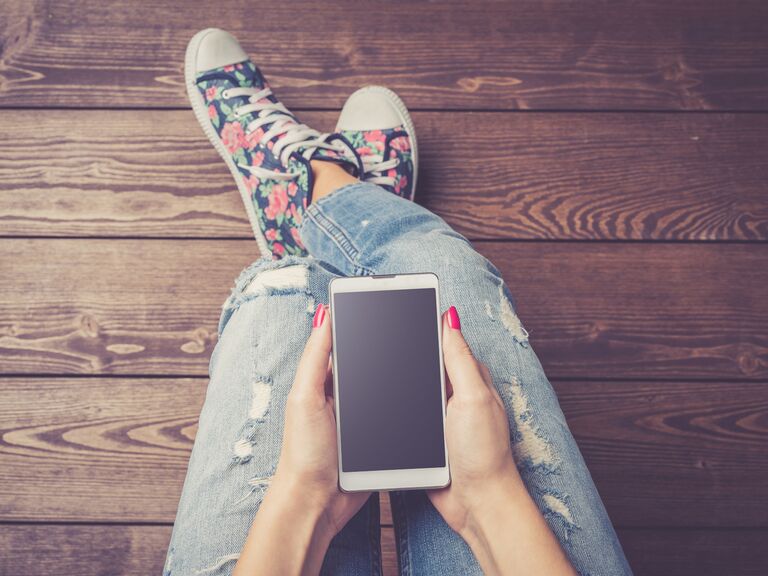 For Couples Planning Their Weddings
If you're currently in the throes of wedding planning, here are the necessary conversations and considerations to explore in this ever-changing landscape. Whether it's related to email etiquette for guests and vendors, key dates to avoid as you're narrowing down a venue or even, the psychology of how to navigate this emotionally-strenuous time, the editors have interviewed experts to relay key details over to you.
We spoke to the experts to determine which kinds of coverage are most helpful right now.
Email etiquette is the last stresser you need right now. To help, we've written out a set of templates so all you have to do is legit copy and paste. (And hit "send" of course.)
Enter the Minimony. Here's how to host your own, and everything else you need to know.
Trust us, there's still plenty that can be accomplished at home and via video chat. But first, take a moment to bask in that newly-engaged glow.
Congratulations! This is an exciting time for you and your families, so you shouldn't feel guilty about celebrating your engagement and future wedding, even amid the coronavirus pandemic. Here's how to do so accordingly.
If you want to adjust your palette to align with certain times of year, there are ways to do that.
Asking for wedding gifts might feel a bit strange right now, but trust us—you're not alone. We're answering all those tricky registry-related FAQs.
We tapped top planners and vendors to find out exactly what they're currently advising couples to do with their weddings and coronavirus. 
Postponed weddings during coronavirus have resulted in a new type of announcement: meet the change-the-date, a more flexible sibling of the save-the-date.
You've made the tough decision to postpone, but to when exactly? Here's a handy cheat sheet of holidays and other dates to be mindful of in the coming years.
Know that what you and your partner are feeling is valid, and your feelings shouldn't be discounted. It's best to face those feelings head on, so here's how to do that.
A honeymoon at home, of course! Here are our favorite ideas and top tips for pulling it off—no passport required.
Thursday, Friday and Sunday weddings are rising in popularity among 2020 couples. But did you know? Mondays are here for you too.
While weddings during coronavirus are at a standstill, minimonies and marriages are still happening. States are signing executive orders to permit the legality of virtual ceremonies, and also making it possible to obtain a marriage license online amid the coronavirus pandemic.
To-be-weds are still committing to each other, promising to patiently endure this time together until their larger wedding ceremony down the line. (We call this "minimony" followed by a sequel wedding.)
It feels like we're on our phones now more than ever, which makes it pretty easy to obsessively scroll through flawless wedding photos and feel all kinds of envy as a result. Avoid the spiral — here's how.
Attire & Beauty Help
Even while home, the shopping hasn't stopped for some. With local bridal salons and businesses of all types evolving to digital experiences, your dress and other at-home styling tips are simply a click away. The same applies to beauty advice too. Now is the best time to work on upkeep without considering drastic transformations. Leave that to the pros.
Bridal salons are bracing for a new normal — here's what to expect.
Have questions about your wedding gown and shopping amid COVID-19? Thanks to bridal boutiques, we've got all the answers for you.
TLDR? Bridal salons have got your back. From virtual appointments to at-home try-on options, boutiques are making dress shopping possible and personalized in the time of coronavirus.

Spoiler alert: not in plastic.
Professional hair and makeup artists tell us exactly what not to DIY while we're all stuck at home away from our salon and beauty experts.
Get yourselves computer-camera ready for your virtual bridal shower or minimony with this advice straight from the pros.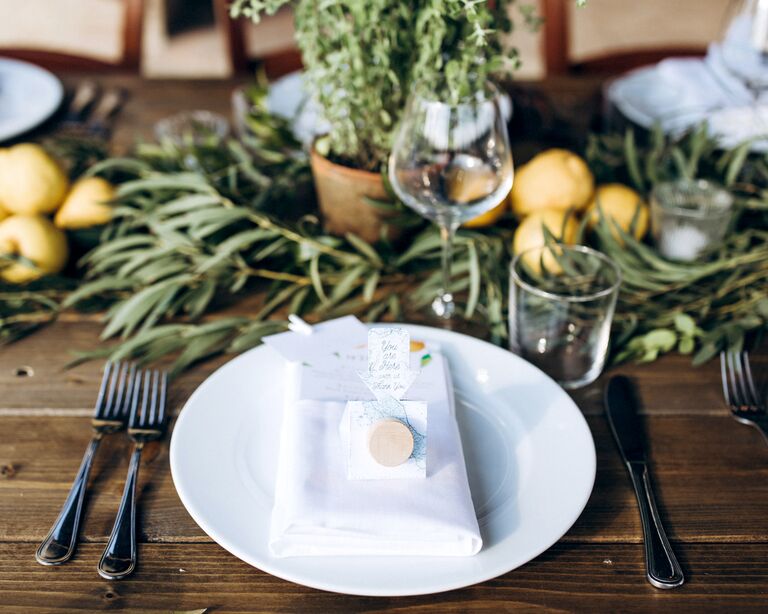 For The Wedding Guests
With hundreds of thousands of weddings impacted by the coronavirus, tens of millions of wedding guests are likely asking very similar questions about next steps. Our editors outline what to say, what not to say and how to address even the most commonplace (though head-scratching) questions like registry etiquette if a wedding was postponed.
As a friend or family member, the most important thing you can do is show support.
If your friend or family member had their wedding impacted by COVID, show them your support with a gift that says you're thinking of them.
Couples themselves are having to scramble and make new plans amid the pandemic, so what's a wedding guest to do? Here, a handy etiquette guide for those guests who have a wedding on their calendar in the coming months.
Where do wedding gifts fall in all of this? We know there are a ton of questions surrounding gift and registry etiquette — here, we dig into the answers.
While hugs and coffee dates might be off limits due to social distancing, being there for a friend isn't. Here's how to show some kindness to those people in your life who are dealing with the stress of postponing their big day.
If social distancing has thrown a wrench in your pre-wedding event plans, here's how to still make the to-be-wed in your life feel celebrated. Plus, our favorite virtual bachelorette party and bridal shower games (that are actually fun).
For You and Your Relationship
We have data, we have tips, and we have what you need to power through stay-at-home measures during COVID-19. The editors spoke to numerous therapists for how to strengthen the foundation of your future marriage during this challenging and unprecedented time. Plus, we even came out with a study outlining the main issues couples are facing right now. (It might sound familiar to you.)
Quarantining together isn't exactly easy on the romance.
People are actually feeling stronger in their relationships as a result of social distancing and spending more time together, according to data from The Knot x Lasting State of Relationships Report, but that doesn't mean this time is without struggles. Here's what couples are going through, and how to work through those common issues.
It's time to #takebackthedate in the time of weddings and coronavirus. Here are our favorite ideas for making the day feel special.
Show your S.O. how much your appreciate them during this trying time.
Netflix and chill is great and all, but sometimes you've got to spice things up. (Luxury spa night, hello!)
If you're looking for permission to do a little #treatyoself splurge, this is it.
From discounts, clever services, and even freebies, these are the companies who are really nailing it when it comes to providing relief and spreading a little joy. 
The Shelter-in-Place and Stay-at-Home guidances are putting many couples in closer proximity than normal, which could have an impact on your relationship. 
From Will and Kate to J.Lo and A-Rod, here's how our favorite celebrity duos are keeping the romance alive amid social distancing. Keep these in mind to help inspire your own date night at
"Turns out that my husband knew how to clean thoroughly this whole time."
Social distancing guidelines are in full effect, which means your patience with your S.O.'s crazy loud typing is likely at an all-time low.
There's no better time to start swiping than during the coronavirus pandemic, according to experts.
Additional Stories, Resources & More
If you're in a position where you can help others, here are a few resources for how to help your local vendors, small businesses and beyond. In turn, the wedding industry has been just as diligent about helping local communities. Read these heartwarming tales about how vendors are pivoting production to help the masses, along with stories from real couples who've postponed and gone on to appreciate their relationship even more. 
First things first: Postpone and plan for the future, don't cancel. 
From dress designers and bridal salons shifting to mask production, to venues providing shelter for healthcare professionals, our wedding vendor community is truly an inspiration.
Your wedding pros are always deserving of a little TLC, but especially now during the coronavirus pandemic. Here are our favorite ways to show your vendors some love.
Pop the popcorn and grab your sweats — you've got a very important date with the couch.
The overarching sentiment we've heard from couples is one of gratitude—for flexible vendors, for supportive family and friends, and for their health and each other.
These coronavirus engagement stories are giving us all the feels.
Love is not canceled! Couples around the country are finding creative ways to say "I do" in spite of the pandemic, proving that love will truly always find a way.
Katy Perry and Orlando Bloom have never felt more relatable.
This wedding pro came up with a sweet way to capture love while still following social distancing regulations.
We fully support this.
We can't stop watching this video. Talk about model guests in the time of weddings and coronavirus.
It was a 15-minute commitment ceremony, complete with a bouquet of paper flowers, a lined hospital hallway as an aisle, and a full guest list via Zoom.
References