Exclusive: ESPN's Maria Taylor Reveals Her Wedding Album and More Marriage Details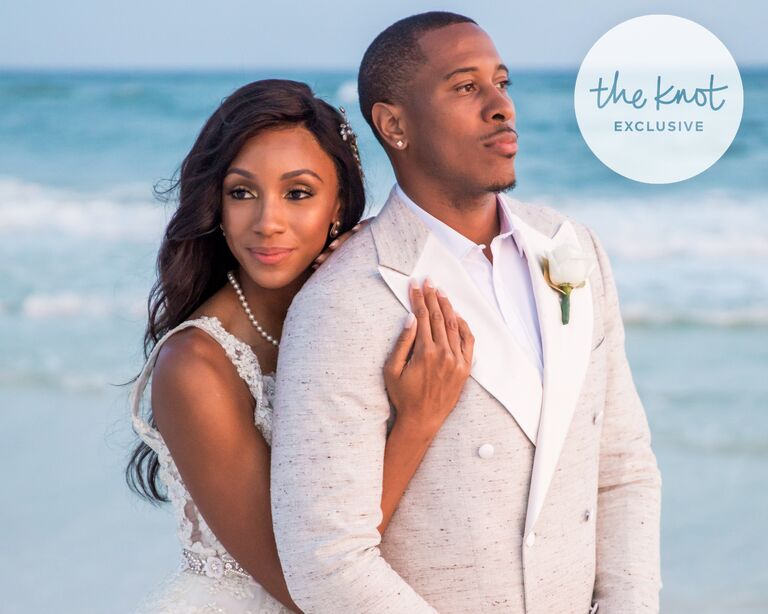 (Rachel & Chris Lauen / Ultimate Production Company)
Maria Taylor has love and basketball to thank. In September 2014, the ESPN analyst and anchor was watching the Charlotte Hornets in North Carolina when a handsome stranger caught her eye in the arena. "Why would we be doing anything else but watching sports?" Taylor laughs to The Knot. "I remember seeing him and telling my friend, 'If we keep coming to these games, I'm going to end up dating him.'"
Interestingly enough, that man, Rodney Blackstock, was commenting about Taylor around the same time. "He was asking his friend whether I played for the WNBA in Charlotte," she adds. "Or, he thought maybe I was there to support one of the guys—I was a girlfriend of a player or something."
The couple connected in the back room of that same Hornets game; he approached her first. "Apparently it was a dare," recalls Taylor. "The first thing he said was, 'You're not as tall as I am.' I was like, 'I don't know if that's a pick-up line,' but it started a good conversation." The two exchanged numbers, then ran into each other again in the parking lot, so they decided to grab food. "We ended up talking in the parking lot until 5 a.m."
In retrospect, Taylor believes it was love at first sight. "I've never had that feeling before, ever, where you just look at someone and you're like, 'That's the one.'"
Eight months later, Blackstock proposed… the first time.
THE PROPOSAL(S)
"It was really fast…" Taylor recalls of the relationship timeline. "His original plan was to propose when we went to Palm Springs because we were going on vacation, but he couldn't wait. He was so anxious… We planned on getting married that June in 2016." A month before they were set to walk down the aisle, both parties felt there were rushing into marriage a little too soon.
"I wasn't ready to be a wife and he wasn't ready to be a husband. We just needed more time," she reflects. "As difficult as it was to break off the wedding, we wanted to be in a better place together—especially when you go through a life-changing event like a wedding."
It wasn't until three years later that the couple's story came together. "Every time something was going good or bad in my life, the only person I wanted to talk to was him," Taylor recalls. "I wanted him to be close to me all the time, I want us to live together. I want to come home off the road and be with him. There was a moment, literally around the Super Bowl this year, that we were just like 'Forget it. We're just going to get back together.'"
It was in those moments of assurance that the couple knew they would marry. "I still had the dress and he still had the ring. We called my parents in February and were like, 'Hey, we're together again and we're working towards marriage. It might be a really fast wedding because [this time], we don't need to figure it out. We know we love each other. So, just get ready.'"
A second proposal took place during a hike in L.A. "At the end of it, he was like, 'We're just go have a picnic.' He had all this stuff packed up. Then he starts getting into this long soliloquy speech about why he loves me and why he's so happy that we're going to be together forever," she recalls. "He pulls out the ring again, and it was the same happiness I had when I first saw the ring. It all came flooding back."
THE RING
Blackstock proposed with a floral-inspired ring featuring a halo. "I didn't grow up like I want this kind of ring and I want this dress and I want this or that. I was a tomboy, I wasn't even ever thinking of those things," Taylor notes. "When I saw this ring, I fell in love with it. I know nothing about it other than I knew I wanted rose gold and something that shines from every angle."
THE VENUE
The couple exchanged vows at the oceanfront Hilton Sandestin in Destin, Florida. "The reason why I chose it was because we actually had SEC coaches meetings there before," she notes. "So back in 2014, I went out to that same hotel to work, and I was like I really like this location. I like the beach, I like the area, one of my coworkers lived out there. I just kind of stockpiled it away, not knowing that eventually, five years later, we would be getting married there."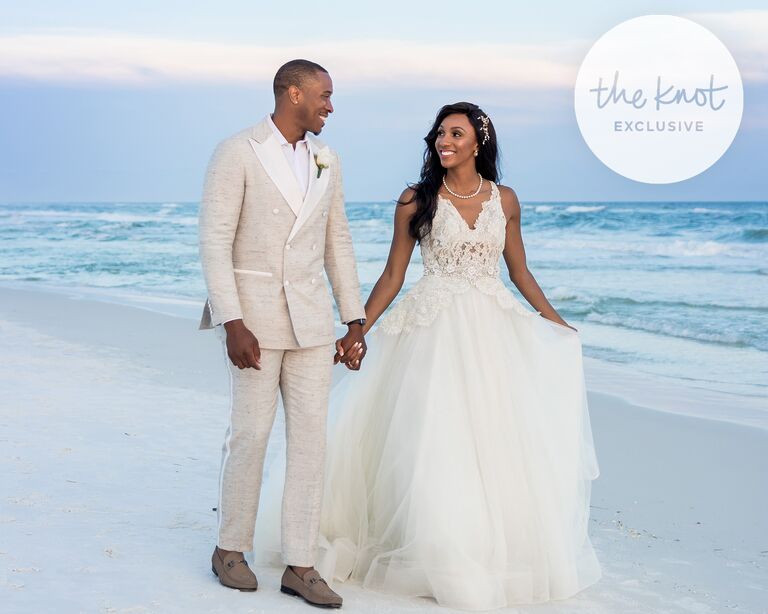 THE INVITATIONS
"I planned this whole thing while I was working the women's basketball Final Four," Taylor recalls. "I sent out an email maybe on March 1, and we got married on May 5."
Due to the tight turnaround, the couple opted for email invitations. "I asked everyone 'chicken or fish?' People were like, 'Is this a joke or is this real?'" The reason for the debacle was simple: "I sent it out on April 1, April Fool's Day," she laughs. "All my friends were like, 'Oh, this is a joke, this is really fun.'"
The couple, meanwhile, had a different response, telling their friends: "The wedding is happening in a month. It's planned. Are you coming or are you not?"
GETTING READY
One of Taylor's favorite memories from the wedding day included family, specifically her dad, who believed she would end up with Blackstock throughout the couple's off-again, on-again relationship. "I gave him his favorite picture of me as a kid and he just thought that was so cute," she recalls of the wedding day. "Then we had our father-daughter dance together and he just breaks down in tears. It was to a Darius Rucker song… As soon as it came on, he was like, 'Why are you doing this to me?' And he starts crying but he said he wouldn't."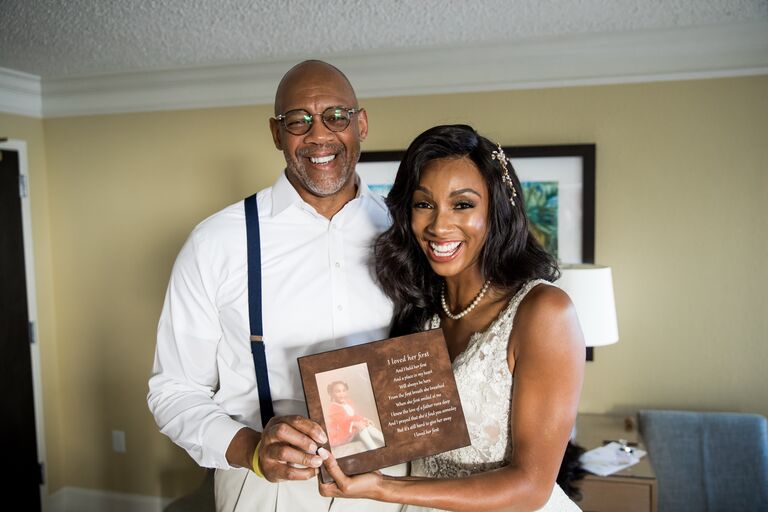 Mr. Taylor believed his daughter would end up with her now-husband for a variety of reasons, one being a simple observation of Maria's disposition with Blackstock. After the couple declared they were working towards marriage the second time, her father remarked: "The one who gives you that sparkle is him and you have not been as happy at all. Nothing is right in your life unless he's in it."
She muses, "I said, 'You know what? I'm going with you, dad.'"
THE DRESS
Taylor wore a gown by Eve of Milady from Bridals by Lori in Atlanta, Georgia. The bride went dress shopping with her mother, hardly ending with the gown she had originally envisioned. "That was not the style at all. If anything, I was thinking something simple with lace and form-fitting—not anything that made me look like a princess," she adds. "My mom was like, 'Please try this dress on. I just want to see you once time looking super girly.' …I tried it on for her. As soon as I tried it on, I think it was the first dress I put on, I was like yes that's it."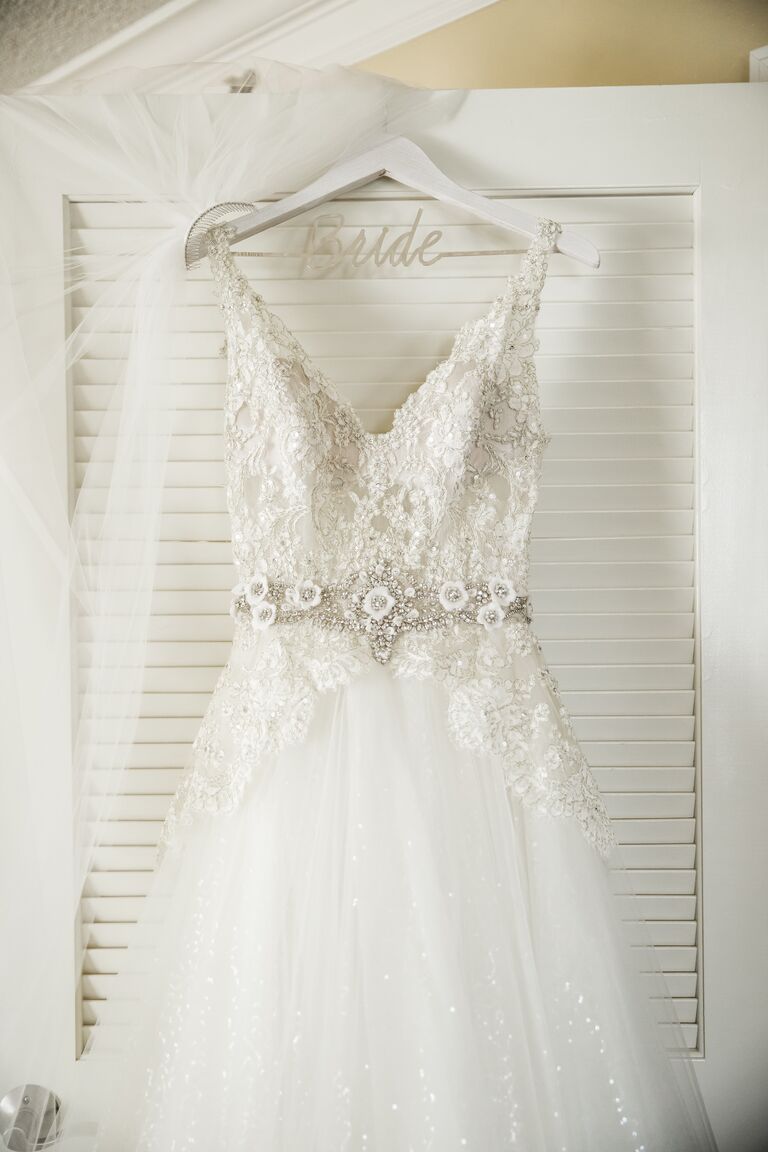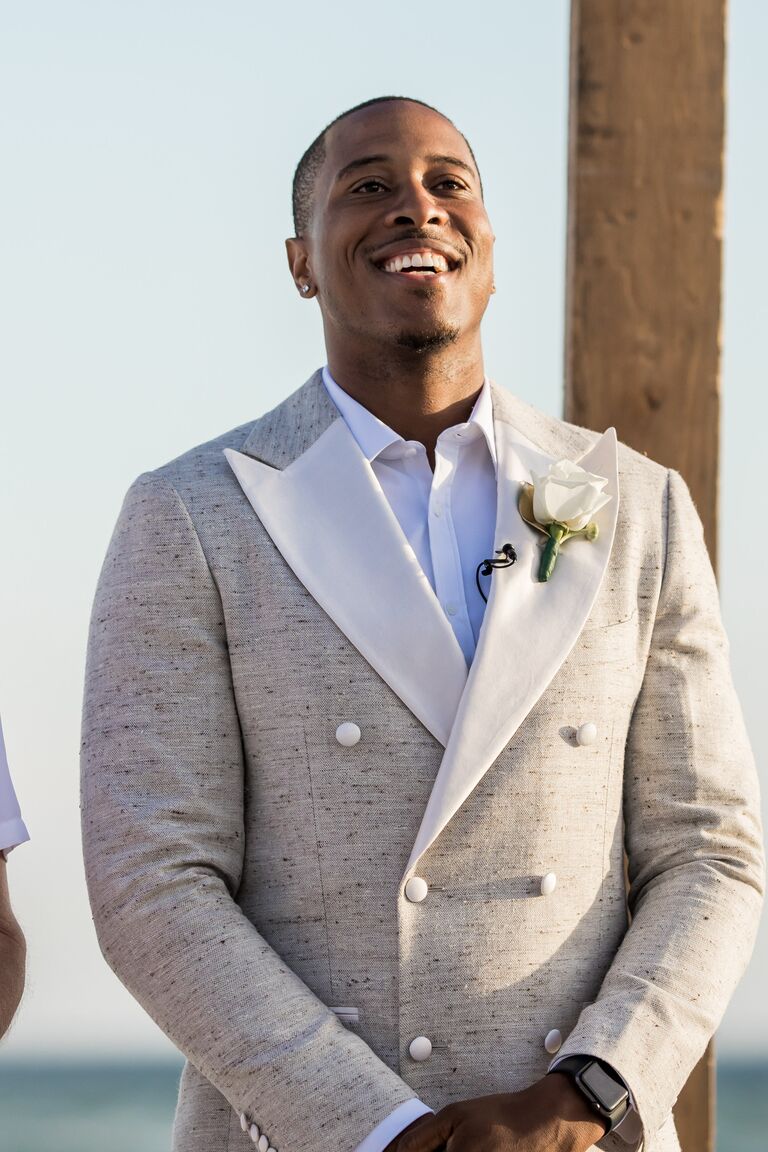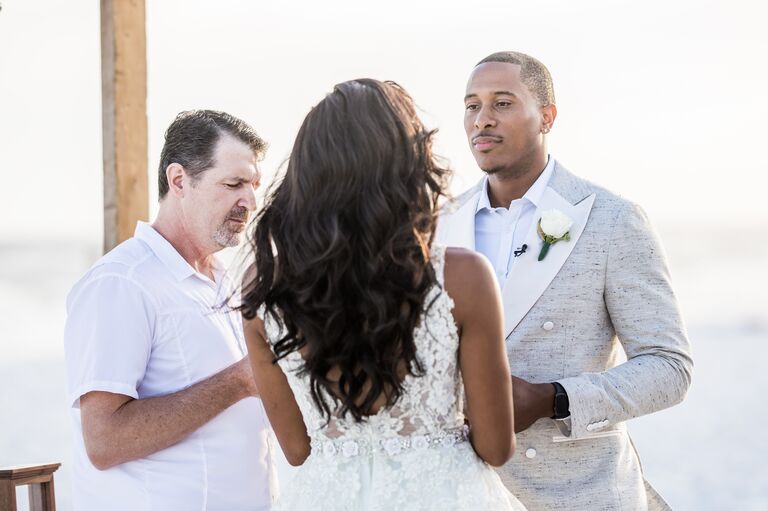 THE THEME
The couple went with a beach theme comprised of all an all-white color scheme. "The original wedding plan was to go up to an orchard, it was a winery in Georgia," she says of her former wedding vision. At the time, however, Taylor was overlooking what she wanted.
"From the beginning, I knew I wanted a beach wedding so I'm thankful looking back that this is how everything turned out," she muses. Case in point: the couple opted to join their lives together with sand during their beach wedding. "I always thought that the sand unity ceremony was something beautiful that you can keep," she says. "It just becomes a keepsake that we can put in a curio cabinet or have with our wedding china. That was important to me that we made sure to do that."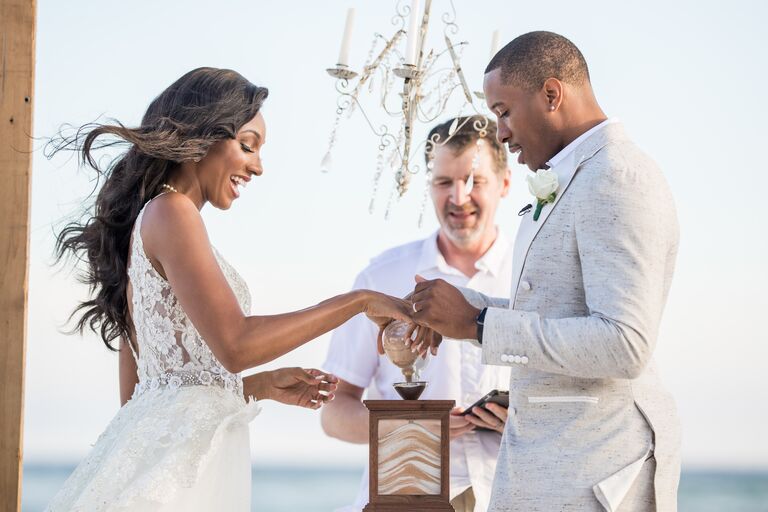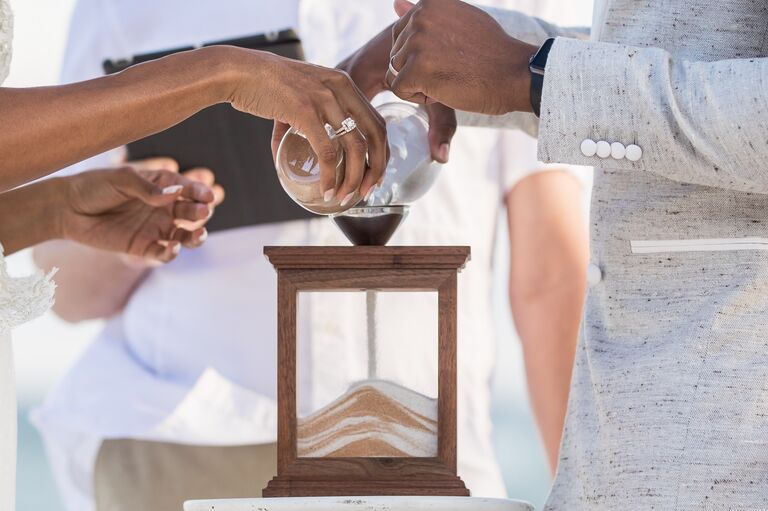 When it came to wedding colors, Taylor kept it simple, telling her wedding planner (Kristi Purvis of Kiss the Bride Weddings) that she wanted everything to be white. "I was like, 'Maybe you can add gold if you want, but that's about it,'" she adds.
HOW THEY MADE TRADITION
Along with the sand unity ceremony, the couple managed to honor family members in numerous ways on their wedding day, modernizing traditional elements of the wedding with a new twist. "My parents have been married 35 years, so they had a custom napkin from their wedding… We made sure that [those lucky pieces were] at our sweetheart table."
The bride's "something old" was a family heirloom. "I wore my grandma's pearls," Taylor notes. "She passed away right after I graduated college—back in 2010—but she played a big role in my life. I had her pearls on and her earrings which was important. We had small touches like that."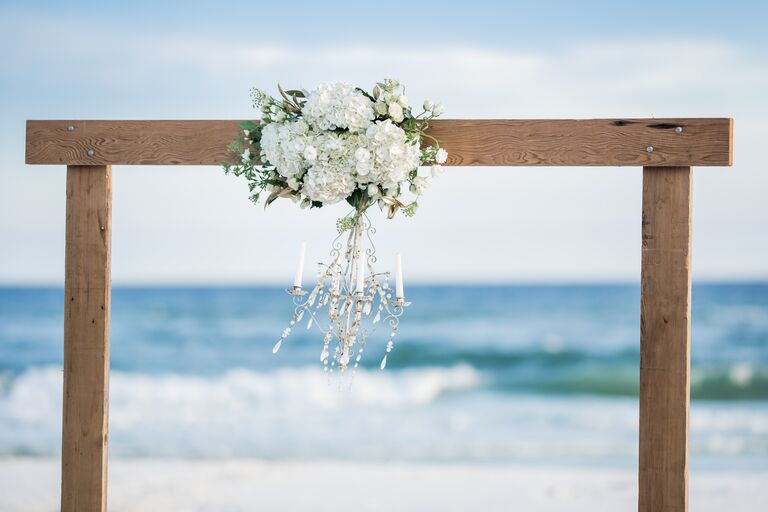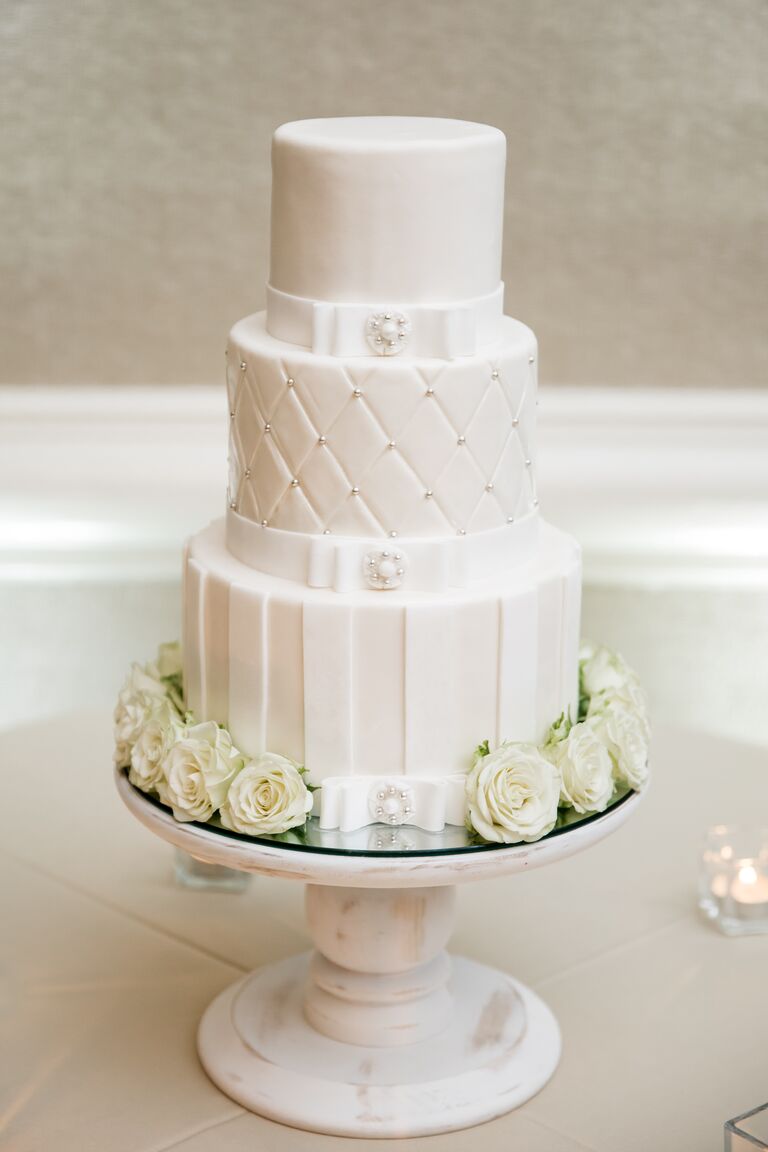 THE TAKEAWAY
If there's one piece of advice Taylor can ultimately impart on couples planning their weddings, it's simply to do what you want. "The first time around, I did a lot of the things that I thought other people would like and enjoy," she expresses. "For this wedding, I was like: 'What do we want to do? How do we want to remember it?' For me, I want everything to be easy, breezy, and everyone to have a blast. And I feel like those are all the things that happened regardless of whether or not it was the perfect color scheme or the flower arrangement was this and that. It was perfect for us. So, I would say do what's best for you."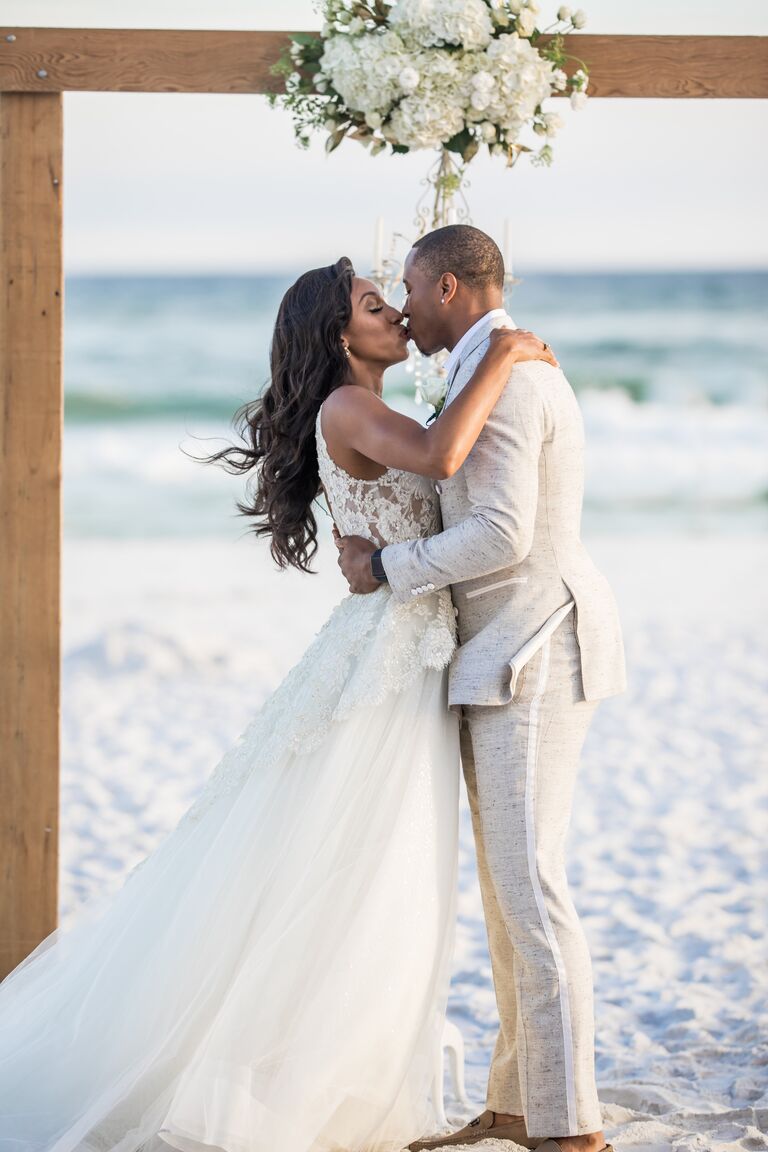 Now that she's married, the sports personality says there has been one big shift in the relationship. "You always knew there was love, but marriage adds this layer of security. We're going through our life together, forever," she says. "The things that I'm not great at or the things that I struggle with, he's super strong in. Even in my family I turn to him sometimes, he has great relationships already with my family. I just feel like, never again will I sit in an apartment or in a hotel room or at a game and feel alone even though I'm surrounded by people, because I know that there's another half of me out there somewhere. He's definitely that other half."