Megan Fox and Machine Gun Kelly Are Engaged: See The Proposal
The rocker wedding of the year is imminent.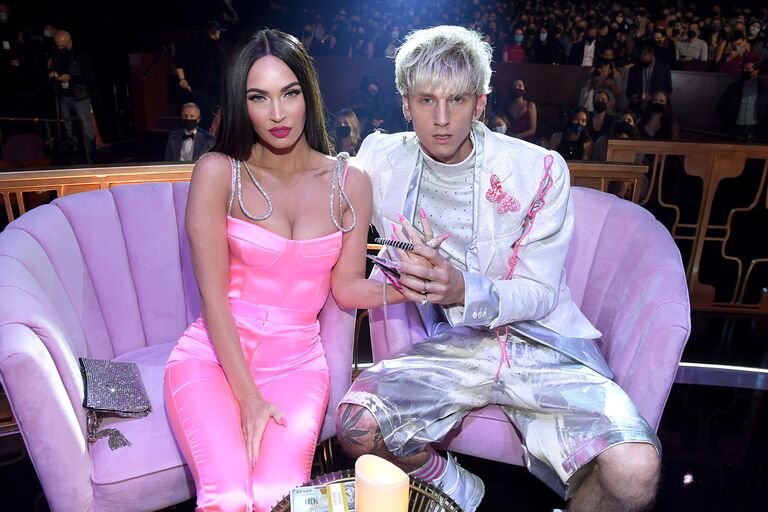 Kevin Mazur / Getty Images
Megan Fox and Machine Gun Kelly are engaged and planning a wedding. The couple made the announcement via social media on January 12.
"In July of 2020 we sat under this banyan tree. We asked for magic," the Transformers star wrote. "We were oblivious to the pain we would face together in such a short, frenetic period of time. Unaware of the work and sacrifices the relationship would require from us but intoxicated off of the love. And the karma."
Fox's Instagram post was accompanied by a video of the sweet moment when the rocker proposed. "Somehow a year and a half later, having walked through hell together, and having laughed more than I ever imagined possible, he asked me to marry him," she added. "And just as in every lifetime before this one, and as in every lifetime that will follow it, I said yes."
In true Fox and Kelly fashion, she added: "…and then we drank each other's blood."
The couple started dating at the height of the pandemic. They fueled engagement buzz alongside close pals Travis Barker and Kourtney Kardashian, who just happen to be planning a wedding, as well. Below, learn more about Megan Fox and Machine Gun Kelly's soulmate connection, their full love story and more details.
How They Met
The couple first met at a GQ party in LA though neither remembers the true interaction. "This weird thing happened. We didn't see each other," Fox said to Kelly in their joint GQ UK October 2021 cover story "I don't remember your face... And I definitely would have remembered his face. I just remember this tall, blond, ghostly creature and I looked up and I was like, 'You smell like weed.' He looked down at me and he was like, 'I am weed.' Then, I swear to God, he disappeared like a ninja in a smoke bomb.'
Several years went by until they met again in 2020. This time, Fox and Kelly (real name Casie Colson Baker) were on set of the action movie Midnight In The Switchgrass. The faces clicked then. "I think we weren't allowed to see each other yet. We weren't supposed to run into each other that night, so our souls, our spirit guides, were luring us away from each other, because you literally had no face, like that thing from Spirited Away. It is hard to see his face in general, but really he had no face that night," Fox said as she turned to her partner. "Thank God, [because] what torture had I known you were there and I couldn't get to you. It was better that I didn't know."
How They Fell In Love
Both Fox and Kelly share children from previous relationships. She was married to Brian Austin Green; Kelly shares a daughter with his ex, Emma Cannon. Neither was anticipating the depth of connection they shared due to their previous traumas.
"'No, no, no. It's, like, because you've been around the world and experienced so much s—t, you think you know everything. And then you are in the arms of your destiny and realize "I don't know s—t yet". That's when the adventure starts, right?'" Kelly said in the same interview.
"I think I had either put myself in, or allowed other people to put me in, this weird box that didn't quite fit me, where I hadn't lived my own life as myself for a really long time," Fox reflected. "The parts of me that were always eccentric or strange and didn't belong within my own family unit or within Hollywood."
Their first date involved Kelly's 1974 Cadillac convertible, a picnic, a "sea of roses" and Ella Fitzgerald. Together, they drove down Sunset Boulevard, where they made their way to the rooftop of the Roxy Theatre. "We went to the roof and played pop-punk and made out," MGK said.