All the Details About Kourtney Kardashian's Wedding to Travis Barker
The couple had three ceremonies around the world in 2022, from Las Vegas to Portofino.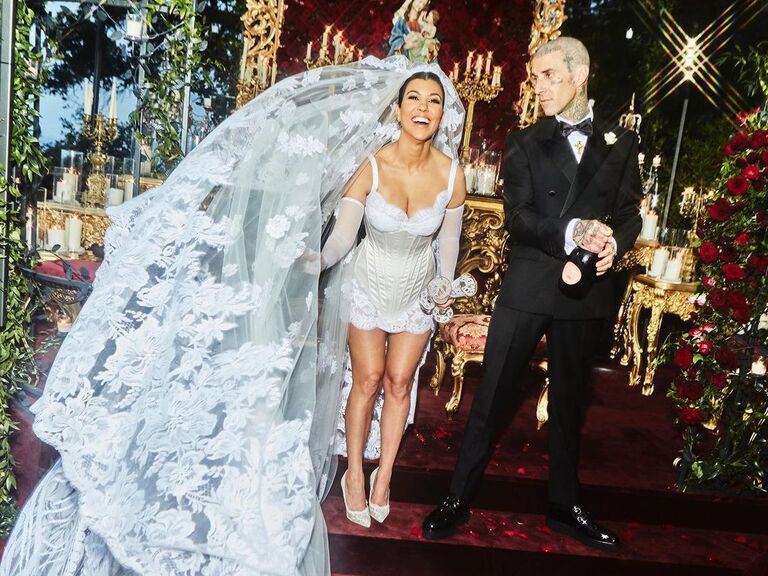 @kourtneykardash/Instagram
Can you keep up? New details dropped about Kourtney Kardashian's wedding to Travis Barker, and we can't get enough. The couple—endearingly called Kravis by fans—got married three times in 2022: first, at a Las Vegas Chapel in the middle of the night; legally, at a Santa Barbara courthouse; and again in an Italian castle. The couple gave fans a behind-the-scenes peek into their nuptials in the documentary 'Til Death Do Us Part, which began streaming on Hulu and Disney+ on April 13. Here, we divulge all the new secrets we learned about Kourtney and Travis' wedding, along with their engagement and relationship details.
In this article:
Kourtney and Travis' Wedding Details Revealed in Hulu Documentary
Thought you already knew everything about Kourtney Kardashian's wedding? Although the celebrations played out in real-time on social media, not everything was captured on Instagram Stories. In April 2023, Kravis shared an intimate look inside their three wedding ceremonies, giving an up-close and personal recap of all the festivities. When asked if they each had a favorite wedding, Travis replied, "It's like choosing a child—I can't pick the best one. Vegas was like our wild, rockstar wedding. Santa Barbara was as traditional as everybody else's wedding could have been." Kourtney added, "And then Italy was really romantic and classic."
Here are the biggest takeaways we learned about Kourtney and Travis' wedding from their Hulu documentary.
The Couple's Las Vegas Officiant Called Kourtney "Khloe"
Starting things off on a memorable note, the documentary opens by detailing the couple's Las Vegas elopement, which took place around 2 a.m. on April 4, 2022, just after the Grammy Awards. The couple jetted off to Sin City for an unofficial vow swap presided over by an Elvis impersonator. The only problem? He called the bride by her sister's name during the ceremony. "Travis, repeat after me," the impersonator said in a clip. "I, Travis, take you, Khloé, to be my wife."
The bride took in stride, bursting out into a fit of laughter. "I'm going to cry, you guys. I'm going to cry," she said as she fell to the ground. "We need to FaceTime Khloé. She's going to literally die."
Travis Barker Jumped off a Yacht to Calm His Wedding Nerves
Fast forward to Kourtney and Travis' Italian wedding, where we learned that the groom had an unconventional way of calming his prenuptial nerves. While Kourtney was busy getting ready, the groom headed off to a yacht for a dip in the ocean. "Because I was nervous, and I knew it was like, the wedding day, I went and like, jumped off like the roof of a boat, like less than an hour before we got married," he recalled. "'Cause I just wanted to do something, I just wanted to like, not like, sit around thinking about it." Looking back, he said the adrenaline-packed moment was "so fun."
Kourtney Received Her Dad's Wedding Ring from Kris Jenner
Raunchy details aside, Kourtney Kardashian shared a few sentimental moments from her wedding too. She opened up about the difficulties she faced getting married without her father, the late Robert Kardashian, by her side. She even revealed that her mother, Kris Jenner, gifted her Robert's wedding ring the night before the Portofino ceremony. "When my dad died, I remember thinking, 'I never want to get married because my dad isn't there to walk me down the aisle,'" Kourtney said. "And so that gift meant so much."
She went on to say that her dad's memory helped calm her as she walked down the aisle. "My dad would've loved Travis and Travis reminds me so much of my dad in the weirdest ways… " she explained. "I felt his presence and a sense of calm. It felt so good and calm… like, I'm ready and it just felt perfect."
The Groom Gave an Emotional Reception Speech
Closing out Kourtney and Travis' wedding was a raucous party at Villa San Bartolomeo, part of the property owned by Dolce & Gabbana (who hosted the event). Amid an evening of drinks, multi-course meals and a performance by the couple's close friend Machine Gun Kelly, Travis Barker grabbed a microphone to give a heartfelt speech to his bride.
"Thank you, Kris, for giving me Kourtney's hand in marriage. Robert, I know you're here in spirit and so proud," he said. "Thank you to all our families and guests that are here with us tonight. Such a special moment for both Kourtney and I, and we appreciate you being here. You guys all mean so much to us." He continued, "We're all here because I fell in love with my best friend. Kourtney, my heart and soul knew you were the one way before the sense of home I felt anytime I was around you was undeniable. The last year and a half has been magical. I love your eyes, your smile, your laugh, your sense of humor. Everything about you. Kourtney, you are the love of my life, and I can't wait to spend forever together."
Kourtney Kardashian's Wedding Dresses
Kourtney Kardashian's wedding dresses were, without a doubt, unforgettable. The bride wore numerous Dolce & Gabbana looks during her Italian wedding weekend, starting with a sheer maroon bodycon arrival dress paired with a fuzzy wrap around her shoulders. She was later photographed wearing an archival bustier-style black mini dress with an image of Mother Mary on the front, which she accessorized with black gloves and a sheer black veil lined with blue lace trim.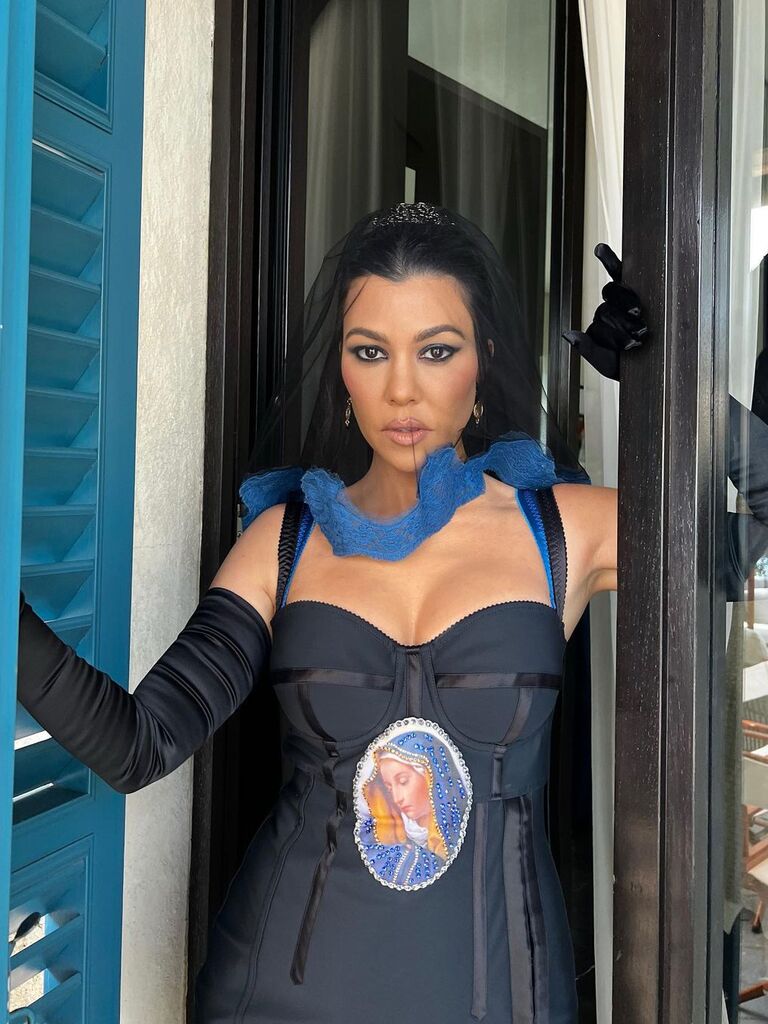 For the wedding ceremony, the bride donned a one-of-a-kind silk lace and satin mini dress—but the standout detail was her dramatic hand-embroidered veil. The brand's Instagram page revealed that the headpiece, which featured a large depiction of the Virgin Mary and the words "family loyalty respect," was inspired by one of Barker's tattoos. She completed the look with white gloves and white lace pumps. The groom, for his part, wore a bespoke double-breasted jacket with peaked lapels and classic trousers in superfine Italian black wool with tuxedo details in black silk satin.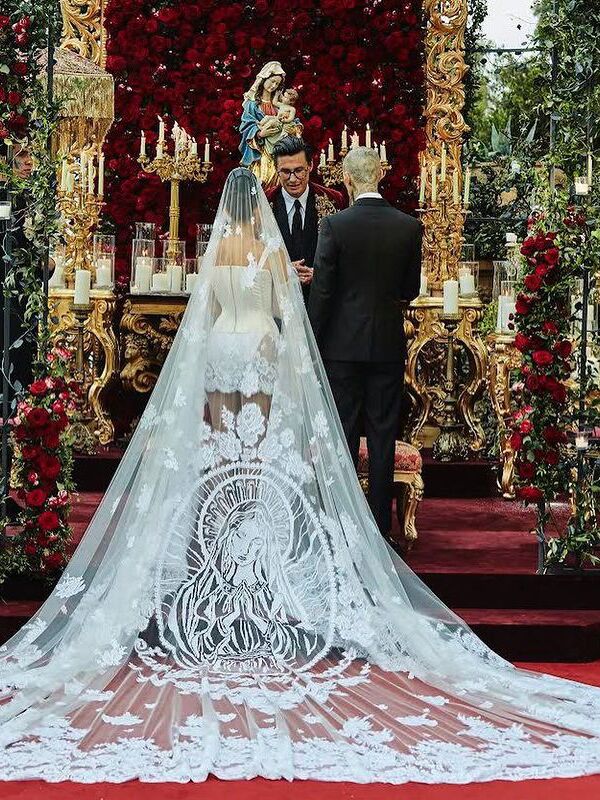 Following the ceremony, Kardashian changed into a black lace mini reception dress with matching black lace gloves and stockings.
A few days before the Italian fête, the couple were legally married at a Santa Barbara courthouse in front of an intimate group of guests, including Kardashian's grandmother Mary Jo "MJ" Campbell and Barker's father, Randy Barker. The bride donned a vintage-inspired white mini dress with an embellishment on the bodice, and she wrapped a long white veil around her head. Barker kept his look simple with a black-on-black outfit.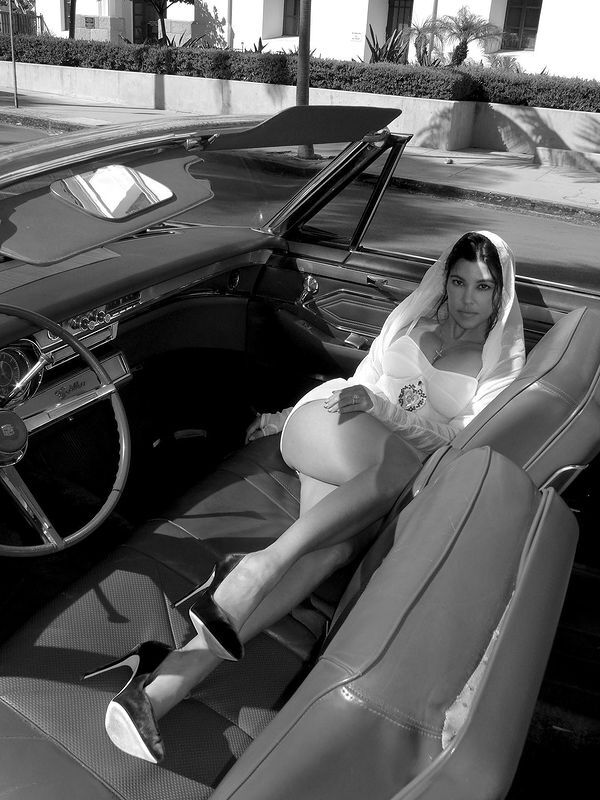 Kourtney and Travis' Wedding in Italy
Kourtney and Travis' gothic Catholic wedding ceremony and reception, which took place at a historic Italian villa and castle, respectively, were hosted by luxury fashion house Dolce & Gabbana. The brand dressed the bride and groom, along with their closest family members, including Kourtney's sisters Kim, Khloe, Kendall, Kylie and mom Kris. The weekend-long festivities kicked off with a welcome dinner on Friday, where guests enjoyed a classic Italian menu with handmade pasta, seafood, and coffee parfaits. The couple was spotted lounging on a boat and soaking up the sun ahead of the event kickoff.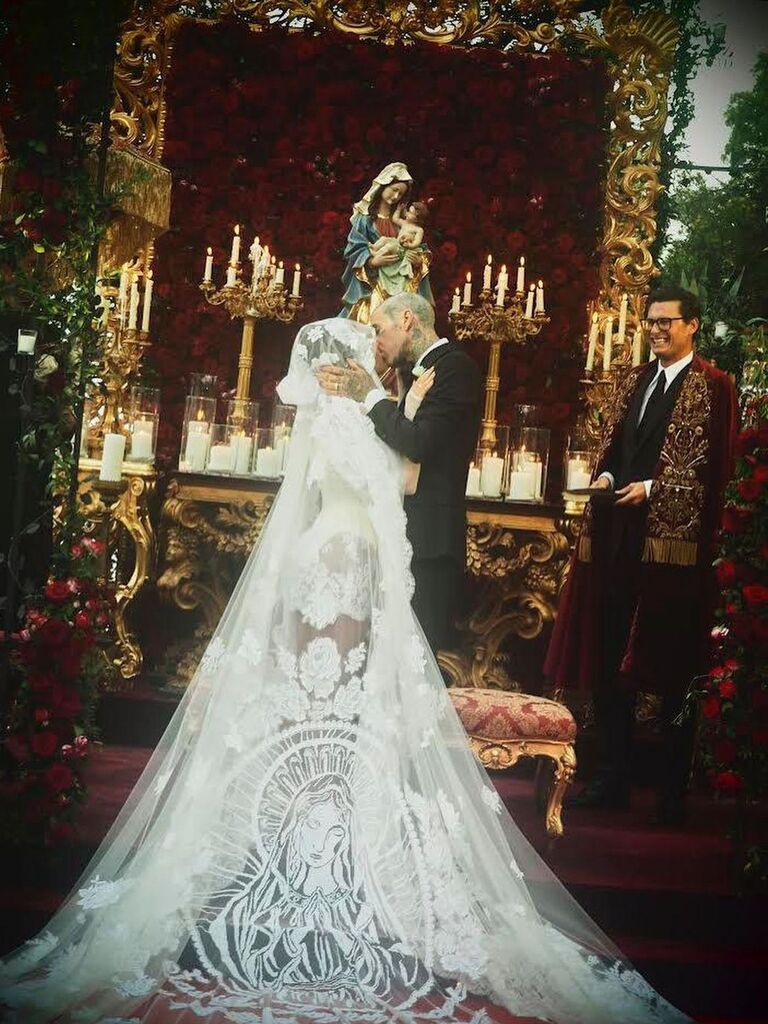 The groom's daughter, Alabama, shared a series of Instagram Stories that gave a glimpse into the after-party, where guests danced to music from Beyoncé, the Jackson 5, and Barker's own band Blink-182. The couple's close friend Machine Gun Kelly sang a song to the newlyweds while his fiancée Megan Fox looked on. Also in attendance were the Kardashian kids, including Kourtney's three children with ex Scott Disick, along with her nieces and nephews.
Kourtney and Travis' Las Vegas Elopement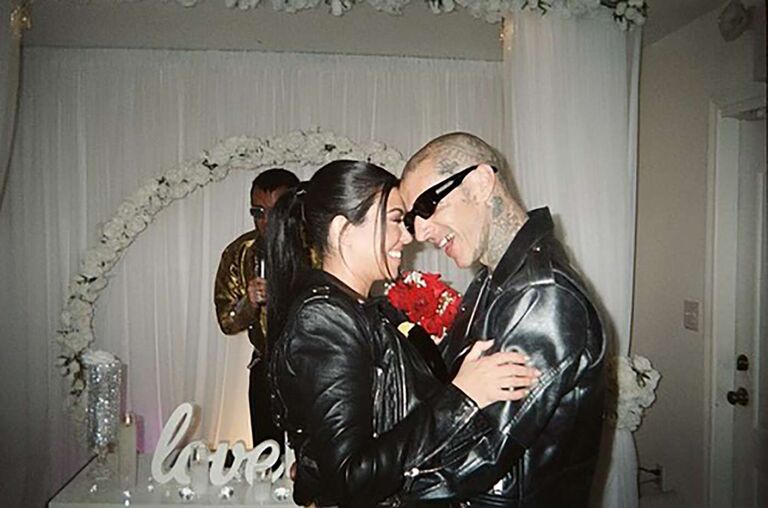 Prior to their official ceremonies, Kourtney Kardashian and Travis Barker first got married around 2:00 a.m. on April 4 in a Las Vegas chapel, shortly after the drummer performed at the Grammy Awards. The duo opted to have an Elvis impersonator preside over the ultra-private nuptials, which was deemed as a "practice" run since they didn't have a marriage license. Kardashian shared a slideshow of photos from the microceremony on Instagram, writing, "Once upon a time in a land far, far away (Las Vegas) at 2am, after an epic night and a little tequila, a queen and her handsome king ventured out to the only open chapel with an Elvis and got married (with no license). Practice makes perfect."
Kourtney and Travis' Engagement
In October 2021, Travis Barker proposed to Kourtney Kardashian at sunset in Montecito, California, preparing a voluminous display of red roses likely installed by Kardashian family florist Jeff Leatham. (Montecito continues to make headlines as celebs like Oprah, Ariana Grande and Meghan Markle are residents in this exclusive enclave of Coastal California.) Following his declaration of love, Barker arranged a private dinner with their family members and close friends. "Forever," they each commented on social media.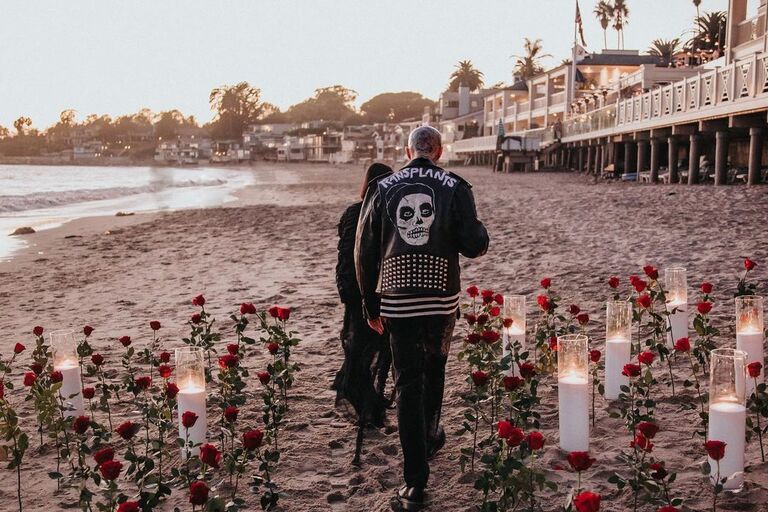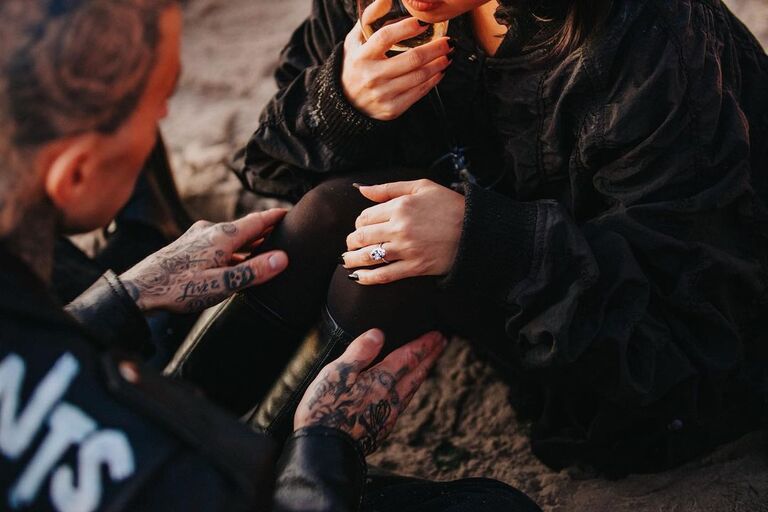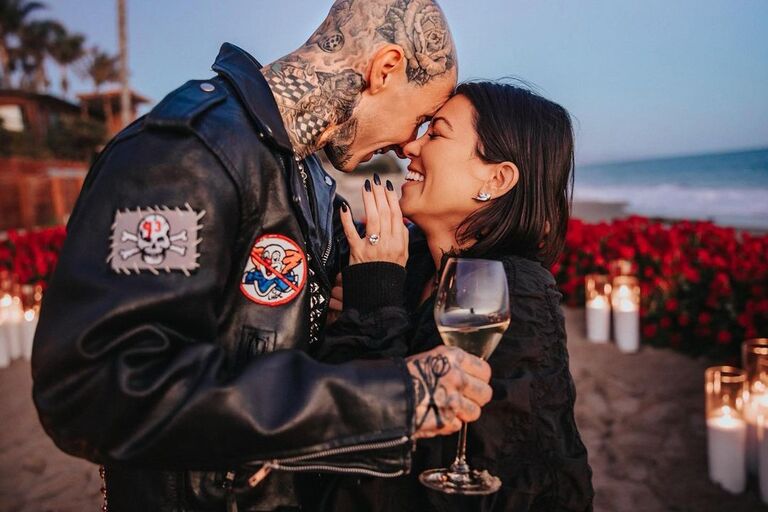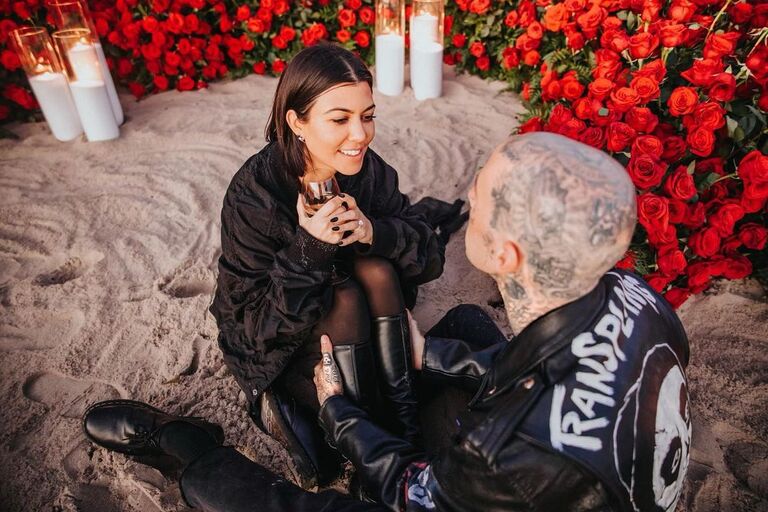 A few days after the proposal, Kardashian shared a few intimate snapshots from Barker's proposal. "I woke up all night thinking it was a dream," she wrote.
Kourtney Kardashian's Engagement Ring Details
The rocker popped the question with a massive oval engagement ring. Kourtney Kardashian's engagement ring was designed by celebrity jeweler Lorraine Schwartz (also the go-to Kardashian family jeweler), and her bauble is estimated to hover at around $1 million in value. The piece, according to several experts, is at least 10 carats in size. "The ring looks to be a large solitaire oval diamond ring with a pavé band," notes Lily Raven of Corvo Jewelry. "The main stone looks to be at least 10 carats. The setting might be a delicate hidden halo, but I'd guess it's a discreet prong setting… to allow the stone to be the main star."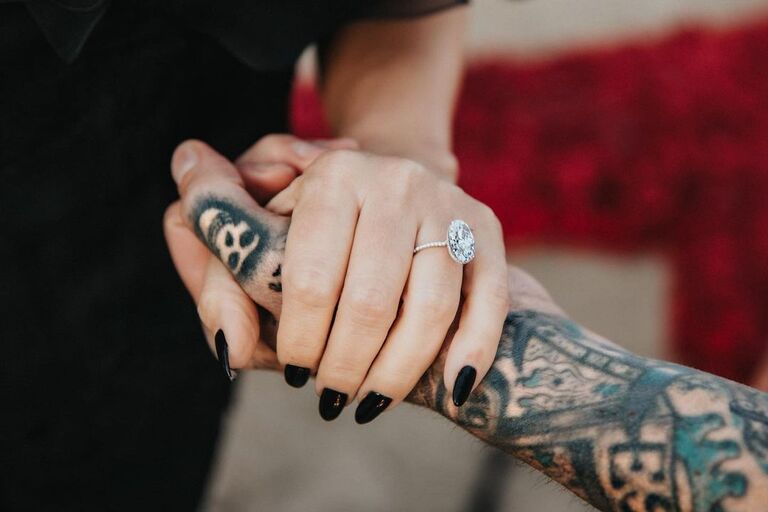 "It's a beautiful hybrid between classic and modern styles, blending the two in a bold way," says Kamal Patel of KAMAL. "There seems to be a hidden halo setting or a pave around the Oval."
Lindsey Scoggins of Lindsey Scoggins Studio says the diamond is displayed within a classic, four-prong setting. "It appears to be a very delicate pave band," she explains. "This type of ring is for a couple who focuses on quality and what kind of investment they are making in a significant heirloom. The center diamond gets all the attention so it should be very well cut to really sparkle."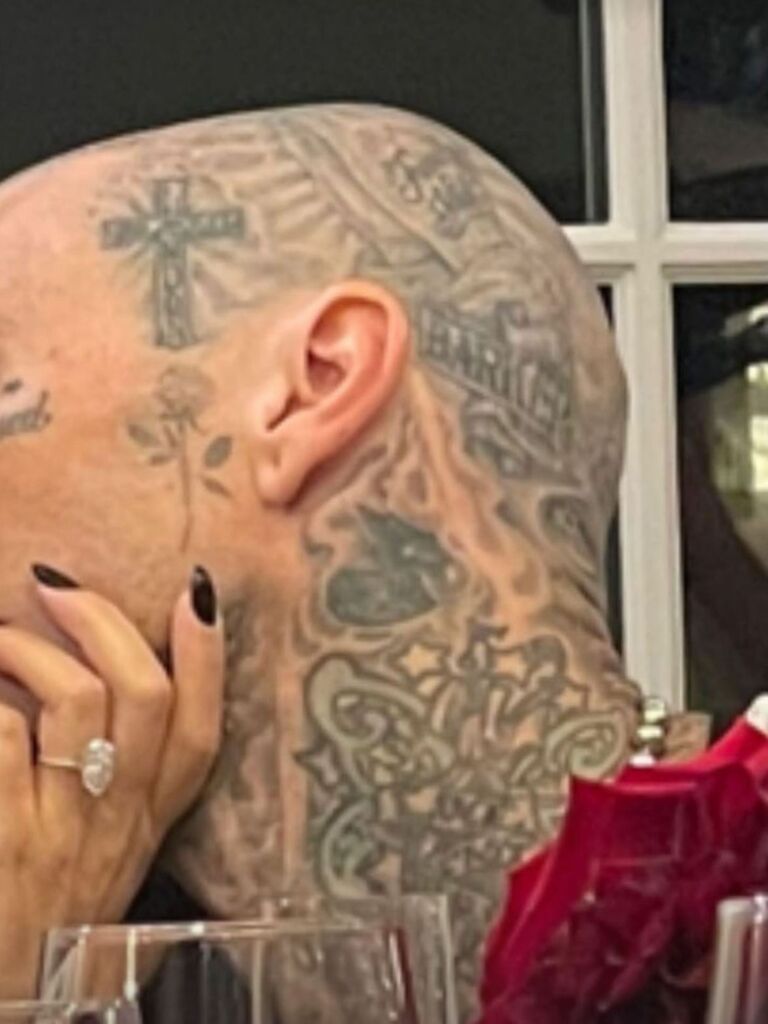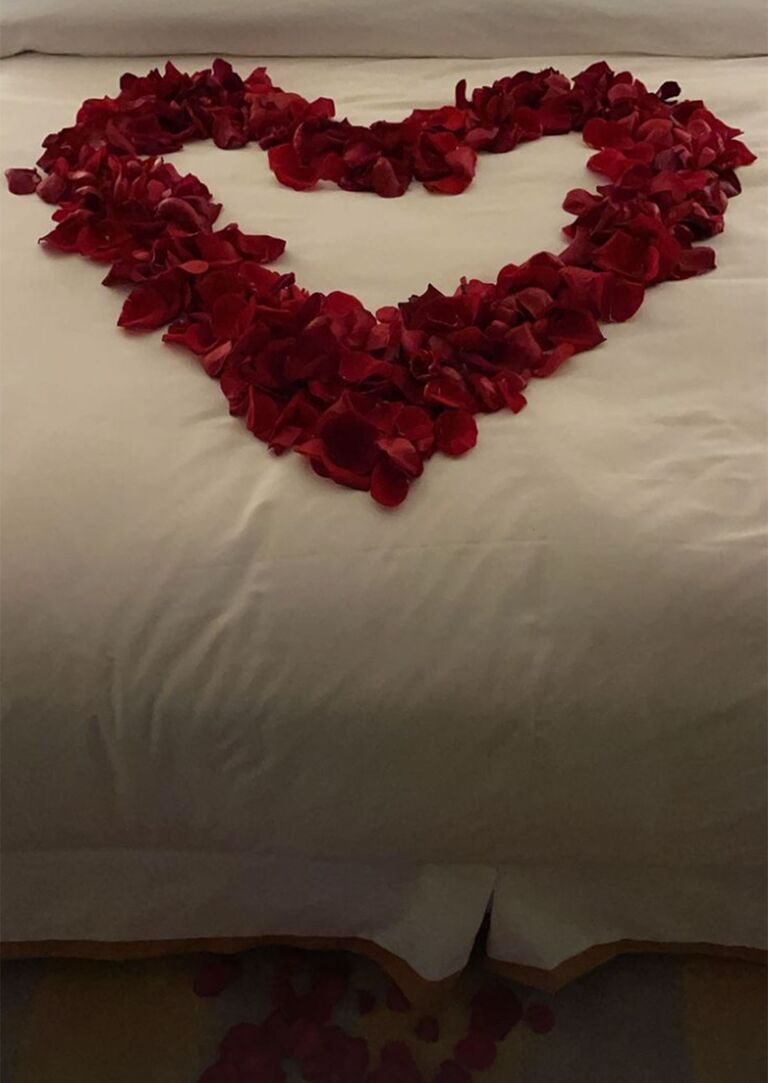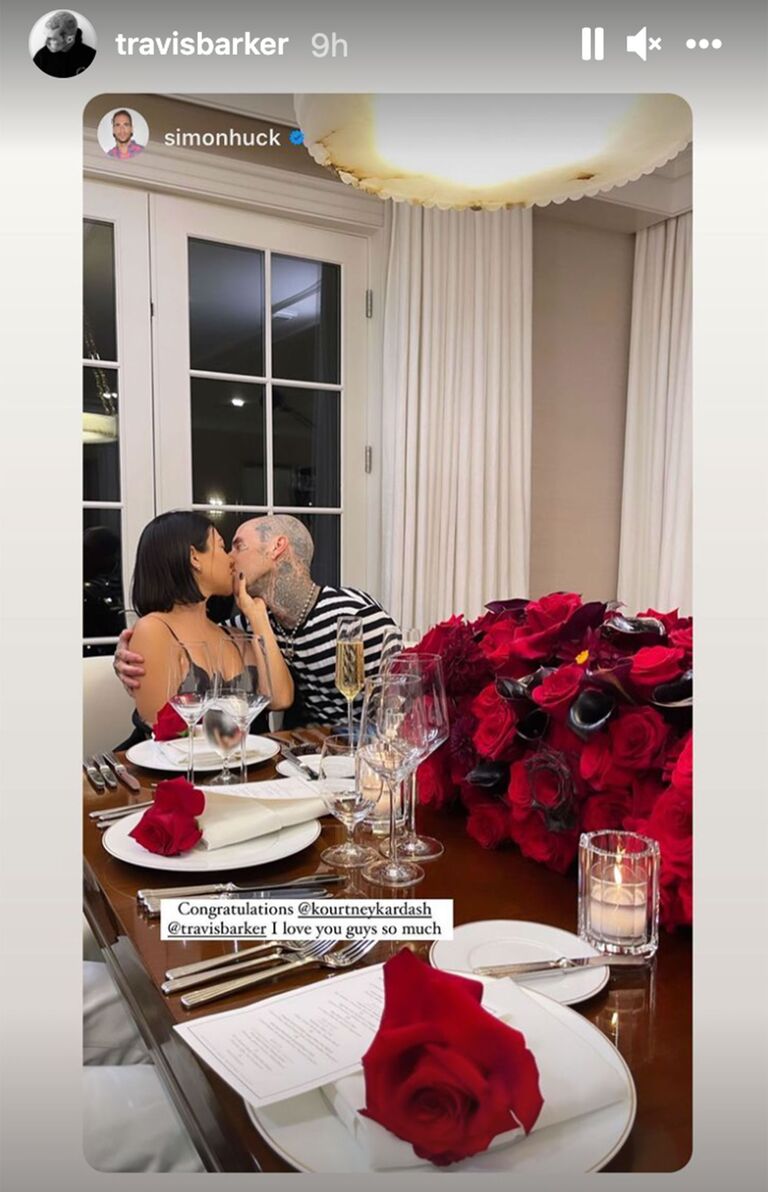 Inside Kourtney and Travis' Relationship
Kourtney Kardashian and Travis Barker sparked engagement rumors for quite some time within their one year of dating. "They are head over heels and never experienced love like this," a source told E! News early in their relationship. "Kourtney is the happiest. Travis adores her and treats her so well. It's very different than her other relationships and all positive."
"Kourtney and Travis have talked about marriage," another insider told the same network. "It was an instant connection and bond ever since they became romantically involved… They are in it for the long haul."
Prior to Barker, Kardashian notably dated Scott Disick, with whom she co-parents three children, Mason, Penelope and Reign. The couple ultimately went their separate ways due to Disick's addiction issues, which was a big topic on the final season of the smash E! reality show. Kourtney was also briefly linked to Justin Bieber and Younes Bendjima.
Barker is a dad of three, including his daughter Alabama Barker, 15, son Landon Barker, 17, as well as his stepdaughter Atiana De La Hoya, 22. He has been married twice, first to Melissa Kennedy and Shanna Moakler. His split from his second wife was temporarily put on hold in 2008 when Barker was in a private plane crash. He and DJ AM Goldstein (who later died from an overdose) were the only survivors, while four others, including two pilots, perished.
Prior to the engagement revelation, Barker was coy about his evolving relationship status with Kardashian in interviews. "I mean, it's everywhere," he told Men's Health in a May 2021 interview. The couple shares a longtime friendship. They first met in 2006 back when Barker dated Paris Hilton.
With reporting by Esther Lee