Inside Rihanna and Boyfriend A$AP Rocky's Love Story
The performers, who recently welcomed their first child together, continue to spark marriage rumors.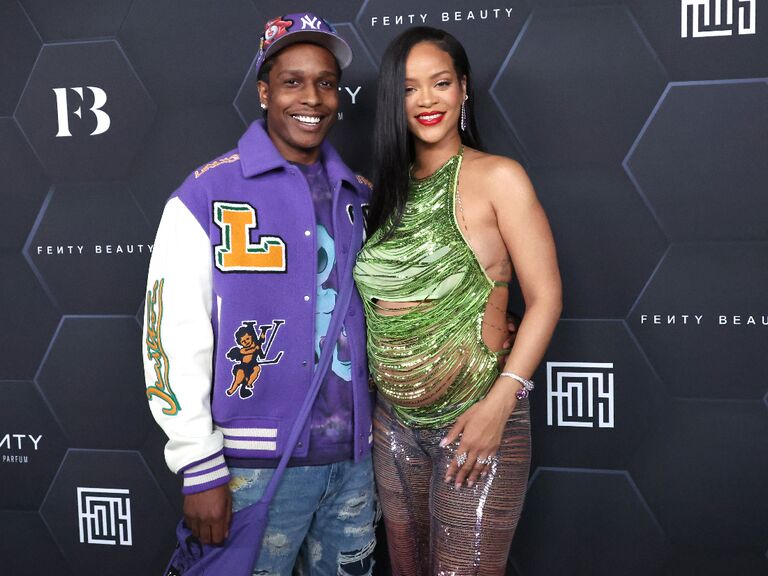 Mike Coppola / Getty Images
SOS, please: Is Rihanna married? If you, like us, always have love on the brain, you might be curious to know about Rihanna's boyfriend and their current relationship status. The Grammy-award-winning singer and entrepreneur is often in the headlines for her barrier-breaking endeavors, like Savage x Fenty and Fenty Beauty, and, most recently, her 2023 Super Bowl Halftime Show performance. While she tends to stay mum about her dating life, fans can't help but wonder: Is Rihanna married? Who is she dating now? Worry not, because we've got the scoop on everything you need to know about her relationship status. Read on to learn more about Rihanna's boyfriend A$AP Rocky, their relationship timeline, and their growing family.
Who is Rihanna Dating?
Rihanna is currently dating rapper A$AP Rocky. The two originally became friends in 2012 when they collaborated on one of Rihanna's singles. Following the song's success, A$AP Rocky joined Rihanna on the US leg of her Diamonds World Tour as an opening act in 2013. After their years-long friendship, they quietly began dating in 2020—though Rihanna and A$AP Rocky never officially commented on their relationship until the following year. Finally, in May 2021, the rapper indicated their seriousness in an interview with GQ, calling her "the love of my life." And while he didn't address when their partnership officially began, he did hint at what's to come. "I think when you know, you know," he said. "She's the One."
Rihanna and A$AP Rocky took their relationship to the next level in 2022 when they became parents to a son in May. A source recently told People that "Rihanna loves being a mom [and] is obsessed with her baby boy."
Is Rihanna Planning to Get Married to A$AP Rocky?
Given their growing family, fans can't help but wonder: Is Rihanna planning to get married to A$AP Rocky? The couple first sparked wedding rumors in 2022 after they seemingly tied the knot in the rapper's music video for his song "D.M.B." Shortly after that, many began speculating that the couple was planning a beach wedding in Rihanna's native country Barbados—though there wasn't any confirmation for the rest of the year. The rumor mill sparked back up ahead of Rihanna's 2023 Super Bowl Halftime Show, with some anonymous sources predicting that the beach wedding would happen after the big game. Only time will tell if Rihanna and A$AP Rocky finally get married—and if they'll share the happy news publicly.
Rihanna and Boyfriend A$AP Rocky's Relationship Timeline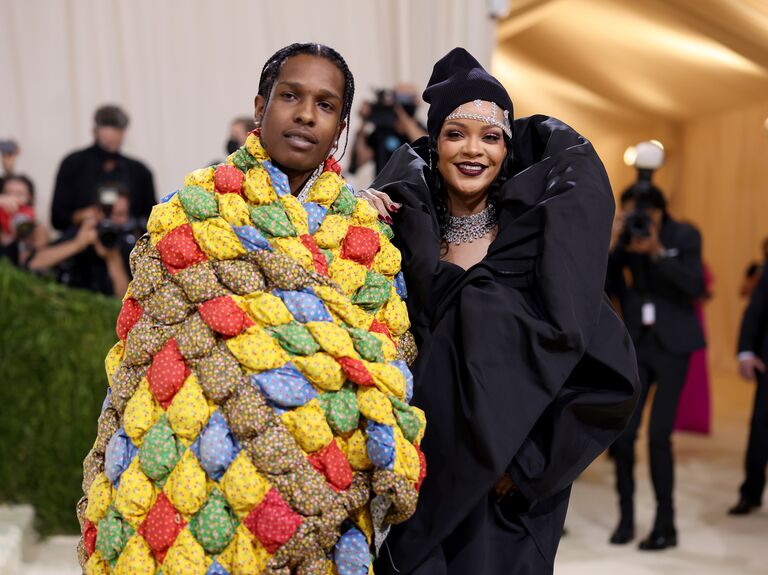 Although Rihanna and A$AP Rocky started out as friends, their relationship eventually turned romantic. Here's a look inside the couple's relationship timeline.
2012: Rihanna and A$AP Rocky Collaborate
We can trace Rihanna and A$AP Rocky's relationship back to 2012 when the rapper was featured on the single "Cockiness (Love It)." After its release, the duo teamed up to perform the song at the MTV Video Music Awards.
2013: A$AP Rocky Joins Rihanna's Diamonds Tour
After the success of their first musical collaboration, Rihanna invited A$AP Rocky to join her Diamonds World Tour as an opening act.
2018: Rihanna and A$AP Rocky Attend a Fashion Show Together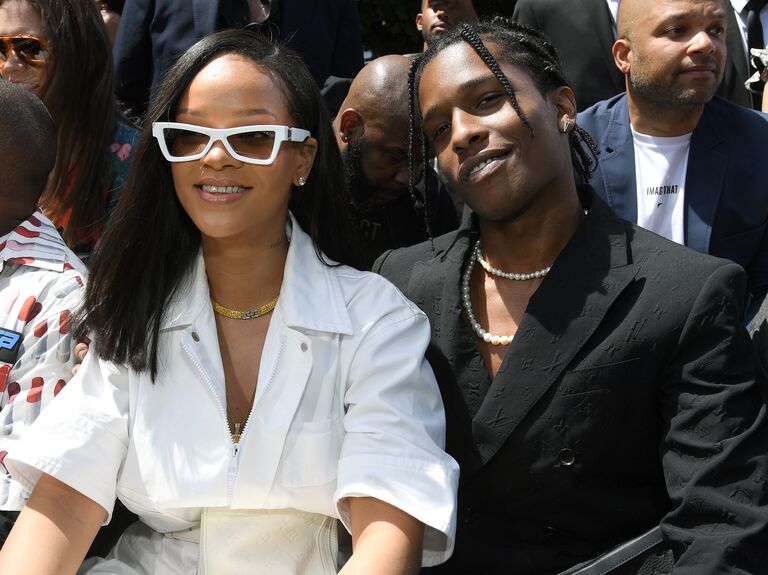 From 2013 on, Rihanna and A$AP Rocky's relationship was platonic as they both dated other people. The friends publicly reunited in 2018, when they sat in the front row of a Louis Vuitton show together during Paris Fashion Week. A$AP Rocky also attended Rihanna's annual Diamonds Ball in 2018 and 2019. At the end of 2019, they walked the British Fashion Awards red carpet together.
2020: Their Friendship Turns Romantic
Around the turn of the New Year, Rihanna split from Hassan Jameel, her boyfriend at the time. Shortly after, rumors began to swirl that Rihanna and A$AP Rocky were romantically linked.
2020: Rihanna and Her Boyfriend Go Public
Although Rihanna remained quiet about her relationship status with A$AP Rocky, they appeared together in a Fenty Skin ad in July 2020, which seemingly confirmed that they were officially dating. One month later, she interviewed him in a skincare-themed YouTube video for GQ. Throughout the rest of 2020, Rihanna and A$AP Rocky were spotted on dinner dates and on vacation in Barbados.
2021: A$AP Rocky Opens Up About His Feelings for Rihanna
In May 2021, A$AP Rocky publicly spoke about his relationship with Rihanna for the first time in an interview with GQ, calling her "my lady" and "the love of my life." He also revealed that a road trip the couple took in 2020—during which they rented a tour bus and traveled across the country—served as a turning point in their relationship. "I met myself," he recalled of the experience. "Being able to drive and do a tour without feeling like it was an occupation or an obligated job agreement, I feel like that experience is like none other. I never experienced nothing like it."
Later that year, sources told People the two were "crazy about each other" and "in it for the long haul."
2022: Rihanna and Boyfriend A$AP Rocky Announce They're Expecting a Baby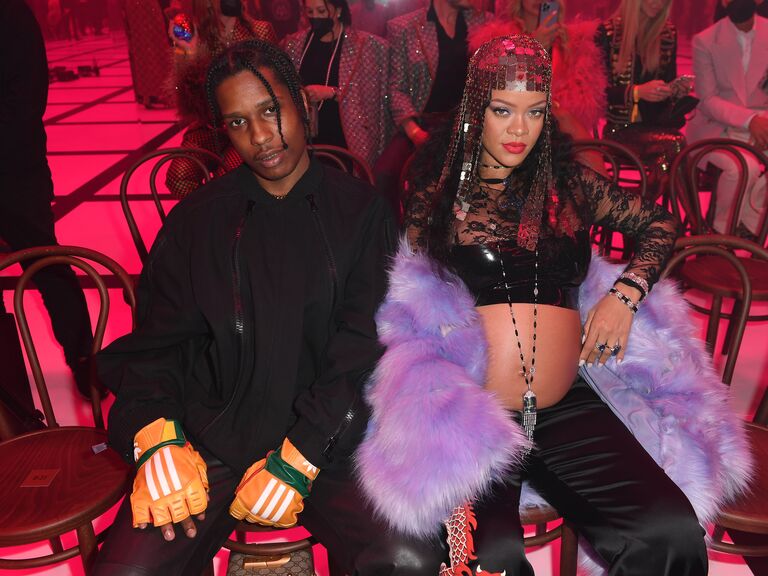 2022 started on a high note for Rihanna and A$AP Rocky. After weeks of speculation, Rihanna confirmed that she was expecting a baby when she was photographed in a pink puffer coat baring her growing bump. The parents-to-be reportedly had a secret "rave-themed" baby shower in March.
One month later, Rihanna graced the cover of Vogue and opened up about her unexpected path to motherhood, noting that she and her boyfriend weren't explicitly trying to grow their family. "Planning? I wouldn't say planning. But certainly not planning against it," she told the publication. "I always thought it would be marriage first, then a baby, but who the f— says it has to be that way. I'm certainly not gonna let that get in the way of me being a mom."
2022: Rihanna and A$AP Rocky's Son is Born
Finally, Rihanna and A$AP Rocky's son was born on May 13, 2022. While the parents have yet to formally share his name, Rihanna did tell the Associated Press in November that they would eventually. "We just didn't get around to it yet really," she said. "We've just been living."
She also told Entertainment Tonight that her son is a "happy baby," adding that mornings are her favorite part of the day with the newborn. "Oh my God, the mornings, like, seeing his morning face!" she gushed. "Seeing a baby with, like, little bags and waking up and they're just, like, startled. They're trying to figure out where they're at. It's the cutest, it's my favorite part of the day."
Although Rihanna and A$AP Rocky continue to prioritize their son's privacy, she shared the very first image of her son in a clip posted to TikTok in December 2022. In the short video, the baby can be seen cooing and smiling at the camera while sitting in his car seat.
What Can We Expect from Rihanna's Super Bowl 2023 Halftime Show?
While we aren't expecting Rihanna to drop hints about her boyfriend, her son or her marriage status during the Super Bowl 2023 Halftime Show, fans are already speculating that the singer will tease long-awaited new music. After all, her most recent album, Anti, was released in 2016. Since then, she turned her focus toward her businesses, including Savage x Fenty and Fenty Skin. Her next musical release wasn't until October 2022, when she sang "Lift Me Up" on the Black Panther: Wakanda Forever soundtrack. Now, though, many are speculating that Rihanna's Super Bowl 2023 Halftime Show will coincide with her ninth studio album.
Who are Rihanna's Past Boyfriends?
Before Rihanna and boyfriend A$AP Rocky began dating, the singer had multiple high-profile relationships. Most recently, Rihanna dated Saudi businessman Hassan Jameel from June 2017 to January 2020. Perhaps her most private relationship, the two remained largely out of the public eye during their time together. Despite this, they were occasionally spotted on luxe vacations, and photos eventually surfaced of the couple getting dinner with Jameel's mother.
Before Rihanna dated Hassan Jameel, she was linked to actor Leonardo DiCaprio, as well as baseball player Matt Kemp, soccer player Karim Benzema and race car driver Lewis Hamilton.
One of her most publicized relationships, though, was with rapper Drake. The A-listers first sparked rumors when they appeared at each other's concerts in 2016. Drake seemingly confirmed their romance during a speech given on Rihanna's behalf when she accepted the Video Vanguard honor at the 2016 MTV Video Music Awards, saying she was "someone I've been in love with since I was 22." During this time, they also collaborated on Rihanna's smash hit song "Work." (In 2011, Rihanna was also featured on Drake's song "Take Care.") After going public, their fling quickly fizzled out—just two months later, sources said the couple split due to their conflicting busy schedules.