Olympic Gymnast Shawn Johnson Welcomes Her Second Child
We look back at the couple's engagement and wedding.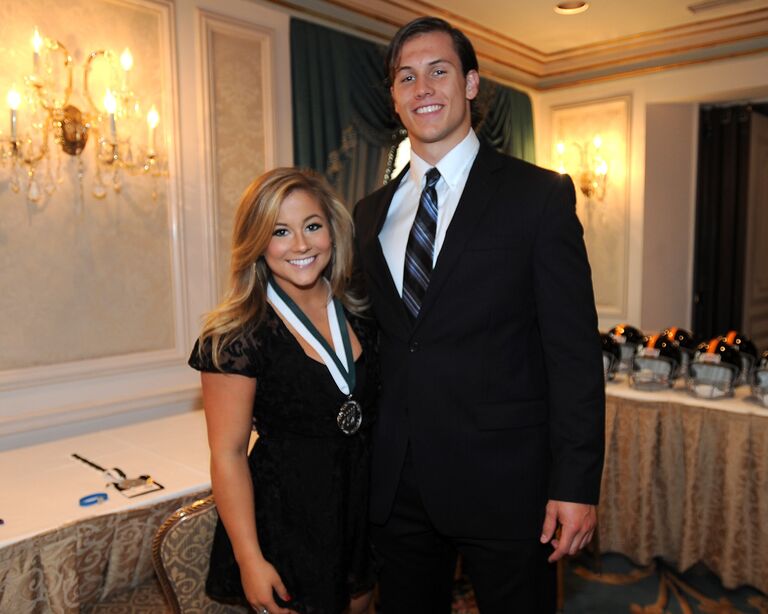 Brad Barket/Getty Images for The Buoniconti Fund To Cure Paralysis
Shawn Johnson's family with Andrew East is growing in all directions. The Olympic gymnast welcomed her second child in late July, during the height of the 2021 Olympic Games in Tokyo, Japan. "Welcome to the world little man!" Johnson shared on July 27. "We love you so much!"
The former gymnast announced in January that she was expecting her second child with her husband of nearly five years. "Here we go again," wrote Johson, who married East in April 2016. The proud mom posted a sweet picture with her husband and her growing baby bump. The two are also parents to their nearly 2-year-old baby girl Drew Hazel, who is now a big sister.
The pair previously took to YouTube to share more details about the announcement and their own personal struggles to conceive. "If you are pregnant, trying to get pregnant; If you're trying to adopt, if you're in the process of expanding your family or recently suffering from a loss, we are praying for you," Johnson shared in the clip. "All those beautiful babies out there, all those rainbow babies, all those babies in heaven… We love you guys."
Shawn Johnson and Andrew East's Engagement
East, a former player for the Kansas City Chiefs who is now a free agent, proposed in 2015 during a Chicago Cubs baseball game. The sweet moment was public and took place right in the center of Wrigley Field immediately after his then-girlfriend threw the first pitch. Johnson posted a video of the sweet proposal on Instagram.
While wedding planning, Johnson used The Knot for ideas and advice. "Just because I can," she captioned one pic with our magazine. "My new way to pass time at the airport 💍 #holycrap #engaged #weregettingmarried #isayfiance like what?!?!"
Shawn Johnson's Wedding Details
Less than a year after the proposal, the couple married in April 2016. The bride and groom exchanged vows in a lovely outdoor ceremony in Nashville, Tennessee. Both Johnson and East had large bridal parties with nine attendants on each side, and tasked Fête Nashville: Luxury Weddings with planning their nuptials.
The Couple's Marriage
Both East and Johnson have been rather vocal about their relationship highs and lows, specifically, the challenges they faced within the first year of marriage. "It was a long few months, we went through hard things," Johnson told People in 2017. "He got cut from the NFL and tried out for another team, we were both going through stressful times in life."
In October 2017, the couple found out they were expecting, which was sadly followed by the news of a miscarriage that same day. "I kind of felt broken as just a person," she told E! News at the time. "I desperately wanted to hear other people's stories and how they handled it and how they healed and how they mended themselves from that experience. And I would just sit in front of the computer for hours, reading comments and stories, and piece by piece, I kind of built this community that helped me get back on my feet."
They later welcomed a daughter in fall 2019. They now share insight about their growing family, their struggles, triumphs and more on YouTube.