Tom Brady and Gisele Bündchen's Marriage: How They've Overcome Struggles
Once again, Brady is headed to the Super Bowl.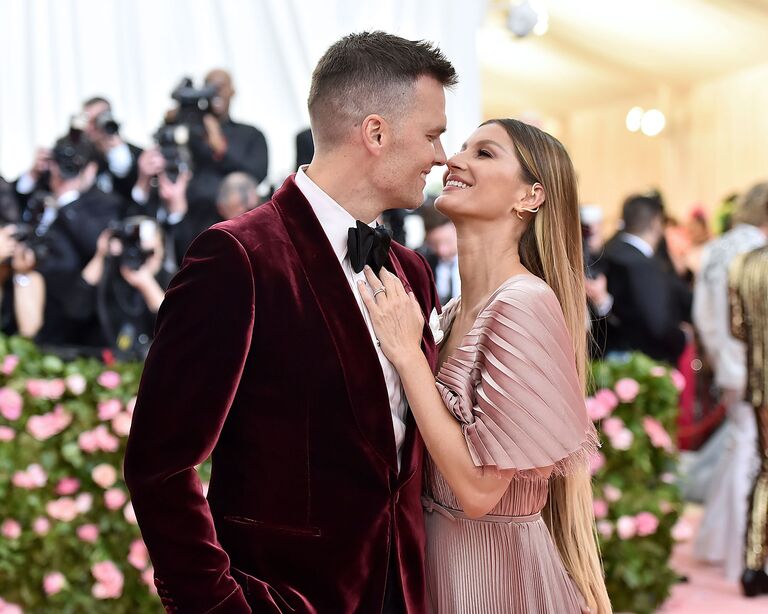 Theo Wargo/WireImage
Tom Brady and Gisele may have one of Hollywood's most enduring relationships—the pair married in February 2009—but it has not been without its ups and downs. The Tampa Bay Buccaneers quarterback, whose team clinched the NFC Championship Title on January 24, is headed to the Super Bowl on February 7, 2021. Following his victory, Brady was filmed running up to the stands to give his son a hug. On Instagram, his wife and kids, clad in team gear, cheered him on as they often have with his previous championships, including his long-running stint with the New England Patriots.
However, it's Tom Brady and Gisele's high-profile marriage that continues to surprise the world. Here's what to know about their relationship.
They Communicate About Problems
In April 2020, the athlete sat down with Howard Stern as his relationship with Gisele became the topic of choice in the interview. The dad of three got candid about a rough patch he and his wife confronted in 2018, and how they navigated out of it together. It started with a note that Bundchen left Brady. "A couple years ago, she didn't feel I was doing my part for the family," Brady told the XM Sirius talk show host. "She felt like I would play football all season and she would take care of the house and then all of a sudden, when the season would end, I'd be like, 'Great, let me get into all my other business activities. Let me get into my football training.' And she's sitting there going, 'Well, when are you going to do things for the house? When are you going to take the kids to school?'"
The pair share two young children—Benjamin, 10, and Vivian, 7, as well Brady's son Jack, 12, from a former relationship with Bridget Moynahan. The athlete recognized Bundchen, 39, had a very valid point: he had been focusing too much on his own career and not enough on their joint roles as parents to their kids. "She wasn't satisfied with our marriage, and I needed to make a change in that," he said. "Her point was, 'Of course this works for you … but it doesn't work for me.' I had to check myself. Because she was like, 'I have my goals and dreams, too.'"
The pair ended up going through marriage counseling together to work through their issues. Brady, 42, told Stern that he's kept Bundchen's note with him as a reminder of that time so he can continue to better himself and remember to shift his focus away from football from time to time. (During the same interview, Brady revealed that Bundchen has been trying to get him to retire for many years now, to no avail).
They Fall Back on Shared Values
In a 2009 interview with Vanity Fair, Bundchen explained that part of the reason she and Brady have such a strong relationship is that they have such deeply similar core values. When she spoke to the magazine about getting married to the star athlete just one month after getting engaged, she explained that she felt like the wedding was really just a formality, since their souls were already so intertwined.
"My idea of that is you have a partner who's got your back. When I'm weak, you can be strong; when I'm strong, you can be weak," she said. "That's what I believe marriage is. Loving someone, you want to grow with them, share with them, share the same values, the same feelings about things, the same beliefs."
"He's very close to his family," she added. "He's Catholic. His parents have been married 40 years. He's got a pure heart. That's all that matters—he's got the purest heart. I feel grateful because I have a lot of love in my life. I found the person I'm sharing my life with. I have a good man."
They Express Gratitude for One Another
Earlier this year, Brady took to Instagram to show his appreciation for his wife on their 11th wedding anniversary. In the post, he shared two photos: one of Bundchen posing outside Turks & Frogs, the site of their first date, and the second a more recent photo of Bundchen with their two kids.
"The first slide is where we met and the second slide is what we've become," Brady captioned the post. "You have always been the one to hold us up and you love us the way no one else can. And we love you so much in return. Happy Anniversary Love of my Life."
One year earlier, on their 10th wedding anniversary, Bundchen shared a throwback photo from the couple's Santa Monica wedding. "I can't believe it's already been 10 years since we've chosen to walk this life together … and what [an] incredible 10 years we've had!" the supermodel wrote. "There is nothing that I love more in this world than you and our family. Thank you for being on this journey with me and for doing the work that it takes to make it so special. May we continue growing together, walking side by side supporting and loving one another for many many years to come."
They Remember What's Important
Something that likely also keeps the pair buoyed in tougher times is remembering what attracted them to each other in the first place. The pair met back in 2006 on a blind date, and Bundchen has said in multiple interviews before that for her, it was love at first sight.
"I knew right away," the Brazilian supermodel told Vanity Fair. "We met through a friend. The moment I saw him, he smiled and I was like, 'That is the most beautiful, charismatic smile I've ever seen!'"
The pair was originally meant to just meet up for drinks (at Turks & Frogs, a low-key wine bar in NYC's West Village), but ended up chatting for three hours.
"I had to go home for Christmas, but I didn't want to leave," Bundchen told the magazine. "You know that feeling of, like, you can't get enough? From the first day we met, we've never spent one day without speaking to each other."
The couple got engaged in January 2009 and married a month later in two different ceremonies: one at a church in Santa Monica, California, and the other at their home in Santa Teresa, Costa Rica. (Brady told GQ magazine at the time that their Santa Monica wedding took just 10 days to plan "and it was perfect.")
Bundchen detailed their Costa Rica wedding in her memoir, Lessons: My Path to a Meaningful Life. "I wore a simple white slip dress. My feet were bare," she wrote. "The ceremony was brief, and the last words anyone heard were: For the pillars of the temple stand apart / And the oak tree and the cypress grow not in each other's shadow."