Where to Find Online Couples Counseling That Works for You
Speak to a qualified relationship therapist, anywhere.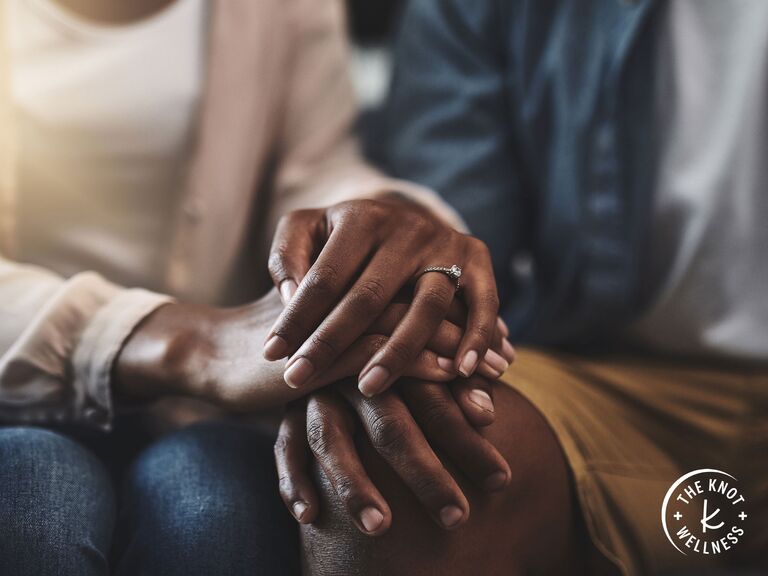 Rowan Jordan / Getty Images
We have included third party products to help you navigate and enjoy life's biggest moments. Purchases made through links on this page may earn us a commission.
Every relationship is a journey with ups, downs and in-betweens. Asking for help along the way is totally normal, but that doesn't mean it's always easy. If something is blocking you from speaking with a relationship therapist in person, online couples counseling can be a convenient and effective alternative. "In-person and online couples counseling are actually quite similar," says Patricia Worthey Ph.D., licensed psychologist and certified relationship therapist with the Gottman Institute. "The goal of both types of counseling is to improve the quality of your relationship together," she continues.
Long-lasting relationships require an equal amount of effort from both partners. Attending couples or marriage counseling online is one of many ways to rekindle your bond and build a stronger future. Of course, many couples don't know what to expect from couples therapy online, which is why we're answering the biggest FAQs right here as well as the most reliable places to find a relationship therapist who offers virtual counseling.
In this article:
Can You Do Relationship Therapy Online?
Short answer: yes. Online therapy is a popular option for many couples, especially as the global COVID-19 pandemic launched us well and truly into the Zoom era. Nowadays, many marriage and relationship counselors offer their services online—and like everything, there are pros and cons.
"What is really great about online sessions is that it can often be easier to find a time when both individuals are available since there is zero commute time," says Jerri Werksman, LCSW and licensed psychotherapist at Redwood Wellness Therapy. If you and your S.O. are really stuck for time or living apart, it's also possible to attend a session from different locations. That said, Werksman believes that relationship therapy is best done together in a shared space, when possible.
Of course, with the convenience of the internet comes the possibility of connection problems. Werksman recommends discussing this in advance with your therapy provider. That way, you can make sure everyone is set up for success and there's a plan in place should connection issues arise.
Is Online Couples Counseling Effective?
Generally, online relationship therapy has been shown to be just as effective as traditional in-person counseling when delivered in the form of an evidence-based treatment model, says Worthey. This includes the Gottman Method, Emotionally Focused Therapy for Couples (EFT), Imago Relationship Therapy (IRT) and others.
For some, online counseling could even be the most effective option. "Couples who might benefit more from virtual counseling are those who need to be in different spaces for therapy," says Worthey. Couples in long-distance relationships or with particularly busy schedules will appreciate this option. Worthey also suggests an online environment for couples where one partner has social anxiety. "The benefit of being in their own home could help them relax and have the courage to be more vulnerable and do the work more easily in their own setting," she explains. Lastly, being open to online relationship counseling gives you instant access to many specialty practitioners, even ones who are not local to you. "As long as the couples therapy provider is licensed in your state, they can do virtual therapy anywhere," says the experienced psychologist.
Of course, each couple's needs are unique, and some may find in-person sessions more effective. "Couples who might benefit more from in-person relationship counseling are those who don't have privacy in their own homes," says Worthey. Worrying about other members of your household overhearing can make it difficult to share your true thoughts and feelings. Additionally, Worthey says that being in a therapist's office and presence can be calming for couples struggling with more intense conflict.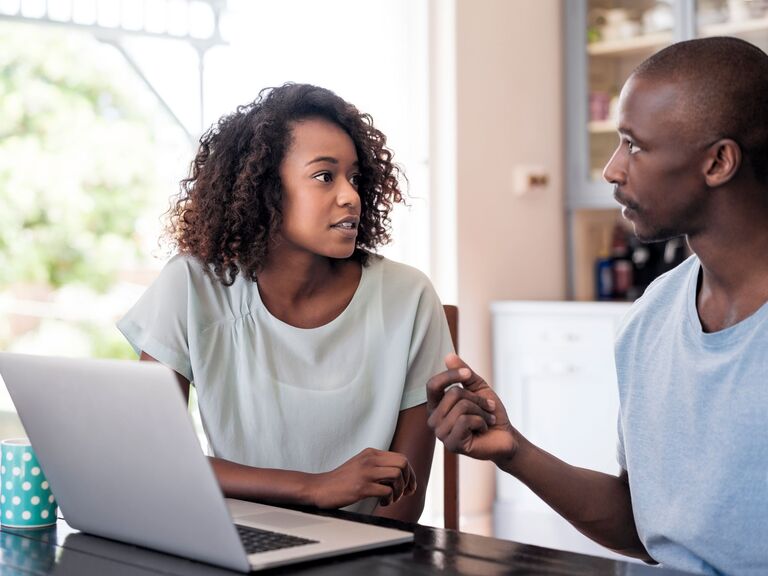 How Does Online Couples Counseling Work?
"The first step is usually reaching out with a phone call to a therapist or office," says Worthey. From there, an interview will be scheduled with the therapist so both parties can determine whether it feels like a good fit, she explains. At this stage, it's important to know that you don't have to work with the first provider you reach out to. The person you choose will be working closely with both you and your partner and it's pivotal that you feel comfortable sharing intimate thoughts and feelings with them. This comfort may not come immediately, but you should at least get a sense of whether or not you could get to that point.
If you, your partner and the therapist all agree that it's a good fit, the next step will be filling out the paperwork. Once that's done and dusted, you'll be invited to your first counseling session as a couple. The aim of this first joint session is to get an understanding of what you're having problems with and begin developing a warm working relationship, Worthey explains. "Many couples therapists then see each partner individually for one or more sessions to better understand the contributions and perceptions of each individual partner," she continues. "After this is accomplished, most therapists usually see couples jointly from then on."
How Much Does Online Couples Therapy Cost?
The cost of virtual relationship therapy or marriage counseling is around the same as in-person sessions, says Worthey. Fees largely depend on the individual therapist's qualifications, skill level and experience. Less experienced therapists might charge a fee of $50—$100 an hour, while a highly skilled professional with years of experience could charge up to (and in some cases, above) $250 an hour. It's down to you and your partner to decide on an appropriate budget for you and your relationship needs.
Working with a smaller budget? Don't worry. "There are multiple sites that help clients to find low-fee providers," says Werksman. "A great platform to start out looking for a low-fee therapist is Open Path Collective." Providers at Open Path Collective offer in-person and online psychotherapy sessions for couples from $30–$80. One thing to note: A one-time lifetime membership fee of $59 is also required to use the service.
Another frequently asked question about the cost of couples therapy: Is it covered by insurance? Unfortunately, most health insurance plans don't cover marriage or relationship counseling and insurance is not always an accepted form of payment. However, if your reason for accessing relationship therapy stems from a diagnosed mental health condition, you may be partly or fully reimbursed by your health insurance company under the Affordable Care Act. A general rule of thumb: Confirm your coverage with your insurance provider and your therapist before committing to ongoing sessions. If your employer offers an Employee Assistance Program (EAP), it's also worth checking if that covers couples counseling.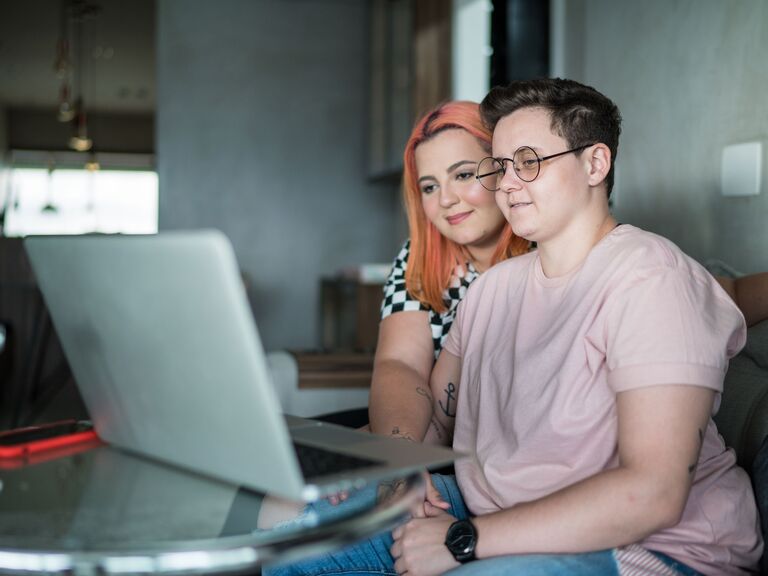 The Best Places to Find a Couples Counselor Online
If you've decided to give online counseling a go, the next step is finding the right therapist for you and your partner. Nowadays, there are quite a few online therapy apps and websites you can use to access licensed relationship and mental health professionals. But those aren't your only options; there are also directories that list experienced therapists who run their own private practices throughout the US. We've included the best online relationship therapy websites and directories below to help you get started.
The Gottman Referral Network
The Gottman Method is one of the most well-established and effective treatment methods for couples in relationship therapy. Using the Gottman Referral Network, you can find certified Gottman therapists who are well versed in this research-backed approach to counseling. Use the search filters on the site to find professionals offering online therapy in your state. From there, you can compare therapists' profiles to decide who you want to reach out to. You'll find information on their qualifications, experience, payment policies and any special areas of expertise. You can message the therapists directly through the referral network or find contact information on the therapist's linked website.
Talkspace
While Talkspace doesn't specialize solely in couples therapy, it is one of the most widely used online therapy services in the US. You'll be given a list of recommended licensed therapists after a short online questionnaire where you share your preferences. Once you've signed up and selected your therapist, you both benefit from ongoing support where you can express your thoughts and feelings as they arise. Types of couples therapy available at Talkspace include relationship counseling, marriage counseling and premarital counseling. Their therapists will help you to identify the things that are holding your relationship back and provide the tools to move forward together positively. Talkspace is also one of the few online therapy programs that accepts insurance. You can find a full list of their insurance partners here.
Pride Counseling
Pride Counseling is an online therapy provider specializing in LBGTQ+ people and relationships. It works similarly to other virtual counseling services—just carry out a brief assessment and get matched with a licensed therapist. You can message your therapist whenever you need to as well as schedule live sessions that suit your timetable. Therapists on the site are licensed marriage and family therapists, experienced psychologists, licensed clinical social workers or licensed professional therapists. All professionals on the site specialize in the LGBTQ+ community. Therapy is provided on a monthly membership basis costing $60–$90 per week.
Couples Therapy Inc.
The highly credentialed clinicians at Couples Therapy Inc. have worked with couples internationally to develop a unique understanding of relationships. Together, the team spans 19 time zones and speaks nine languages. They also have substantial experience offering their services online, so you can expect a streamlined onboarding process. Couples Therapy Inc. starts all marriage counseling with an assessment. This involves a detailed questionnaire and three online sessions with your therapist—one together and one each individually. Couples Therapy Inc. is a great choice for those seeking more immediate action in their relationship. Their online "weekend intensives" allow couples to complete their assessment in one weekend, starting on Friday evening. If it sounds like the right fit for you, request a free 15-minute consultation to find out more.
Relationship Hero
Not every couple requires a licensed therapist. If you're looking to strengthen your connection rather than tackle deep, unresolved issues, a relationship coach could be incredibly helpful. Relationship Hero specializes in coaching services for couples that can take place over Zoom or by phone. The site's experienced coaches can be reached around the clock to help you meet your relationship goals. The team consists of over 100 full-time coaches who specialize in various relationship types and concerns, including dating, marriage and breakups. To get started, simply answer some questions about your relationship and the site will recommend a coach. From there, you can begin scheduling coaching sessions. Prices vary per coach, but typically range from $80–$250 an hour.