Exclusive: Selling Sunset Star Vanessa Villela Teases Her Upcoming Wedding Plans
In an interview with The Knot, the luxury real estate agent shared what fans can expect from her "magical" and "cinematic" nuptials later this year.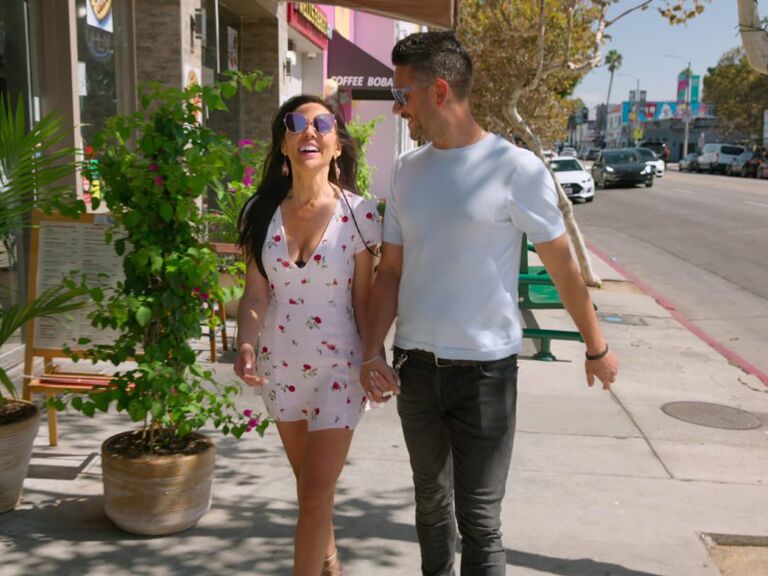 Netflix
Love was abound throughout the fifth season of Selling Sunset, especially for Vanessa Villela. On the latest installment of Netflix's smash hit reality series, which premiered in April 2022, the actress-turned-real estate agent gave fans a glimpse into her blossoming love story with British photographer Nick Hardy. The show chronicled their relationship, including a romantic "promise" proposal that happened at The Oppenheim Group's office. The series ended on a cliffhanger, leaving viewers unsure if Villela would permanently move to the UK to be with Hardy or stay in Los Angeles. While fans didn't get an exact answer on her fate during the season reunion that dropped on May 5, she did reveal another major life update: she and Hardy are happily engaged, and are currently planning their 2022 wedding!
In an exclusive interview with The Knot, Vanessa shared what fans can expect from her nuptials later this year, from the fashion to the food and, yes, even the guest list. (If you're dying to know whether or not her castmates made the cut, we've got the answer—read on to find out.)
Vanessa Villela's Wedding Plans
Vanessa Villela's wedding to Nick Hardy (who also goes by the pseudonym Tom Fraud) is set to take place in California later this summer. And, considering the quick turnaround from their January 2022 engagement, the two are in the thick of their wedding planning process. "There's a lot of plans to finalize, but we both have the same idea of what we want the wedding to look like, which is wonderful," she tells us, adding that Hardy's career has heavily influenced the overall aesthetic of the big day. "[Nick] is a creative director and he has so many ideas—he wants it to look very cinematic."
The Location
The finale of Selling Sunset's fifth season didn't provide many answers for where Villela's future would take her. In a conversation with castmate Davina Portraz, she openly talked about a potential move to London, and her final scene showed her boarding an international flight. But while her future at The Oppenheim Group is still unknown, one thing is certain: Her wedding will take place in California.
According to Villela, the choice to get married on the West Coast, rather than in Mexico or the UK, had to do with her family ties. "My sister and mom both live in California so I wanted to have the wedding where they could be close to me," she told us.
The Guest List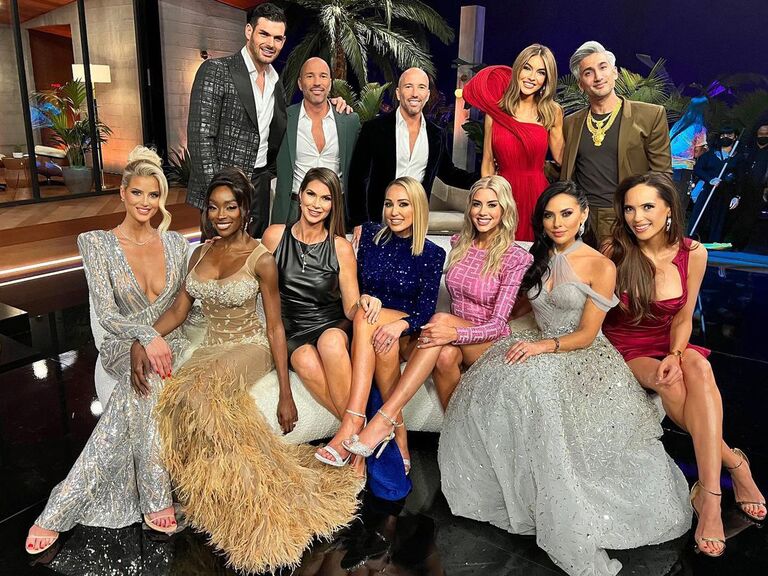 Although the wedding aesthetic will certainly be lavish, Villela says that the couple's actual guest list will be limited to include only their nearest and dearest. "I don't think there will be more than 100 people. We're trying to keep it as intimate as possible," she explains. "We want our closest friends and family to be there. It'll give us the time to see everyone."
When asked if any of her Selling Sunset castmates will be included on the invite list, Villela confirmed with a laugh, saying, "All of them! They're part of my life now."
The Theme
As for the overall vibe of her wedding, Villela promises it'll be nothing short of a fairytale. "We want the wedding to be very magical," she explains. "The place we're getting married has a lot of colors, so we want to allow that to pop by using a white palette."
Another thing that's non-negotiable? Lots of dancing. "We recently went to a party on the beach in Mexico and we danced like crazy, so I see that for our wedding too," she adds. "I want everyone to have a good time."
The bride-to-be also plans to honor her culture at her nuptials, likely through food. "I definitely want to include aspects of my Mexican heritage," she tells us. "We have a delicious cake called tres leches and it's one of my favorites, so we might have to include that."
The Fashion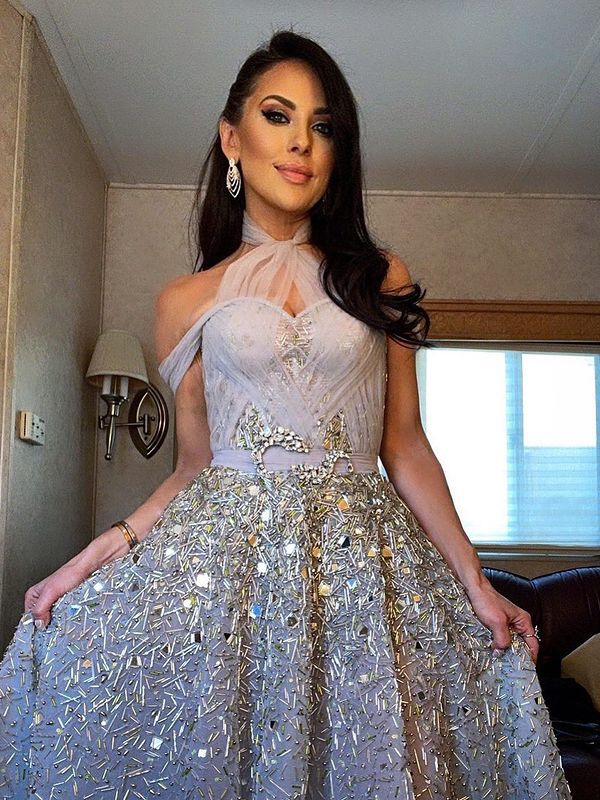 The women on Selling Sunset are known for their impeccable sense of style, so it'll come as no surprise to fans that Villela will don multiple looks on her wedding day. "I just started looking for dresses, and I don't have a specific idea of what I want," she explains. "I think that when I try it on, I'll know it's the one. But I definitely want two dresses! The wedding will go from sunset into nighttime, so the looks will be completely different."
What She's Most Excited For
Thinking ahead to the wedding day itself, there's one moment in particular that Villela is most excited to experience: the first time she sees her groom as she walks down the aisle. "I think my heart is going to explode! I hope I can keep it together," she reflects. "I might need my makeup artist to walk with me!"
Her Best Wedding Planning Advice
With a few months of wedding planning under her belt, Villela is confident in one tip that all to-be-weds should know. "[Hiring] a wedding planner is the way to go," she recommends. "There are so many things that you don't know when you get married, and you want to take the stress out of the equation. Your wedding is one of the biggest days of your life and you want it to be perfect."
Inside Vanessa Villela and Nick Hardy's Love Story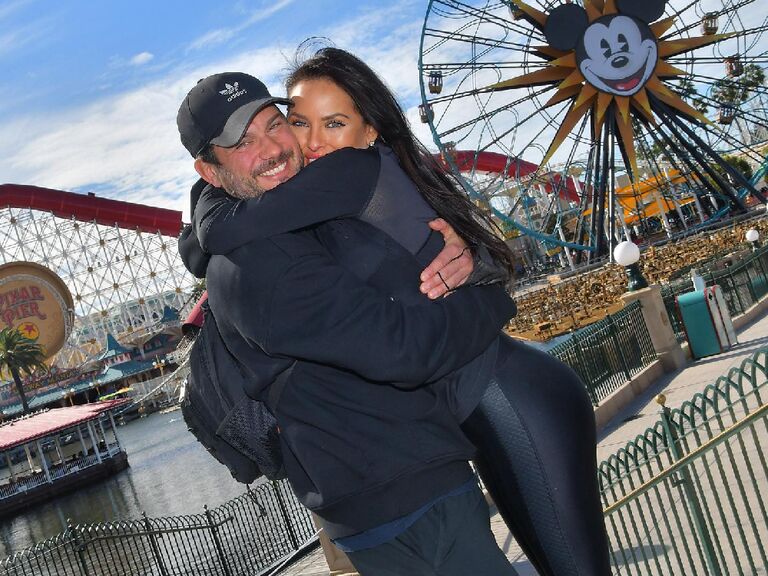 Wedding plans aside, Vanessa also opened up about her whirlwind romance, sharing details that weren't caught on the show.
How They Met
Vanessa Villela and Nick Hardy's relationship is undoubtedly a digital-age success story. The couple first connected on the internet in October 2020, before an unexpected turn of events in early 2021 brought them closer than they expected. "We started as friends online and then we met in Mexico, where we were supposed to stay for 10 days," she explains. "It turned into two months. Then, he came with me to LA and stayed for three months. In reality, we were together for five months, 24/7."
She also reveals that her emotions captured on the show surrounding Hardy's departure to the UK were real and raw. "That first time [when he left on the show] was going to be the first time we'd be apart," she adds. "That was very scary for me, and I didn't want him to leave."
Inside Hardy's "Promise" Proposal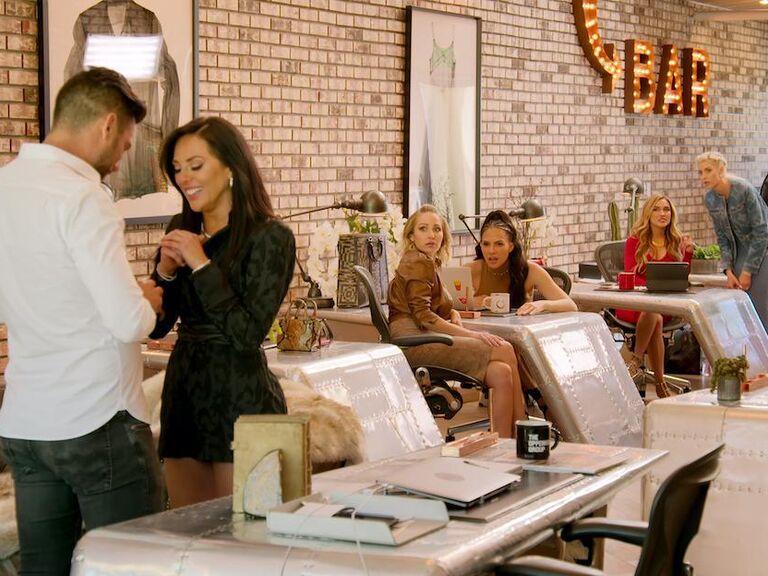 Just before Hardy left, cameras captured his "promise" proposal to Villela, which took place at The Oppenheim Group's office in front of fellow agents like Chrishell Stause, Mary Fitzgerald and Heather Rae El Moussa. "He gave me the promise ring as a sign of commitment to show that wherever he was, he was committed to me," she tells us of the moment. "It was a promise of love and commitment, regardless of where we're at."
How They Got Engaged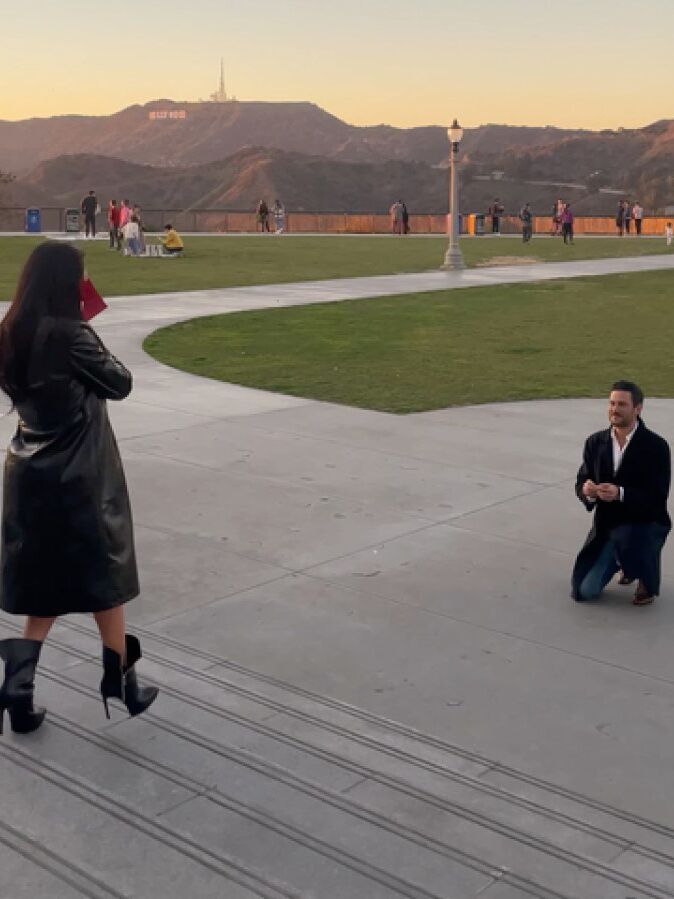 A few months after Villela received the promise ring, Hardy upgraded it to a true engagement ring. He proposed in January 2022 on the steps of Griffith Observatory in Los Angeles—one of their favorite spots in California. "The location was really meaningful to us not only because it's in LA, but because we love the movie La La Land too," she explains.
Despite the preceding promise proposal, the couple's formal engagement— which took place a year after they first met—was somewhat of a surprise. "Ever since we got together, we'd celebrate each month," she says. "I usually planned a surprise wherever we were, but on our one-year anniversary, he wanted to take over. The night before the surprise he said, 'Tomorrow our lives are going to change.' Then he started humming the bridal chorus! I thought that meant he was going to propose, but I wasn't sure."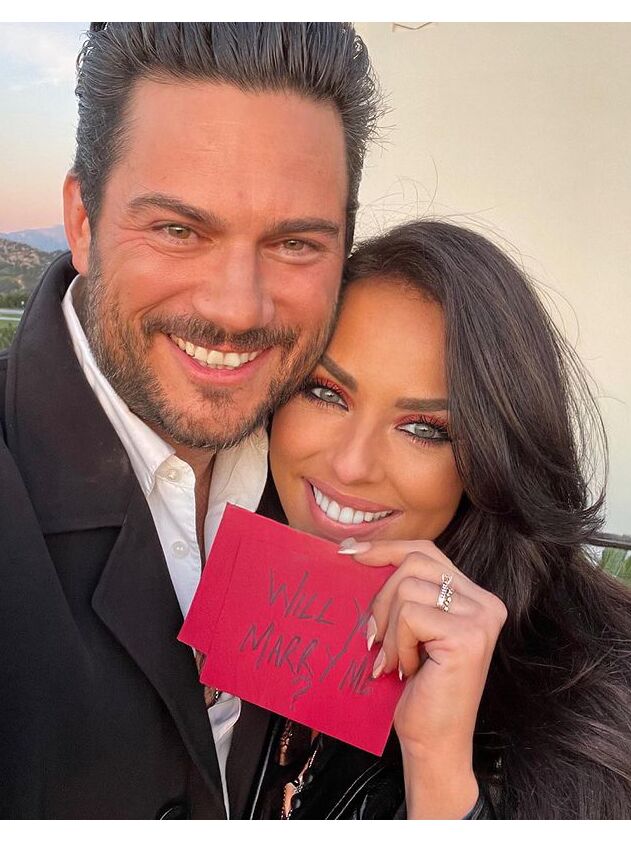 Hardy took her to the observatory at sunset, where he read part of a poem and sang a song before asking her to shut her eyes as he handed her a card. "When I opened my eyes, I read the card and it said, 'Will you marry me?' He was kneeling on one knee on the stairs in front of me," she recalls. (As if that wasn't romantic enough, Villela still has the card on display in her home today.) "It was magical," she adds. "I was in shock, I couldn't believe it. We both cried. It was really romantic."