Exclusive: Bridgerton Star Charithra Chandran on Why That Prewedding Scene Was Such a Big Deal
In an interview with The Knot, the actress behind Edwina Sharma shares how the show is championing authentic wedding representation.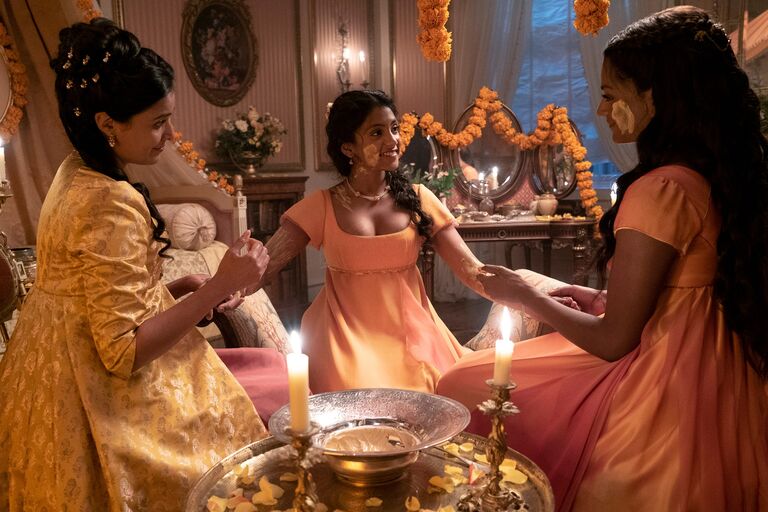 Liam Daniel/Netflix
If you, dear reader, have been captivated by Bridgerton, you certainly aren't alone. In just a few short years, Netflix's record-breaking smash hit has become a unique cultural phenomenon. The Regency-era drama has all the makings of good escapist television: steamy romances, a stellar (and attractive) cast, a harmonious orchestral soundtrack, and a lavish aesthetic unlike anything else on screen now. But beyond the show's outward grandeur, it's also making strides for representation—especially when it comes to weddings.
In its first two seasons, the show has featured two nuptials: the first between Daphne Bridgerton and Simon, the Duke of Hastings; the subsequent between Viscount Anthony Bridgerton and Edwina Sharma. While the first wedding in season one highlighted all the pomp and circumstance expected of a high society wedding in London circa 1813, the second season's wedding took quite a different tone.
The season two storyline follows a classic enemies-to-lovers trope: Edwina Sharma, an eligible bachelorette, enters society with the intention of finding a husband. Viscount Bridgerton, a known playboy (or "rake," per the ton), has finally decided to settle down and find a suitable wife—the Diamond of the season, of course. When the Queen bestows this coveted role to Edwina, it seems as though Anthony's fate is sealed…until he meets Edwina's protective older sister, Kate. What ensues is a cat-and-mouse game between the two, with Kate trying to stop the betrothal, which only encourages Anthony even more.
From the start, it's clear that Kate and Anthony's spark is undeniable. But despite their electric shared glances and "will they, won't they" private moments, the wedding to Edwina moves forward. In the process, viewers are shown a number of cultural Indian wedding traditions—and it's a bigger deal than many may realize.
Bridgerton's second season celebrates Indian culture without calling obvious attention to it.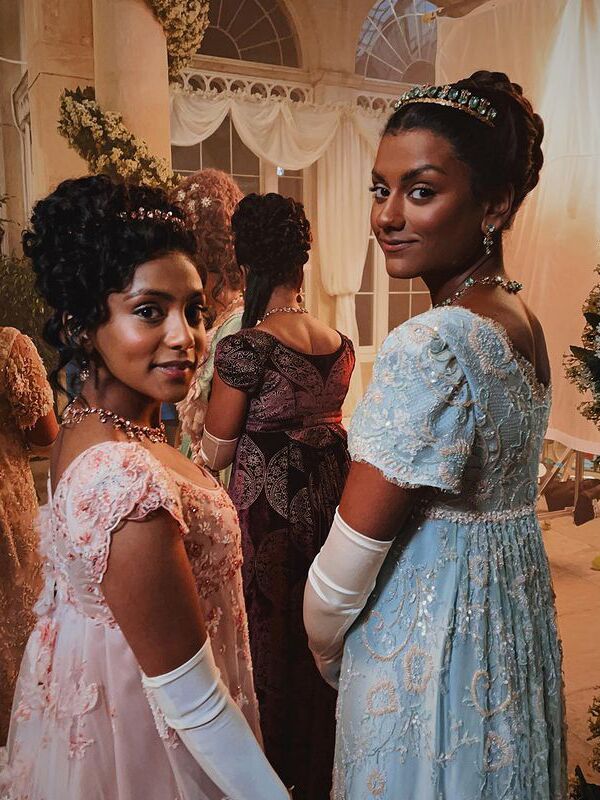 In a time when calls for diversity in media are stronger than ever, Bridgerton goes where not many other shows do. The second season follows an Indian family, with two dark-skinned actresses taking lead roles. Although this casting isn't historically accurate, it's seamlessly integrated into the show without mention, thus normalizing this sort of inclusion.
For actress Charithra Chandran, the breakout star behind Edwina Sharma, this style of representation is exactly what's needed to push the industry forward. "Growing up, dark-skinned women across the world are often told that they're not allowed to go into the sun or that there's something wrong with us—color is seen as a hindrance," she told us in an exclusive interview. "So, the fact that the diamond and the leading lady of the season are both dark-skinned—and it's not mentioned or made into a thing—is so powerful."
Beyond just casting Indian women, the show took it further by subtly weaving Indian customs into the episodes, Easter egg style: Kate was frequently seen drinking Masala Chai tea, rather than traditional English tea; Edwina referenced her sister as "Didi," which translates to "elder sister" in Tamil South Asian language; The sisters almost always accessorized their formal outfits with bangles, a popular accessory in Indian culture. But one of the more notable Indian traditions highlighted was the prewedding Haldi ceremony.
The show's Haldi ceremony scene highlights Indian wedding traditions in an authentic way, unlike other American media.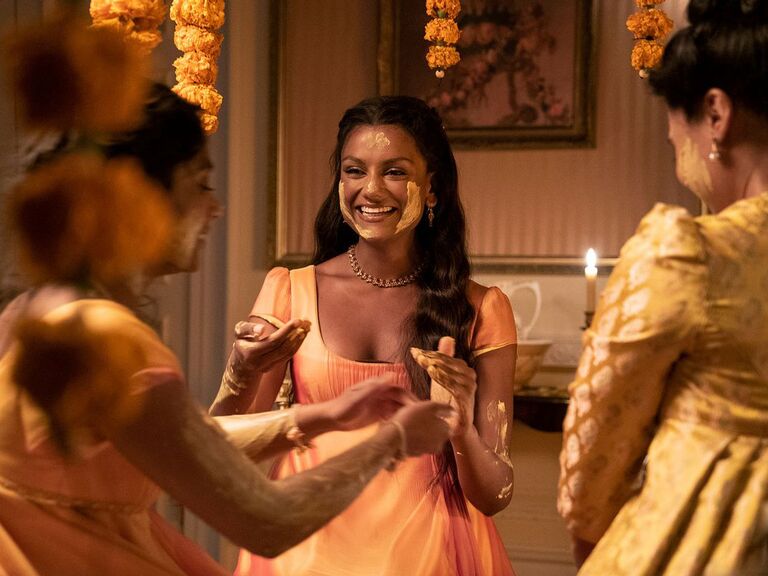 The night before Edwina's wedding to Anthony, viewers watched the Sharma family participate in a Haldi ceremony. During this traditional prewedding ritual, couples are covered in turmeric (Haldi), oil and water in an effort to bestow blessings and good luck upon the marriage.
For Shawna Gohel, founder of Indian wedding planning website Maharani Weddings, seeing such a profound holy ceremony portrayed on a show as famous as Bridgerton was a meaningful experience. "I was so happy and thrilled for all of the South Asian women across the globe to have such a high-profile show embrace Indian culture so beautifully. It was so well done," she tells us. "Even though the show featured a multi-cultural wedding between Edwina and Anthony, the parts that were Indian were truly authentic in their representation."
It's an unfortunate truth that authentic cultural traditions, especially related to weddings, are rarely highlighted in American media. Consider some of the most popular wedding movies of all time: 27 Dresses, Bride Wars, My Best Friend's Wedding, Bridesmaids, You Again—all feature primarily white casts and weddings. The 2018 premiere of Crazy Rich Asians sparked a glimmer of hope for progress in wedding representation, but such scenarios are few and far between.
Many also say that, when cultural moments are included in American media, they're toned down or modified for audiences. It's for this reason that realistic interpretation, like what we saw in Bridgerton, is crucial to push the industry forward. "More than anything, it's important to normalize this representation," Chandran says. "As people get more accustomed to different cultures, it'll be less of a novelty. It'll just show another way of doing things. What Bridgerton is trying to do is normalize experiences that are different from a lot of other people's."
The use of intentional Easter eggs resonates with viewers in a thoughtful, subtle manner.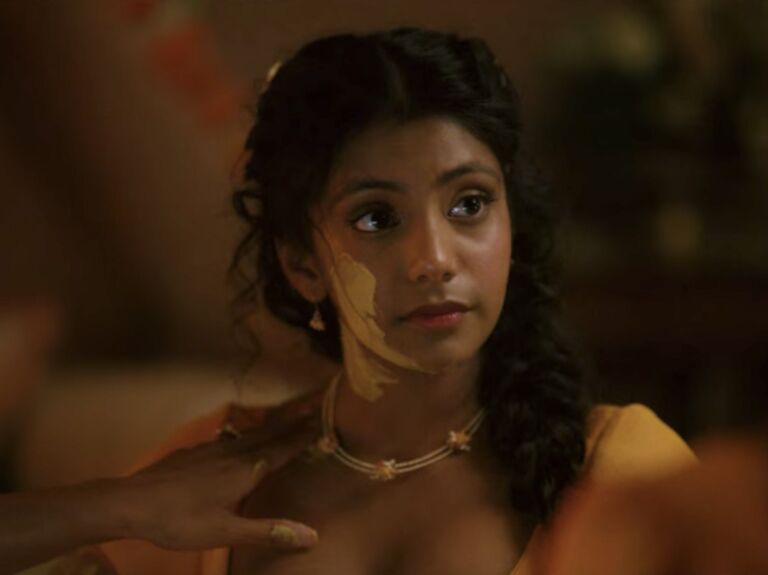 Bridgerton's Indian wedding representation goes far beyond the surface level. In fact, Chandran notes that the Haldi ceremony scene was specifically designed to include Easter eggs to covertly communicate with their Indian viewers.
One was, of course, the song choice. The scene was set to an instrumental version of "Kabhi Khushi Kabhie Gham," a wildly popular Bollywood tune that came from a movie of the same name. Bridgerton has since become known for its use of instrumental American music—songs from Taylor Swift, Rihanna, Ariana Grande, and Madonna have all been adapted for the show's soundtrack. As such, the decision to use such a beloved cultural tune delivered a key message. "That song choice in itself is such proof that we weren't doing this just for a white audience," Chandran explains. "Those kinds of Easter eggs would only be known by Indian viewers or Bollywood lovers. It's a nod to the culture and the people that were being represented."
Color was another medium used to connect with the audience. In the scene, the Sharma women were dressed in vibrant shades of yellow, which is interpreted as an auspicious hue in Indian culture. "I love the colors that we used for costuming in the Haldi ceremony because they were really truthful to the turmeric hues that would be used during that ritual," she adds.
The series expertly walks a fine line between honoring culture without losing the sense of the show itself. And, as Chandran suggests, it's subtle nods like this that may have more impact in the long run. "We have to remember that Bridgerton also has a specific aesthetic, based in regency London," she explains. "Bridgerton tries to have very subtle nods to culture. Sometimes when things are too on-the-nose they can be alienating, so I really think the way the show did it, though colors, fabric cuts and draping, while still keeping it very Regency, makes a really comfortable yet strong nod to Indian culture."
Bridgerton's inclusion of Indian wedding rituals serves as a powerful step forward for progress—but it's only the beginning.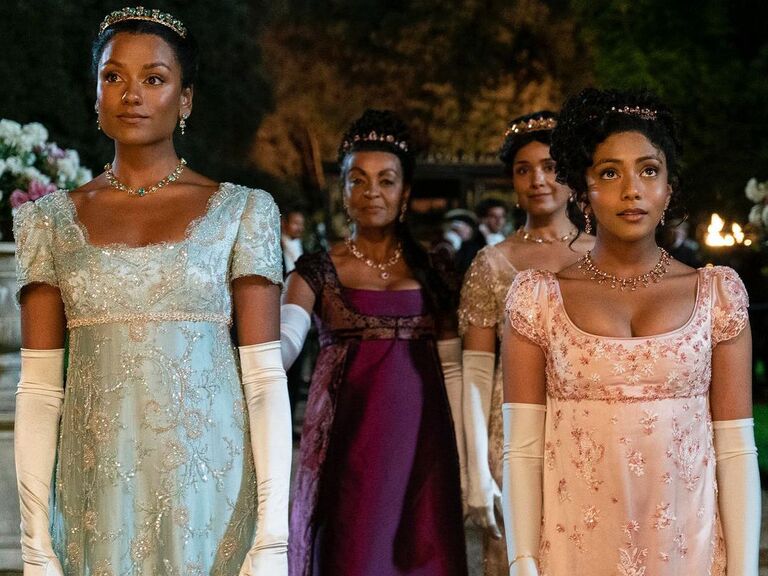 These moments of cultural wedding representation were generally well-received by fans. One TikTok user shared a viral video of the scene, writing, "This scene, however small, is so significant. Three Indian women applying Haldi and showcasing a ceremony that only Indians would know with a song in the background every Indian would know, on a platform as massive as Bridgerton…" set to the popular audio "The girls that get it, get it, and the girls that don't, don't." Another said, "This scene literally made me cry… as someone who's grown up watching ceremonies like this, the emotions surrounding this are very impactful."
Similar reactions have been shared with Chandran herself. "I've received so many wonderful messages from young girls and women everywhere saying how emotional it made them, which is exactly what we wanted," she says. "It means the world."
For Gohel, Bridgerton's Haldi scene is yet another stepping stone in the bigger picture. "There is an upward trajectory where you're seeing more and more Indian representation in small snippets," she says. "For example, saw Priyanka Chopra's wedding really get the world's attention, and now with Bridgerton, we're seeing something similar again.
Of course, one positive scene from a show like Bridgerton is only the start of meaningful progress, which Gohel hopes to see more of in the future. "I would love to see a full Indian wedding shown in a show or a movie," she adds. "They are so beautiful and colorful, and a lot of times I think when the media portrays them, they dip into one aspect or one party, but an Indian wedding is so many different parties."
Although there is more work to be done for authentic wedding representation in media, the effects are already making change—especially from Chandran's perspective. "When I was younger, I remember I was embarrassed by wearing cultural clothing when my mom would drag me to weddings with her friends," she told us with a laugh. "The fact that people feel comfortable and proud to own it—knowing that it in fact it makes them stand out for the best possible reasons—is what's really exciting to me. In part, this does have to do with increased representation in the media, including Bridgerton."