Chef Alex Guarnaschelli Is Engaged: "I Want to Have a Blowout Wedding"
Of course the proposal involved a supermarket run.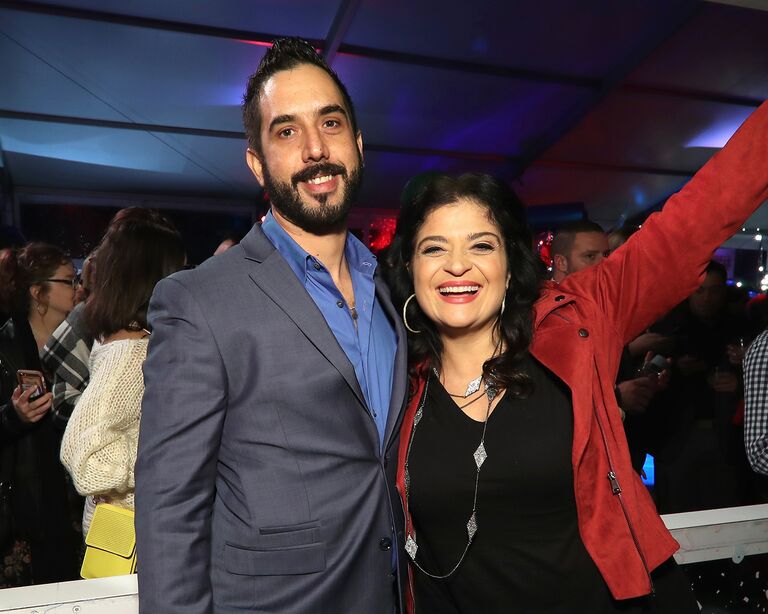 Getty Images
Imagine this wedding menu, because the guests will be treated to the best. Chefs Alex Guarnaschelli and husband-to-be Michael Castellon are engaged and planning a wedding.
The proposal went down on the day of Guarnaschelli's birthday celebration, somehow involving bread and cheese of course. While out to the supermarket to prepare for a birthday gathering, Castellon "spotted" a stray dog on the way home on the side of a road.
"So we were right by my house and he just pulled over on the side of the road anxiously. And he said, 'I see a dog running around,'" Guarnaschelli told People. "There's this little park with a windmill. He like, 'I see a dog running around in there without a leash.'"
Castellon asked Guarnaschelli to come out of the car, because he had spotted a baby deer. "So he's like, 'Shh. Come see it. It's so cute.' And I'm like, 'We're going to have to do something. We're going to have to call the animal welfare.' I'm already rolodex-ing the situation," the Chopped judge recalled. "We tiptoe out, full-on tiptoe, and he goes, 'It's right around the windmill.' So I look and he's like, 'Do you see it?' And I'm like, 'No, where's the baby? You promised me a baby deer.' "
Castellon, in that time, had dropped down to one knee. "And he said, 'There's no deer.' He's like, 'This is why I have to marry you because you just believe me every time,'" Guarnaschelli continued. "He said, 'Will you marry me?' and he gave me the ring."
Castellon proposed with an emerald ring flanked by diamonds, a family heirloom piece. "Ok @chefmike808 , you're on! 💍," she wrote on Instagram.
The food industry power couple suitably first met at Castellon's restaurant four years ago. "I was out to dinner with a friend, and at a restaurant, and I knew the waiter, and I was eating dinner and I said, 'This steak is just so good,' " she shared. "And the waiter, my friend, said, 'Oh my God, my best friend is the cook, the chef, here. He's amazing. You got to meet him.'"
So Guarnaschelli went to greet the chef and "that was it," she told People.
Castellon had to receive numerous blessings at first, primarily of Guarnaschelli's 12-year-old daughter, Ava. (This will be the second marriage for the bride-to-be, who finalized her divorce to ex-husband Brandon Clark in 2015.)
The wedding itself will be a massive party—and of course, the catering will be a dream. "We're not in any hurry, but I want to have a blowout," she concluded. "I want a Tri-State rager."