Unique Emerald Engagement Rings
This gorgeous green gem will set you apart.
We have included third party products to help you navigate and enjoy life's biggest moments. Purchases made through links on this page may earn us a commission.
If you love the look of a traditional diamond engagement ring but want a sparkler that speaks to your individuality, an emerald engagement ring may be just the one for you. A variation of the mineral beryl, emeralds are known for their stunning green hue and rich historical and sentimental associations. Below, everything you need to know about this magaical green gemstone.
What Does an Emerald Engagement Ring Signify?
Emeralds may be the "it" stone of 2020, but they've actually always been one of history's most sought-after precious jewels. Since the time of ancient Greece, when the emerald was believed to be the sacred stone of the goddess Aphrodite, it has been a symbol of eternal love. It was also believed emeralds could encourage wealth and power when worn as talismans. Arab, Hindu, and Spanish physicians even used emeralds as protection against poison and infection. Magical powers aside, this gorgeous green gem has also been associated with serenity, peace and new beginnings (now, how perfect is that for a wedding ring?). In modern times, emerald is the traditional birthstone for May, as well as the gemstone for the astrological sign of cancer./p>
Emerald Cut vs. Emerald Gemstone
While initially created for emerald gemstones, the emerald cut became a popular diamond cut back in the 14th century. This shape features a wide, flat plane that looks like stairs when viewed from the top. As a result, the emerald-cut is often referred to as a "step-cut". The rectangular shape of the emerald cut does not shine as brightly as other shapes (think: the round brilliant cut or princess cut) but does create a beautiful "Hall of Mirrors" effect with long, dramatic lines and a subtle sparkle.
Caring For Your Emerald Engagement Ring
Real talk: These green gemstones are stunning, but they are also fragile. Since emeralds have more inclusions (read: internal flaws), they also have more breaking points compared with your typical diamond engagement ring. But don't let that deter you from wearing your emerald wedding ring on a daily basis. Just make sure to treat your emerald ring with care (as you would any special piece of jewelry), avoid knocking it against hard surfaces and remove it when you work out. When you're not wearing your emeralds, how you store them is also key. Keep them in a separate case, so they won't come in contact with other jewelry. To polish your stone, stay away from an ultrasonic or steam cleaner and high temperatures, because they can damage the treatment on your emerald. Also, never subject your emerald to commercial cleaners and harsh chemicals. We recommend spiffing up your emerald with cool water, a very mild soap and a soft-bristle toothbrush. If you own an estate piece, have your jeweler check the security of the stone once in a while—prong settings in particular can loosen over time.
Top Emerald Engagement Rings of 2020
Feeling an emerald ring now? Shop some of our fave rings styles below.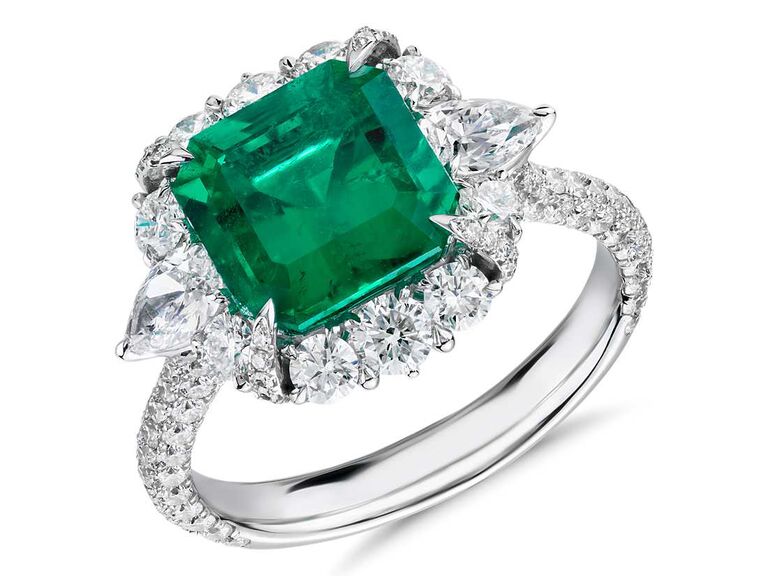 An emerald-cut emerald surrounded by diamond halo and accented by pear-cut diamonds brings the drama.
Blue Nile emerald-cut emerald and diamond pear-shaped halo ring in 18K White Gold, $50,000, BlueNile.com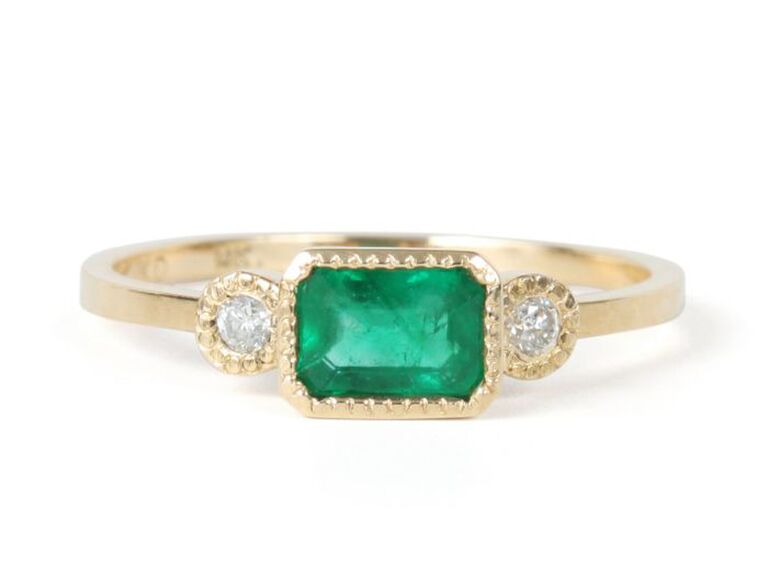 This emerald-cut emerald flanked by diamond side stones and set in yellow gold is an elegant option that won't break the bank.
Jennie Kwon Lexie emerald ring in 14K Yellow Gold, $980, CatbirdNYC.com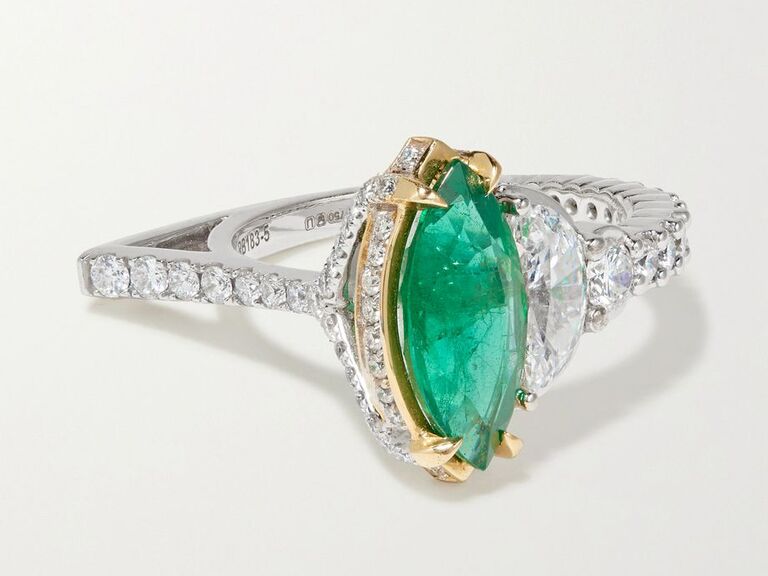 A mix of 18-karat white and yellow gold, this blinged out emerald ring features a marquise-cut center stone, set off by diamond side stones and a pavé band.
Ara Vartanian emerald and diamond ring in 18K White Gold and 18K Yellow Gold, $40,000, NET-A-PORTER.com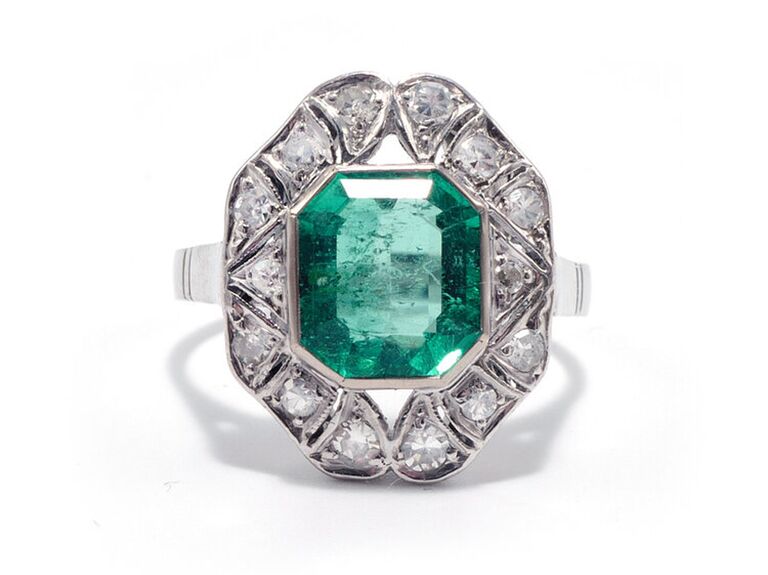 Geometric details and An intricate 18k white gold setting gives this Art Deco ring a gorgeous heirloom quality.
Ashley Zhang Elsie emerald art deco ring in 18K White Gold, $6,000, AshleyZhang.com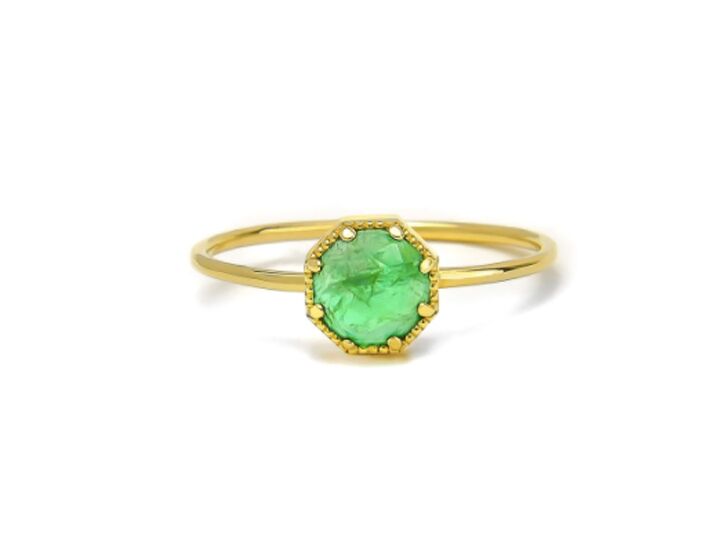 A unique rose-cut emerald center stone plus a yellow gold bezel setting is simple and stunning.
Grace Lee crown bezel emerald ring in 14K Yellow Gold, $1,385, GraceLee.com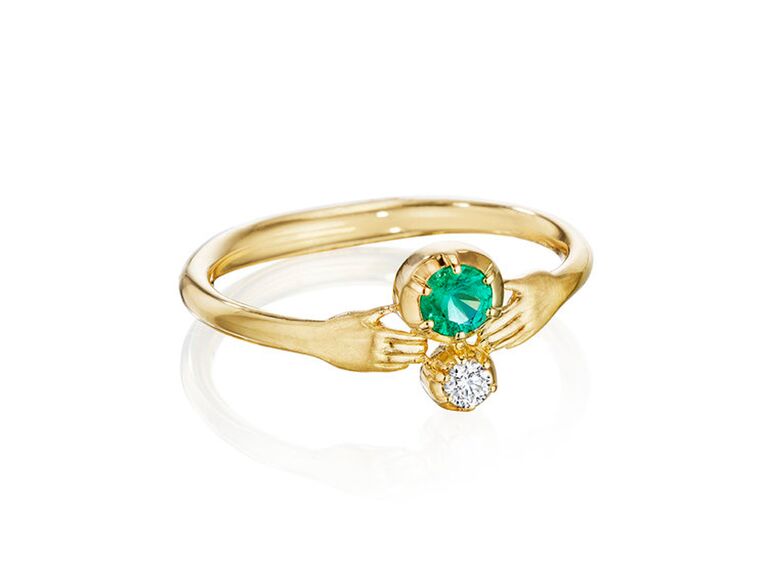 Channel the ornate style of the ancient Greeks and Romans and opt for a standout round-cut emerald and diamond ring with a yellow gold hand motif.
Anthony Lent Tiny Hands emerald and diamond ring in 18K Yellow Gold, $1,440, AnthonyLent.com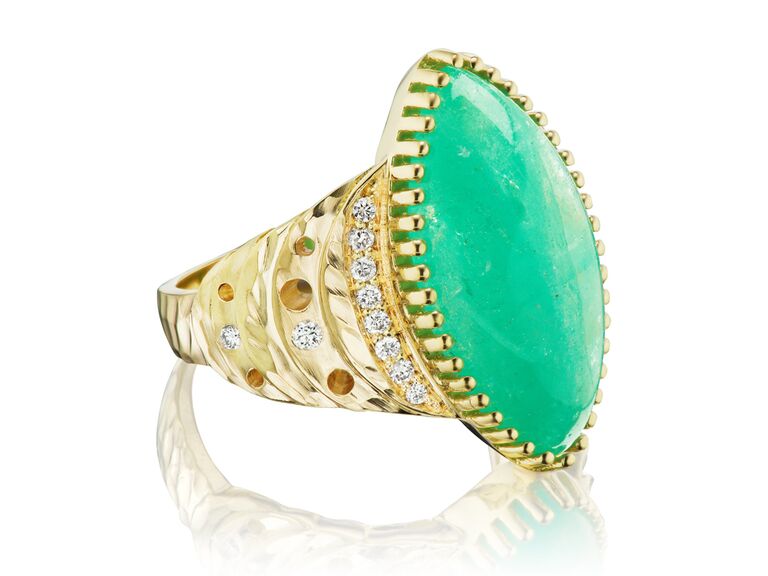 This artistic piece featuring a spectacular marquise cabochon emerald from Colombia's Muzo mine is perfect for the to-be-wed looking to make a modern statement.
Dana Bronfman X Muzo emeralds north-south marquise crescent ring in 18K Yellow Gold, $6,140, DanaBronfman.com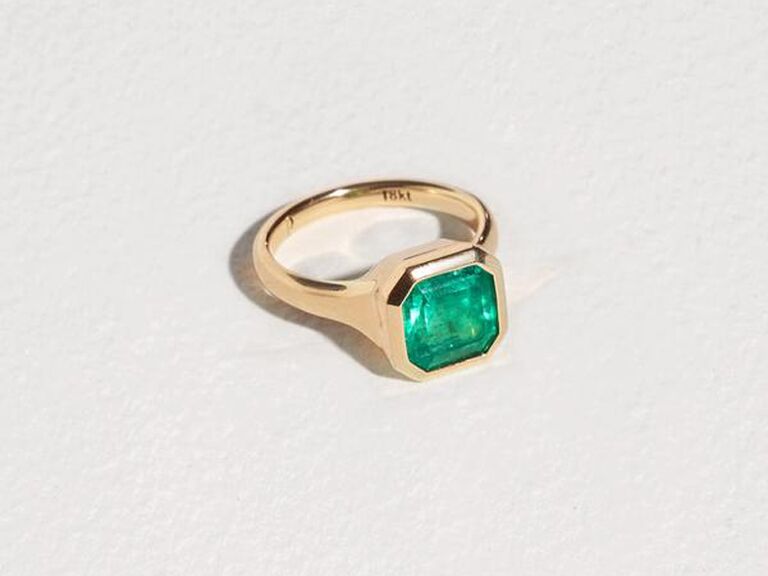 An Asscher Cut emerald solitaire set in yellow gold is equal parts fashion-forward and timeless.
Pamela Love emerald ring in 18K Yellow Gold, $6,200, PamelaLove.com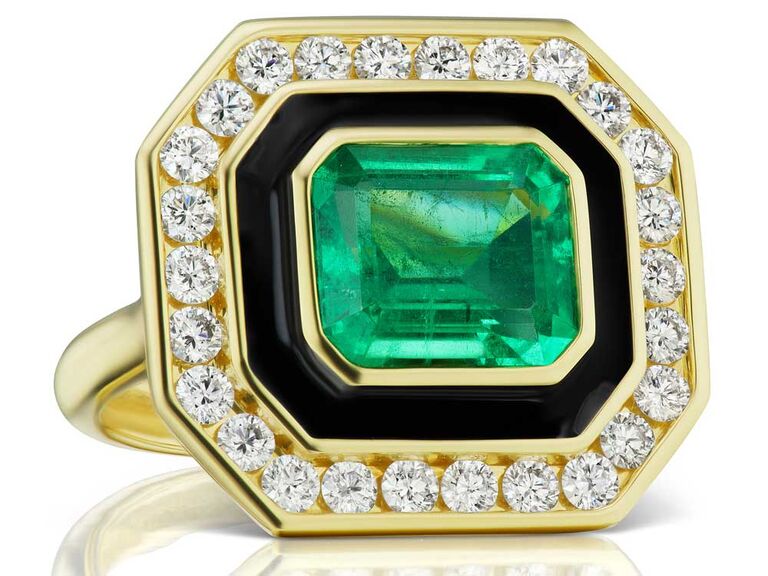 Feeling bold? The combo of an emerald-cut emerald with a black enamel and diamond halo is unexpected but oh-so-chic.
Andrew Glassford Jewels emerald museum series with black enamel and diamonds in 18K Yellow Gold, Inquire for Details, AndrewGlassfordJewels.com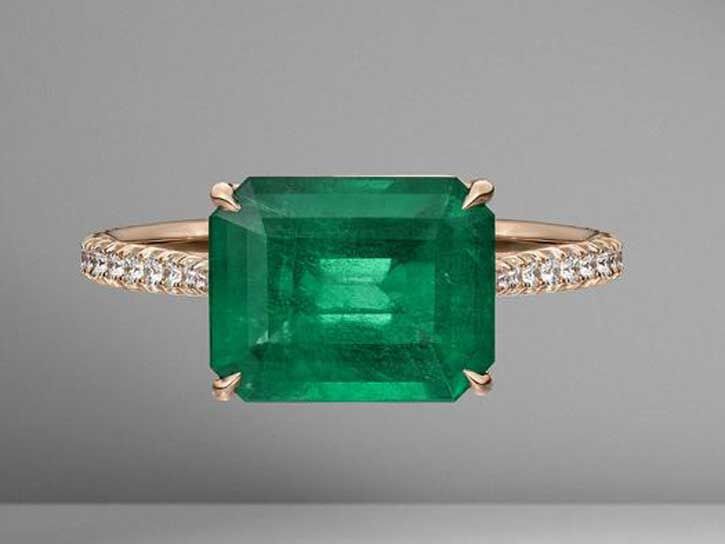 This delicate 18k rose gold ring setting with diamond pavé detail allows the emerald-cut emerald solitaire center stone to really shine.
Material Good emerald east-west ring with diamond pavé details, $15,500, MaterialGood.com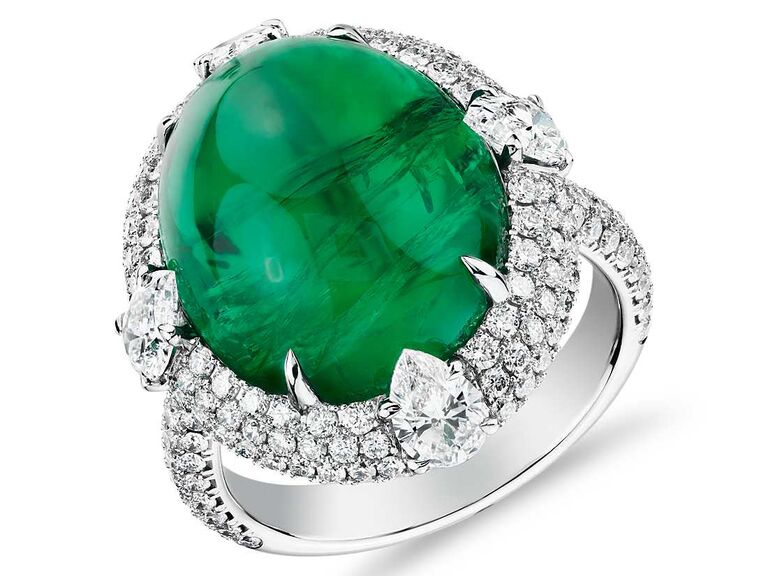 A cabochon emerald with pear-shaped diamonds and 18k white gold tiger prongs gives off red carpet vibes.
Blue Nile Cabochon emerald ring with triple diamond halo and tiger prongs in 18k White Gold, $78,000, BlueNile.com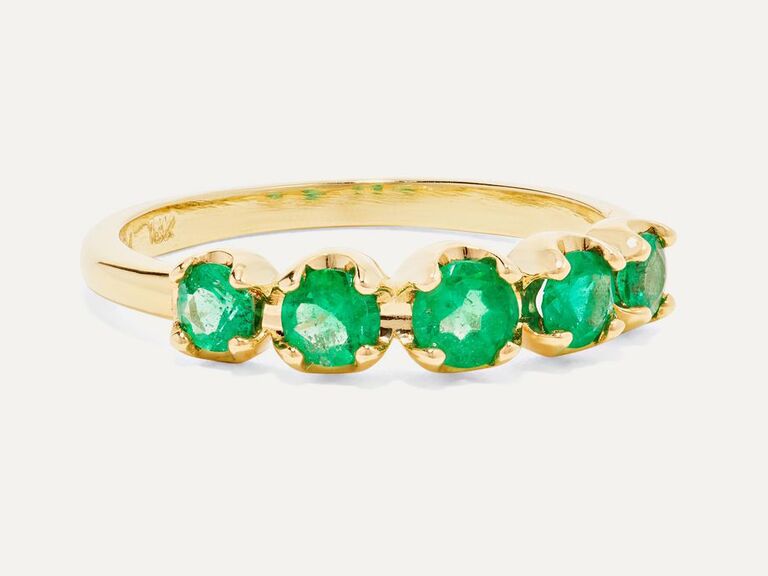 This dainty sparkler is set with five vibrant emerald stones totaling 0.95-carats. Wear it solo, as a wedding band or add it to your stack.
Jennifer Meyer emerald ring in 18K Yellow Gold, $3,500, NET-A-PORTER.com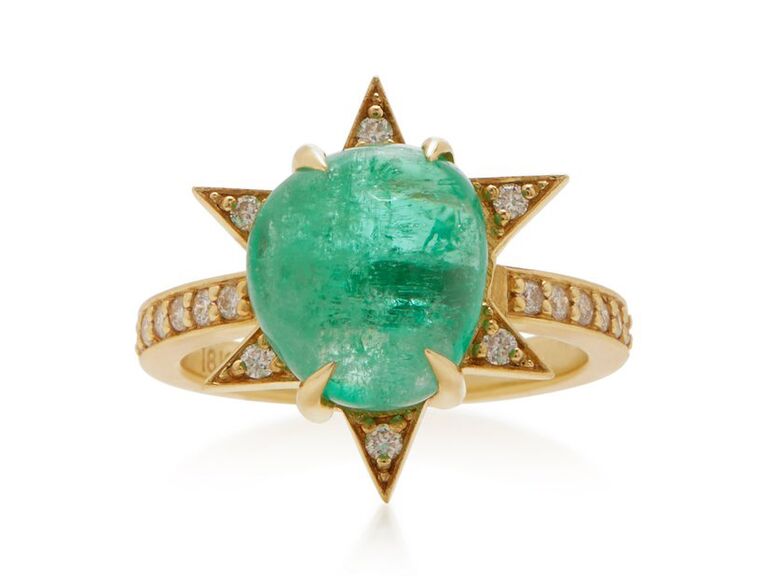 If celestial motifs are your thing, consider this ring setting that features an emerald center stone surrounded by a diamond starburst.
M. Spalten emerald and diamond ring in 18K Gold, $4,540, ModaOperandi.com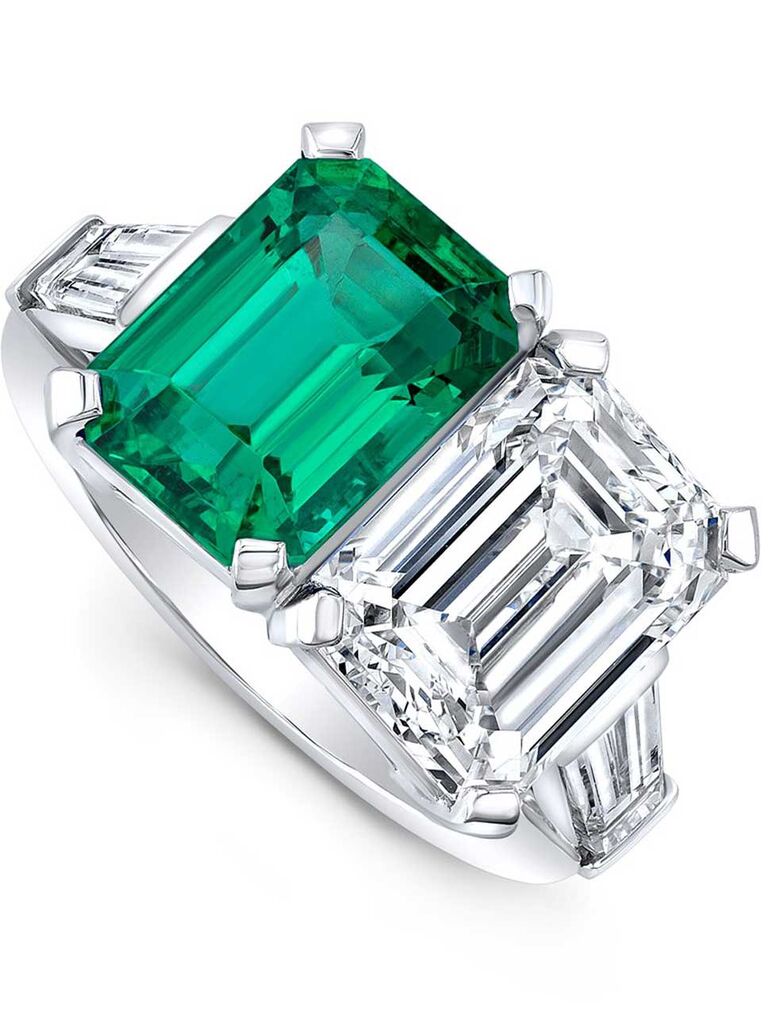 Take a cue from Jackie Kennedy's iconic engagement ring with an emerald-cut emerald and emerald-cut diamond flanked by long, tapered diamond baguettes.
Alexandra Jules bespoke emerald and diamond ring, Inquire for Details, AlexandraJules.com
Gemstone engagement rings don't have to feel edgy. A round emerald surrounded by a diamond halo and platinum setting is an instant classic.
Tiffany & Co. Soleste ring in Platinum, $11,800, Tiffany.com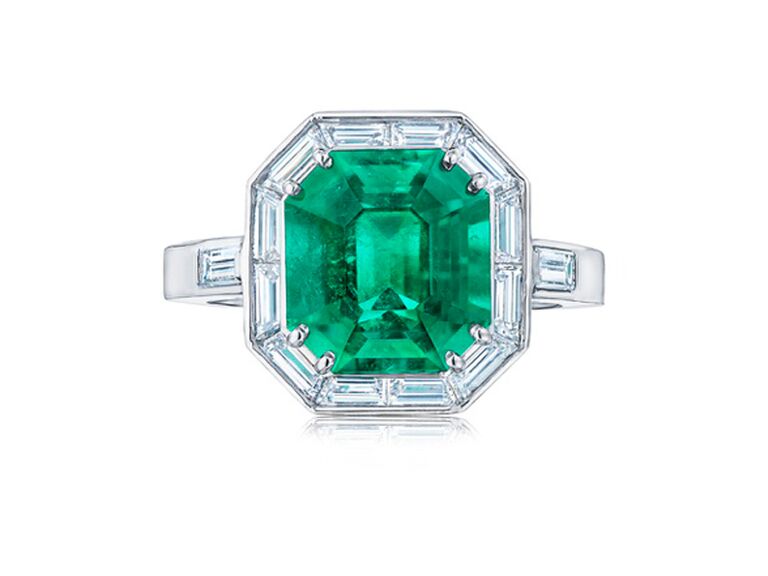 Get ready to turn some heads. An emerald-cut emerald ring framed by a baguette-cut diamond halo in a platinum setting is a total showstopper.
Kwiat Colombian emerald-cut emerald ring in Platinum, Inquire for Details, Kwiat.com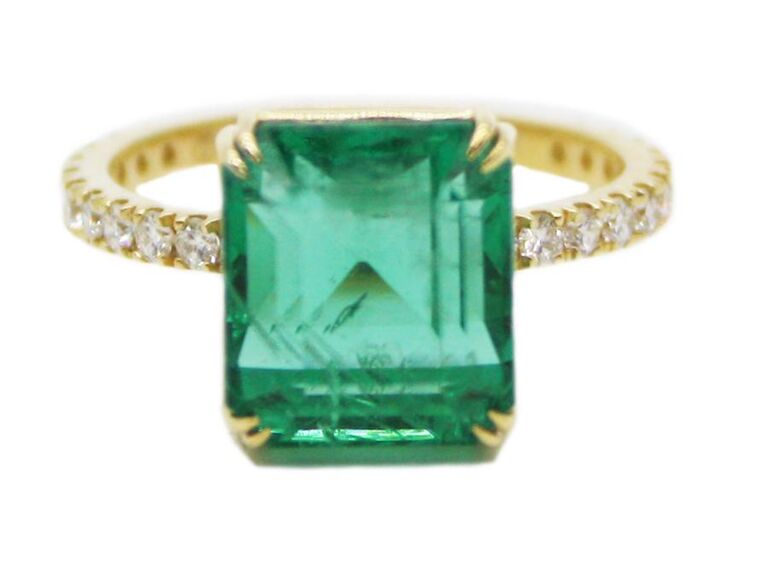 To let your striking center stone take center stage, opt for a minimalistic ring style like this thin yellow gold setting with diamond pavé.
Yi Collection emerald and diamond ring in 18K Yellow Gold, $16,000, YiCollection.com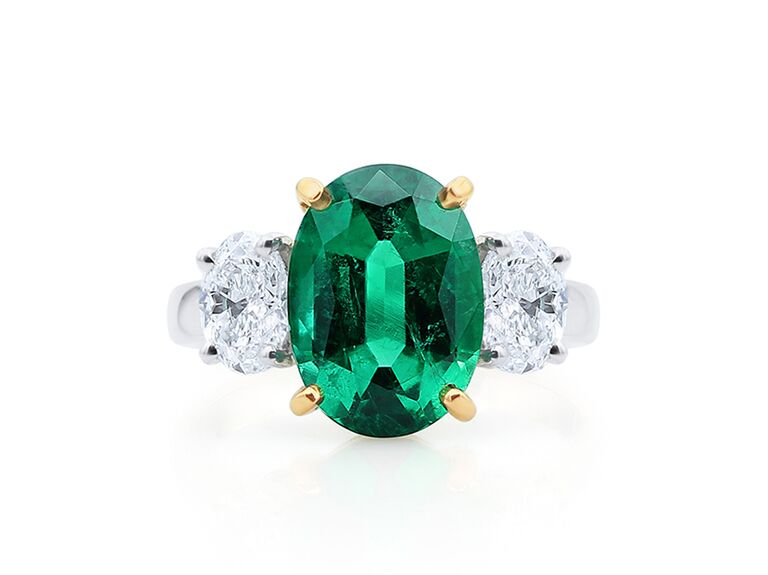 What's better than one center stone? Three. This sparkler's oval emerald center stone is set off by two oval cut diamonds.
Oscar Heyman emerald ring in Gold and Platinum, Inquire for Details, OscarHeyman.com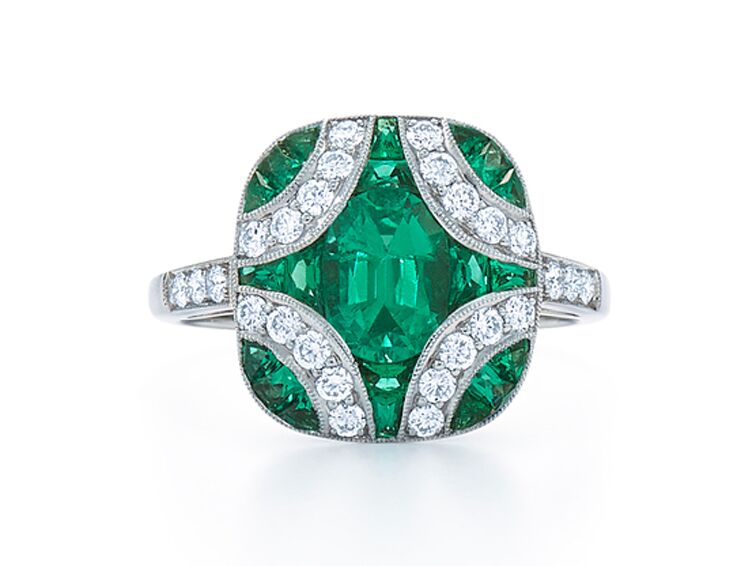 Give a nod to the romance of a bygone era with this vintage-inspired emerald and diamond ring.
Kwiat emerald and diamond ring in 18K White Gold, $14,400, Kwiat.com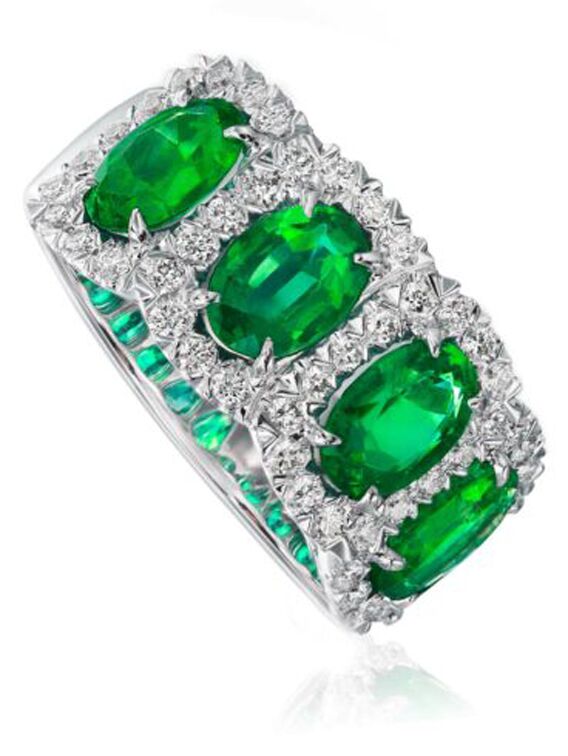 All around oval cut emeralds surrounded by elaborate diamond pavé makes for a wedding ring that packs a serious punch.
Christopher Designs oval emerald and diamond band in 18K White Gold, Inquire for Details, ChristopherDesigns.com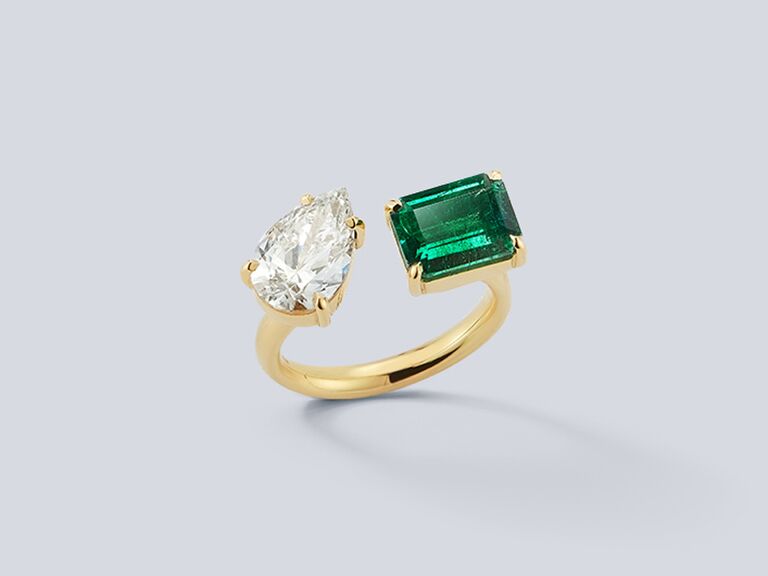 This toi et moi ring (that's French for you and me) gives you the best of both worlds: The unique glamour of a pear-cut diamond and the colorful flair of an emerald-cut emerald.
Jemma Wynne diamond pear and emerald open ring in 18K Yellow Gold, Inquire for Details, JemmaWynne.com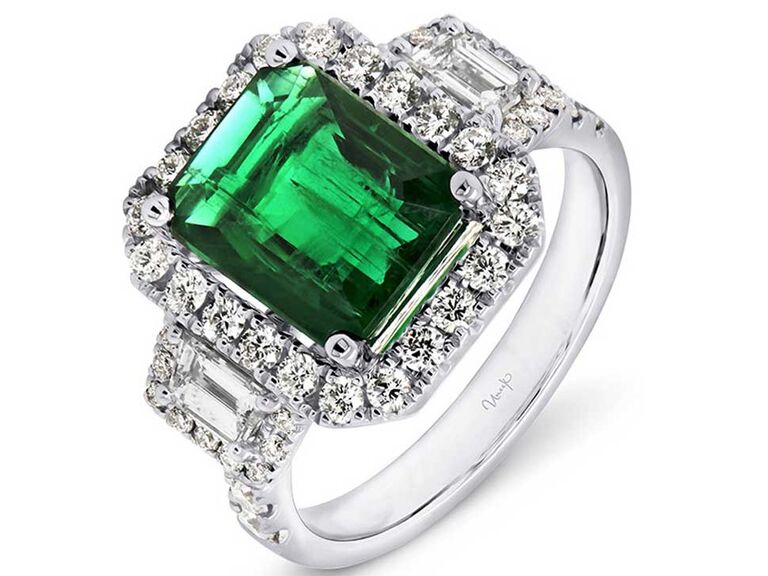 An uber-luxe take on the traditional three stone ring, this emerald-cut emerald and emerald-cut diamond trio is over-the-top in the best way.
Uneek Jewelry green emerald engagement ring in 18K White Gold, Inquire for Details, UneekJewelry.com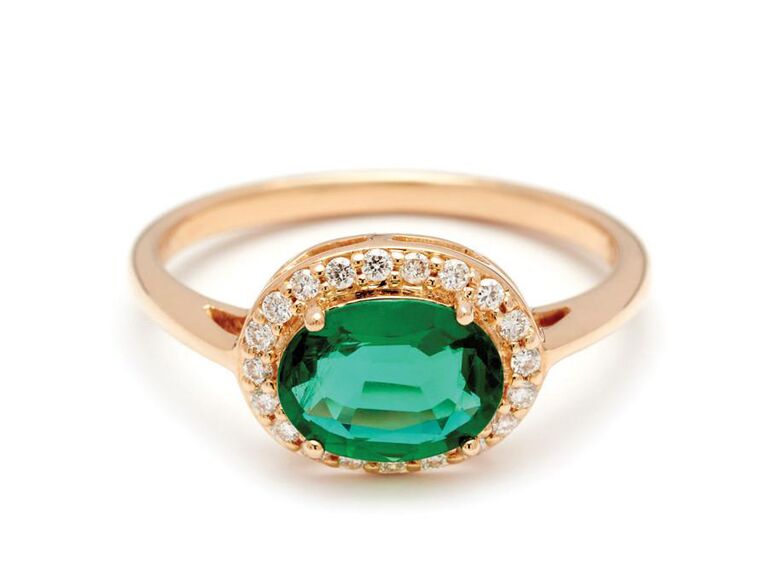 Boho brides: This one's for you. An oval-cut emerald in a trendy east-west setting puts a unique spin on a traditional halo engagement ring.
Anna Sheffield Rosette oval emerald ring in 14K Yellow Gold, $7,000, AnnaSheffield.com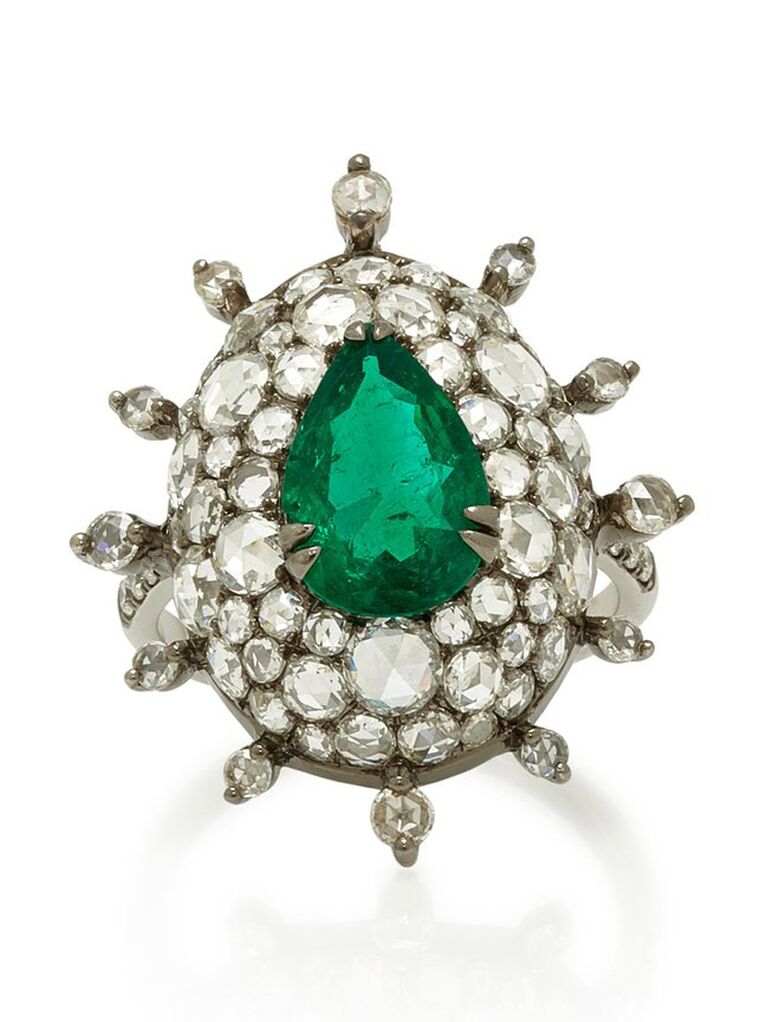 In the market for something with a one of a kind feel? Consider a ring style with a teardrop-shaped Columbian emerald surrounded by a cluster of rose-cut pavé diamonds.
Nam Cho diamond and emerald ring in 18K While Gold, $28,490, ModaOperandi.com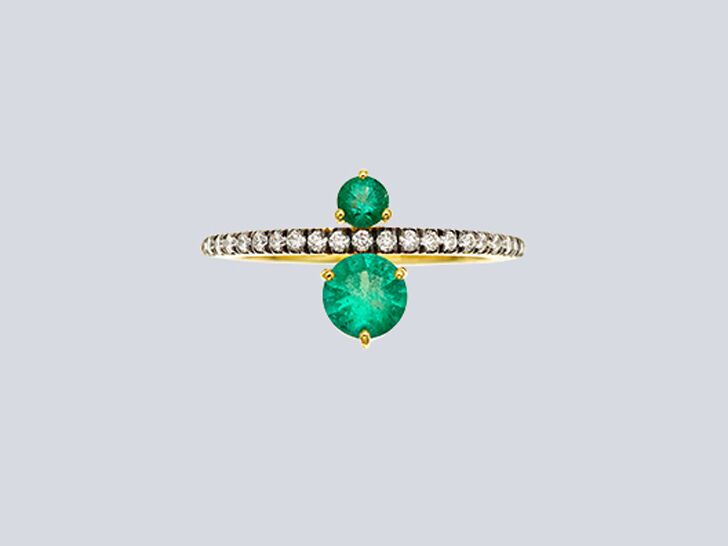 A simple two-stone design with a cool girl twist, this ring setting features two dazzling round cut emeralds.
Jemma Wynne Prive emerald ring with pavé diamonds in 18K Yellow Gold, $3,885, JemmaWynne.com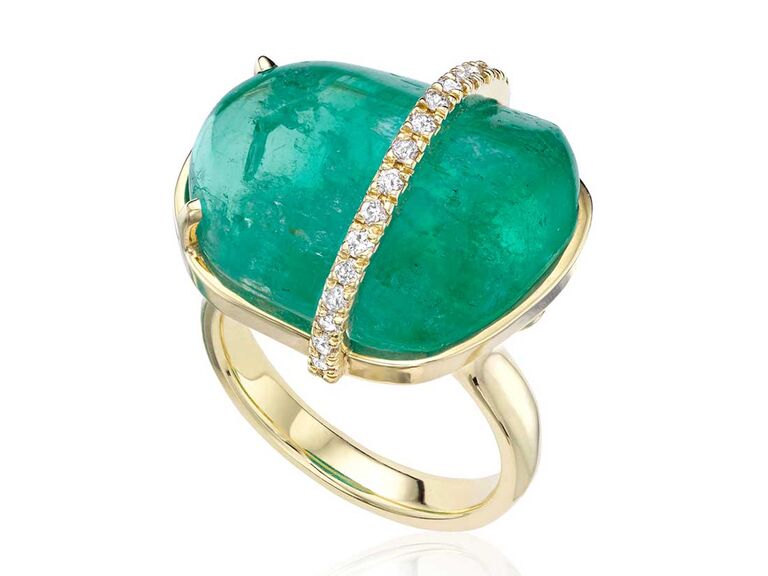 An organic-shaped center stone gives this emerald ring a distinctly alternative vibe.
Kimberly McDonald X MUZO emerald and diamond ring, Inquire for Details, KimberlyMcDonald.com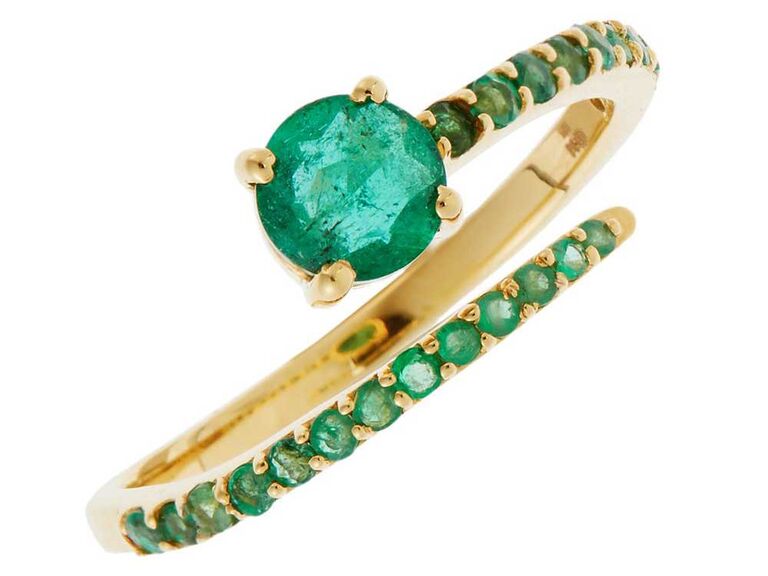 Bigger isn't always better. A dainty center stone plus a unique twisted setting is an attention-grabber.
Ileana Makri Grass Seed ring in 18K Yellow Gold, Inquire for US pricing, IleanaMakri.com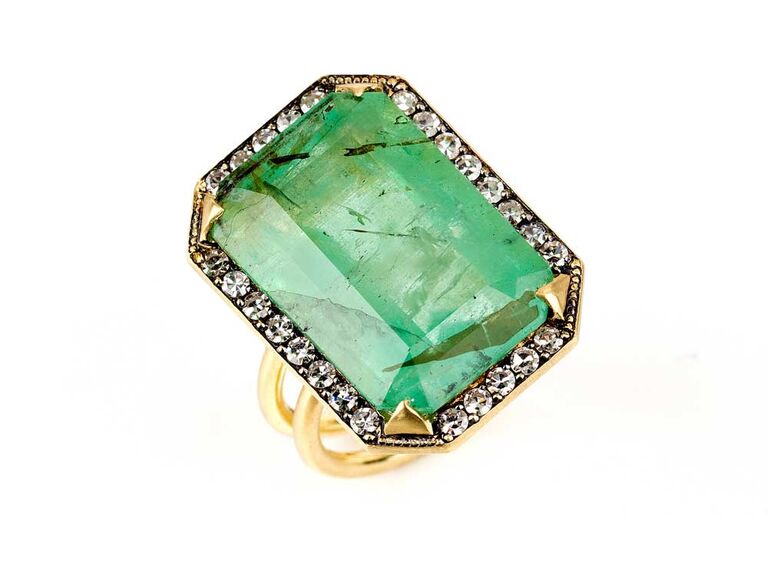 The soft green tone of this statement emerald ring gives it a stunning, mystical quality.
Sylva & Cie classic emerald ring in 18K Yellow Gold, $10,800, LesleyAnnJewels.com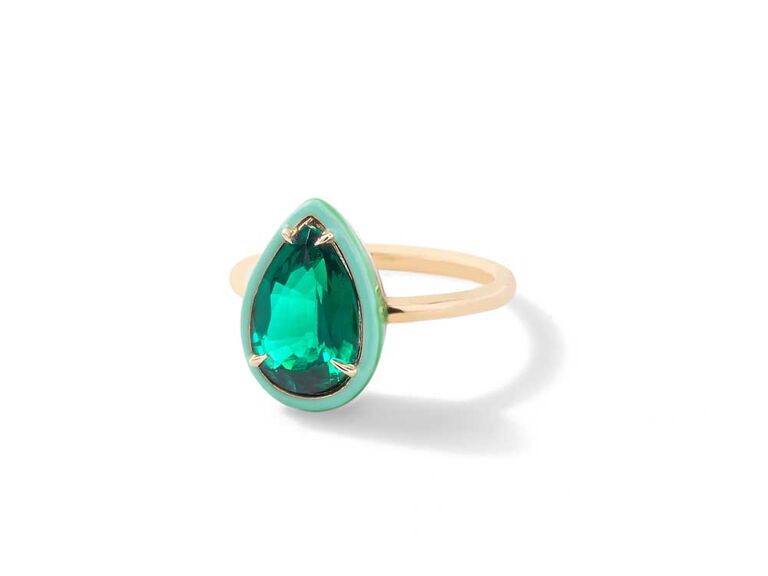 Calling all cool girls: This pear-shaped emerald plus mint green enamel halo is seriously fashion-forward.
Alison Lou cocktail emerald ring in 14K Yellow Gold, $1,235, AlisonLou.com