What to Know About Amy Schumer's Husband Chris Fischer and Their Love Story
The couple got married at a private residence in Malibu a few days after getting engaged.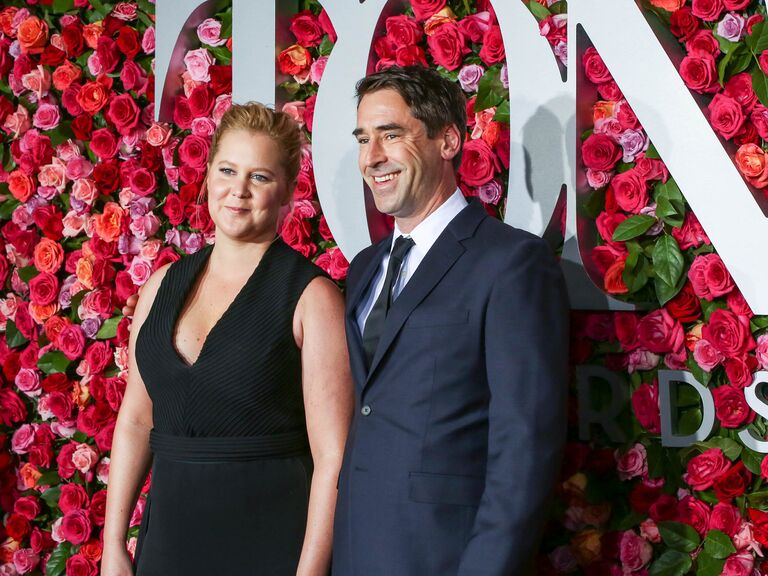 Walter McBride / Getty Images
Amy Schumer has been pretty open about her relationship with husband Chris Fischer from the start, broaching everything from their whirlwind romance to his autism spectrum disorder diagnosis. The latest update from Schumer, however, showcases her deep appreciation for Fischer, especially as a partner and co-parent.
"Today is our son's birthday and I woke up emotional as hell thinking about my husband, Chris," Schumer shared via Instagram in May 2021. "In this first photo while I was having a [three-hour C-section,] he held my hand and stared in my eyes so I never felt alone. I feel loved and supported always. He takes care of our family and is a husband and father beyond my wildest dreams."
Schumer also touched on her husband's autism spectrum disorder and how they navigate it together in their relationship. "Being tested and diagnosed has helped us communicate and support each other better," she wrote. "People have reached out to us saying that seeing our doc #expectingamy motivated them to get tested and that it has changed their lives. We want to encourage parents and people to give themselves the gift of information so people can function to the best of their abilities and remove any stigma that comes with autism."
"Statistically our son most likely will be diagnosed as well," she continued. "And if he's anything like his father that is wonderful news. So on our babies birthday where he held my hand tight and held me with his eyes I want to say I love you thank you and happy birthday little geenie panini we love you as much as you love school busses."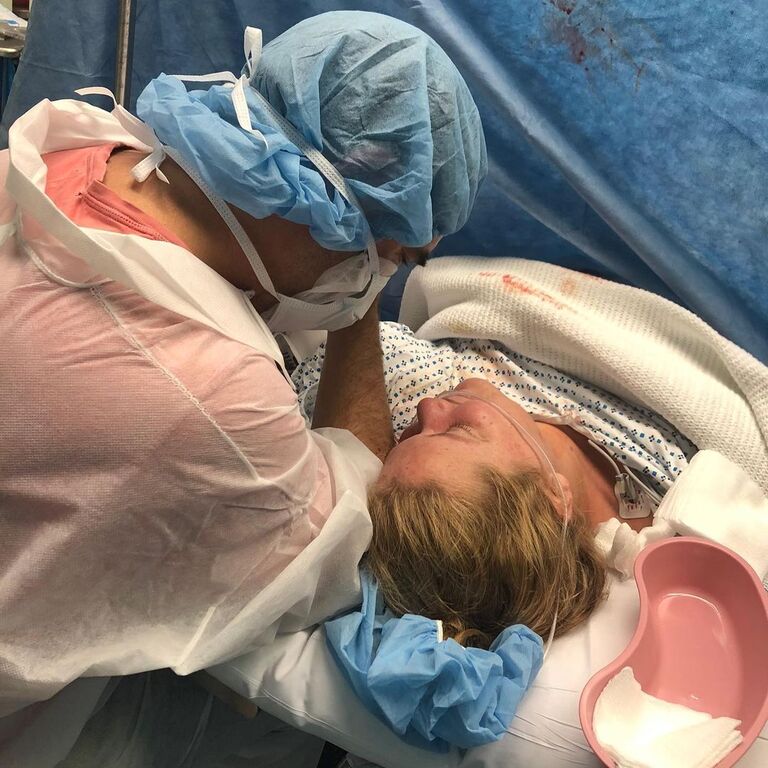 Here, we've rounded up seven things to know about Schumer's husband and their relationship.
He's a Professional Chef
In April 2020 when the world went into lockdown due to the coronavirus pandemic, the couple broached a new level of intimacy with their fans: inviting strangers into their home for a self-filmed show for the Food Network, Amy Schumer Learns to Cook. The premise of the show consisted of Fischer, a professional chef, cooking delicious farm-to-table meals, while Schumer assisted and made cocktails.
"She's a great student. She really focuses and listens, and isn't afraid to mess up," Fischer added of what it's been like to work with the stand-up comedienne. "And that's the thing with cooking, you have to roll with anything."
Amy Schumer and Chris Fischer Originally Met Through Schumer's Assistant
… who also happens to be Fischer's sister. In a 2018 interview with Howard Stern, Schumer explained that she first met Fischer during a weekend in Martha's Vineyard. It was there, at Beetlebung, the Fischer family farm, that her future husband offered to whip up a meal for Schumer and her personal assistant (his sister). Schumer, however, tried to play it cool.
"I went really out of my way to make sure he knew I wasn't flirting with him. You know, I'd be like, 'Oh, I haven't s--t in three days," the Trainwreck star told Dax Shepard on his Armchair Expert podcast in an October 2019 interview. "Just really hitting him with the hotness."
The pair formed a platonic bond, but a little while later, when Schumer asked Fischer to help cater a dinner for her good friend Rachel Feinstein's 40th birthday in September 2018, a spark ignited between the pair. "It just felt like we were hosting this party together," she told Stern. "He was cooking and I was getting things ready and we wanted everyone to have a really good time. And I was like, 'Uh oh. You know? I got that feeling where all the blood goes to all the places. And we were looking at each other a little bit longer. And it just changed."
Schumer got her assistant's blessing and the pair started dating shortly after that.
Chris Fischer Once Owned a Goat Named Kale
Fischer once told the Boston Globe that the reason for the odd moniker came from the fact that "it would only be milked if we gave it a bucket of kale." Eventually, he admitted, the family decided that the goat was getting a bit irksome and so they decided to have a goat roast instead. Fischer credits that meal as the inspiration for a series of farm dinners that the family held at Beetlebung Farm, and what eventually led him to write his award-winning cookbook.
He's Also a James Beard Award-Winning Cookbook Author
Fischer is a star in and of his own right. The onetime Beach Plum Inn chef has previously cooked for folks like President Barack Obama and his wife Michelle Obama in his hometown of Martha's Vineyard, which he and his family have called home for 250 years. In 2015, he penned The Beetlebung Farm Cookbook: A Year of Cooking on Martha's Vineyard, which featured seasonal recipes inspired by his grandfather's farm.
In fact, in a 2016 interview with the James Beard Foundation, Fischer sweetly credited his grandfather as his biggest inspiration. "His commitment during his lifetime to his family and community inspired many," the chef said. "His curiosity never stopped and he worked until he was 96 years old. His love of agriculture and a shared meal continues to drive me to work harder."
Amy Schumer's Husband Can't Lie
Amy Schumer has been vocal about her love for her husband, and among the things that she loves the most about him is the fact that he literally cannot lie. "I knew from the beginning that my husband's brain was a little different than mine," she said during her stand-up special, Amy Schumer: Growing, filmed in Chicago in December 2018, before correcting herself, "I have to start over, because I really want to get this right. Because I love him very much."
"My husband was diagnosed with what used to be called Asperger's," she explained on her Netflix special. "He has autism spectrum disorder. He's on the spectrum. There were some signs early on. … Once he was diagnosed, it dawned on me how funny it was. Because all of the characteristics that make it clear that he's on the spectrum are all of the reasons that I fell madly in love with him."
"That's the truth," she continued. "He says whatever is on his mind. He keeps it so real. He doesn't care about social norms or what you expect him to say or do."
In an interview with Seth Meyers last February, Schumer admitted that Fischer's inability to lie has its benefits and downsides. "It's a dream, but it's also like a real nightmare," she told the late night host. "He's here, and I came out right before, 'cause I changed outfits. I'm like, 'Does this look OK?' And he was like, 'Well, it's too late.' He's right, though it was too late!"
Chris Fischer Woke Amy Schumer Up to Propose
Fischer's straightforward way of thinking even influenced how he chose to eventually propose to Schumer. The way the comedienne tells it, she was already asleep in bed with her ear plugs in and a night mask over her eyes when Fischer nudged her awake to ask her to marry him. Only, he didn't exactly ask in a traditional way. Instead, he presented her with the ring, and said, simply, "I got you this."
Ever the gentleman, however, Schumer told Stern that Fischer did ask whether she wanted him to get down on one knee. She said that it wouldn't be necessary, but said a heartfelt yes to the ring. A few days later, the couple exchanged vows at a private residence in Malibu with their closest family and friends.
The weekday ceremony overlooked the coast of the Pacific, and featured a neutral and blush palette of colors. A number of Schumer's A-list pals were among the 80 people who witnessed the wedding, including celebrities like Jennifer Lawrence, Chelsea Handler, Jennifer Aniston, Larry David, Judd Apatow, Jake Gyllenhaal, and David Spade. The couple's two fluffy pups also took part in the ceremony, scrambling down the aisle at one point.
"His vows were stunning," Lawrence told Entertainment Tonight of Fischer's personalized vows. "It's when two people really love each other and they really mean it, it shows, and it was a beautiful ceremony and an amazing time. I couldn't be happier for them."
They've Now Welcomed Their First Child
The couple didn't wait long to expand their family, welcoming their first child together, Gene, in May 2019. Baby Gene's middle name was initially Attell, in honor of Schumer's close friend and fellow standup comedian Dave Attell, but as friends and family later pointed out to her, the combination of "Gene" and "Attell" unfortunately sounded an awful lot like "genital."
Schumer and Fischer therefore changed his middle name to David earlier this year. The comedienne admitted to Howard Stern in April that she didn't make the connection until "like a month in" because she and Fischer were just so happy to welcome Gene to the world. "You're new parents, just kind of tired and in ecstasy," she said, adding, "It's the first of many failures."