The Details on Jenna Fischer's Husband Lee Kirk and Their Love Story
The couple got married in 2010 and share two children together.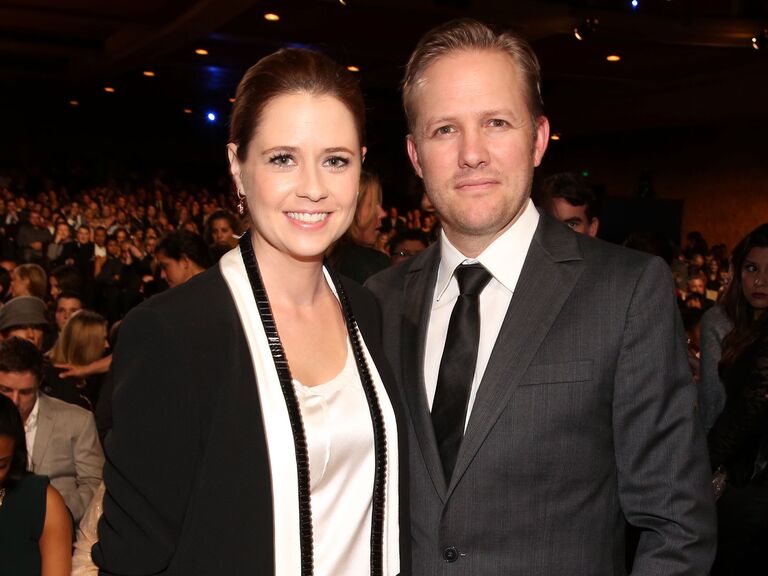 Christopher Polk / Getty Images Staff
Jenna Fischer is perhaps best known as Pam Beesly from The Office, but in real life, her longtime love is not fictional—albeit charismatic—coworker Jim Halpert, played by John Krasinski. Rather, her life partner is writer, director, and actor Lee Kirk, who is perhaps best known for directing 2012's The Giant Mechanical Man, in which Fischer starred.
Earlier this month, Fischer and her co-stars from The Office made headlines when they recreated Jim and Pam's wedding scene, thrilling a Maryland couple who just thought Krasinski was going to be virtually officiating their wedding. "There's only one way out of this wedding, and Susan and John, because you elegantly ripped off our proposal, I think it's only fitting that you rip off the wedding too," the Jack Ryan actor told the couple. (Earlier in the video clip, he shared that the couple's proposal mirrored Jim's iconic proposal to Pam at a gas station.)
So what about Fischer and Kirk's own wedding and relationship? Here, we round up a few fun facts about the famously private pair.
'The Office' Star Was Previously Married
Before Fischer and Kirk were an item, the Splitting Up Together actress was married to Guardians of the Galaxy director James Gunn for more than six years. The pair split in 2007, and finalized their divorce in 2008, but have remained friends. In an interview with Redbook in 2011, Fischer explained that initially, she "thought [she'd] go wild with freedom" after she was single again, but "instead, [she] pretty much did what [she] did in college—stay home with [her] cat." She added that she "didn't want to waste time flitting around."
Dating was particularly tough for The Office star in part because she was so practical in her dating approach. "I remember going out with one cute and funny guy," said the St. Louis native (who now co-hosts a breakdown podcast of the NBC TV show with her real-life best friend and former co-star, Angela Kinsey, which is very cutely dubbed Office Ladies). "I thought, 'We could have a really fun eight months, but that's eight months I'm taking away from finding Mr. Right. I can't afford that.' So I ended it."
Fischer and Kirk Met Through Creative Means
The pair first connected when Fischer pitched the director a film idea back in 2008. According to the actress, Kirk "very politically" rejected it, but responded in kind by pitching her three ideas. They ended up working together on the project that would become Giant Mechanical Man, though their relationship was purely platonic in the beginning (at the time, Fischer was still going through her divorce, and Kirk had just ended a seven-year relationship).
It took "six or seven months" before the pair finally confessed their feelings for one another, she told Redbook. Said Fischer, "In the midst of [trying not to date much after her split], I was having weekly script dinners with Lee, and I realized, I'm looking at basically the perfect man. It doesn't get better than this."
Fischer Says Kirk Helped Change Her Understanding of "The One"
"After my divorce, someone said to me, 'Finding love is not as hard as picking the right person to spend the rest of your life with,' she told Redbook. "It was Paul Lieberstein, the executive producer of The Office; he also plays Toby on the show. I held on to that advice when I was searching. I'd start to fall for someone and think, But that's not a good match. The fluttery feelings aren't enough. When I was younger, I thought you married the person you fell in love with the most. But as [my ex-husband and I] learned what we wanted, I realized there was a whole other set of criteria. You have to ask, Do we have the same goals?"
Fischer and Kirk, needless to say, do have the same goals. "It is a romantic comedy in itself," she told Vulture in 2012 of how they connected. "And what if we dated for three months and then it fell apart? I loved the movie so much that I didn't want to do anything to jeopardize it. But after eight months of doing this, we finally confessed that we had feelings for each other. It was so great, because we had fallen in love."
They Got Engaged While on Vacation
Just as Fischer's on-screen alter ego Pam Beesly was getting ready to get married to Jim Halpert, she and Kirk got engaged in real life while vacationing in Europe, back in June 2009. The low-key couple had just formally stepped out for the first time as a couple the previous fall at the Emmy Awards, so their engagement both surprised and delighted fans.
Their Wedding Was Officiated by Jeff Probst
The couple got married in Malibu in July 2010 in an intimate ceremony, where good food and good vibes were a priority. "I'm a foodie, so I want to have really good food," she told People magazine in December 2009. "We found a great caterer and had a two hour tasting and I left so full. We tried like four different entrees and 12 different appetizers. Our next big thing is flowers, and I'm sure by the end I'll know every type of rose that grows and where it originates from. Right now, I'm like, 'Eh, I don't know.' I'm definitely going to have some roses in there. They're my favorite."
Perhaps one of the more unexpected elements of Fischer and Kirk's wedding was their officiant: Survivor host Jeff Probst. According to People, the Survivor host has long been an ordained minister through the Universal Life Church. And as it turns out, he and Fischer are old friends. Since Survivor's 21st season was filming in Nicaragua around the time of Fischer's wedding, the fact that he returned to Malibu specifically to perform the ceremony made it all the more meaningful.