The Best Workout Classes for a Bachelorette Party by City
Boost those endorphins during your bachelorette party with these fun (and flirty) class picks from ClassPass.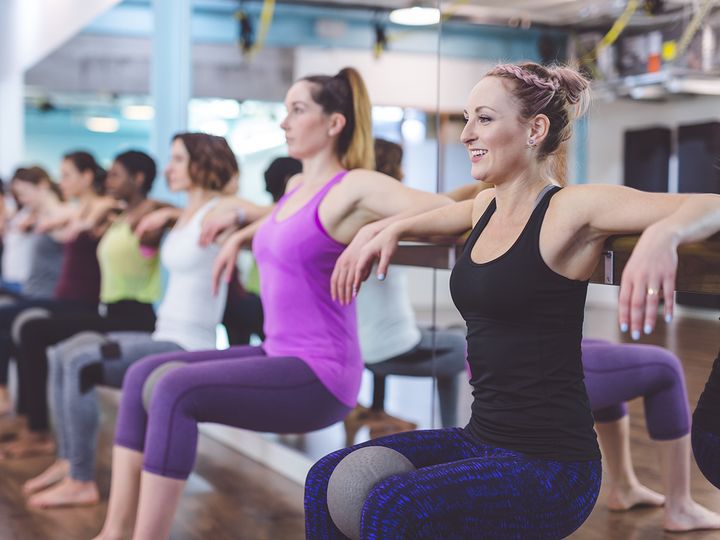 iStock

"Typical" should never be a word that describes a bachelorette party. Just like the wedding, the bachelorette party should be fun, unique and special. But you don't have to go to a club to get hot and sweaty. Instead, go to a workout class together. Not only will it bring the group closer together, but it's also a healthy way to have an unforgettable time. Here are our top studio picks in major ClassPass cities.
Atlanta: Sky Gym
Experience yoga like you never have before—in the air! Regardless of age, flexibility or strength level, Sky Yoga offers aerial dance and yoga classes for everyone in your party. Intro level classes are also offered so you can learn the ropes—or should we say ribbons?

Austin: Hey Paddle 
If your group is feeling adventurous, Hey Paddle offers small group total body fitness classes—but with a twist. Its 60-minute classes are taught on a paddleboard on its floating fitness studios.
Baltimore: Beachfit Baltimore
Give your party a taste of the beach in the heart of Baltimore. At BeachFit Baltimore, you'll have more than just an awesome workout, you'll have an experience that'll boost your endorphins and leave you ready for a good time.
Boston: Diosa Studios
If you want variety, Diosa won't disappoint. Its Vinyasa Vixens class, for example, features a variety of workouts: yoga, AcroYoga, Pilates, belly dancing and modern dance. It also offers burlesque, cardio hip-hop, yoga and pole dancing classes, so there's something for everyone in your group.
Charlotte: Carolina Barre & Core
Carolina Barre & Core offers OM yoga and cardio barre classes for all levels. Barre classes here are low impact but challenging, so you'll get your best ab workout ever with your besties. Instructors encourage fun in class but will also strive to push and motivate, so get ready for some tough love.
Chicago: Flirty Girl Fitness
With classes featuring pole dancing, strip teases and burlesque, you're bound to get a great workout while also mastering the art of flirtation. Want to take it to the next level and get some picture-perfect memories? Take the Lap Dance class. After all, what happens in Chicago stays in Chicago, right?
Columbus: The Bounce Club
Jumping on a trampoline may be for kids, but with some expert help from a professional at The Bounce Club, this throwback activity will also give you a great workout.
Dallas: Dallas School of Burlesque
Dallas School of Burlesque offers chair dance and belly dancing classes along with swing dance classes for the pin-up-inspired bride.
Denver/Boulder Metro: Kindness Yoga
Kindness Yoga studios are some of the most serene, peaceful and welcoming in the city. Release your wedding planning tension and try a KINDness HOT All Levels class or a popular vinyasa class at one of several locations across Denver. There's even a bilingual/Spanish vinyasa class.
Houston: Vertically Pole Fitness
If you're new to the pole dancing scene, book a Level 1 class for your bachelorette partygoers so you can learn the basics and work your way up—literally. Chair'Ography, Bump & Grindercise and "Do tWERK!" classes also provide other options for those in your group who want to skip the pole.
Kansas City: The Zen Zone
The Zen Zone is a yoga class for everyone—even those who are pregnant or have injuries. Chair Yoga, Gentle Yoga and meditation are great for those with injuries, while Zen Barre Plus and HIIT Fit Yoga require more fast-paced and intense bursts of activity. The Zen Barre Plus class combines dance, yoga and Pilates into a fun, sexy and energetic workout—perfect for those who want to get Zen but can't sit still.
Las Vegas: Deja Vu Presents Crash Academy
Crash Academy is a studio focused on empowering the body and the mind. It offers courses in pole dancing, belly dancing, flexibility and barre. All instructors are world-renowned performers and educators, focused on the power of femininity. Who says you can't feel sexy while you work out? They believe there's no other way.
London: At Your Beat
The spirit of AYB will enable you to reach the full potential of the dancer inside, and it's a great way to kick off the festivities.
Los Angeles: Sheila Kelley S Factor
Never tried pole dancing before? No worries! Sheila Kelley S Factor offers an Intro Teaser Class for those who are a little hesitant. The S Factor workout routine has been featured on Oprah, Ellen and more.
Miami: Nobu Eden Roc
Will Smith didn't dedicate a song to this beautiful city for nothing. Take advantage of the lovely year-round weather by taking a class at Nobu Eden Roc on the beach or in the fitness studio overlooking the water. For a relaxing option, book the Roc Sunset Rooftop Yoga class and watch the sunset as you find your inner Zen. For a post-class treat, book a massage for you and your ladies.
Minneapolis: The Pole Barn
With beginner classes offered three times a week, you'll have no excuse not to give pole dancing a try. The Pole Barn is a colorful, inviting studio with a lounge and a shop that also hosts private parties outside ClassPass. Looking to take your skills to new heights? Try the Aerial Silks Class for all levels, and defy gravity in the sexiest way possible.
Nashville: Delinquent Debutantes
Looking for a flirty, fun way to work out and feel great? Join like-minded women at Delinquent Debutantes for cardio classes that'll get your heart rate going.
New York City: Banana Skirt Productions
Get ready to twerk, grind and bring out your inner diva in Ratchet Zooba with Beyoncé-, Madonna-, Rihanna-, Janet Jackson- and TLC-themed classes. The studio has large classrooms, so bigger bridal parties will have room to strut their stuff. Need we say more?
Orlando: Foxy Fitness Studio and Pole
Foxy Fitness welcomes women of all ages and fitness levels, so there's no excuse not try playful classes like Chair Fit, Tank Top Tone and BooTAY Roll & TWERK. You'll have so much fun you'll forget you're getting a workout.
Philadelphia: Aqua Vida SUP
Having your bachelorette party in the summer? Don't miss out on one of the most unique and fun workouts in Philly. Aqua Vida SUP offers yoga classes on the water. While floating on a board on the water near Old City, you and your besties will flow from pose to pose. Need help balancing? Instructors are happy to modify poses so you can stay afloat.
Phoenix: RPM Spin
With the lights down low and the music up, you'll experience a great workout at RPM while feeling like you're at a dance club. Energetic playlists, DJs and lighting effects give this studio a fun edge. Control the resistance on your bike and get ready to jam out with your girlfriends while working your leg and core muscles.
Portland: The AERO Space
The AERO Space is the only pole fitness studio in Oregon. It offers a wide variety of classes and trainings that are intelligent, informed and fun. Its professionally trained instructors are the most experienced teachers you'll find at any studio in Portland, and together they boast an aggregate of over 20 years of pole dance and pole fitness instruction experience.
Raleigh: EVOLVE Movement
Unwind and enjoy the vibes with your ladies at this great Raleigh studio. To make things even more interesting, be sure to try its VINO Vinyasa classes.
Sacramento: Spotlight Ballroom
Learn to dance at Spotlight Ballroom. With beginner classes almost every night of the week, it's the perfect place to learn the partner dancing style you're most interested in.
San Diego: Bird Rock Yoga
Transport your bachelorette party to a beachy paradise at Bird Rock Yoga. With classes offered around dinnertime, you can enjoy a yoga class under the moon and stars to start off your night the right way. Vinyasa, candlelit and stress-relief classes are also offered in the studio throughout the day.
San Francisco: Hipline
This studio's approach to fitness aims to make everyone feel comfortable while teaching some killer dance moves. Shake your booty to an always-changing soundtrack during your 60-minute class, then try the Power Pop class afterward for an extra burn.
Seattle: Fly Fitness
Fly Fitness isn't the studio for those who don't like to sweat. With unique outdoor bootcamp Organized Chaos classes on the shore of Lake Washington, and indoor cycling combined with TRX, you'll feel the burn and the motivation to keep going with your girls by your side.
St. Louis: YogaSource - St. Louis
Start the day off with a little reflection and relaxation before all of the excitement. YogaSource is the go-to yoga spot in St. Louis. The classes taught at YogaSource fall under the category of Hatha Yoga.
Tampa: Hip Expressions
Do you ever watch belly dancers and think, "How do they do that?" At Hip Expressions, you can finally learn how to become the next Shakira. The Belly Dance Basics class is perfect for first-timers, though Hot Hula, Burlesque and Nia classes are also amazing.
Toronto: The Underground Dance Centre
Voted the number-one best dance classes in Toronto by blogTO, The Underground Dance Centre offers the absolute highest quality drop-in dance classes taught by the best teachers Canada has to offer. From "Beginner Beyoncé" and beyond, you and your ladies will love what this studio has to offer.
Vancouver: AcroFit Alternative Fitness
AcroFit is owned by Darren Bersuk, who has 20 years of experience as a professional acrobat and coach. With such an inspiring resume, we're not at all surprised that AcroFit offers an equally impressive menu of classes, including Aerial Silk, Aerial Yoga, Ballet Barre Fit, Pole Fitness, Mini Trampoline and Bootyful-to-the-Core. Private bachelorette parties can be booked outside of ClassPass, where you'll get an hour of pole instruction and a half hour of photos and play.
Washington, DC: Pole Pressure
Challenge your besties with your choice of pole, aerial hoops or even "chair play." The self-proclaimed "polefessors" will help you get the most out of this fun and memorable workout.
ClassPass is a new kind of gym membership that grants you access to thousands of different classes at studios and gyms in your city and around the world. Learn more here and get 50 percent off your first month with promo code THEKNOT.