The 16 Best Bachelorette Party Ideas (That Aren't Las Vegas)
Plan a party that really reflects the guest of honor's interests. These activities range from the amazingly unconventional to the simple and low-key.
by The Knot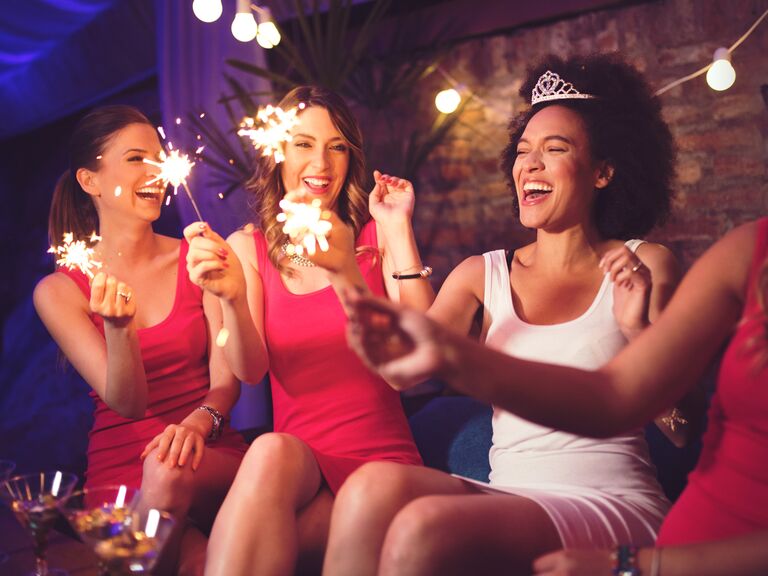 We're all for a night out on the town dressed up in some funny, thematic sashes. But a bachelorette party can also be so much more than that. Go ahead and buck tradition if a club isn't your guest of honor's style. What's most important is that everyone's able to let loose and have fun—and we've got some alternative bachelorette party ideas for making that happen.
But before you get into planning mode, first thing's first: Consider the bachelorette party budget. Chat with other guests to see what people are comfortable spending and that'll help you narrow down the options. Also, it's okay to consult the soonlywed if you're totally stuck on bachelorette party ideas! If anything, it shows you really care about making this an impressive, enjoyable event. Throw out a few bachelorette party activities, ask for feedback and take it from there. 
Whether you're looking for something wonderfully low-key or wildly unconventional, this list of things to do for a bachelorette party is the one for you. Not only have we provided editor-approved (and Instagram-ready) inspiration, but we've also linked out to some activities you can book right on the spot. Take a peek, and make sure to consult our complete bachelorette party checklist too. That way, you can rest easy that everything will go off without a hitch.
2. Travel Off the Beaten Path

3. Plan a Wine Tasting or Vineyard Tour

5. Make Your Own Lingerie

9. Whip Up Something Delicious

10. Let Loose at a Music Festival

11. Spend a Day on the Water

15. Create a Scented Keepsake