The Top Bachelorette Party Ideas and Trends of 2021, According to Our Data
There's a new season for bachelorette parties.
Nobu Hotels
We have included third party products to help you navigate and enjoy life's biggest moments. Purchases made through links on this page may earn us a commission.
The great return of weddings naturally involves a welcome rebound for another prewedding event: bachelorette parties. In the last decade alone, bachelorette party ideas have evolved from one-night outings to hyper-personalized, multi-day affairs. Our internal data for 2021 showcases that groups are treating the bachelorette party as a getaway before the big day.
The event not only spans multiple days but it's often accompanied by custom gear, sweet surprises, plenty of activities and even, a designated planner to map out the trip. The maid of honor typically will refine planning details for the bach party (46% of MOHs, in fact), but even more BFFs and family members are chipping in with the planning process. Here are the top bachelorette party ideas and trends for 2021 and 2022, based on responses collected from 650 participants. With so much to unpack, here's everything you need to throw the best bachelorette party, including new ideas and current trends.
The Newest Official Bachelorette Season Is...
Spring was previously the most popular season for bachelorette parties, but our data reflects a seismic shift for when these prewedding events are commonly taking place. Reminiscent of school days where summer vacations were an anticipated window of respite, the most popular bachelorette party season is now summer with peak season falling between the months of June through August. With this new season comes additional emerging trends, including longer stays and higher average spend. This pattern also has to do with wedding season, as roughly 60% of all bach parties are now taking place within a month of the wedding.
The Average Length of Time Has Extended
The tradition of week-of bachelorette parties is thankfully over (think back to when Kirsten Dunst played a bridesmaid in 2012's Bachelorette). Besties pulling it together for a wedding following a raucous night out is a true relic of the '00s and '10s. The vast majority of bachelorette parties are now overnight events with 97% of all groups opting to rent homes or hotel suites for a getaway.
This number has risen dramatically since 2019 from 86%, meaning it's now presumed bach parties are overnight affairs. Therefore, the average length of time has gone up and bachelorette parties are now even longer, averaging three days over two. Timing is up to the bride-to-be, but we're finding these events are now held months ahead of the actual wedding date since the recovery period is necessary.
The Budget Is Bigger
In 2019, about one in five celebrants spent around $1,000 (or more) for the bachelorette party. However, our most recent company data found that one out of every two attendees is now willing to spend nearly $1,000 or more on an upcoming bachelorette event. Much of this has to do with the pent-up demand for travel and group gatherings. Since this new cost association has become the norm, we provide practical tips for how to budget for a bachelorette party.
Flights Are Taking Off
Most bachelorette parties are traveling by car, though the number of attendees now traveling to a destination by plane has increased. Roughly one in four bachelorette partygoers are now traveling by plane, up 9% since 2019. The reason is simple: travel is a coveted luxury for many after being quarantined throughout much of COVID and destination bachelorettes are becoming the norm. An increased number of besties are willing to spend more than they typically would have in the past: two out of three, in fact, replied "yes" to spending more.
Home Rentals Are Popular
Sourcing and booking homes in hot bachelorette party destinations are trending, and one of the most preferred amenities might be pools. While hotel rooms still remain the preferred option of choice (53% of bach parties book a hotel or an all-inclusive resort), rental homes like Airbnb and VRBO have gone up by 7% in popularity since 2019. The average number of guests hasn't changed with about 10 loved ones total typically attending a bachelorette.
Itineraries Are Even More Packed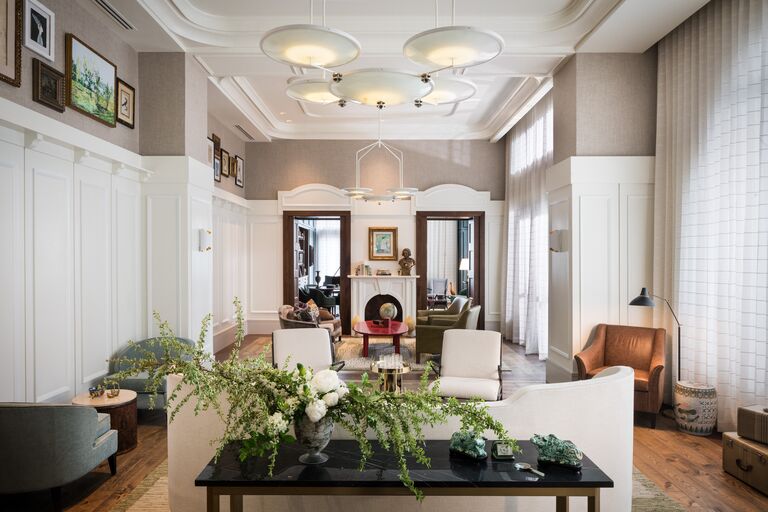 Those TikTok videos of a bride-to-be or MOH clapping along to Lady Gaga's voice as she says, "Bus, club, another club, another club," is the case with most groups in 2021. As expected: day and nightclub lines are suddenly longer than ever, reservations are required well in advance at most establishments, and even bachelorette party themes are carefully selected in advance. What's most interesting, however, is the average number of activities throughout the duration of a getaway. The total number of bachelorette party activities is now six, up from four in 2019.
Standard options include fun bachelorette party games, dinners and drinks out, dancing at clubs, along with spa days complete with massages and manicures. A third of all respondents, however, are now opting for boozy brunches (hello, mimosas!), beach days and poolside parties. Likely a result of more bach parties taking place in the summer, your gal pals will appreciate anything involving a pool or AC especially in cities like New York. To create an even more unique schedule beyond standard drinking games, consider throwing a lingerie party, hosting DIY activities, designing a chic picnic, or booking cooking classes with a professional chef.
Downloading Apps Makes It Easy
Ah, the internet. With the increases in average length plus travel costs, budget-tracker and cost-splitting apps are the most convenient form of divvying up related expenses equally. Venmo and Zelle are everyday preferred payout methods of choice, so bach party finances model this behavior. Everything from inspiration to travel booking is done via group travel planning apps, and creative budgeting alternatives (like Splitwise and Klarna) are becoming more frequently utilized.
Texas Is the Bach Party State of 2021
While traditional bachelorette destinations like Las Vegas and Nashville are still popular, the three biggest cities in Texas (Dallas, Houston and Austin) have also made the list for top 10 bachelorette party destinations. Though each city holds its own unique charm, more low-key groups will seek Austin while glamorous, hotel suite-booking bridal parties will prefer Houston or Dallas.
Tropical Bachelorettes Are Trending
The majority of bashes are taking place in the continental US, yet there has been an increase in tropical bachelorette parties. According to our data, we've seen a rise in groups seeking destinations like Hawaii, Mexico and the Caribbean. In fact, only about 7% of groups went the tropical route in 2019, as opposed to 13% of bach parties in 2021. Who doesn't want to luxuriate in oceanfront activities and unlimited piña colada cocktails?
Goodbye to Bachelorette Nights In
Though close groups of friends attempted the remote bachelorette party in 2020, nights in have since gone out the door. Naturally, groups prefer wine tasting during the day, followed by nights out, including a delicious sit-down meal at a trendy restaurant and activities like hitting a club or taking pole dancing lessons. However, there has been a slight decline in bar hopping, karaoke and party bus antics since 2019.
To replace those ideas, emerging and fun bachelorette party activities include rooftop bar hopping, pool parties during the day, old school dance playlists on repeat, and even glamping (especially if your group is into that sort of outdoor sleepover idea).
Bachelorette Treats and Gifts Are Officially a Thing
Imagine a bubbly-filled day of champagne pong and coming home to delicious confections. Groups are now planning ahead to present a "surprise moment" for the bride, and that means a group gift, cake or her favorite treat, all a welcome relief from wedding planning. While sweets are expected on the wedding day or at birthday parties and bridal showers, the bachelorette treat has quickly become a staple in 2021. Companies like Lady M, Milk Bar, Jeni's Splendid Ice Cream and more are shipping nationwide to help groups of best friends make the celebration just a little sweeter. Finally, many groups will plan a gift for the bride, whether it's something off her wedding registry, which we highly recommend, or lingerie for her honeymoon (another applauded option).
Custom Swag and Goodies Are Standard
Sashes were once the most coveted attire, but now, bachelorette parties are especially leaning into additional custom "gear" like swimsuits and T-shirts. With increased personalization sought by millennials and Gen Z, more groups are first setting the tone by sending bachelorette party invitations. Groups will also bulk order themed swimsuits, screen-printed T-shirts that read "bride tribe" and other keepsakes predesignated for the event. Bonus points for those who plan ahead with a fleet of Instagram-worthy pool floats.
Over 60% of respondents said they anticipate their upcoming bachelorette party to include special attire for the occasion, such as gear and bachelorette party favors. Popular sites to source necessities for bachelorette party activities (like slumber parties and scavenger hunts) include The Knot Shop, Etsy, David's Bridal and Birdy Grey.