The 16 Best Bachelorette Party Ideas (That Aren't Las Vegas)
Plan a party that really reflects the guest of honor's interests. These activities range from the amazingly unconventional to the simple and low-key.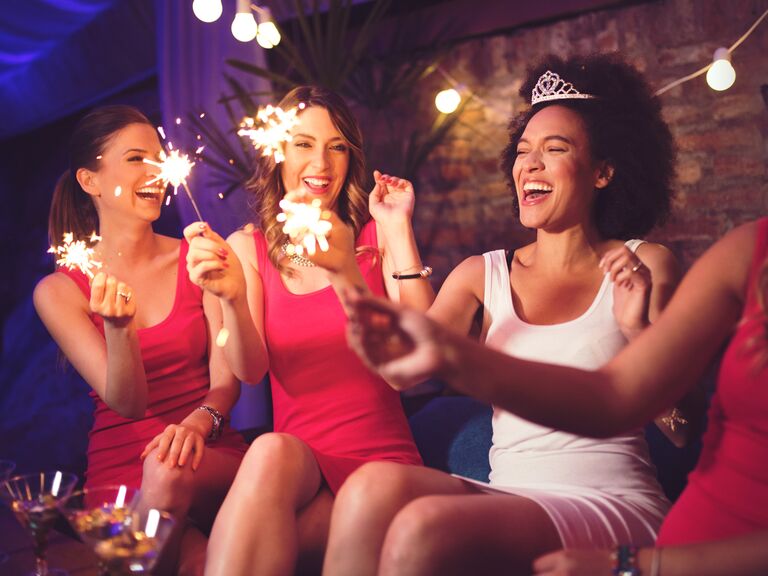 iStock
We have included third party products to help you navigate and enjoy life's biggest moments. Purchases made through links on this page may earn us a commission.
We're all for a night out on the town dressed up in some funny, thematic sashes. But a bachelorette party can also be so much more than that. Go ahead and buck tradition if a club isn't your guest of honor's style. What's most important is that everyone's able to let loose and have fun—and we've got some alternative bachelorette party ideas for making that happen.
But before you get into planning mode, first thing's first: Consider the bachelorette party budget. Chat with other guests to see what people are comfortable spending and that'll help you narrow down the options. Also, it's okay to consult the soonlywed if you're totally stuck on bachelorette party ideas! If anything, it shows you really care about making this an impressive, enjoyable event. Throw out a few bachelorette party activities, ask for feedback and take it from there. 
Whether you're looking for something wonderfully low-key or wildly unconventional, this list of things to do for a bachelorette party is the one for you. Not only have we provided editor-approved (and Instagram-ready) inspiration, but we've also linked out to some activities you can book right on the spot. Take a peek, and make sure to consult our complete bachelorette party checklist too. That way, you can rest easy that everything will go off without a hitch.
1. Go Glamping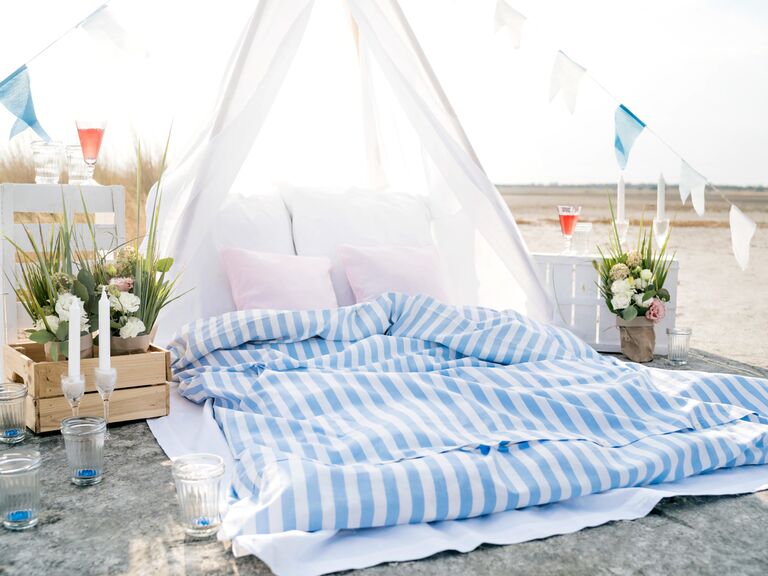 Get everyone together for a luxe weekend escape. We're talking about a decked-out cabin in the woods, a chic chalet in the mountains or an amenity-filled campsite by the water. Throw in some fun bachelorette party games, a day trip to a nearby town, and, of course, some refreshments. Sites like Glamping.com and Glamping Hub have options across the globe, while Under Canvas specializes in experiences at national parks. Meanwhile, Collective Retreats offers a unique, hotel-like experience on, believe it or not, New York City's Governors Island! And don't forget about rental booking sites like Vrbo with entire hubs dedicated to glamping in the USA. 
2. Travel Off the Beaten Path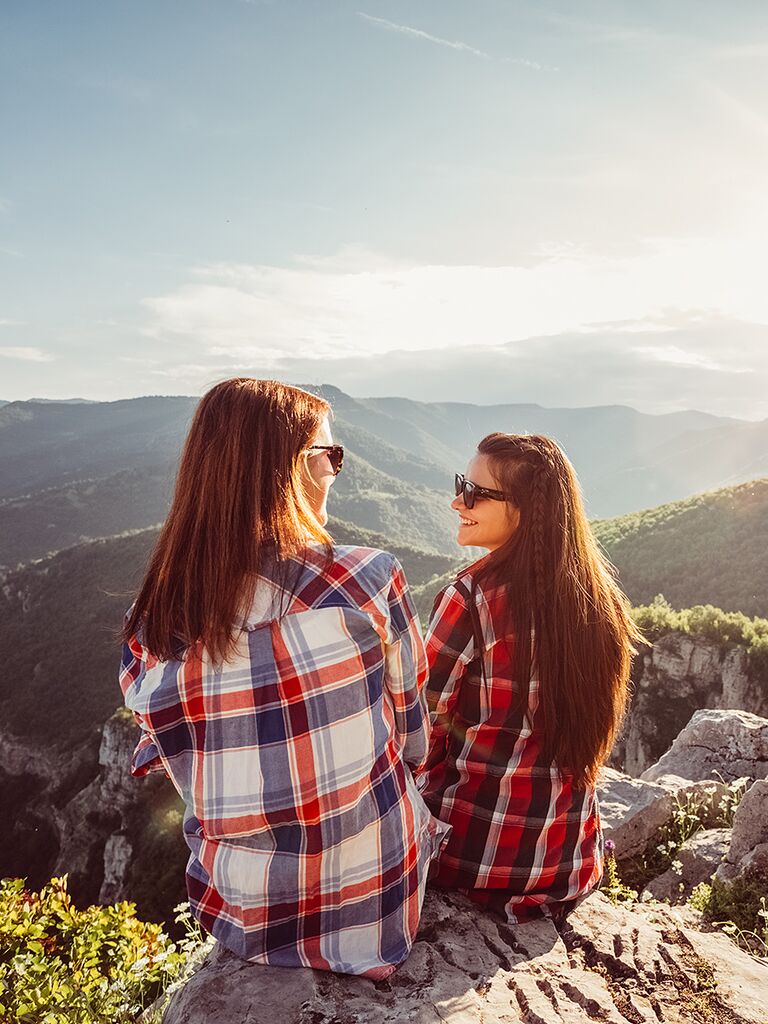 You don't have to jet off to a big city to have fun. Consider renting a car (or a few) and driving somewhere less traveled. Pick an end point (a restaurant, lodge, rental retreat, you name it) and stop for hiking and site-seeing along the way. While it's nice to have some sort of plan in mind, feel free to get a little spontaneous and pull over for roadside farm stands and photo ops along the way. New York's Hudson Valley is one of our favorite regions to explore. As for how to book your vehicle(s)? We like Budget for a good deal, but there's also a cool newish service called Turo that's basically the Airbnb of rental cars—borrow a ride from a "host" and you could just save some cash. 
3. Plan a Wine Tasting or Vineyard Tour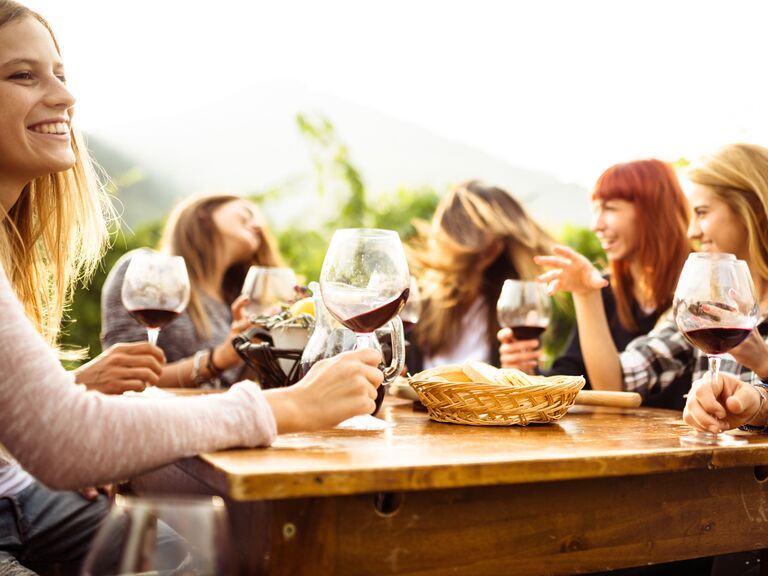 Instead of hitting up a crowded bar or club, take your bachelorette party on the road to drink some wine. From Long Island, New York, to the Leelanau Peninsula in northern Michigan and (of course) Napa, California, there are lots of spots to choose from. Rent a limo or party bus, plot your stops and arrange for food along the way. Mix it up and get a little dirty: Some wineries like Grgich Hills Estate, in Rutherford, California, allow you to kick off your shoes and actually stomp the grapes. For a more mellow, upscale atmosphere, reserve a seated tasting at the Wölffer Estate in Sagaponack, New York, for an afternoon of sophisticated, sommelier-guided sipping. For more vineyard bachelorette party ideas, check out Airbnb's experiences hub. But you're also more than welcome to stay local and support the small businesses near you.
4. Book a Photo Shoot
Supplement any getaway with this bachelorette idea. Choose a destination—really, almost any destination works—explore what it has to offer, and schedule some time for a group portrait session. Flytographer connects clients with destination photographers around the world. You'll work with a concierge to plan your dream photo shoot and walk away with snapshots worth framing (and obviously, 'gramming). It's a really nice way to capture memories without being glued to your phones the entire trip. 
5. Make Your Own Lingerie
If you're celebrating a more hands-on kind of to-be-wed, a DIY lingerie party is the perfect out-of-the-box bachelorette party idea. Have everyone bring basic lingerie (we're thinking the affordable, on-sale stuff) along with embellishments like sequins and beads, then compete for who can create the cutest or craziest design. (Keep in mind, this is more for fun than for making something you can actually wear.) Want to take it a little more seriously? Order gorgeous lingerie-making kits by Madalynne Intimates for the whole party—they come complete with cute bonus items like "team bride" temporary tattoos. Or, head to an in-person bra-making class at Madalynne's workshop in Philadelphia, Pennsylvania.
6. Chill with a Spa Day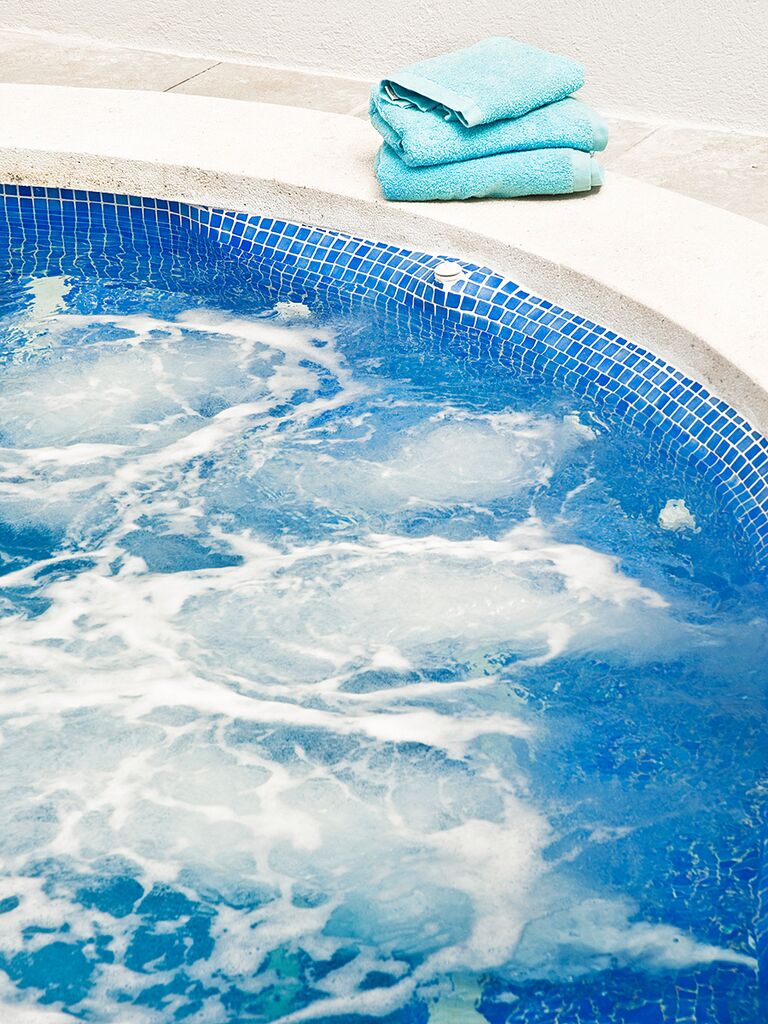 Not every bachelorette party has to be a rowdy night on the town—especially if it's closer to the wedding day. Check out SpaFinder to find local pampering services. But instead of trudging out to a spa for some relaxation, you can also have them come to you. Companies like Mobile Spa create customized spa days in the comfort of your home. Don't let the traveling aspect fool you, though—they still offer massages, facials and body treatments to boot. For the best of both worlds, have a relaxing spa day then schedule at-home beauty sessions with pros (we love Glamsquad) who can doll you up with makeup and hair services before you head out for the night.
7. Go Thrill Seeking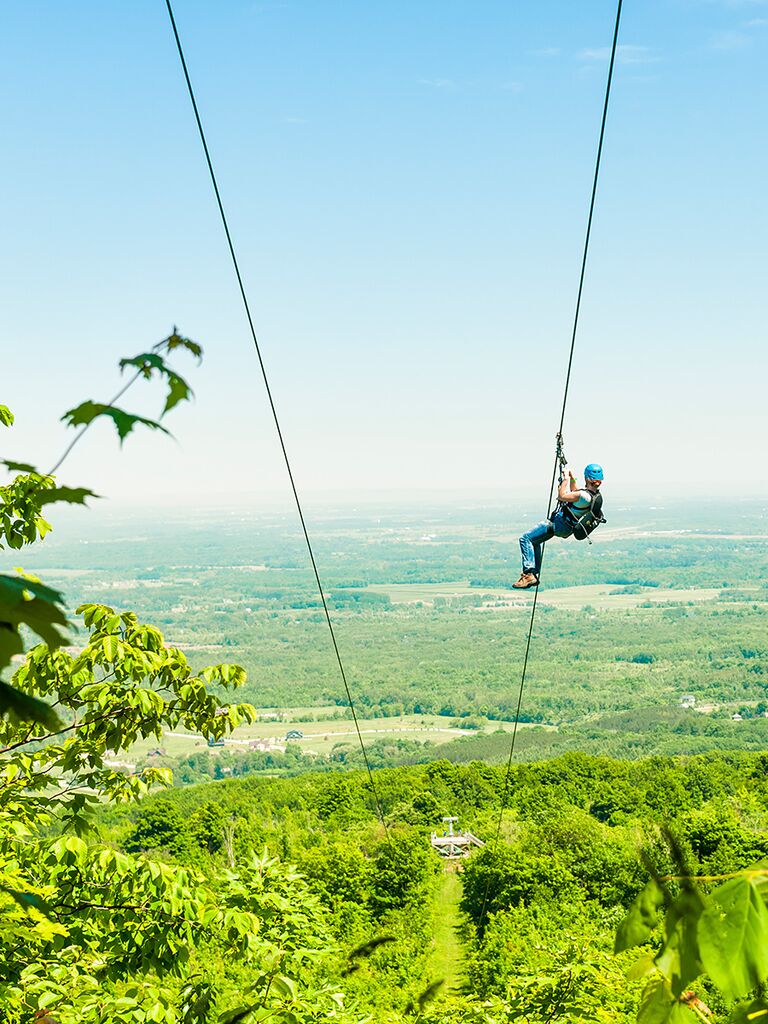 When it comes to what to do for a bachelorette party, you've really got so many options. Always wanted to go zip-lining, parasailing or even bungee jumping? Think of the bachelorette party as an opportunity to try something new. If you don't want to risk anything this close to the wedding, try a unique class instead, like trapeze, pole dancing (yes, seriously) or rock climbing. Not sure where to find activities near you or in your planned destination? Search the city on PlacePass and get a list of local experiences you can book for more bachelorette ideas. 
8. Throw a Slumber Party
On the hunt for a super-simple bachelorette party idea? We know you're not in middle school anymore, but an old-fashioned night filled with romantic movies, junk food (bust out the Cheetos, Pringles, Skittles and Reese's) and adult-only drinking games sounds like a good time to us. Order everyone their own custom sleep masks as favors for an extra-special touch.
9. Whip Up Something Delicious
Hosting a group of ameuter chefs—or those willing to learn? Sign up for an intimate group cooking class. Set a zero-judgement tone and enjoy the fruits of your labor together for a low-key bachelorette party idea. Again, Airbnb comes in clutch, offering lots of experiences to choose from. You can also use tools like TripAdvisor to search for local offerings. FYI: Alternatively, you can opt for a cocktail-making class!
10. Let Loose at a Music Festival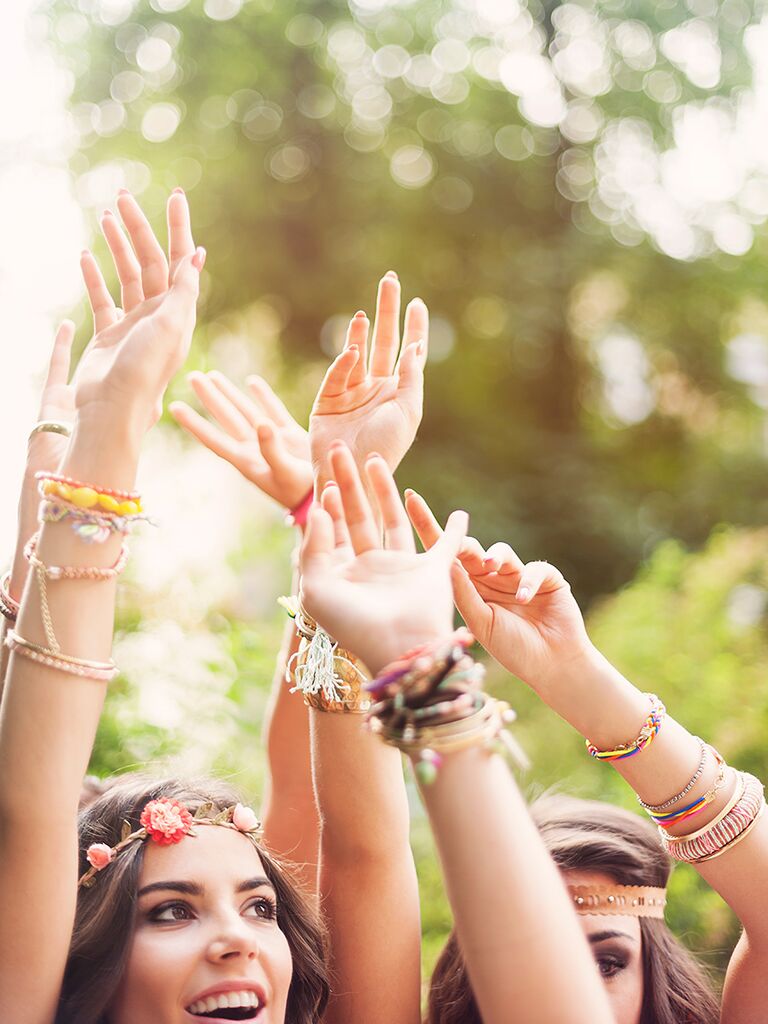 Get everyone together and get tickets for a music festival. Anything from Coachella on the West Coast to Lollapalooza in the Midwest will offer a variety of artists so everyone can hear something they like. Make a weekend out of it with a house rental that's stocked with plenty of snacks and libations for a few days of fun. Just don't forget festival gear—check out Show Me Your Mumu for chic boho attire and The Knot Shop for reasonably priced must-have accessories like fanny packs.
11. Spend a Day on the Water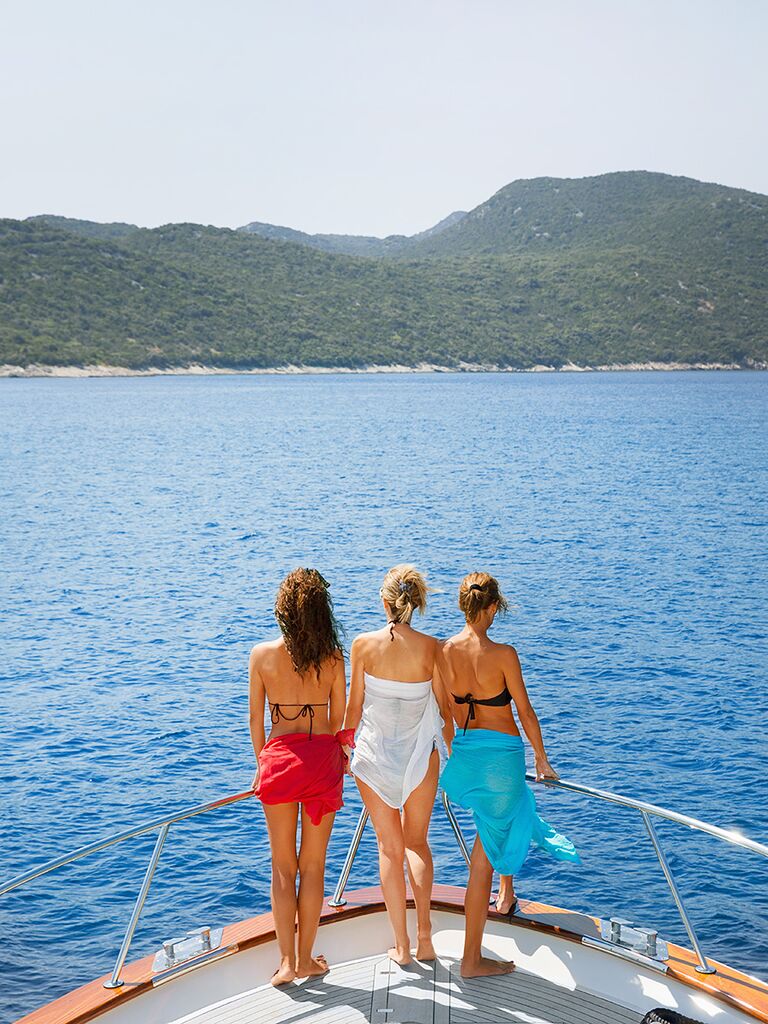 Rent a small yacht or speedboat, plan a river-rafting trip and take your friends out for the day, or simply hit the beach. Coordinate drinks accordingly—an ocean breeze pairs perfectly with tropical cocktails and rosé—and buy some thematic gear for fun. We're talking tie-up T-shirts, beach totes, sunglasses and hats. And please, stock up on sunscreen! 
12. Do Some Good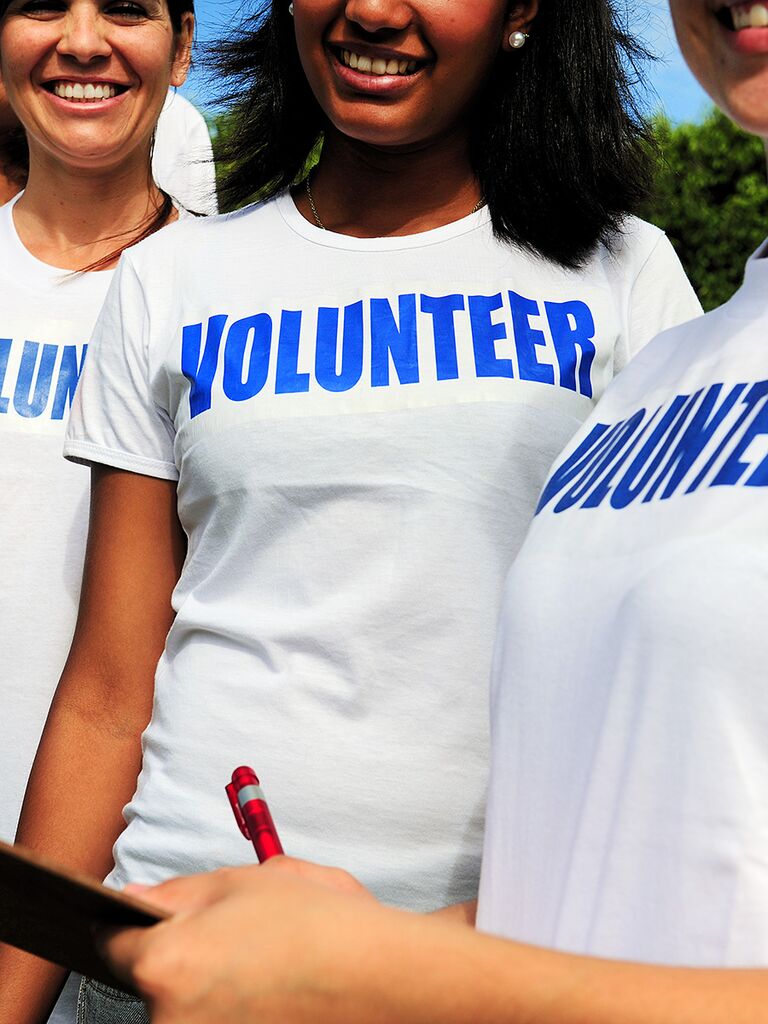 There are countless ways to get involved with charities and volunteering—just look for opportunities in your area. Think about causes that really mean something to the group and spend an afternoon putting some good vibes into the universe. Volunteer to clean up a local park, develop new skills building homes for families in need, run a charity 5K or help out at a soup kitchen—whatever feels right to the guest of honor. (And no one said you can't follow a day well spent with happy hour!)
13. Sketch a Nude Model
If you want an unconventional bachelorette party idea that's still blush- and giggle-inducing, this may be the just activity…. The Artful Bachelorette will bring the party to you (which includes a nude model and all the art supplies), and through a guided art lesson, you'll learn a thing or two about sketching the human body in all its glory. 
14. Throw Axes
Nope, your eyes do not deceive you—axe-throwing (as a regulated, organized activity, of course) is where it's at right now. Book a private event at your nearest axe-throwing destination—there's probably one closer than you think) Examples include Stumpy's Hatchet House, with locations from Texas to Maryland. Learn how to throw like a boss from certified instructors and have a blast blowing off steam, enjoying friendly competition and laughing the whole way through. And what better way to channel prewedding stress than hurling hatchets in a controlled environment? (FYI: Groupon sometimes offers deals on axe-throwing and other group activities—the more you know, right?)
15. Create a Scented Keepsake
Candle shops Candlefish and Paddywax offer unique private-event workshops for candle-making. Not only will this bachelorette party activity be fun, but it'll also smell divine. Plus, because they're located in popular bachelorette weekend destinations—including Charleston, South Carolina, and Nashville, Tennessee—you can easily pair the classes with other local activities and attractions.
16. Arrange Some Flowers
This low-key bachelorette party idea is one of our favorites—who doesn't love fresh flowers? Let an expert talk you through the art of flower arranging, then take home your bouquets as favors. NYC's ARANJ and Flower Girl NYC are two great examples of shops offering experiences. And note that at many places, you aren't limited to table arrangements. A flower crown class, anyone?