42 Fun Bachelorette Party Ideas for Every Mood
Live it up or keep it low-key with these options.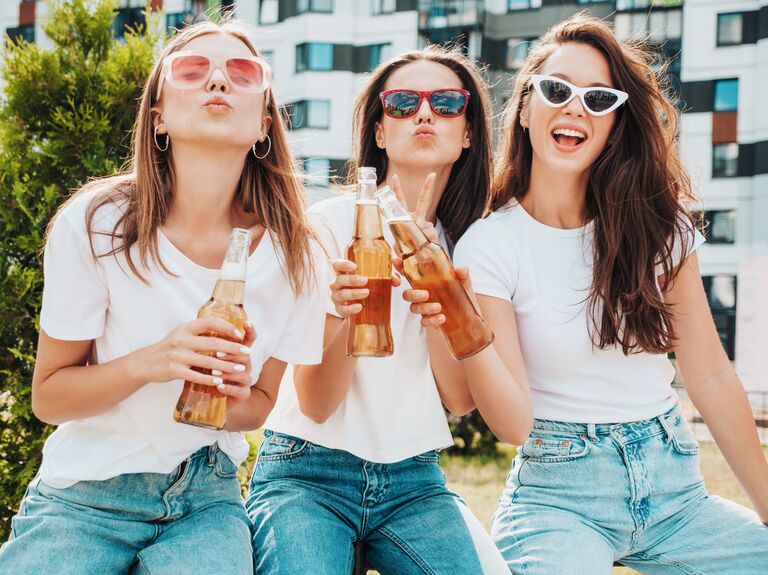 Photo: Halay Alex / Shutterstock
In the last decade alone, bachelorette party ideas have evolved from one-night outings to hyper-personalized, multi-day affairs—and your options nowadays extend way beyond the usual bar crawl or casino. According to a new study by The Knot, which surveyed more than 500 respondents, 32% of people recently attended or will attend a bach party this year. But if you're planning a bachelorette party and have no clue where to begin (or which activities to add to your itinerary), we've got you. Check out this list of the most popular—and most creative—ways to celebrate, whether you're looking for fun bachelorette party ideas that will become the stuff of legends down the road, or you're hoping to keep the party more simple and low-key.
Bachelorette Party Ideas for Every Vibe:
Fun | Creative | Wild | Unique | Low-Key
Fun Bachelorette Party Ideas
Games and dancing are good standbys, but when you need action-packed activities to entertain your guests, pick one (or more) of these fun things to do for a bachelorette party.
1. Presentation Party
This idea will be a hit with the crew that loves debating and public speaking. Everyone picks a topic based on their interests and prepares a short speech (no more than five minutes per person) with slides. It could be something as simple as the best ice cream flavors ranked by superiority, or a more obscure topic, like different types of women's lingerie throughout history.
2. Costume Night
Pick a funny theme and ask all of the guests to bring a costume to match (it's up to you whether or not you want the theme to be a surprise for the bride). Dress up in your outfits for a night on the town, but don't forget to snap a group photo first. The wackier the theme, the better the costumes—some examples include nerdy dad outfits, famous redheads, Shrek characters or '80s jazzercise.
3. Trapeze School
Carrie did it on Sex and the City, and you can do it for your bachelorette party. Find a nearby trapeze center and book a private training session for your group. There's a good chance that most people won't have ever done anything like it before, which makes this a super memorable bachelorette party idea.
4. Pedal Bar
This fun bachelorette party idea is an oldie but a goodie. It's especially entertaining if you're heading to a new city for the party—you'll knock out two birds with one stone by exploring the sights and boozing it up at the same time.
5. Murder Mystery Party
For the bride who's obsessed with true crime podcasts and documentaries, no other bachelorette party idea can compete. Download a game kit with storyline prompts and have some fun buying the accompanying props and costumes for each character.
6. Escape Room
Challenge your group by adventuring to an escape room for part of the bachelorette party. Depending on the location, you can find specially themed rooms, ranging from video game-inspired rooms with virtual reality details to haunted and horror-themed rooms. Once you've found your way out, reward yourselves with dinner and a bar crawl.
7. Bowling
This birthday party staple is surprisingly fun as a bachelorette party idea too. Go all in with matching T-shirts, wristbands and team names inspired by competitive bowling leagues.
8. Karaoke Night
Whether you head to the nearest karaoke bar or set up a stage in the basement of your house, karaoke is always a fun way to let loose, especially after a glass of wine or two. Let everyone perform their go-to song or stick to a specific genre, like '70s disco tunes or 2000s pop.
9. Pickleball Tournament
If the bride has jumped on the pickleball bandwagon, set up a tournament in her honor, complete with cute outfits and swag for each player. If she's not into pickleball, try tennis, golf or croquet instead.
10. Paddleboarding
Planning an outdoorsy bachelorette party? Head to the nearest creek or lake for a paddleboarding outing. If you don't want to worry about bringing your own equipment, look for a spot that offers hourly or daily rentals.
11. Drag Brunch
You don't need any special supplies for this fun bachelorette party idea—just a reservation at a nearby drag brunch restaurant (and maybe matching outfits for your crew). Let them know ahead of time that you're celebrating a bride-to-be if you want to playfully put her in the spotlight.
Find your kind of venue
From barns to ballrooms, discover reception venues that feel like you.
Creative Bachelorette Party Ideas
Plan a bash that stands out from all the rest with these cute bachelorette party ideas. From craft sessions to unexpected surprises, everyone will love these creative and unexpected options.
12. Flower Arranging Tutorial
Inspire a new hobby by booking a private flower arranging class for everyone. This idea is especially cute if the bride or most of the guests live locally, since they'll be able to take the arrangements home after the party.
13. Picnic Luncheon
Embrace the cottagecore aesthetic by planning a backyard picnic at your home or rental home. Style the party with cute details like gingham blankets and tablecloths, vintage linen napkins, pastel-colored desserts and cabana umbrellas to provide shade.
14. Photo or Video Montage
Ask guests to share photos and videos of their favorite memories with the bride and compile them into a slideshow as a surprise. It's a cute bachelorette party idea to incorporate, whether your group is already a close-knit family or everyone is still getting to know each other.
15. Secret Buddies
A few weeks before the bachelorette party, assign a secret buddy to everyone in your crew. Set a spend limit and ask guests to bring a gift for their buddy to the party. Take turns opening gifts and guessing who they came from.
16. Permanent Jewelry
Think of this cute bachelorette party idea as the grown-up version of friendship bracelets. The idea involves choosing a thin chain, usually 24-karat gold, and welding the ends together in place of the clasp so that the bracelet or anklet stays on 24/7 (if necessary, most can be easily removed with scissors). It's a sweet way to symbolize the bond you share with your friend group—search for a local jewelry boutique that offers the service.
17. Candle Making
This creative bachelorette party idea can be done at home with your own supplies or with the help of a professional candle making studio. And even better: making the candles doubles as a fun group activity and gives guests something to take home from the party.
18. Adult Summer Camp
If you dreamed of going to sleepaway camp á la The Parent Trap as a kid, why not make your own grown-up version? Coordinate matching summer camp-inspired uniforms for your friends, then deck out your party space with cabin-themed decor like colorful pennants and red checkered tablecloths.
Wild Bachelorette Party Ideas
You don't have to swing from the chandelier, but if you're looking for a good time, these wild bachelorette party ideas will definitely liven up the celebration. Mark the special occasion with matching tattoos, a spicy lingerie photo shoot or a night at the burlesque club.
19. Boudoir Photoshoot
The prewedding boudoir shoot doesn't only have to be for the bride. Hire a glam squad of professional hairstylists and makeup artists to hype everyone up, then pose for boudoir-style portraits with cute lingerie and pinup-style outfits.
20. Pole Dancing Class
This bachelorette party idea is sure to be a memorable one for anyone who hasn't tried pole dancing before. Stereotypes aside, it's an impressive workout and major confidence booster, even for those who aren't married or in a relationship.
21. Psychic Readings
Ready for a glimpse into your future? Psychic and tarot readings are a fun way to break away from the usual bachelorette party activities—and you might even learn something new about yourself.
22. Burlesque Show
Calling Christina Aguilara, Cher and Kristen Bell. Head to a nearby burlesque or cabaret theater for a night of drinks, music and entertainment. Look for one with table service so you can avoid battling a crowded bar or missing part of the show.
23. Indoor Skydiving
This option is safer than *actual* skydiving but just as adrenaline-pumping, especially for first-timers. Not to mention the action photos and videos your group will snap while watching everyone in-flight.
24. Tattoo Parlor
Matching tattoos are an option for the group that's especially tight-knit and a little daring. The ink doesn't have to be anything major—think of a small symbol that represents something about the bride or a common interest all of you share. Be sure to call ahead to confirm that the studio can accommodate groups.
Unique Bachelorette Party Ideas
Plan a one-of-a-kind celebration in honor of the bride-to-be with these unique bachelorette party ideas, from luxe upgrades to nontraditional activities and more.
25. Private Chef
Who wants to worry about cooking when you're trying to relax and have fun? Pool your group's finances and go in on the cost of hiring a private chef for the entire weekend. It sounds bougie, but trust us, you'll be so thankful waking up to homemade breakfast after a late night out.
26. At-Home Blowouts
Pamper your friends before a big night out by hiring pro stylists to do blowouts or other hairstyles. It's a little splurge that makes the celebration feel extra-special compared to your average girls' night out.
27. Couples Bach Party
Each partner traditionally celebrates separately with their own wedding party, but who's to say that you can't all celebrate together? Plan a joint bach party with groups from both sides. If not everyone knows each other, it's the perfect way to mingle and bond before the wedding day.
28. Roller Skating
Put on your best '90s-inspired outfits and hit the floor with your roller skates or roller blades. This throwback activity is bound to be a workout, so plan to recover with food and drinks afterward.
29. Axe Throwing
Blow off some steam before the wedding day with this wild bachelorette party idea. You might be surprised to see who in your group has the best aim—and as always, you can make the experience even more fun with matching outfits, like plaid flannel shirts.
30. Amusement Park
You won't need to worry about planning a day full of activities thanks to this action-packed bachelorette party idea. Even if you skip the extreme rides, it's a chance to dress up in matching T-shirts, baseball caps and cute sneakers.
31. Volunteer Day
Use the bachelorette party as a chance to do good in the surrounding community while also creating one-of-a-kind memories for the bride. Give back by volunteering for neighborhood cleanup, food bank assistance or something else that speaks to your heart.
32. Museum Tour
A museum tour is a great bachelorette party idea for the group that's looking for something a little more cultured. (Plus, you might be able to score free entry or a group discount, depending on the location.) Look for museums that offer private tours for the ultimate VIP experience.
Low-Key Bachelorette Party Ideas
Whether you need last-minute bachelorette party ideas or are simply looking to keep it casual with a small group of friends, these activities are perfect for chilling out and taking it easy.
33. Pottery Painting
If you've always wanted to try your hand at pottery, there's no time like the present. Book a group session at a paint-your-own-pottery studio or give everyone the chance to try their hand at throwing pottery on the wheel with a ceramics class.
34. Potluck Dinner
A potluck dinner is perfect for the group that's always hosting dinner parties and wine nights at each other's homes. This simple bachelorette party idea can be as laid-back as you want—decorate with coordinated linens and tableware to make it feel a little more special.
35. Massages and Meditation
We're guessing that everyone could use a little extra zen before the wedding day, so pamper yourselves with relaxing massages followed by a meditation or yoga session. It's up to you whether you want to reserve a private room at a wellness center or hire a team that offers onsite services.
36. Slumber Party
For this low-key bachelorette party idea, you'll need cute pajamas, a dozen pizzas, a queue of wedding movies and rom-coms, wine and plenty of cozy blankets. Plan a slumber party if you're celebrating during the winter months (who wants to step outside in mini dresses and heels when it's snowing?) or in need of a last-minute bachelorette party idea.
37. Cooking Class
If the bride is a foodie (or an aspiring cook), she'll love this chill bachelorette party idea. Find a class that's tailored to her favorite type of food, such as pasta or French desserts.
38. Pool Day
Sometimes a lazy day at the pool is exactly what you need. Whether you're renting a house with a pool or hosting in someone's backyard, this simple bachelorette party idea never misses. Plus, it's a prime opportunity to shop for new swimsuits and bachelorette pool floats.
39. Winery Tour
This classic bachelorette weekend idea is also one of the best ways to chill out and relax if you're looking for a low-key way to celebrate. Pretty scenery, wine pairings and hors d'oeuvres—what more do you really need? If you're planning to stop at multiple wineries, spring for a private party bus to safely get around.
40. Sunset Cruise
Embrace all the coastal grandma vibes by chartering a private boat for a couple of hours. If the sailing company doesn't provide catering, pack light fare and a few bottles of wine. (And don't forget your cozy cashmere sweaters and linen pants.)
41. Trivia Night
Is your friend group full of human encyclopedias? Split everyone into teams and host a trivia tournament with categories inspired by the bride's favorite things, like reality TV or cheesy romance novels. Be sure to have bachelorette prizes and favors on hand for the winners.
42. Antique Shopping
A great option for a smaller group, this classy bachelorette party idea doesn't involve a night of drinking or staying out late. Map out the must-see antique shops if you're planning to stay local, or take a roadtrip to a place that the bride has always wanted to visit and spend the weekend hunting for treasures.