45 Creative Bachelorette Party Captions for Instagram
"It's the last fling before the ring"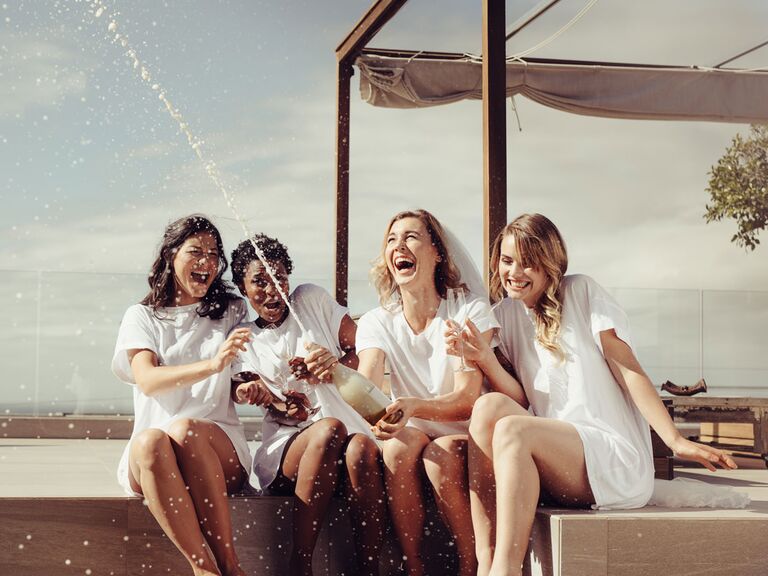 Jacob Lund/shutterstock.com
First comes the wedding event, then comes the Instagram photo. Whether you're preparing to say "I do" or you're in the party, weddings come with plenty of Instagram-worthy moments—including the bachelorette party. This, of course, means you'll need to gather a few bachelorette party captions to use on social media. The bachelorette party is a time for the couple to celebrate with their wedding party and close loved ones, and is often planned by a best friend or family member. The activities of a bachelorette party are generally up to the host and the bride. Winery or brewery crawls, themed parties and staycations in a new city are all common itinerary additions. And with plenty of cute bachelorette party decorations to include, there will be no shortage of pictures for the 'gram throughout the trip.
Choosing what to write alongside your favorite wedding photos isn't an easy task, especially if you're looking for something that'll get plenty of likes. Fear not: As experts on the subject, we have plenty of caption ideas for every bach party. Whether you're looking for something that's witty, sweet or matches the party theme, use this as your guide to finding the perfect bachelorette party captions.
In this article:
Funny Bachelorette Party Captions
There are plenty of opportunities to get sappy on Instagram (like during the bridal shower or on the wedding day). Since bachelorette parties are all about celebrating, consider a funny caption for your Instagram post. We know the struggle of finding a caption that's fresh and witty, so we have plenty of ideas for you to steal. Find our favorite funny bachelorette party captions for Instagram below.
It's the last fling before the ring.
Bach, please.
Call her Feyoncé.
What happens at the bachelorette party stays at the bachelorette party.
'Til death do us party.
Someone get us a shot—she's tying the knot.
[Fiance's name] popped the question, so we're popping bottles.
Brews before "I Dos."
We solemnly swear we're up to no good.
Wine flies when you're having fun.
Twenty-four-hour champagne diet.
It's the final countdown.
She's not a regular bride, she's a cool bride.
Besties? Check. Wine? Check. In bed by nine? Check.
Before you say "I do," let's have a party or two.
Bach and boujee.
Cute Bachelorette Party Captions
If you're the sentimental type, don't stress about finding the right words to say. Below, find a collection of cute bachelorette party Instagram captions to add to your favorite snapshots from the trip.
The best "I do" crew you've ever seen.
The final flamingle, because she's no longer single.
Raising a glass to our favorite couple.
Together is the best place to be.
Kiss the bride.
The wife of the party.
A sweet ending to a new beginning.
A weekend to remember.
Giving a new meaning to rosé all day.
Next stop: Wedding.
Cheers to love, laughter and happily ever after.
Looking on the bride side. ☀️
The party doesn't start until we walk in.
Celebrating a lifetime of love and happiness.
Thematic Bachelorette Party Captions
From Bravo to Bridgerton, there are plenty of fresh bachelorette party themes to spice up your bash. A theme will offer plenty of decoration and outfit ideas, but it'll also give you plenty of unforgettable memories. If you and your crew are partying with a specific theme in mind, show off your creativity on the 'gram. Below, we've gathered bachelorette party captions for a variety of celebration themes.
Let's get nauti.
Making one last splash.
Let's party, beaches.
Last sail before the veil.
Come on Barbie, let's go party.
The final fiesta.
Aloha bride, aloha beaches.
Sea you later, we're off to the bach party.
One last syrah. 🍷
Mimosas with the 'maids.
It's like the movie Bridesmaids but better.
Celebrating the bride's last ride.
The one where we drink all the champagne.
It's the most dramatic bachelorette party yet 🌹
The only title I'd trade "countess" for is "wife."