82 Creative Bachelorette Captions Fit for Any Party's Vibe
Every dope bach party post needs a caption to match.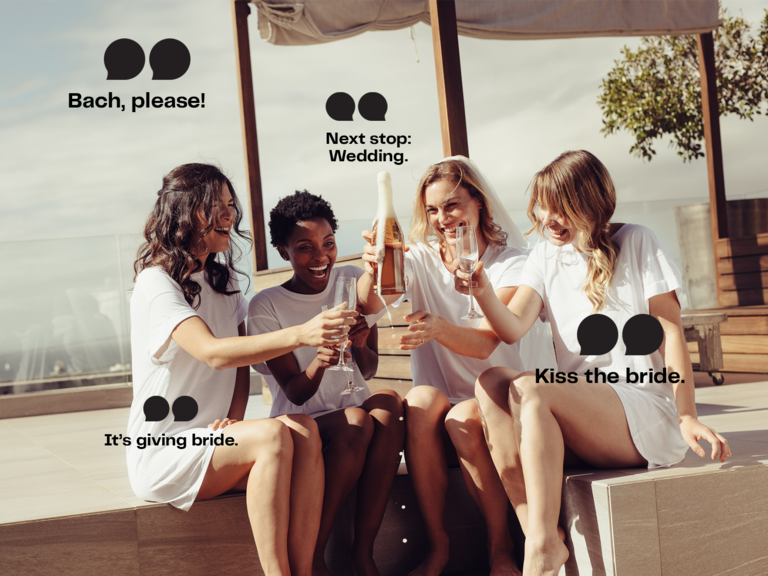 Photo: jacoblund | Getty; Design: Natalie Romine
Whether you're preparing to say "I do" or one of the partygoers, you'll need bachelorette captions for the highly anticipated bach party social media post. The bachelorette party is when the to-be-wed celebrates with their wedding party and close loved ones––this is often planned by a best friend or family member. But once the planning is over and everyone has had a ball, figuring out what to write under your bach party pictures can be hard. That's why we made a list of top-notch bachelorette captions Instagram and TikTok isn't ready for. Whether you're looking for something witty, sweet or aimed at your party theme, use this as your guide to finding the perfect one-liner for your event.
Bachelorette Captions That Slay:
Funny Bachelorette Captions
There are plenty of opportunities to get sappy on Instagram (like during the bridal shower), but since bachelorette parties are all about celebrating, consider funny bachelorette IG captions for your post. We know the struggle of finding something fresh and witty, so we have plenty of ideas for you to steal.
It's the last fling before the ring.
Bach, please.
What happens at the bachelorette party stays at the bachelorette party.
Weekend diet: Champagne.
Baby let the games begin.
Get in loser, it's [bride's name's] bach.
'Til death do us party.
Someone get us a shot—she's tying the knot.
[Fiance's name] popped the question, so we're popping bottles.
Brews before "I Dos."
We solemnly swear we're up to no good.
Wine flies when you're having fun.
Twenty-four-hour champagne diet.
It's the final countdown.
She's not a regular bride, she's a cool bride.
Besties? Check. Wine? Check. In bed by nine? Check.
Before you say "I do," let's have a party or two.
Call her Feyoncé.
Cute Bachelorette Captions
If you're a sentimental person, don't stress about finding the right words to say. Find a collection of cute bachelorette party Instagram captions to add to your favorite snapshots from the trip.
The final flamingle, because she's no longer single.
Little miss soon to be Mrs.
Raising a glass to our favorite couple.
Together is the best place to be.
Kiss the bride.
The real bridesmaids of [location].
The wife of the party.
Giving a new meaning to rosé all day.
Next stop: Wedding.
Cheers to love, laughter and happily ever after.
The party doesn't start until we walk in.
Celebrating a lifetime of love and happiness.
The ultimate girls' night out.
Raise a glass to an unforgettable weekend.
Sorry, everyone. This hottie is taken.
On cloud wine.
Thematic Bachelorette Party Captions
From Western to Barbie, there are plenty of fresh bachelorette party themes to spice up your bash. A bach theme will offer plenty of decoration and outfit ideas, but it'll also give you unforgettable memories. If you and your crew are partying with a specific vibe in mind, show off your creativity on the 'gram. Below, we've gathered bachelorette puns and captions for just about any celebration.
Let's get nauti.
Making one last splash.
Let's party, beaches.
Last sail before the veil.
Come on Barbie, let's go party.
The final fiesta.
Aloha bride, aloha beaches.
Her last rodeo.
Sea you later, we're off to the bach party.
One last syrah. 🍷
Mimosas with the 'maids.
It's like the movie Bridesmaids but better.
Celebrating the bride's last ride.
"Wind in my hair, I was there." ("All Too Well," by Taylor Swift)
The one where we drink all the champagne.
It's the most dramatic bachelorette party yet 🌹
The only title I'd trade "countess" for is "wife."
"Don't be tardy for the party." - Kim Zolciak
Getting groovy with my girls.
"May the rest of our lives be the best of our lives." (Mamma Mia!)
Bachelorette Instagram Captions for To-Be-Weds
Brides-to-be need special bachelorette quotes when they post since they're the guests of honor. Choose one of these captions to show you're followers you're the main character.
If you see me out during my bachelorette, no you didn't.
It's giving bride.
Bach and boujee.
Miss behaving.
100% that bach.
Slivin' my best life.
The best "I do" crew you've ever seen.
A sweet ending to a new beginning.
A weekend to remember.
Looking on the bride side. ☀️
I'm definitely way out past my bedtime.
Ring on one hand. Drink in the other.
The best wedding planning break.
Drunk in love.
This bride is ready for a nap.
Hi! I'm Bride-to-be Barbie.
Bachelorette Instagram Captions for Guests
As someone who most likely contributed to making the party happen, you need a catchy bachelorette trip caption too. Share these fun sayings in the group chat with the crew, but don't forget to call dibs on your favorite ones.
I survived the bachelorette party and all I got was this lame caption.
On tour.
Yes, we're a package deal.
One for the books.
On our worst behavior.
It's a celebration everytime we link up.
Look, we made it out of the group chat.
Back to our regularly scheduled programming.
Don't mess with my clique.
She's love drunk. We're just drunk.
Bachelorette party all-stars.
Went from wholesome to feral real quick.
Team No Sleep.