Chris Harrison Exits as 'Bachelor' Franchise Host
After 19 years of the "most dramatic season ever," the TV personality will pack his bags and go.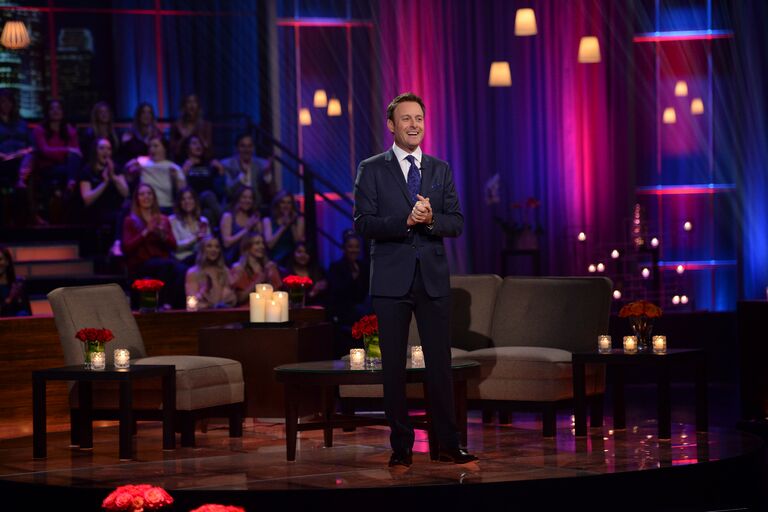 Michael Yada / Walt Disney Television via Getty Images
After 19 years of the "most dramatic season ever," Chris Harrison will not be returning as the host of ABC's entire Bachelor franchise. 
Deadline first reported the news the morning after the new Bachelorette season premiered on June 7. According to reports, the agreement was reached in confidentiality between all parties, though no formal announcement has been set just yet. A report from Us Weekly noted Harrison supposedly reached an eight-figure settlement with his departure. 
Harrison had been on pause with the Bachelor franchise ever since his scandal erupted in early 2021. The host of ABC's smash reality dating show was the face of the franchise since its very first season in 2002, including The Bachelor, The Bachelorette and spinoffs like Bachelor in Paradise and Winter Games. The show host, in the months ahead, will replaced by comedians like David Spade among other names.
What Happened With Chris Harrison and the Franchise?
The issues surrounding Harrison started brewing in February after the longtime franchise host defended current Bachelor finalist Rachael Kirkconnell's racist participation in an antebellum-themed college party. The actions were from 2018, just a few years before she joined the franchise, and Harrison called for viewers to show "a little grace, a little understanding, a little compassion" while chatting with former Bachelorette Rachel Lindsay. 
The problematic interview, which went viral, was not received kindly by the public, and Harrison further distanced himself from the franchise in the interim. The franchise has been at an inflection point every since racial unrest rippled throughout the country in 2020. Still, Bachelor Matt James, the first-ever Black Bachelor of the franchise, and Rachel Lindsay, the first-ever Black Bachelorette in its history, have spoken out about the work that has yet to be done by the reality show. 
Who Are His Replacements?

In statements from Warner Horizon and ABC Entertainment in March 2021, it was revealed two former Bachelorettes would take his place in the upcoming season: Tayshia Adams and Kaitlyn Bristowe officially stepped into their roles as co-hosts on June 7, 2021. "Chris Harrison will not be hosting the next season of The Bachelorette," it read in the statement. "We support Chris in the work that he is committed to doing.  In his absence, former Bachelorettes Tayshia Adams and Kaitlyn Bristowe will support the new Bachelorette through next season."
The statement from ABC and Warner also addressed its ongoing issues with race as many current and former cast members have called upon the franchise to change. "As we continue the dialogue around achieving greater equity and inclusion within The Bachelor franchise, we are dedicated to improving the BIPOC representation of our crew, including among the executive producer ranks," the entities announced. "These are important steps in effecting fundamental change so that our franchise is a celebration of love that is reflective of our world."
Shortly after the new hosts were revealed, former Bachelorette-turned-podcast host Bristowe took to Instagram to post a video of herself dancing with Adams, seemingly responding to the announcement. 

Bristowe was the franchise lead of Season 11 of the Bachelorette. She chose Shawn Booth over finalist Nick Viall in her season finale, which aired in 2015, and the couple was engaged for three years before breaking things off. She is now dating another Bachelor franchise contestant, Jason Tartick. 
Adams followed suit five years later as the Season 16 Bachelorette, replacing Clare Crawley as the lead. She is currently still engaged to her final pick, Zac Clark.
Along with Adams and Bristowe, author Emmanuel Acho hosted the After the Final Rose special in mid-March. He has been in communication with Harrison since the fallout. "We've had very positive dialogue," said the creator of Uncomfortable Conversations With a Black Man. "People need to give him the opportunity, the grace and the time to do the work. And then they need to receive the work that he does."
Is Chris Harrison Dating?
In private, Harrison's relationship with girlfriend Lauren Zima continues to generate interest. During his stint as host, Harrison's love life has endured its ups and downs. He shares two children with his first wife, Gwen Harrison, whom he divorced a decade into his hosting gig in May 2012. 
Eventually, Harrison discovered love within his own industry when in 2018, he started dating Zima, an entertainment journalist who covers the franchise at length for her outlet. On Zima's birthday in November 2020, Harrison shared a post honoring his girlfriend. "Her smile, her spirit, her energy, her grace and beauty," he wrote. "A woman who puts on a master class every day on life and love. I love you and love basking in your ever present glow." Harrison also sparked mild confusion in April when he posted a loved-up, black-and-white photo with Zima at a friend's wedding.
When Harrison's situation erupted, Zima addressed the issue while still remaining by his side. "What Chris said was wrong and disappointing," she shared in February. "Defending racism can never happen. Accountability comes first, what's next is learning and growth."