Bachelorette Clare Crawley and Her Fiancé Have Ended Their Engagement
Dale Moss confirmed the split on Instagram.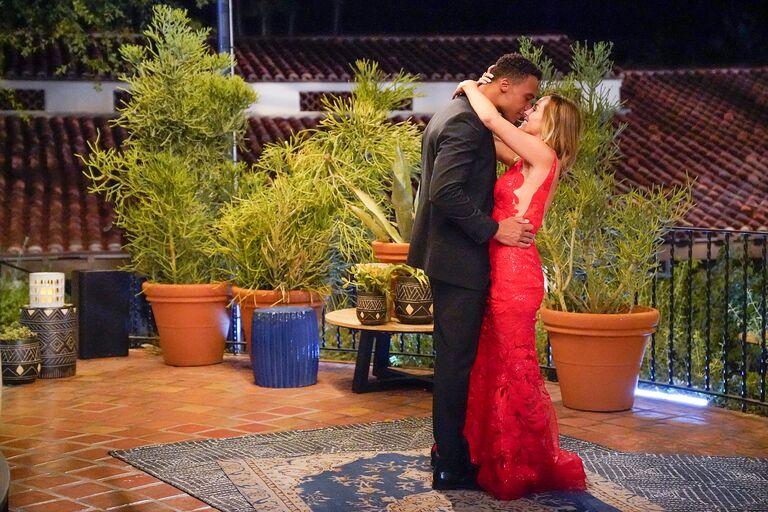 ABC/Craig Sjodin

The quickest engagement in Bachelorette history ended with an even speedier split. Clare Crawley, one of two Bachelorettes in 2020, and her fiancé Dale Moss have split, he confirmed Tuesday, January 19. 
"I wanted share with you all that Clare and I have decided to go our separate ways. We appreciate the love and support we've received from so many people, but this is the healthiest decision for both of us at this time," Moss wrote on Instagram. "We strongly believe in leading with love and always remaining true to oneself - something our families have taught and instilled in us throughout our lives. We only hope the best things for one another. Please respect our privacy as we work through this together."
Crawley has yet to comment on the split on her end. The split rumblings came after E! News published a piece Tuesday, reporting they were on a break. "They are mainly in disagreement over lifestyle preferences. Dale wants to be in a lively city and focus on his career, and Clare is rooted in Sacramento to help care for her mom," a source told the outlet. "It's been very tense recently between them." 
Crawley posted a photo with her mother just five days before the split news circulated the internet. In her social media update, she shared thoughts about spending quality time together with her mom, who suffers from Alzheimer's disease and dementia. "I'm so thankful to be able to see my mom in person now," she wrote in mid-January. "I get so emotional because this time is precious and I know means everything to both of us, especially as her mind is slipping away and her body is getting weaker. I try and sing and laugh to add a little sunshine to her day, even if it's only for the 20 minutes they allow. I love it. She has good days and bad, Just like we all do." 
She alluded to challenges by concluding her post with a vulnerable moment. "Well today I couldn't hide my hard day. A mother always knows," Crawley wrote. "Without saying a word, she reached in her pocket and pulled out this tissue and just squeezed my hand."
Moss currently lives in New York City, though he's spent time together with Crawley in La Jolla. The couple even welcomed the New Year together from home. "They are both still getting to know each other and figuring it all out," the source told E! News. "They've decided to take some time apart for now... They are still figuring out the logistics of their relationship and if they will stay together."
Nevertheless, Moss didn't seem fazed by the reports on Tuesday. He posted a video of himself walking through New York City, describing his holiday season as "never-ending." 
The Proposal
The couple's engagement played out on an episode of ABC's smash reality franchise in November 2020. After weeks of drama about Crawley's selectiveness with Moss, her First Impression Rose recipient, Crawley finally made the decision that she would circumvent the usual process of a courtship with dozens of other suitors. During the process, she was received with a scorching line by longtime host Chris Harrison. "Congratulations," he paused. "You've just blown up The Bachelorette."
Crawley, 39, a mainstay for multiple seasons of the show, had long known Moss was her chosen one. Upon first meeting the former NFL player, she confessed, "I think I just met my husband." 
Throughout the season, the reality lead continued to hone in on her instinct, plucking Moss as her "fiance" after only three dates. Harrison did what he could and dialed jeweler to the stars Neil Lane, who's long provided engagement rings for the franchise leads and the spinoff couples, with an emergency request. "I need a ring today," he noted to Lane.
The mood, quickly pulled together by the production staff of the show at the La Quinta Resort in Palm Springs, ended with affirmations from both ends. "From the moment I knew you were coming, I was so excited to meet you," Crawley expressed to Moss. (She had done her due diligence during quarantine to research her contestants.) "Then when you got here, it was electricity for me, because I knew that I had just met my husband. You embody everything that I want in a man, everything just like my dad had. You're kind, you're strong, you're compassionate, and I just am so in love with the man that you are."
"You made me feel like everything that I've ever been through, it was all worth it because I've got you right now," she added. "And most importantly, you've shown me that you'd never run away and never leave me. And I've never, ever had a man that would stay. And you continue to show up for me. And I promise you, I want to show up for you each and every single day. You make me so happy."

Moss echoed her sentiments. "I want to be here for you. I want to be strong. I want you to feel protected, and I want nothing more than to keep moving forward, to be there for you each and every day," he noted. "I thought a lot about my mother and what she would think about you, and she would absolutely love you. And all she's ever wanted for me is someone that just loves me unconditionally, and who would be there for me no matter what. I know that I have that, and I love you."
From there, Moss plopped down on one knee to ask Crawley to be his wife. "I'm so appreciative for you, and the best is yet to come," the former athlete noted. "I want to make you happy and be there for you each and every day. So, with that being said, I'm going to do it. Clare, will you marry me?"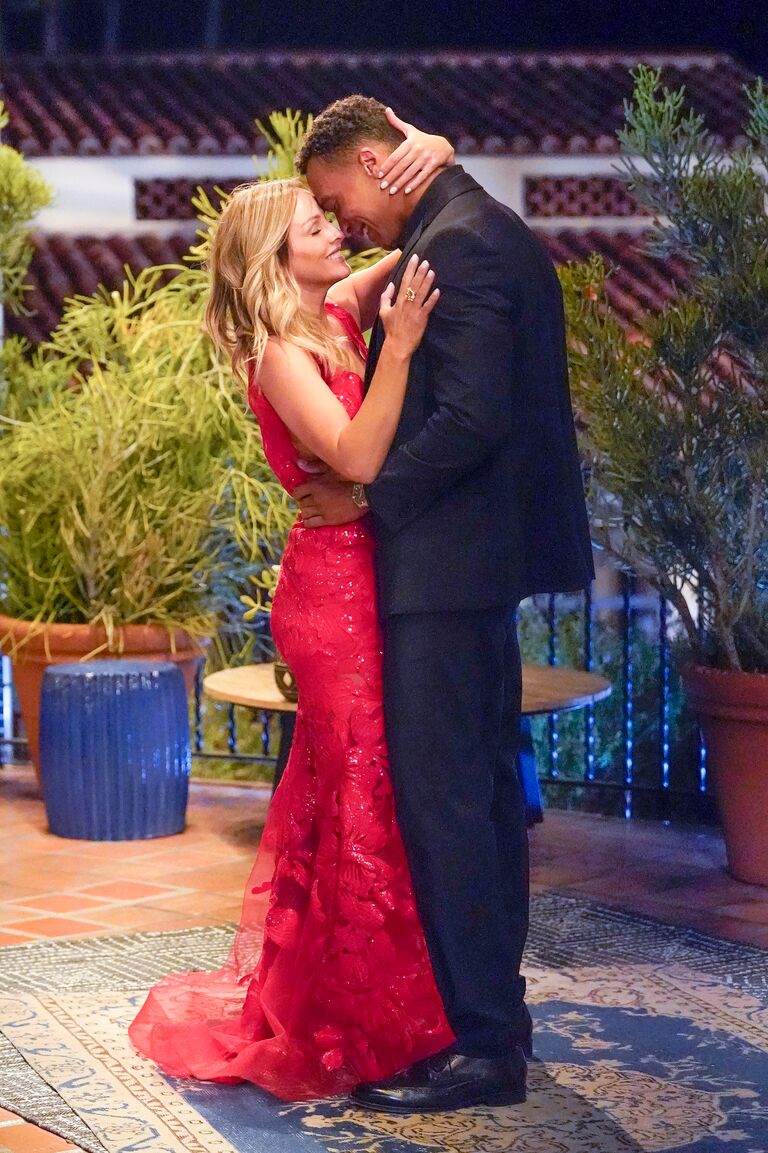 The Bachelorette 2020 Production Background

Crawley's season was anything but typical in more than one way. In March, the coronavirus pandemic prompted the swift shut-down of filming as all crew and cast members went into quarantine. "We talk about it every day," Robert Mills, the head of alternative programming at ABC, said previously on the Chicks in the Office podcast. "Obviously it's super important. Look, I'll be honest: We will do it as soon as it's safe …The first minute we possibly can."
Crawley, 39, was literally hours away from meeting her men at the Bachelor Mansion when production was called off on March 13 due to increasingly intense concerns over the pandemic. Originally, according to Entertainment Tonight, the plan was to reconvene in two weeks' time, but as the situation continued to escalate, plans to film were put on hold indefinitely.
"I mean, we would be over halfway done [with filming by this point], and Clare might be narrowing down finding the love of her life," host Chris Harrison told ET. "How exciting—and I hate that that is stolen from her at this particular time."
Due to the early ending, which Crawley boldly declared she would not apologize for while addressing her suitors, fan favorite Tayshia Adams is now the new Bachelorette 2020. Viewers experienced Adams' debut as the second Bachelorette lead of 2020 in the final moments of the November 5 episode.
These men will be forgetting about Clare in record time when they see Tayshia coming out of the limo. #TheBachelorette pic.twitter.com/8I3bbjQlB6
— The Knot (@theknot) November 6, 2020
What About The Bachelorette Cast?
As a result of the new production schedule, both Mills and Harrison confirmed they had to go so far to recast the original contestants, with the understanding that the men who were originally cast might not be available whenever filming resumed. "All of our lives are turned upside down," Harrison told ET, "so it's naive to think that all of these guys are going to be able to come back and pick right back up where we left off."
Adams' season will continue with the same group of men. "I require a little bit more life experience, someone who really knows who they are and still aren't trying to figure themselves out," Adams told Vulture in an interview. "Show up, or get out. No bulls—t, let's go, I'm trying to find a husband!"
Will Tayshia's Season Change Its Format?
Crawley's season of the show resumed filming later in the year and made adjustments to accommodate for new realities. Adams' season will likely experience much of the same with restrictions regarding travel and group gatherings amid a pandemic. 
Harrison previously shared his sentiments with ET, noting that he "can't imagine the show will look exactly the same"—but that that's not necessarily a bad thing. "One thing about The Bachelor that has been really good socially is that we have always just developed and embraced moments no matter what is happening in the world, and this is going to be one of those times," he said this spring.