Halsey Welcomes Her First Child With Boyfriend Alev Aydin
"I want to be a mom more than I want to be a pop star," she said in 2016.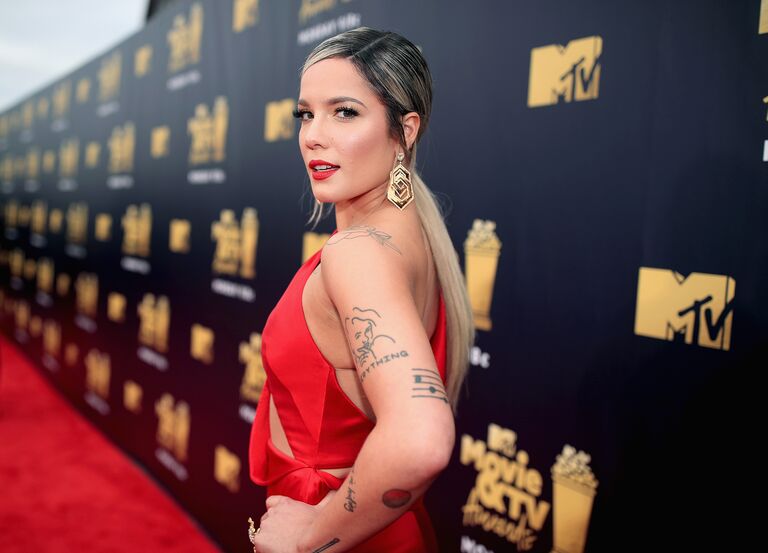 Christopher Polk/Getty Images for MTV
Singer-songwriter Halsey and boyfriend Alev Aydin have welcomed their first child together, Ender Ridley Aydin.
"Gratitude," Halsey shared on Instagram. "For the most 'rare' and euphoric birth. Powered by love." Baby Ender was born on July 14, but the couple was able to enjoy a few days of privacy together as a new family of three.
Halsey announced in January she was expecting her first child with her boyfriend. At the time, the "Be Kind" hitmaker, 26, shared a photo of her growing baby bump with the caption, "Surprise! 🍼🌈👼🏻." Over her belly, Halsey tagged her screenwriter boyfriend, who also posted about the milestone on his end. The emojis indicate something greater in Halsey's personal life after the singer-songwriter revealed in 2016 that she had suffered a miscarriage from being overworked.  
"I beat myself up for it," she told Rolling Stone at the time, "because I think that the reason it happened is just the lifestyle I was living. I wasn't drinking. I wasn't doing drugs. I was f--king overworked – in the hospital every couple of weeks because I was dehydrated, needing bags of IVs brought to my greenroom. I was anemic, I was fainting. My body just broke the f--k down." 
Nevertheless, she was very transparent five years ago about reconciling her hopes for a future family. "I want to be a mom more than I want to be a pop star," she said. "More than I want to be anything in the world." 
Aydin, who's also a producer, was also so excited to become a dad. "Heart so full," he wrote on Halsey's post in January. "I love you, sweetness." The singer wrote back, "I love you!!!!! And I love this mini human already!"
Aydin is of Turkish descent and is an avid basketball fan, according to his social media page. Halsey (nee Ashley Nicolette Frangipane) was raised in New Jersey and has been open about her bipolar disorder. In the same interview with Rolling Stone, she opened up about how her music career first took off during a messy period in her life. One night before heading to bed, she uploaded her song "Ghost" to SoundCloud. Hours later, she had five labels contacting her about the hit, and that same tune eventually charted that next morning.