Kate Hudson Is Engaged to Danny Fujikawa: All the Details About Her Rings
We'll toast to the star's champagne diamond. See photos here.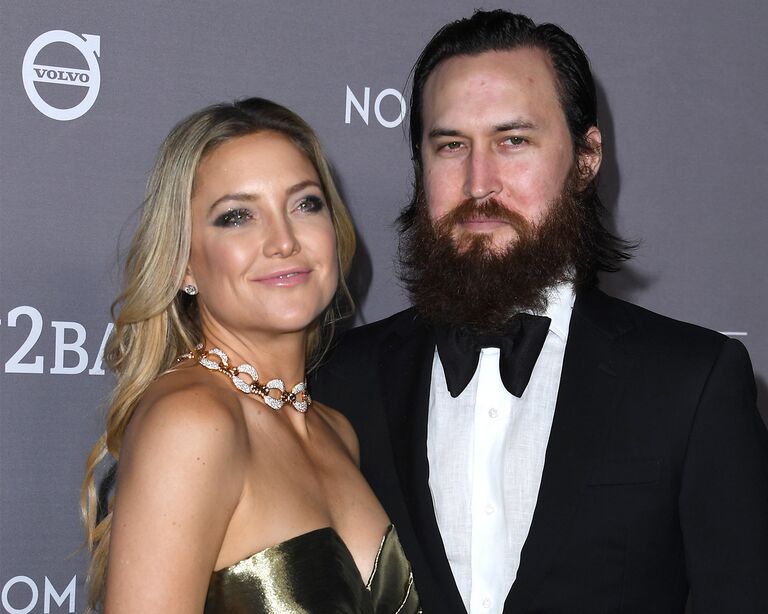 Steve Granitz/WireImage
Actress Kate Hudson and musician Danny Fujikawa revealed their engagement in mid-September, after five years of dating. "Let's go!" Hudson shared with fans on Instagram. Hours later, the Hollywood scion walked the red carpet of the Met Gala in a two-piece bubblegum pink gown by Michael Kors. However, it was her new engagement ring that attracted the attention of observers.
The piece appears to be a cushion-cut, champagne-colored diamond in the seven-carat range, according to designer and Devereux founder Lauren Devereux Burns. "The beautiful, warm tone of the stone is matched by a rose gold setting and an ultra-thin micropavé band," she notes.
"This is a statement ring, a ring that is meant to be seen and gawked at," says Jen Oliak of Ounce of Salt Jewelry. "It is less traditional in style, featuring a champagne diamond as opposed to the more popular white diamond. The cushion-cut of the diamond adds a vintage feel to the ring. Set in rose gold with a thin band of diamonds, this is a ring that is meant to stun."
Burns echoes how Kate Hudson's engagement ring style is ideal for couples who avoid "conventional rules" and have beautiful taste. "Diamonds with a personality are becoming much more popular. Based on what I can tell from photos, it looks as though this is a slightly elongated cushion-cut diamond that is set east-to-west," Burns adds. "Unique design decisions like these are definitely trending and speak to the distinctive personality of the wearer."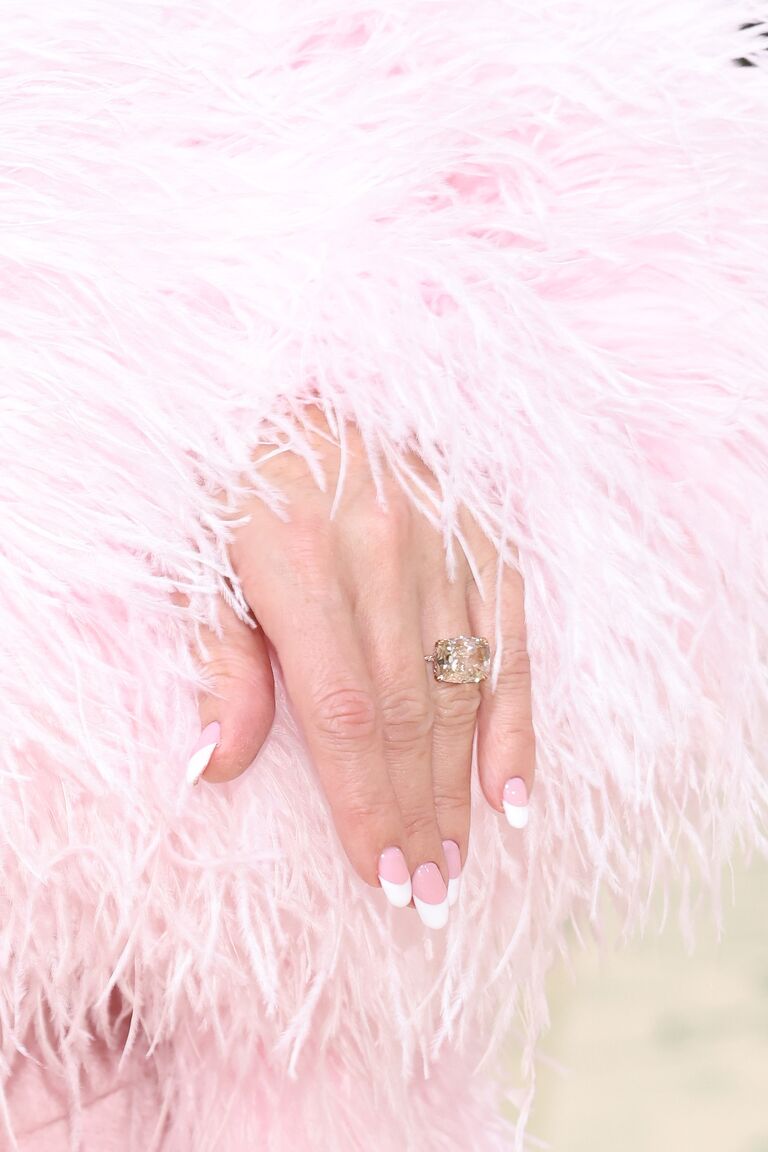 Another star with a cushion-cut engagement ringis Meghan Markle, whose three-stone piece holds much sentimental value. "Cushion-cut diamonds are very flattering and feminine," Oliak explains. "This is a great cut for colored stones like Kate's champagne diamond; the cut has very prominent fire, and allows for the color of the stone to really be showcased. The choice to use a colored stone is very unique; this is an excellent option for the creative couple, the trendsetters and the ones who truly want to stand out in the crowd. The size of the stone also belies a life in the spotlight. The ring is estimated to be between six and eight carats; that's a big diamond. This is the ring of a couple who wants to show off their love to the world."

That isn't Hudson's only ring. The star also appears to have stacked her larger ring with another simple band. Her second engagement ring appears to feature tiny diamonds on a thick white gold band.
Kate Hudson & Danny Fujikawa's Relationship
Hudson and Fujikawa have been longtime friends. However, it took decades before their relationship turned romantic. In 2017, Hudson revealed a bit more about their love story origins. "A year ago today Danny took me on a hike and what I thought was just a hike with a family friend turned very quickly into an unexpected first date," the actress expressed. "No moves were made on this first date. In fact, it took months for him to make a first move! ... So on our 15th year of knowing each other we were able to open our hearts to each other to feel so much pure love and it's been truly incredible."

Together, the to-be-weds share their baby girl Rani Rose, who is turning three in October. Hudson is also mom to her 17-year-old son Ryder whom she shares with former husband Chris Robinson, and her 9-year-old son Bingham (shared with ex Matt Bellamy).

The couple's wedding will, most certainly, be a star-studded affair. Hudson's close pals Gwyneth Paltrow, Jen Meyer and Rachel Zoe all commented on her engagement post in a flurry of excitement. "LETS DO THIS," Paltrow expressed. The future bride's other besties and soon-to-be in-laws, Erin and Sara Foster, are also shoo-ins for the guest list. (They are Fujikawa's stepsisters.) "Whoa. It's official," Sara wrote. "Not gonna lie, been a hard secret to keep. I may have slipped and told a few people."
Prior to the big reveal, Hudson purposefully concealed her engagement ring while joining Gayle King at the US Open on Sunday, September 12.