8 Must-Know Highlights from Prince Harry and Meghan's Netflix Docuseries
Plus, see the latest updates on their five-year deal with the streaming giant.
Following their highly-publicized departure from the British royal family, Prince Harry and Meghan Markle put down roots in Montecito, California, and began devoting their time to a handful of exciting new projects—one of the buzziest being Prince Harry and Meghan's Netflix deal.
In addition to dedicating resources to their non-profit organization, Archewell, Prince Harry published a memoir, Spare, and Meghan embarked on a podcast journey with Spotify, all while raising their two little ones, Archie and Lilibet. But one of their most exciting initiatives is their partnership with the popular streaming platform. In September 2022, the couple signed a five-year deal with Netflix, sending fans into a flurry of anticipation. Their first project, an intimate docuseries titled Harry & Meghan, debuted in 2022 and gave fans a deeply-personal look inside their wedding, marriage and the aftermath of their choice to step down as senior royals.
Here, we break down everything to know about Prince Harry and Meghan's Netflix deal, including the biggest takeaways from their 2022 docuseries. Plus, we share the latest on what's next from their collaboration.
How Much Did Netflix Pay Harry and Meghan?
It's the million-dollar question: How much did Netflix pay Harry and Meghan? It was reported that the couple signed a five-year, $100 million contract with the streaming giant. As part of their deal, Harry and Meghan will produce documentaries, docuseries, feature films, scripted shows and children's programming. In addition to their 2022 documentary, Harry & Meghan, another series titled Heart of Invictus (about Harry's involvement with the Invictus Games) is in the works. In August 2023, it was revealed that they also purchased the rights to adapt the popular BookTok romance novel Meet Me at the Lake, written by Carley Fortune.
And, if you're wondering if Harry and Meghan's Netflix deal was canceled, the answer is no. While the couple's podcast collaboration with Spotify ended early in 2023, their partnership with Netflix is still on.
What We Learned from Prince Harry & Meghan's Netflix Documentary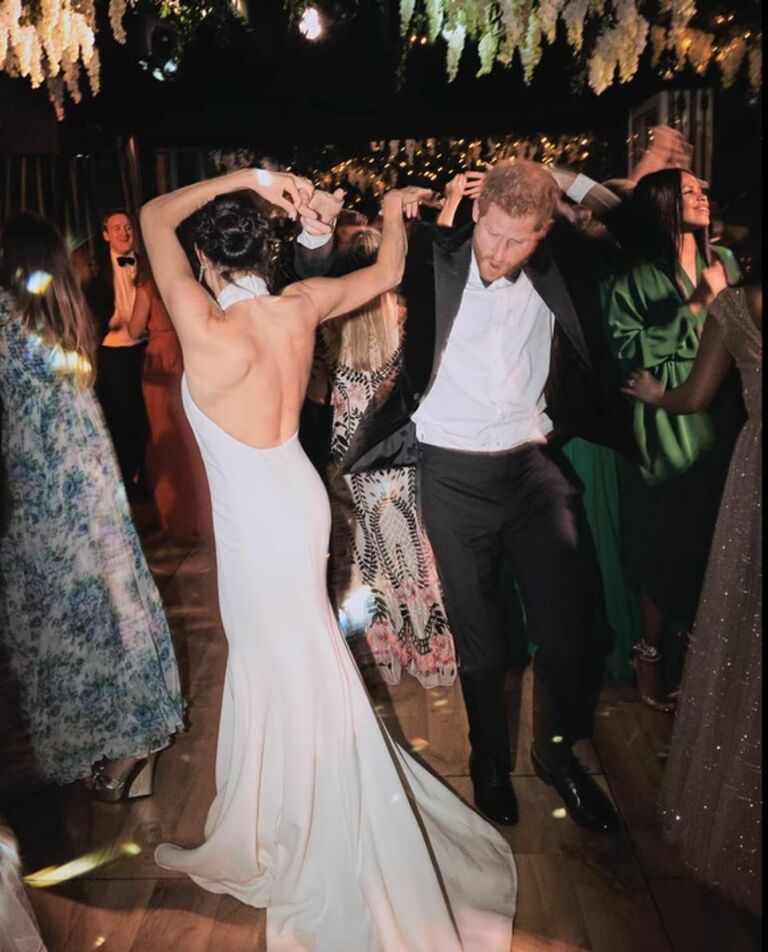 Prince Harry and Meghan Markle's Netflix documentary, Harry & Meghan, dropped in two parts on December 8 and December 15, 2022. This highly-anticipated series—which was Netflix's biggest documentary debut ever—was the first of its kind, offering an unprecedented look into the marriage of one of the world's most highly-recognized couples…and one of the most private families. It's for this reason that its launch was somewhat polarizing, both among US and UK audiences. "The Duke and Duchess of Sussex are very divisive figures in the UK," says Zoë Burke, Editor of The Knot's sister site Hitched. "People feel very protective of the royal family in the UK, and I think emotions are still running high after the loss of the Queen earlier this year. We see a very carefully crafted image of the royals, despite feeling like they are quite public and accessible. They famously 'never react' to the media, so to see a member of the family do it so boldly does seem jarring."
Here, we share eight must-know highlights from Prince Harry and Meghan's Netflix docuseries.
Prince Harry and Meghan Met Through Instagram
For years, it was believed that Prince Harry and Meghan met through a mutual friend—but in the first episode of their Netflix documentary, viewers learned that Instagram was the platform responsible for bringing the two together. Prince Harry revealed that he saw a photo of Meghan on a mutual friend's post… and she was using the Snapchat dog filter. "I was scrolling through my feed and one of my friends had this video of the two of them, like a Snapchat," Harry revealed. "I was like, 'Who is THAT?!'" The unnamed friend connected the two, they had their first date on July 3, 2016, and the rest is history.
Their Wedding Morning Was Calm—But the After-Party Wasn't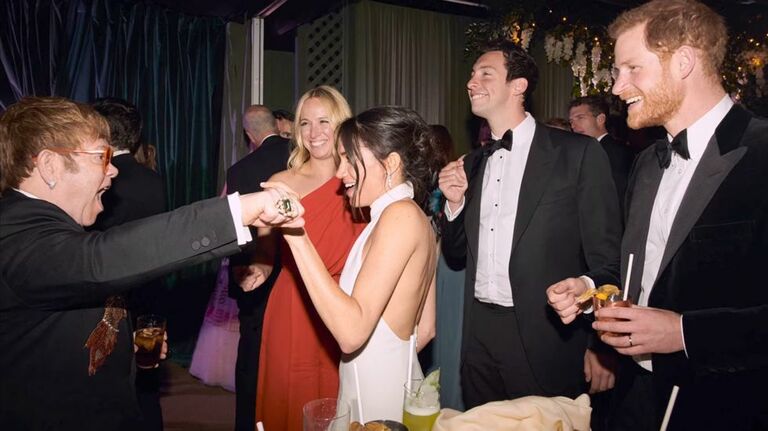 Quite a few insider details have been released about Prince Harry and Meghan's 2018 wedding, but their docuseries pulled back the curtain once again, revealing even more memories from that special day. "Their wedding felt different to the other royal weddings we've seen in the UK, particularly because so many people felt such a tenderness towards Harry," Burke tells us. "We also can't overlook the historical significance. This was a British Prince, marrying a divorced, biracial, American actress who had her own prominent career and path. It was groundbreaking."
In the fourth episode, Meghan spoke about how calm the morning was, despite 115,000 fans lining the streets of Windsor and millions of eyes watching around the world. "All I wanted was a mimosa, a croissant and to play the song 'Going to the Chapel,'" she reminisced. "And that's what I did. And it was great."
Following the ceremony, the couple and their guests enjoyed a raucous evening of performances by Elton John and Idris Elba, as well as plenty of dancing. Meghan explained how important it was to her that the music felt "fun," and ultimately shared that their first dance song was set to "Land of a Thousand Dances," rather than a Whitney Houston tune as was speculated. "It was so great," Meghan said as never-before-seen wedding photos played out on the screen, depicting fireworks displays and the couple dancing wildly with their guests.
This rare peek inside the celebration, Burke tells us, was a unique moment of vulnerability for the royal family. "I hope seeing more of their wedding will remind people of the magic that first captivated us all. One of the most refreshing things for me about this docuseries has been seeing how genuinely in love they are, and how they seem to feel so lucky to have each other," she reflects. "We might not have got the photo ops or the immediate information we've grown to expect from other royal couples, but Harry and Meghan are actually giving us something even more special, by allowing us to really witness their love."
They Condemn the Media For the "Unraveling" That Ensued In 2019
Following their wedding, public opinion of Prince Harry and Meghan was overwhelmingly positive. That was, until, the couple announced their pregnancy ahead of an Australian tour in 2019. Amid their skyrocketing popularity, internal strife within the firm threatened Prince Harry and Meghan's future in the family. "I think Australia was a real turning point because they were so popular, so popular with the public," the couple's friend Lucy Fraser said in the documentary. "The internals at the palace were incredibly threatened by that." Added Prince Harry: "The issue is when someone is marrying in who should be a supporting act, is then stealing the limelight or doing the job better than the person who was born to do this, that upsets people. It shifts the balance."
Thus, the press frenzy began. Tabloids began publishing demeaning stories about Meghan, covering their front page with racist headlines, and accusing her of "diva" behavior." They even criticized Meghan for doing things Kate was once praised for, such as cradling her baby bump and eating avocados. During one episode, Prince Harry provided more context on the relationship between the firm and the UK tabloids, indicating that his wife was being used as a scapegoat to protect other members of the family. "My dad said, 'My darling boy, you can't take on the media. It's the media.' I said I fundamentally disagree… It's a dirty game. There's leaking but also planting of stories. If the comms team wants to remove a negative story about their principle, they will trade and give you something else about someone else's principle. The officers work against each other." Meghan elaborated, saying, "I wasn't just being thrown to the wolves, I was being fed to the wolves."
The media war hit a fever pitch when The Daily Mail illegally published a private letter Meghan sent to her father, asking him to stop interacting with the press. The Mail strategically redacted certain parts of the letter to paint a negative image of Meghan. This was, ultimately, the catalyst that caused Prince Harry and Meghan to step back from their royal duties. "That litigation was the cause for all the unraveling," Meghan said.
The Couple's Last Royal Engagement Was "Cold"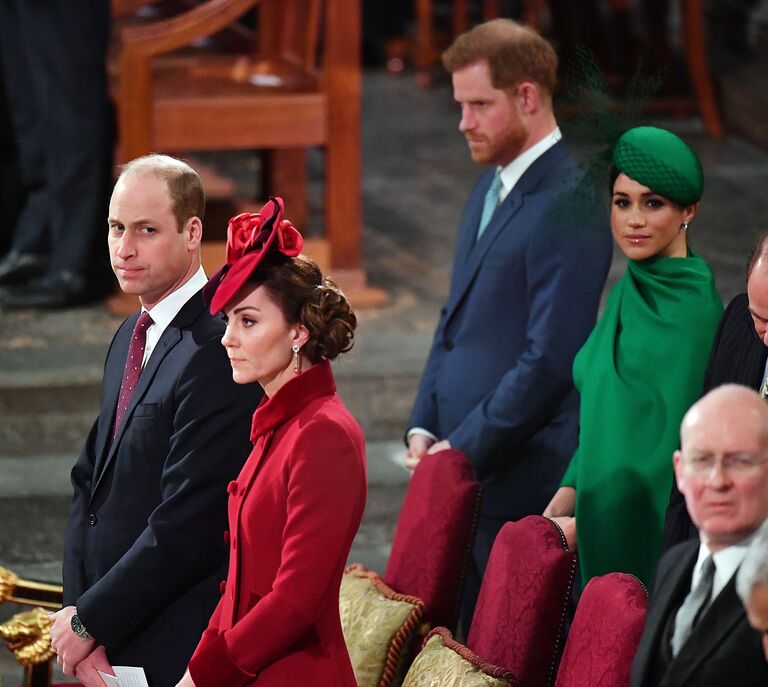 The couple's decision to step back from the royal family was met with shock and outrage, both internally and publicly. After a tense meeting with Prince William, Prince Charles and Queen Elizabeth, known as the "Sandringham Summit," it was decided that Prince Harry and Meghan would completely step back from royal duties, rather than take on a part-time role like they first requested.
The couple's final three public royal engagements were unforgettable. In a departure from her typical neutral style, Meghan opted for colorful outfits in poignant shades of blue, red and green. Despite the couple's excitement for their new chapter, their final appearance—at the Commonwealth Day service in 2020—was met with stoicism. "It's like living in a soap opera, where everyone else views you as entertainment," Prince Harry said of the event, where there was visible tension among him, his brother and his father. "I felt really distant from my family, which is interesting because so much of how they operate is about what it looks like rather than what it feels like. And it looked cold, but it also felt cold."
Princess Diana Inspired Them to Keep Fighting the Press
After stepping back from royal duties and relocating to Vancouver Island, the escalating tabloid war threatened Prince Harry and Meghan's physical safety, as well as their mental health. Rather than giving up their fight and succumbing to the intense pressures of the media, Prince Harry revealed that his late mother inspired the couple to keep fighting in favor of the truth. "The press, they will never settle. They will always push because they will use a privacy litigation to further invade your privacy like they did with my wife," he expressed. "But my mum always said, 'If they're writing crap about you in the tabloids, then you're probably doing the right thing.' So I've always felt as though this was a fight worth fighting for."
Prince Harry Faults The Mail for Meghan's Miscarriage
After the couple's son, Archie, was born, the palace removed the security detail that was protecting the small family of three in Canada. To prioritize their safety, the couple relocated to California in early 2020, where actor Tyler Perry allowed them to stay on his property as they looked for a safe, undisclosed spot to put down their roots. But the ongoing fight against The Mail took a toll on the couple's health. The effects were so brutal that Prince Harry shockingly revealed he faults The Mail for Meghan's miscarriage, which she suffered on the first morning at their new home in 2020.
"I believe my wife suffered a miscarriage because of what The Mail did," Prince Harry said. "I watched the whole thing. Now, do we absolutely know that the miscarriage was created, caused by that? 'Course we don't. But bearing in mind the stress that that caused, the lack of sleep, the timing of the pregnancy, how many weeks in she was, I can say, from what I saw, that miscarriage was created by what they were trying to do to her."
Prince Harry Doesn't Foresee "Accountability" From His Family
As Meghan and Prince Harry settled into their California lifestyle, they were rocked by another tragedy: the death of Prince Philip. At the time, Meghan was pregnant with their daughter Lilibet and was advised not to travel to the funeral services. Prince Harry went alone and opened up about the experience of seeing his brother and his father for the first time since their public fallout. "It was hard, especially spending time, having chats with my brother and my father who just, you know, were very much focused on the same misrepresentation of the whole situation," Prince Harry said. "So, neither of us really wanted to have to talk about it at my grandfather's funeral but we did. I've had to make peace with the fact that we're probably never gonna get genuine accountability or a genuine apology. My wife and I are moving on. We're focused on what's coming next."
This sharp revelation may be a tough realization for royal watchers who were hoping for a future rekindling. "I think I can speak for pretty much all of the UK when I say we'd love to see the fab four reunited," Burke says. "It was so heartwarming in the early days to see them doing events together, and to see Harry happy with someone so incredible after he was always kind of the third wheel with William and Kate."
Meghan and Prince Harry are Prioritizing Their Peace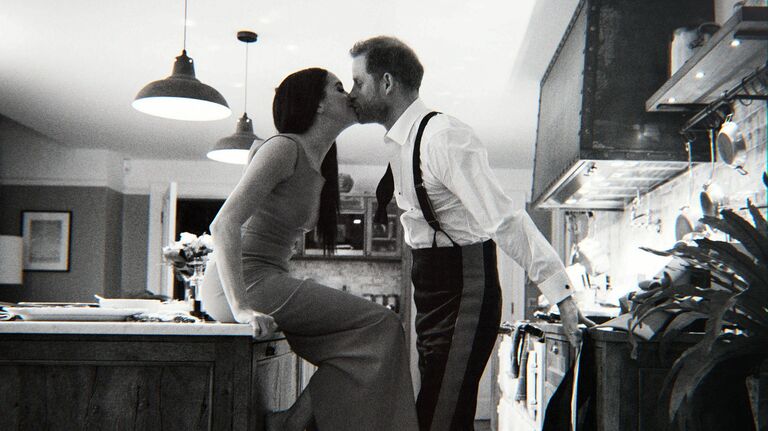 As Prince Harry and Meghan's Netflix documentary came to a close, Meghan reflected on an exercise her friend once introduced her to on New Year's Eve. Instead of making resolutions, the friend encouraged their group to pick a word to focus on for the year ahead. At the time, Meghan selected "truth." Now, she's focused on protecting her peace. "I just want peace," she explained. "Part of that is reclaiming, you know, when you've lost a huge piece of yourself, getting that back includes getting back those relationships and those friendships and things that anchor you to who you are."
Some may wonder what the future holds for the couple, and whether or not they'll work closely with the royal family ever again. "Personally, I think the UK monarchy would hugely benefit from having Harry and Meghan in their midst," Burke tells us. "They are trailblazers when it comes to royalty—I admire Meghan for her willingness to take action, to cause change and to use her platform for good. But the royal family do things in very specific ways, and they do have an old-fashioned approach. Who knows what the future holds? I'd love to see the UK represented by the Duke and Duchess of Sussex as they have so much to offer. But a lot has happened, and it may be that they don't want to come back to it."
As for Prince Harry's takeaway? He couldn't be happier to be where he and his family are today. "There are times where I feel angry but I can't be that angry because I genuinely feel that I, and we, are exactly where we're supposed to be," he concluded. "We've made it to the other side."